Investment Thesis Overview
Del Taco Restaurants Inc.'s (TACO) stock fell from approximately $16 to $12 after 3Q17 earnings.

The charts suggest that TACO is now resting at a major support level.
Fundamentally, the company is laying the groundwork for long-term growth, in which there is a lot of room to grow.
But I'm not convinced TACO is a buy from a value perspective; I think better bargains can be had.
Business Summary
Del Taco has approximately 558 restaurants, of which more than half are company-owned and the rest are franchised. The bulk of revenues come from company-owned restaurants, with only a small percentage coming from franchisees. Del Taco restaurants are mostly concentrated in the west; recently, the company is beginning to expand in the southeast.
Del Taco is normally compared with Taco Bell (YUM) and Chipotle (CMG). Del Taco offers food options at a variety of price points from value (eg. Buck & Under) which puts them in direct competition with Taco Bell who is also known for low-priced value food options. But Del Taco is also considered a threat to Chipotle (CMG).
The California Factor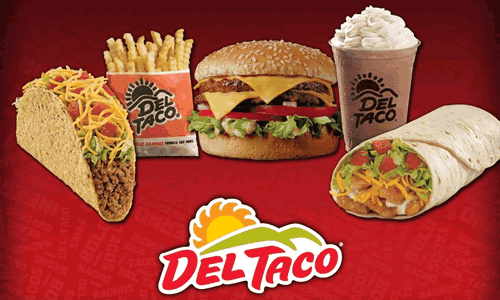 The big difference between Del Taco and these other two particular Mexican-food chains is that Del Taco also sells burgers and fries. This is due to the fast food landscape in California, where it is necessary for Del Taco to compete with the likes of Jack in the Box (JACK) and In-N-Out Burger. Offering burgers and fries makes Del Taco a more versatile destination for customers, especially groups with varying tastes (although Jack in the Box also sells tacos).
This is also why Del Taco must be cautious when expanding to certain geographic regions--their concept is more nuanced. The northeast notably does not have any Del Taco or Jack in the Box restaurants yet.
Growth Strategy?
The story here is that Del Taco is not quite ready to begin expanding rapidly (e.g., at Chipotle's triple-digit restaurant growth rate), which is the reason for their mid single-digit restaurant growth plans for this year and for 2018. Del Taco is currently focused on optimizing the efficiency and processes of their operations and maximizing the productivity of each restaurant unit before speeding up growth.
These are a few variables investors need to be aware of:
- Wage inflation continues in California where most of Del Taco's restaurants are located. 2018's minimum wage will rise another $0.50, and then $1 each year for the next several years after. Labor costs have impacted margins, but management has found it tricky to offset these increased labor costs with increased menu prices. Notably, management pared the 3%+ price increases in 2015 and 2016 to 2.5%. Labor expenses increased 90 basis points to 31.6% in 3Q17 compared to the year prior. Management is milling over various equipment ideas such as food processors, and better employee management.
- Del Taco's mobile app is still only available in a little over 50 restaurants. They likely want to perfect the app and roll it out to more restaurants before expanding more aggressively.
- Del Taco is beginning to test out delivery options with GrubHub (GRUB) and two other delivery competitors.
- Del Taco aims to increase AUVs to $1.5M as quickly as possible, and manipulating the levers mentioned above are just some ways this can be made possible.
Sustainable solutions for the issues above will open the door to rapid expansion. Optimization of system-wide processes and individual units will provide Del Taco the confidence to duplicate their concept more aggressively across the U.S.
The reason that they aren't opening hundreds of stores every year like Chipotle is because Chipotle's menu has historically been simpler with limited ingredients, and was therefore more easy to duplicate. However, Chipotle's extremely aggressive expansion was detrimental to their brand's consistency (evidenced by poor food handling procedures which led to the highly-covered food poisoning incidents.) In this tough environment for restaurants, Del Taco is doing itself a favor by not overextending.
Investor's Dilemma
However, all the above makes for a boring stock, and this is why the market gave up on the pre-3Q17 earnings multiple of 30X for TACO. At 30X, TACO was trading around $15.50 to $16 prior to earnings, but then corrected to $12 as the company still appears to be in a transitional stage.
So I will evaluate TACO from the perspective of three different investors: value investor, technical trader, and long-term fundamental/growth-focused investor.
Value Investor: Is TACO a bargain now?
At $12/share, TACO trades at a ~$464M market cap. $464M is expensive when conservative estimates of revenues for FY17 only fall in the $425M to $450M range (the first three quarters of 2017 have brought in $325M; last year's revenue was $452M).
This valuation is expensive when last year's EBIT came in at $43M and net income came in at $21M. Worse, TACO has ~$162M long term debt and negative working capital of -$43.3M as of Sept. 12, 2017. With the company still tightening up certain elements of its business, it's unlikely that PE expansion will return for at least another year or two.
At this point, most value investors can safely duck out--they've heard everything they needed to hear. I am sure that they would much rather wait and see if they can get a better price for TACO.
Obviously the market doesn't believe in TACO trading at a 30X multiple; the stock was already trading at that multiple prior to earnings. So where does that leave us?
Technically and Fundamentally, TACO Might Be Worth A Dice Roll
For the more speculative, it can be argued that TACO's underlying business is fundamentally sound, possesses moderate growth catalysts in the mid-term, and is technically tempting on the chart.
Over the past year, TACO has found support at the $12 range multiple times as shown below: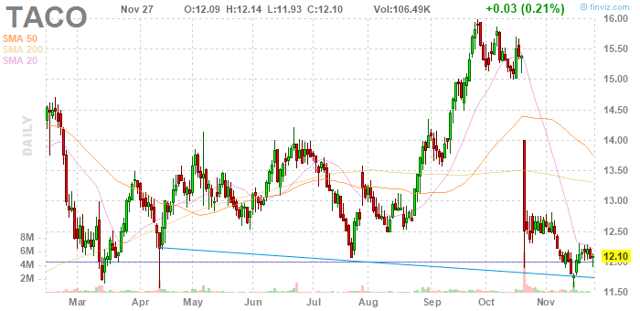 Although I would not be looking to play a bounce (there probably won't be enough upside in the short term, and shares might not be volatile enough for traders to profit significantly unless using large position sizes), I think there is something here for long-term investors willing to buy and hold TACO for at least the next five years. While 2018 might be a throwaway, the company's trajectory out to 2022 should improve as kinks are worked out and restaurant expansion subsequently ramps up.
The underlying company does not possess catastrophic risk, and there is evidence that the company is in good hands. For example, Del Taco has logged 21 consecutive quarters (5.25 years) of positive company-operated sales comps. Consecutive comps signals great management, especially in the current industry environment. Also, let's not forget that Barry Westrum joined as Chief Marketing Officer in August. He has 25 years of marketing experience with Taco Bell, KFC USA, Long John Silver's, A&W Restaurants, and most recently Dairy Queen. I believe Westrum's impact on the company will be immense moving forward.
Conclusion
I don't think $12 is the best price for TACO, but it might be a decent spot to initiate a long term position for those who are bullish on Del Taco's long term story. Moreover, $12 has shown to be a key support level in the past year. So not only are bottom-fishers looking at TACO after its sharp decline after earnings, but the ticker is also showing up on the radars of technical traders.
For those reasons I believe that we can find a temporary floor for TACO here at $12 in the short term. Whether that floor will hold out to next year is of course unknown, but if for any reason the market's sentiment on TACO revises to the upside in that time, I would personally hate to be left out. So while I don't think TACO is a value buy, the growth story is feasible. I believe the management has what it takes to get the job done, and in the long term Del Taco will survive the current contraction period in the industry and expand its footprint to be worth more than what it is today. So depending on how you look at TACO, you can sit out and take the gamble that you might be able to buy the stock at a better price, or you realize that over the span of at least five years, the current stock price is a discount to its growth prospects.
Disclosure: I am/we are long TACO.
I wrote this article myself, and it expresses my own opinions. I am not receiving compensation for it (other than from Seeking Alpha). I have no business relationship with any company whose stock is mentioned in this article.
Additional disclosure: I am long via call options.