Working on a piece to explain the investment thesis behind my investments in various cryptocurrencies, like Bitcoin (COIN), I encountered a problem. One thing I try to work in an investment thesis is "what is the market missing?"
What am I seeing here that no one else is seeing?
Writing about a number of different cryptocurrencies it started to sound very unlikely the market would be missing anything as these are all experiencing tremendous upward movement and people love to talk about cryptocurrencies as investments as of late. The phenomenon doesn't seem to pass anyone by.

This doesn't really jive with my investment principle of going after stuff that others are missing.

How can so many people be this excited while there's still an opportunity here?

The answer is size of the opportunity versus actual investment power.
Although the leading U.S. cloud wallet Coinbase has about 14 million users, the 800-plus cryptocurrencies out there sport a combined market cap of $300 billion and Bitcoin by itself has a market cap in excess of $150 billion. It just isn't that much money when put in context.

A short explanation before getting to my point shortly.
The blockchain is basically the ledger that administrates transactions.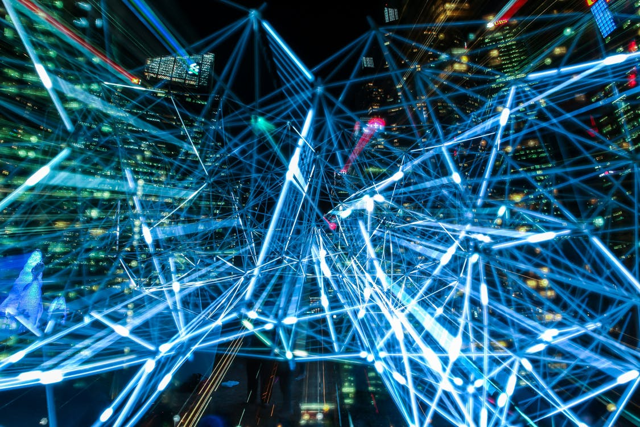 If the blockchain is
It can be used to administer a lot of different things.

Its initial use is to administrate its accompanying cryptocurrency, for example the Bitcoin.

But by integrating technology it becomes possible to have one-millionth of a bitcoin - just an example - correspond to something you want to track in the real world.

The blockchain can turn into a globalized efficient administrative system.
Some versions of blockchain are so efficient that it will open up innovation. Some services/activities currently do not exist because the frictional costs are too high. One often cited example is banking in developing countries.
Everything that gets administered this way requires a little bit of working capital however and these use cases create a baseline of demand.

Sometimes it is argued private blockchains can accomplish this without the need for accompanying cryptocurrencies. But I disagree with that notion. If you want to utilize the ultimate security and trust afforded by blockchain you need to connect whatever you are tracking to a real blockchain. Bitcoin is the safest blockchain in existence and therefore a top choice. Other considerations beside safety can tip the advantage to another blockchain but that's a story for another day.
It seems reasonable to me that one day a blockchain could be used as a global reserve currency. Intuitively you would expect one global supercurrency but I think there is a greater probability we will not see consolidation in global currencies, but actually a proliferation of currencies. Every brand, every retailer, maybe every municipality could run its own currency but always linked into the global system of cryptocurrencies making IOUs (I owe you) extremely fungible.

Use cases tend to fall into the following types:

Some sort of digital gold (it would be a little bit different but the analogy works well enough)
A global reserve currency
A flexible efficient global administrative chain that requires a little bit of working capital
If we compare the market cap of all cryptocurrencies to either of the first, it is clear that all cryptocurrencies together represent only a small part of their ultimate potential value.
The most conservative estimates put the amount of gold mined at about 155,244 tons which is valued at current market rates at around $6.5 trillion or easily 20x all cryptocurrencies together.
The chart below shows the U.S. money supply is like 50x the capitalization of all cryptocurrencies and that's just the U.S. China's M2 exceeds that of the U.S. by a large amount and the Eurozone isn't far behind the U.S.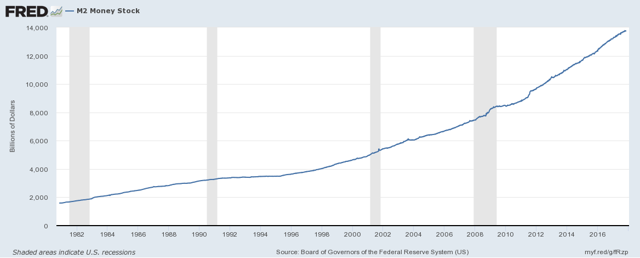 Cryptocurrency enthusiasts are not missing the opportunity here. In fact they are very aware. However, there are constraints that prevent them from arbitraging the opportunity away. With a lack of institutional capital there just isn't enough money to buy Bitcoin to drive it toward a number that accurately reflects the chance it will serve as a new gold or alternative to global fiat.
Disclosure: I/we have no positions in any stocks mentioned, and no plans to initiate any positions within the next 72 hours.
I wrote this article myself, and it expresses my own opinions. I am not receiving compensation for it (other than from Seeking Alpha). I have no business relationship with any company whose stock is mentioned in this article.
Additional disclosure: I'm long bitcoin.