Alibaba Group Holding Ltd. (BABA) has had a great run over the last year, doubling in value to almost a half-trillion dollar market cap company. After such a rapid rise in value, the company might be due for a pullback, especially as the company's Singles' Day performance starts to fade from memory. Altaba Inc. (AABA) tracks Alibaba's performance giving you access to Alibaba's upside, while partially hedging the downside risk of a pullback in Alibaba because of tax considerations. With U.S. politics currently focused on sweeping tax reforms, any reforms might lead to additional potential tax benefits for Altaba allowing it to continue to outperform Alibaba in the near-term. The market is recognizing this upside potential as evidenced in how the stocks have been faring over the past three months.
Altaba tracks Alibaba's stock as the majority of Altaba's assets are in Alibaba's stock. Here is a table showing a quick valuation and simple NAV value for Altaba with a 20% (political corporate tax target) and 36% (full current tax) liability based on 873,378,068 shares outstanding according to the company's latest 8-K report.
| | | | | | |
| --- | --- | --- | --- | --- | --- |
| AABA Valuation | Shares | % Owned | Value | 20% Tax | 36% Tax |
| | | | | | |
| Alibaba | 383,565,416 | 14.98 | 72.3B | 57.8B | 46.3B |
| Yahoo Japan | 2,025,923,000 | 35.5 | 9.2B | 7.4B | 5.9B |
| Excalibur | | | 1B | 800M | 640M |
| | | | | | |
| Final Value | | | 82.5B | 66B | 52.8B |
| NAV per Share | | | $94.46 | $75.57 | $60.45 |
Table by Trent Welsh
With the majority of Altaba's value in Alibaba's stock, the performance of the companies should track similarly with a gap forming over time due to the tax considerations that have to be built into valuing Altaba. As you can see from the following graph, Alibaba's stock has doubled over the year with Altaba's stock merely appreciating at a 76% rate with the market figuring in a rough 27% tax discount over that time.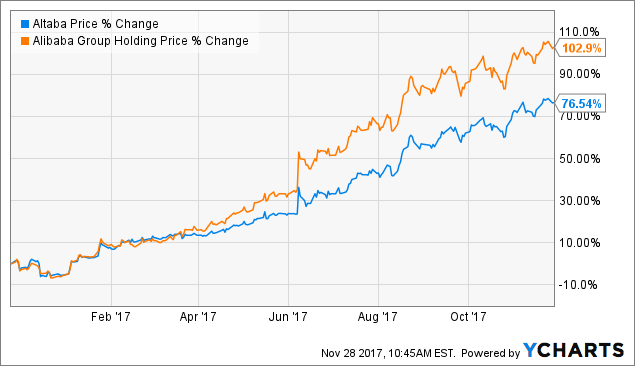 AABA data by YCharts
I did a valuation article on these stocks two months ago where the gap between the stocks over 2017 was almost exactly 30%. This is potentially very interesting because the gap has been closing of late as both stocks continue to churn higher.
With Alibaba's Singles' Day coming to a spectacular end, including over $25 billion in sales as the world's biggest shopping event, maybe it is time for Alibaba's stock to take a breather. This might create a buy the hype sell the event type of situation where maybe its a prudent time to take profits in Alibaba after its massive gains over the year. While I am a firm believer in Alibaba over the long term, I am concerned there might be a pullback in the stock over the next 6 months as the stock and the market itself might be due for a correction. Altaba's tax concerns means that it should experience less of a pullback than Alibaba's stock by approximately 20% or more, especially if a major correction occurs. However, if the market and Alibaba continue to appreciate in 2018, Altaba owners will still benefit from Alibaba's upside, and a potentially still closing valuation gap.
With the GOP's tax bill creating daily stories as it traverses the political arena, it is very possible that changes could create additional potential upside for Altaba. If you took away Altaba's tax concerns, it should trade very similarly to Alibaba stock with the gap between the two primarily based on the value of Yahoo Japan (OTCPK:YAHOY), its Excalibur portfolio, and its current cash/debt profile with a built in discount. You can see that the market is starting to take notice of the potential political upside by the gap closing over the year between the two from about 30% on my chart from two months ago to closer to 27% on my earlier chart. What gets really interesting is looking at how the stocks have been trading over the past three months.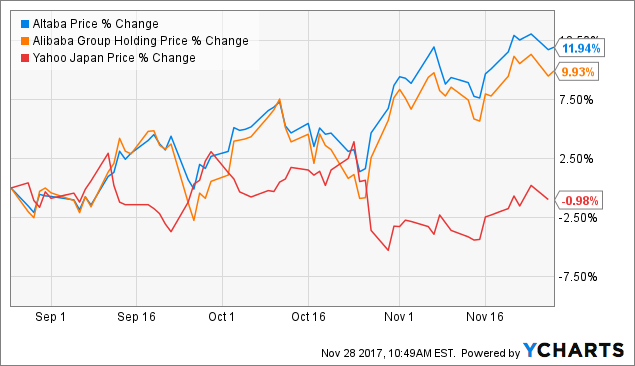 AABA data by YCharts
Over the past three months, Altaba has actually outperformed Alibaba stock. Let me say that again. Over the last three months Alibaba has underperformed Altaba stock with both of them rising near double digits over the period. That is pretty amazing especially considering that Yahoo Japan has lost market value over the same time period. Its hard to explain this price action aside from the fact that political movements are being noticed by investors, who are quietly betting on potential political tailwinds along with maybe hedging Alibaba's massive gains with Altaba's built in hedge.
Market action in Alibaba and Altaba has been very interesting over the past few months as Altaba has been performing better than Alibaba, with less downside risk, and even some more upside if tax reforms result in creating additional value for investors. With Altaba currently trading around $72.15 at the time of writing and a full value of approximately $94.46 and a 20% tax adjusted value at approximately $75.57, this gives the stock $3.42-$22.31 in potential yet unrealized upside if the tax plan goes through. This gives Altaba owners a 4.7%-30.1% upside that Alibaba owners do not have along with its downside hedge. I look for Altaba to continue to outperform Alibaba into 2018 as political winds continue to stir and tax repercussions ripple through the market. I continue to be long Altaba and will look to potentially add to my position if Alibaba and Altaba happen to experience a negative correction in 2018. Best of luck to all.
Disclosure: I am/we are long AABA.
I wrote this article myself, and it expresses my own opinions. I am not receiving compensation for it (other than from Seeking Alpha). I have no business relationship with any company whose stock is mentioned in this article.