Johnson & Johnson (JNJ) continues to trend higher on stronger operating results. Its share price remains in a major trend higher as it generates strong cash flows from its current operations. Moreover, management is committed returning its cash flow to shareholders in the form of dividends and share repurchases. Overall, JNJ looks like a strong total return candidate due to both price appreciation and capital distributions.
Price Action
JNJ's share price continues to trend higher after remaining stagnant for much of 2015. The trend higher in share price comes as both the company's operations are improving, as well as general bullish sentiment in the broader U.S. equity markets persists.
JNJ saw its share price break out higher at the start of 2016 as investors piled into "low volatility" stocks in an effort to position defensively. As interest rates fell on general economic fears at the start of 2016, JNJ's steady cash flow and strong dividend led investors into the stock.
Its trend higher remains intact, even after the supposed "low vol" trade has been pared back. This is due to JNJ's continued strong operational results, generating cash flow that is pushing its valuation multiple higher. Investor sentiment around JNJ remains positive, and with its share price moving lower in recent days, back to its trend lines, investors should use this as an opportunity to accumulate more shares.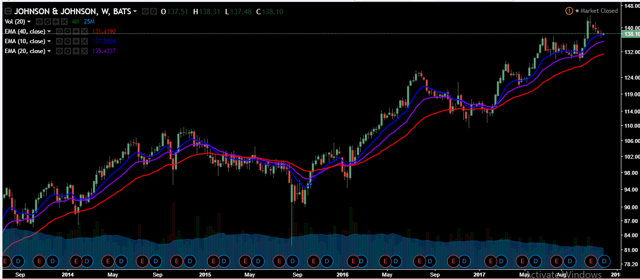 Source: Tradingview.com
Fundamental Narrative
JNJ's leadership as a diverse healthcare provider allows it to command pricing power, leading to strong results, which is producing impressive free cash flow. In its most recent quarter, revenues came in at $19,650M, representing growth of +10.3%. The strong performance was led largely by its pharmaceutical and medical devices divisions, which showed growth of +15.4% and +7.1% respectively.
JNJ's pharmaceutical division contributes just over 45% of total revenue, with results being driven by key brands that are penetrating new markets and gaining share, according to management.
Strong demand for JNJ's multiple myeloma treatment Darzalex, its B-cell malignancies treatment Imbruvica, and Stelara for immune-mediated inflammatory diseases all helped offset softer demand for its blockbuster arthritis drug Remicade due to growing generic competition in the most recent quarter.
Darzalex showed robust performance during the quarter with rapid uptake. Darzalex's growth in EMEA drove results outside the U.S. with the product having launched in 25 countries. Additionally, Imbruvica continues to gain market share globally, with it now being above 50% market share in the U.S. across all approved indications, according to management.
During the quarter, Stelara in the U.S. gained 1.8 points of market share in the total immunology market versus the third quarter of 2016 driven mostly by strong adoption for the newer Crohn's disease indication. The drug's market share for the Crohn's in the U.S. is now estimated to be approximately 10%.
Lastly, Remicade in the U.S. declined a little more than 1% as it continues to compete in the face of biosimilar entries, according to the earnings call. Collectively, Remicade's U.S. export and International combined to show a decline of 23%.
JNJ's medical device division contributes to roughly one-third of sales, and also showed strong numbers during the previous quarter. Results for the division were supported by its electrophysiology and advanced surgery products.
Within Hospital Medical Devices, electrophysiology grew roughly 14% worldwide largely in line with atrial fibrillation procedure growth. Its advanced surgery category grew 3.9%, or 2.2% excluding the Megadyne acquisition. Management had this to say about its devices unit:
Growth was largely generated by 13% OUS biosurgery performance with strength in the Middle East and Asia Pacific markets. Endocutters grew 6% outside the U.S. driven by Echelon performance in China.
And
Trauma grew 3.1% driven by solid growth in the U.S. market and strength in the Asia Pacific and Latin America regions. Hips round out the orthopedic portfolio and that platform grew 1.5% globally as strength in the U.S. was driven by continued adoption of Corail.
Below is a chart of the company's free cash flow per share. Over the last three decades, free cash flow has steadily risen, with a strong breakout higher in recent years. Management's ability to utilize the company's strong brand and offerings to create pricing power, generating free cash flow has benefited shareholder value. Free cash flow growth created capital appreciation in the company's share price, while also allowing management to distribute funds to shareholders.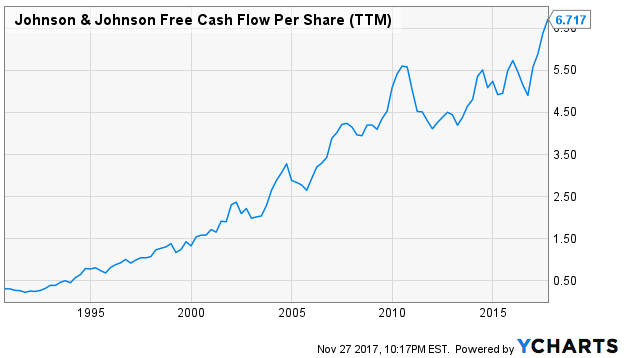 Capital Allocation
As was stated above, JNJ's strong operating performance allowed the company to distribute capital the shareholders, while also positioning for future growth opportunities. JNJ's free cash flow margin, pictured below, of nearly 25% of sales affords management the ability to increase resources towards both future growth, in the form of research and development and acquisitions, while also returning capital to shareholders.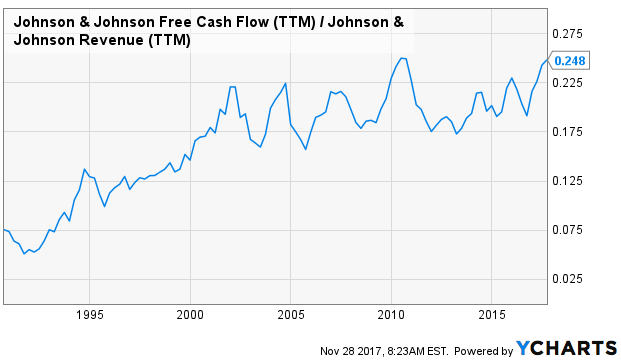 The chart below highlights JNJ's capital distribution history to shareholders. Over the last three decades, management has steadily increased its dividend payout to shareholders, from nearly $0.15 per share in 2000, to now over $0.80 per share, while also reducing the company's shares outstanding by nearly 500 million shares over the last two decades.
Strong cash generation has enabled the firm to increase its dividend for over the past half century, according to management, while also allowing JNJ to take advantage of acquisition opportunities, augmenting growth. In its most recent earnings call, management highlighted the recent completion of a $10 billion stock repurchase program. With management's continued commitment to capital distribution, and its ability to do so, JNJ looks like an attractive total return investment going forward.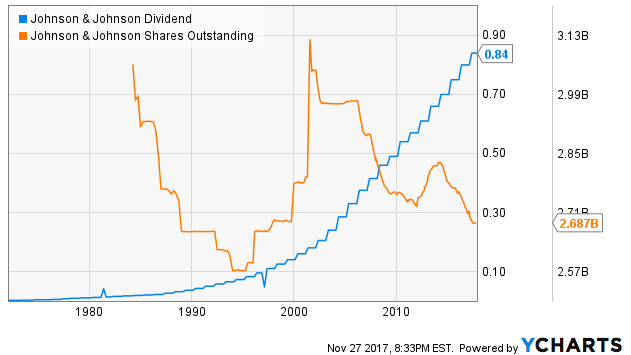 Conclusion
JNJ's price continues to trend higher, with investor sentiment further increasing as the company delivers strong results. The company's diversified portfolio continues to deliver impressive growth, while also generating strong free cash flow. JNJ's free cash flow margin allows it to both position for future growth, while also returning capital to shareholders, making it an attractive long-term holding at current levels.
Disclosure: I am/we are long JNJ.
I wrote this article myself, and it expresses my own opinions. I am not receiving compensation for it (other than from Seeking Alpha). I have no business relationship with any company whose stock is mentioned in this article.