Home Depot (HD) has been pursuing its interconnected retail strategy for the past several years, an approach that aims to connect all the different elements of the company's operations - digital, in-store, delivery and returns - and create a seamless customer experience. That strategy has paid huge dividends for the company in the last five years, not just in the form of growing digital sales, but also by strengthening the company's moat and effectively shutting down the Amazon (AMZN) threat, for the most part.
In this article, we'll take a closer look at how the strategy, which has enabled strong digital sales growth, has completely transformed the company's long-term outlook and aligned it to the future needs of an evolving marketplace.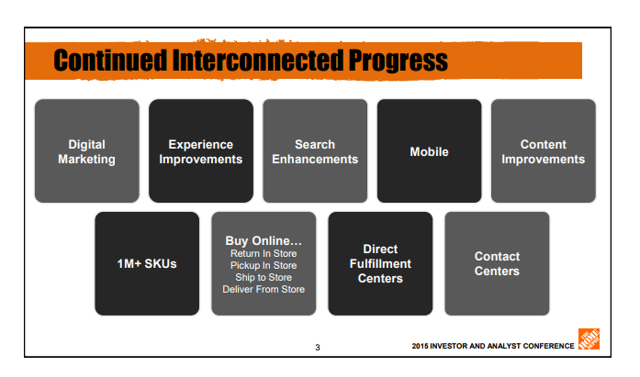 Source: HD 2015 Investor Presentation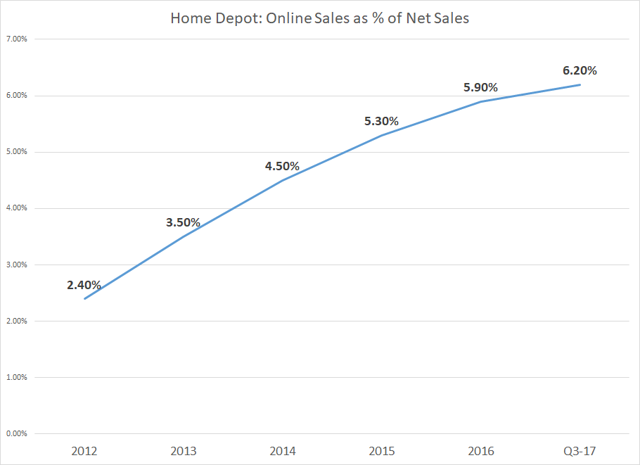 Source: Chart prepared by author with data from company annual reports
Home Depot's online sales have grown from just 2.4% of net sales in fiscal 2012 to 6.2% during the third quarter of 2017. The reason the company's digital sales are growing so fast in terms of contribution to net sales is because digital has been growing around the 20% mark for the past five years, while net sales have been increasing at around the 5% mark.
But in the world of e-commerce, fast doesn't necessarily mean sustainable. There are major factors like last-mile shipping and product returns that could put paid to top-line success.
How is Home Depot Making Online Sales Growth Sustainable?
First, let's look at what's actually driving growth in digital.
During the third quarter of 2016, digital sales grew 17% compared to the prior period; in the third quarter of 2017, digital sales grew 19% compared to 2016. Despite getting bigger in size, Home Depot's online sales volumes still increased by a bigger percentage this year compared to last year.
One driver of that growth is the company's new-found habit of introducing new services and features focused on a seamless online experience.
For example, in fiscal 2016 the company introduced dynamic ETA for online orders. What it does is give the customer a more accurate picture of delivery dates based on their location, and what it results in is a "frictionless way to enhance the end-to-end customer experience," according to the company.
But I believe that the more important growth driver is the prioritization of investments in digital over store expansion during the last five years.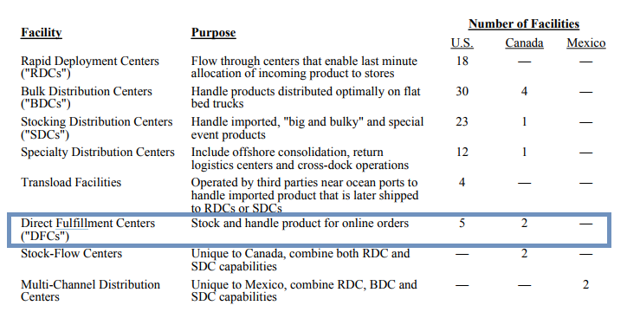 Source: Home Depot 2016 Annual Report
Between 2012 and 2016, Home Depot's store count grew from 2,256 stores to 2,278 stores, an increase of only 22 stores. In 2012, Home Depot started constructing its first direct fulfillment center and, by the end of 2016, they had 5 direct fulfillment centers in the United States and two in Canada.
The reason I say "only 22 stores" versus just 7 direct fulfillment centers is because these DFCs are massive. The one in Troy Township, Ohio, measures 1.6 million square feet, while the one in McDonough, Georgia, measures 1.1 million square feet. The McDonough DFC carries more than 100,000 SKUs (stock keeping units, or distinct items), while the average Home Depot store only carries about 35,000 SKUs.
According to Stephanie Smith, VP of direct fulfillment at Home Depot:
"We can get products to 90 percent of the U.S. in two business days from here. What we have in here is most of what is in our retail stores, but a much broader assortment."
In the Q&A between Home Depot CEO Craig Menear and analysts during the first quarter 2016 earnings call, a related topic was discussed:
Scott Mushkin

I just wanted to go back to the Buy Online and Deliver From Store economics, trying to understand it a little bit more. Our research has suggested particularly the (inaudible) really want to do that. They don't really necessarily want to pick up in-store. I was just wondering looking at the uptake is exceeding expectations, what are the margins attached to that business.

Craig Menear

First I would say that in our business we have a lot of project business. We have a lot of things that are big and bulky, and so that's why in many ways we're seeing significant portion of our customers chose to pick up their products in-store and then potentially have it delivered it from store. We also have Pros, who are interested in having the product deliver from store to their job sites. It saves them time, it saves the runners from to come in to the stores overall. And then candidly, we've been doing delivery from store for quite some time, for years, and that's just part of the overall operating cost of doing the business, and so we approach that on a day in, day out basis as part of operating the business and our value proposition for the customer across product takes out a new account.
Home Depot's products are bulky and heavy. According to Fortune, nearly 80% of Home Depot's products weigh more than five pounds. And this is the kind of merchandize regularly handled at DFCs.
While this could have lead to unmanageable shipping costs, Home Depot's interconnected retail strategy, in tandem with its physical footprint, has actually encouraged in-store pickups and also returns.
Home Depot's network of stores has offered tremendous leverage for the company's online sales. Nearly 45% of online orders are picked up at the stores, and 85% of returns of products ordered online are happening in-store.
What that 45% pick-up figure implies is that nearly half of all the company's online orders have no additional shipping cost attached to them, which is a significant achievement in the realm of e-commerce, where last-mile delivery costs often eat up a huge chunk of margin.
And that brings us to the 85% in-store returns figure. This is the second major e-commerce problem that Home Depot has managed to successfully minimize.
In addition to last-mile delivery costs, product returns are another major challenge for online sales. The fact that 85% of Home Depot's returns happen in-store is a huge advantage for the home improvement retailer.
This is what the returns landscape looks like for most e-commerce players:
"High return rates have long been the Achilles' heel for the ecommerce industry, where one in three online purchases is returned. For online apparel purchases, the rate is closer to 40 percent. Why are these return rates so high? Because online shoppers do not have the sensory experience of seeing, touching and, most importantly, trying on an item before they buy. With e-commerce, it is easy to order the wrong size or find that the color or fabric is not what was expected." - Entrepreneur.com
This is where you see Home Depot's moat begin to deepen and widen.
With 2250+ stores and a growing number of DFCs, the company's physical footprint helps alleviate the major problems of both last-mile delivery and product returns. That means less expenditure on the supply chain to handle shipping, and also less expenditure on the "reverse supply chain" required to handle returns.
For further proof that a strong physical presence can help mitigate the product returns problem, all you need to do is look at Wal-Mart's (WMT) new Mobile Express Returns service. Online buyers simply log their to-be-returned items on the Wal-Mart mobile app, then head to the nearest store to quickly return or exchange the item. In certain cases, such as with large or bulky items, Wal-Mart even has a "keep it" policy that allows customers to keep the item and still get a refund.
In summary, the two biggest tangible results of Home Depot's interconnected retail strategy - high in-store pick-ups and high in-store returns - effectively reduce the impact of the two biggest expense items for e-commerce businesses - shipping and returns.
Investment Case
Home Depot is a buy, and I encourage you to treat it as a long-term investment. It's not necessarily recession-resistant, but it is quite resilient when it comes to bouncing back once the economy starts to recover.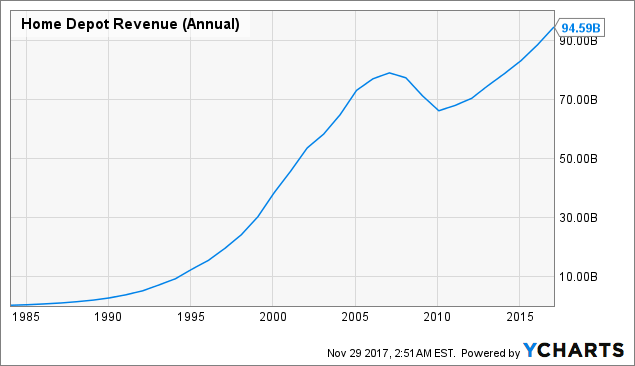 HD Revenue (Annual) data by YCharts
The company's integrated retail approach is already yielding results, and it clearly removes two of the major obstacles to profitability in online sales. With a strengthening moat and tangible results from digital investments and initiatives, the case to invest just gets stronger.

In terms of valuation, the stock does seem a little expensive at the current price. Intrinsic value using a reasonable 5% growth rate comes in at about $161, which is not very far from the $175 levels the stock was trading at, at the time of writing this.
Furthermore, I am very confident that Amazon-related news will hit HD's valuation from time to time, similar to the multi-billion-dollar decline Home Depot experienced on July 20 this year, when Amazon announced that it would sell Sears' Kenmore-brand appliances on its portal.
Such news could potentially open a nice window of opportunity into HD at an attractive price.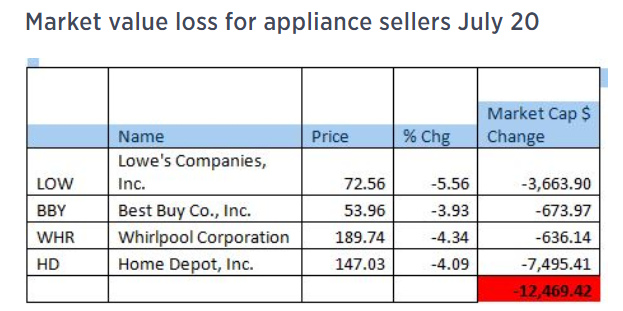 Source: CNBC
Disclosure: I/we have no positions in any stocks mentioned, and no plans to initiate any positions within the next 72 hours.
I wrote this article myself, and it expresses my own opinions. I am not receiving compensation for it (other than from Seeking Alpha). I have no business relationship with any company whose stock is mentioned in this article.