This review updates my last look at Ares Management L.P. (NYSE:ARES) as I reported in my December 9, 2016, article, "Ares Management - Viewed Through The Eyes Of A Preferred Investor: An Update
As I reported then:
On first look, ARES appears to be a company built to last and offers a reasonably safe, recently issued, non-cumulative preferred

Accordingly, over the past few years, the company performed adequately and in line with several of its competitors.

However, it appears that ARES's D/E, in relation to its peers, is a troubling high 5.16.

Consequently, for several reasons, an investment in its preferred should be considered carefully prior to placing your bid.
Let's see how the commons of ARES have performed over the past year since I wrote the previous article. Because of the greater volume of common shares traded as opposed to the limited liquidity of most preferreds, I find the commons to be a better indicator of a company's overall performance.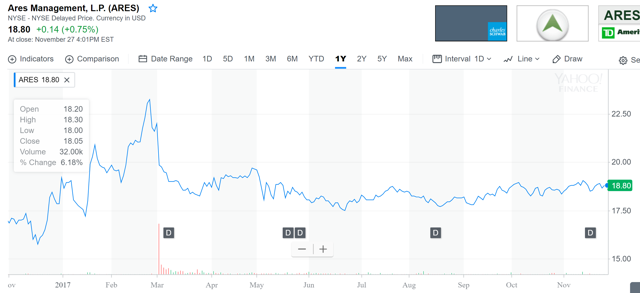 Over the past year, ARES's share price has inched up from $16.85/share on 11/29/16 to its current $18.80. Nothing to write home about, but nothing to be concerned about for the preferred investor, simply because this company still faces no possibility of an existential threat, the only thing a cumulative preferred investor needs ultimately be concerned about.
According to Finviz financial highlights concerning ARES...

... this company is valued at $4.04 billion. It earned $48.50 million on $1.42 billion of sales. It has a book/share value of 3.30. YTD, it is slightly down a mere 2.08%. Its current D/E is reported at a lofty even for the sector, 18.77, quite a bit higher than it was last year and the only thing that disturbs me about this company. However, I want to bring to your attention the March and May upgrades, which I pay little attention to, but it might mean something to you.
All the above information gathered above convinces me that this company stands on solid footing. Consequently, a preferred investment in it is a reasonably safe investment. However, at its current price, is it a wise one?
A year ago, when I penned the last review, ARES-A was priced at $25.02. Today, those same shares are priced at $26.79. This convinces me that my thoughts about this company's long-term viability outlook are shared by many in the market. Therefore, at this price, the effective yield you can expect for at through 6/30/21 when it becomes callable will be:
1.75/26.79 = 6.53%
YTC will be 4.75% as figured below.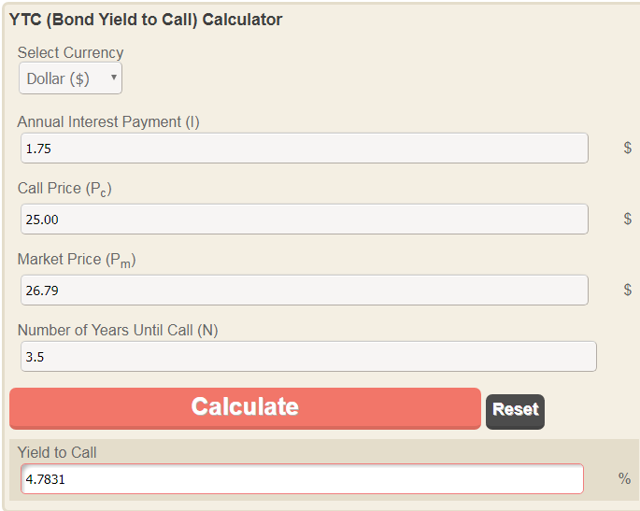 Taking all the above into account, I have a great deal of difficulty recommending a preferred buy at this inflated price, which is so far above par value. Because as usually happens, most preferreds normally trade around par or at a price slightly lower than par, which means when the market corrects or some perceived company weakness is suspected, expect your portfolio's value to drop by $1.79/share or more. Frankly, for the effective yield anticipated and the YTC, if you hold until then, buying at this price would be a bad bet.
Disclosure: I/we have no positions in any stocks mentioned, and no plans to initiate any positions within the next 72 hours.
I wrote this article myself, and it expresses my own opinions. I am not receiving compensation for it (other than from Seeking Alpha). I have no business relationship with any company whose stock is mentioned in this article.