Introduction
There is no incredible value created by the series of articles covering fixed income products whose Call Option was finally, or perhaps timely, exercised by the issuing company. However, it turns out that not all of us have the resources and time to keep track of their portfolio, thus we are continuing our coverage of these events.
Additionally, some of you might find the relation between this topic and 'dangerous' products, which are not feeling the gravitational pull of their Par Value once the Call Date has passed.
As a reference to the latter you can take a look at the opening article of an upcoming series: 'Defining Dangerous Preferred Stocks.'
SVB Financial Group - SIVBO
It has been a while since we could say "Told you so." by highlighting some product which was detached from financial logic and traded at levels that do not make much sense, at least to us.
SVB Financial's (NASDAQ: SIVB) have definitely surprised market participants as we can see from the chart below: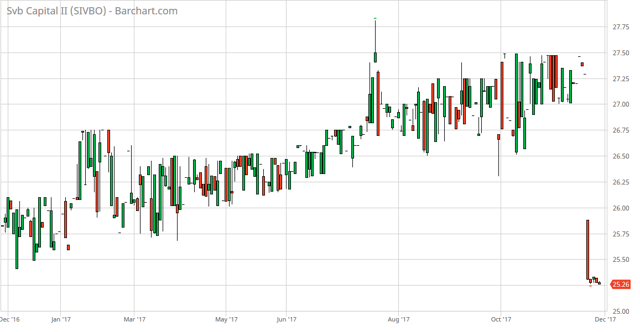 Source: Barchart.com - SIVBO Daily Chart (1 year)
At some point, observable above, this issue did trade in a price range which might have been considered justified from a speculator's point of view. However, low liquidity drove it up all the way to $27 and beyond. And then all of a sudden a reality check came by.

How do we get involved? Well, we simply do not. The only course of action here would be establishing a Short position if the news is out and there is a miscpricing, but as you can see on the chart above - price discovery only took one day.
There is no new issue and there are no others outstanding from SVB Financial that are of interest to us.
JMP Group - JMPB & JMPC
Just to clarify, there is no official announcement yet, but they are most likely going to bite the dust. Or, if any guessing was to take place, we would put our money on JMPB's redemption as the company with capture a nice spread on the refinancing.
The article covering JMPD is still available only in our Marketplace.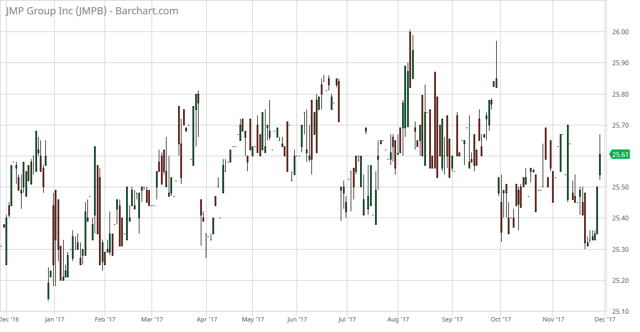 Source: Barchart.com - JMPB Daily Chart (1 year)
The chart clearly indicates that unlike some, this product was pricing in the active Call Option much more adequately. In fact, currently the Stripped Price is $25.35 - $0.26 of Accrued Dividends removed from the last Market Price of $25.61 - which means that the market has not fully acknowledged the redemption. Furthermore, with JMPC's redemption being confirmed, JMPB rallied a bit and may offer speculators with a decent Short if the market price starts defying gravity.

Now let us take a look at the other issue by JMP Group (NYSE: JMP) which did bite the dust while this article was available only to our subscribers:

Not much of a spread to capture with this issue, therefore we were willing to speculate that it might not get redeemed, however we were wrong.

Here is an excerpt from the Form 424B5:
Use of Proceeds


We intend to use a portion of the net proceeds from this offering to redeem some or all of our outstanding 7.25% Senior Notes or 8.00% Senior Notes or both, and the remainder, if any, will be used for general corporate purposes. For additional information, see "Use of Proceeds."
Source: SEC.gov - Form 424B5 by JMP Group LLC
Let us take a glimpse at JMPC's latest market price in order to extract the market's opinion on the pending redemption: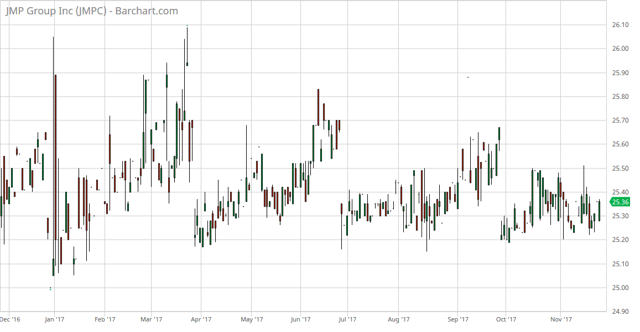 Source: Barchart.com - JMPC Daily Chart (1 year)
The Stripped Price is currently at $25.13 - $0.23 of Accrued Dividends deducted from the last market price of $25.36. The redemption price is approximately $25.37, so there is no real opportunity for us.

Perhaps we could find a Short opportunity in one of these baby bonds if a uninformed buyer shows up?
Webster Financial Corporation - WBS-E
There is no new product issued by Webster Financial Corporation (NYSE: WBS) in order to finance this one's redemption, as far as we know.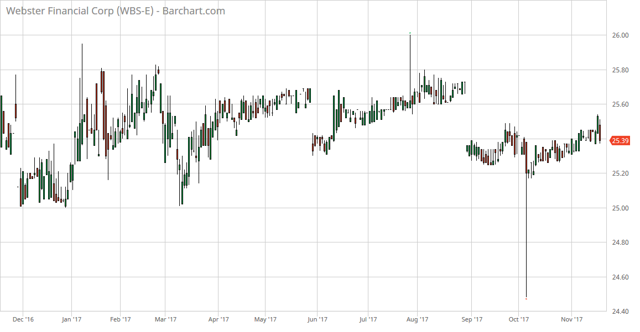 Source: Barchart.com - WBS-E Daily Chart (1 year)
After his redemption there will be no other fixed income products issued by WBS which are of interest to us.
EPR Properties - EPR-F
The company is capturing a not-so-small yield spread by refinancing.
Below you can see a daily chart of EPR-F: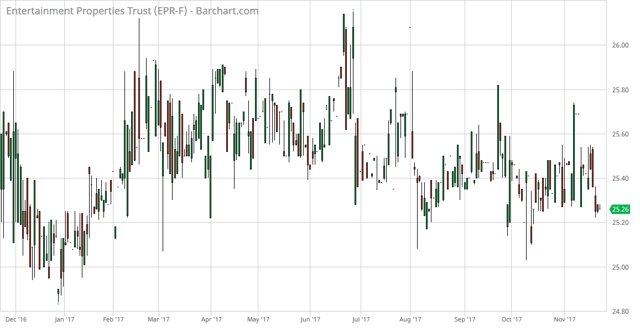 Source: Barchart.com - EPR-F Daily Chart (1 year)
EPR-G is still not trading on the NYSE, but once it starts, we will have the following preferred stocks by EPR Properties (NYSE: EPR) available to us:
- EPR Properties, 5.75% Series C Cumulative Convertible Preferred Shares (NYSE: EPR-C)
- EPR Properties, 9.00% Series E Cumulative Convertible Preferred Shares (NYSE: EPR-E)
- EPR Properties 5.75% Series G Cumulative Redeemable Preferred Shares (NYSE: EPR-G
Conclusion
All of the products above, with the exception of SIVBO, were trading in a appropriate manner where the market was pricing in the potential exercise of their respective Call Option by the companies. That being said, there were no real shockers in them.
SIVBO, however, is a whole different story and was one of the reasons why we attempt to pay special attention to 'dangerous preferred stocks,' and keep on reminding you about them.
Trade With Beta
These products are our bread and butter and although we do not want to brag, our community at 'Trade With Beta' always manages to spot news about Redeemed issues before the majority of market participants. And this is only part of the services we offer to our Subscribers, so feel invited to join us and explore the marketplace!
For a formal introduction to our service, you can take a glimpse at 'Trade With Beta The Beginning' on YouTube.
Disclosure: I/we have no positions in any stocks mentioned, but may initiate a short position in JMPB over the next 72 hours.
I wrote this article myself, and it expresses my own opinions. I am not receiving compensation for it (other than from Seeking Alpha). I have no business relationship with any company whose stock is mentioned in this article.