By David Wismer
My high school alma mater in New Jersey celebrated the 50th anniversary of the school's undefeated, state champion football team on Thanksgiving Day, prior to the current team's traditional Turkey Day game. In the overall scheme of things, this might not be viewed as the most earth-shattering event, but for the members of the team in attendance, and those hearing about it from afar, it was a meaningful event that brought back a lot of memories.
The celebration received some local news coverage, and our star quarterback from that season put together a printed scrapbook for each of us that captured many of the highlights: a perfect 9-0 record, most points scored per game in the school's history, greatest average margin of victory, and seven players achieving all-county or all-league recognition.
While recollections of the season itself have become legendary among a still-tight group of teammates (myself included), the intervening years have produced a mixed bag of life events: marriages, divorces, kids, grand kids, and the untimely passing of children and spouses; great successes and some not so fortunate; healthy lives for some and serious illnesses for others. Thankfully, the good far outweighs the bad, and those at the game gave thanks for their blessings and remembered with a moment of silence those who are no longer with us.
While there are dozens of stories I could share about that team and that year, I've chosen the one that is most meaningful to me.
Our standout quarterback truly was unfortunate to have the opportunity to play the position so well our senior year. During our sophomore season, another classmate was quickly becoming one of the best overall athletes in the school's history. As a sophomore, Donnie started as QB in football, winning all-league honors in the process, and was also a starter in varsity baseball. That summer he was diagnosed with Multiple Sclerosis and missed much of the next school year and, of course, all athletics. He fought his way back senior year, much thinner and a bit unsteady, yet still saw action as the backup quarterback and contributed in a huge way by being an almost perfect placekicker. Donnie passed away in his early 40s after a long struggle.
Sad as that story is, I can look at the paths taken by many of our teammates with some pride, including the following:
The feared linebacker and fullback who was the definition of an "animal" on the field. He became, truthfully, a rocket scientist with a distinguished career at NASA's Jet Propulsion Laboratory in Pasadena, California.
The outgoing lineman who became a successful Wall Street executive, spending more than two decades promoting socially responsible investing.
The movie star-handsome halfback with long blond hair who, yes, became a movie star (Ed Harris of "The Right Stuff," "Apollo 13," and many other movies. He now stars in the HBO series "Westworld.")
Coincidentally, one of the writers for Proactive Advisor Magazine played high school football many years ago in Texas. He has been working on a soon-to-be-published article for the magazine, called "Agility drills for client investment portfolios."
I got a big kick out of the article and enjoyed swapping stories with the author, Mike Posey, of Theta Research. Mike likens some aspects of football to several elements of sophisticated active investment management. He writes about several principles he believes are important to financial advisors and their clients, briefly paraphrased here:
Diversify. Just as it wouldn't make much sense to field a team with players that all have the same skill sets or who all play the same position, an agile investment portfolio should also be diversified to include noncorrelated strategies, each with different strengths in the portfolio. Whether you call these strategies active, tactical, or alternative, they are characterized by rules-based strategies that seek to follow market trends rather than being victimized by them.
Know the playbook. In an investment portfolio, it's important for advisors to communicate why each investment strategy is included and what it is intended to do. In football, sometimes an aggressive passing style is called for on offense; at other times, a tightly controlled and conservative game plan. Similarly, it's equally important to make sure that multiple investment strategies are represented in clients' allocations, and not just multiple asset classes. To be effective, the overall plan for a portfolio should be like a playbook, with different strategies designed to perform during a variety of market conditions across long time frames.
Watch the films. The Saturday morning after the game was always dedicated to watching the game films. Reviewing the films is akin to advisors monitoring their clients' portfolios regularly. This is not to say that anyone - client or advisor - should be overly concerned with scrutinizing performance every day or every week. Instead, advisors should review their clients' portfolios as frequently as quarterly and no less than annually. Such a review can help to determine whether the portfolio's constituents are performing as expected and whether the risk level is appropriate.
Keep fantasy football in its place. A final point in this analogy is to be wary of the investment equivalent of fantasy football. Backtesting can be a valid and productive analytical tool when used properly and a dangerous tool when used improperly. Investment advisors must resume their coaching role and make sure that not only are trading strategies evaluated properly, but also the methodology of producing backtests.
Mike summarizes:
"Failure to include agile investment strategies can be costly. In football, the lack of agility can result in an opposing team's score, or your own team's fumble or tackle for a loss. For an investment portfolio, the lack of ability to adapt to market conditions can result in huge losses...

"After 30-plus years in the investment industry, and having lived through markets of all types, I have come to some firm convictions. By including actively managed strategies in your clients' portfolios, they will have a better chance, I believe, of being on the winning team and reaching their investment goals."
Market update
The fourth quarter and, for that matter, virtually all of 2017, has been a smooth ride for U.S. equity markets: low volatility, continuing record highs for major indexes, and extremely shallow pullbacks on the rare occasions they have occurred.
Last week saw the volatility index (VIX) set an all-time intraday record low, reaching 8.56 before closing the week down 15.4% from the prior week. The S&P 500 and Nasdaq Composite touched record highs on Friday (11/24), and the Dow Jones was not far off one.
Will the market be able to continue its winning streak into the end of the year? According to Bespoke Investment Group, the historical probabilities favor that outcome. As the following chart shows, the post-Thanksgiving period has averaged close to a 2% gain over the past 70 or so years, and slightly above that in this bull market and years showing a 10%-plus gain through Thanksgiving.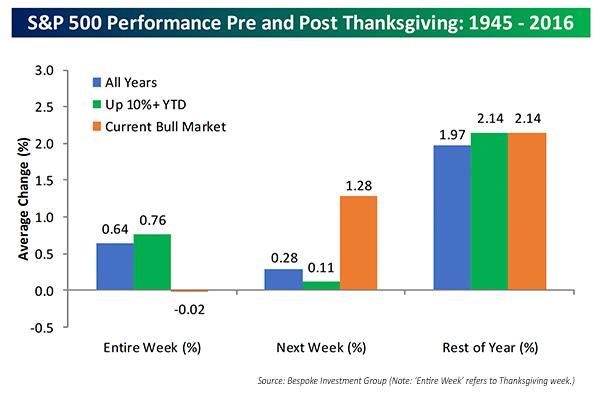 Will 2017 finish the year with a "perfect season" - one for the record books? As Mike Posey points out, having a full roster of agile and active strategies for client portfolios provides the best chance of achieving a winning season.
Disclosure: No communication by Dynamic Performance Publishing or our employees to you should be deemed as personalized investment advice. Any investment recommended in this newsletter should be made only after consulting with your investment advisor and only after reviewing the prospectus or financial statements of the company. Dynamic Performance Publishing, its affiliates, and clients may hold positions in the recommended securities. Results are not indicative of holdings for clients of Flexible Plan Investments. Forwarding, copying, or otherwise duplicating this information for the use by anyone other than the intended recipient is expressly forbidden. These results are not representative of those achieved by clients of Flexible Plan Investments, Ltd. (FPI) due to differences in security selection, timing of trades, transaction fees, and FPI's management fees.