By Matthew Carr, Emerging Trends Strategist, The Oxford Club
Every year, a friend of mine posts on Facebook about how much he hates Black Friday and the ugly consumerism of the season.
So he offers to give $100 to 10 different charities. All you need to do is suggest one, and he'll choose the ones he wants to donate to.
I get it. And I think it's a great idea.
It's easy to be anti-consumerism - especially this time of year.
Now, I'm anti a lot of things - hate, big government, gauges and plugs (those big, nasty earrings that stretch people's earlobes), dogs being chained outside during hurricanes, hearts of palm...
But I'm not anti a good deal. Which is why the boxes are piling up.
My foyer looks like a UPS truck barfed up its contents at my front door.
And every few hours, either my phone or my wife's phone vibrates with an alert that another package is being delivered.
There are Christmas presents for our ever-growing list of nieces and nephews, gifts for one another, gifts we bought for ourselves, and items we need around the house that we bought on sale.
Obviously, my wife and I weren't alone in our spending spree during the four-day holiday. But now it's over. And the results are clear. We just closed the books on the biggest online shopping day in U.S. history.
Cyber Monday hauled in $6.6 billion in sales, up nearly 17% from last year. And the online shopping day's margin of victory over Black Friday e-commerce sales increased to more than $1 billion.
Black Friday online sales came in at just over $5 billion - once again notching a short-lived record. Meanwhile, Thanksgiving saw online sales increase to $2.87 billion.
But these numbers are nothing compared with those of the world's largest online shopping day... an anti-holiday that is ballooning at an eye-popping pace.
China's November 11 "Singles Day" celebration dwarfs anything the U.S. could ever hope to produce.
This "anti-Valentine's Day" shopping holiday began among Chinese university students in the 1990s. And it has since blossomed into what could arguably be the biggest spending day ever devised.
This year, Singles Day sales topped $1 billion in the first two minutes.
And the two biggest winners - Alibaba (NYSE:BABA) and JD (NASDAQ:JD) - raked in more money in one day than was spent online in the U.S. during Cyber Week.
Alibaba's Singles Day sales hit a record $25.3 billion. JD came in second at $19.1 billion.
To put that in perspective, Alibaba's revenue - just for Singles Day - was more than the market caps of American Eagle Outfitters (NYSE:AEO), Kohl's (NYSE:KSS), Macy's (NYSE:M) and Nordstrom (NYSE:JWN) combined.
And total spending on Singles Day this year increased 40% year over year.
But, just like in the U.S., this online shopping holiday is demonstrating a dramatic shift in consumer attitudes. And we've seen shares of Alibaba, Tencent (OTCPK:TCEHY), 58.com (NYSE:WUBA) and others perform substantially better than Amazon's (NASDAQ:AMZN):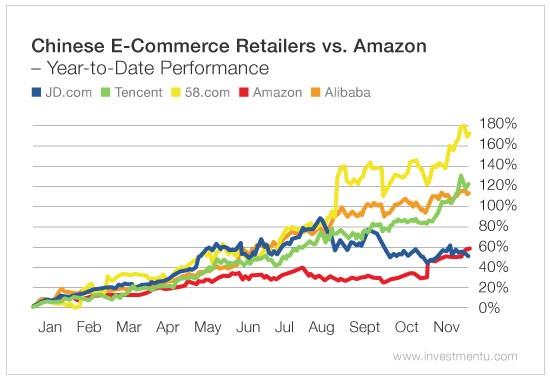 In the U.S. and the rest of the West, the youngest generation of adults is referred to as the "millennials."
This is the generation everyone loves to hate and shake their fists at. They get to carry the "this is what's wrong with the world today" label until they're old enough to place the blame on their children's children.
In China, this age range is known as the "post-90s" generation. These are the Chinese citizens, born between 1990 and 1999, who live in a world that their parents never knew existed. They live in an environment of wealth their country had not previously experienced. They have unprecedented exposure to Western cultures. And they have access to - and are dependent on - new technology.
Some commentators try to lump them in with millennials. But China's post-90s are different.
They represent 16% of China's population. But they will account for 20% of total consumption growth between now and 2030.
This is the generation that has helped turn Singles Day into the behemoth that it is. And they're more focused on buying local and Chinese brands than international ones.
And as I've written here before, China is moving away from cash. It's more important to have a smartphone than a wallet in the country.
So if investors haven't already woken up to the gargantuan opportunities that exist in the Chinese e-commerce landscape, they shouldn't need any more convincing than Singles Day.
Disclosure: We expressly forbid our writers from having a financial interest in their own securities recommendations to readers. All of our employees and agents must wait 24 hours after online publication or 72 hours after the mailing of printed-only publication prior to following an initial recommendation. Any investments recommended by Investment U should be made only after consulting with your investment advisor and only after reviewing the prospectus or financial statements of the company.
Editor's Note: This article discusses one or more securities that do not trade on a major U.S. exchange. Please be aware of the risks associated with these stocks.