Just hopped out of my Delorian, you'll never guess who I just met. It was the ghost of active management's future, and he said to me, "child, if you want your fund to survive another holiday season, don't buy Macy's or Nordstrom."
"Why," I asked, "they're so cheap."
"They might look cheap, but they're nothing more than value traps." He responded. "Plus, who would refinance their long-term debt?"
"I don't know, Countrywide?"
"You must have been speaking with ghost of active management's past."
Meanwhile, back in the present, day; If you had bought on the last market dip, the day I released an article titled "Why I'm not allowing volatility to dominate my long-term investment horizon," you'd be sitting on 6.2% of market gains in the S&P 500, which annualizes to an over 25% return.
The market as a whole didn't sell off yesterday, but rather something much more interesting is happening. Tech stocks, in particular, Apple (NASDAQ:AAPL), Google (NASDAQ:GOOG), Amazon (NASDAQ:AMZN), Facebook (NASDAQ:FB), Microsoft (FB), and also the Chinese internet giants like Tencent and Alibaba (NYSE:BABA), have sold off sharply. Some are down over 3% today (Netflix (NASDAQ:NFLX), which I do not endorse, is down 5% and FB down 4%). Meanwhile, bank stocks are rallying and value seems to be making a bit of a comeback. The most puzzling thing about yesterday's sector rotation is the recent participation of the value-traps with the "good" value buys.
The names mentioned above selling off all have one thing in common besides being technology companies with large market-caps. All have experienced tremendous year-to-date gains, ranging from +28% (GOOGL) at the low end, to +113% at the high end (Tencent.) The likely reason for the sell-off today is that active managers, ahead of the holiday season, are seeking to trim their positions and lock-in part of the tremendous gains that these companies have provided, so that heading into year-end reviews with clients they can point to the amazing job they did buying low and selling high. In this particular case, their loss can be your gain. The buy-the-dip strategy is likely to continue to work as stocks such as AAPL are still attractively priced against the S&P 500. The other stocks such as Facebook and Google sport reasonable valuations for growth stocks in the low-mid thirties. Stocks like Amazon which are transforming multiple industries at once aren't likely to slow down anytime soon.
One of the reasons I have trouble coming to terms with a convincing turnaround in the retail sector, is due to the secondary market for the types of properties that some of the most tenuous big-box names. Those would be: Macy's (NYSE:M), Nordstrom (NYSE:JWN), J.C. Penney, among many others. These names rose 8%, 7%, and 1% yesterday, respectively. The issue is that, if the bounce is due to a real-estate play, I don't see any natural player coming in to scoop up these properties for fair values (meaning they should trade at P/E < 1). More likely, an astute buyer would wait for a BK scenario and buy them for pennies on the dollar. The issue is that, although many of the locations would be great for, say, a movie theater, or a Whole Foods, or a gym with a monthly membership fee, it would cost a real estate developer a lot of money to renovate these properties into a condition that would make them ready for its specific purpose. In the case of a gym, I don't see too many of those at standalone malls, likely because of the lower amount of residential housing in the area. Grocery stores are a similar story. At the same time, I don't believe that these bricks and mortar department stores are simply going to go back to the good-ole days of the 80's and 90's. Check out the below graph from FRED (St. Louis FED) on department store sales (St. Louis Fed):

Clearly, we are at the lowest level in over 20 years. While the current convexity of the graph could suggest a mild turnaround might be in store, consider that there were several other places on the graph in the past in which a turnaround looked imminent, and then the trudge downward continued. 2002 is one example, and 2010. Moreover, the most vulnerable retailers are exactly the ones I mentioned above. If we breakdown recent retail sales data (even just within clothing/ dept stores), we start to get a stark picture of the winners vs the losers: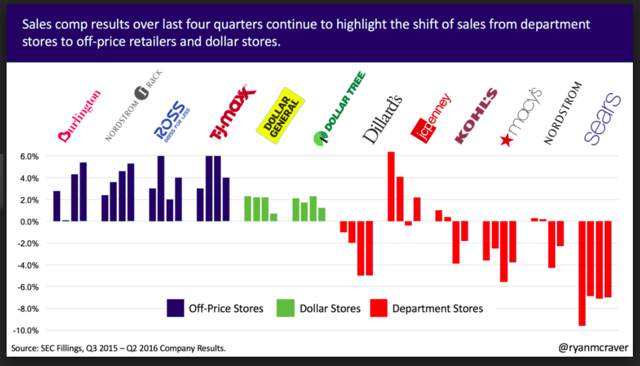 (source: @ryanmcraver)
We see above the more discount names like Ross Stores (ROSS), TJ Maxx (NYSE:TJX), and Dollar General (NYSE:DG) (also slightly different category) are more insulated, while names like Macy's and Nordstrom have had to drop prices aggressively to keep up. I would expect further bleeding in the more premium names, particularly JWN which trades at a 20x + Price/ Earnings multiple. AMZN is going to relentlessly attack this category, and soon I'd question whether TJ Maxx and even uber-premium names like Neimann Marcus can hold their advantage. Finally, check out the graph below from Goldman Sachs regarding a comparison between the tech bubble of '00, versus tech stocks today (Goldman Sachs Chart):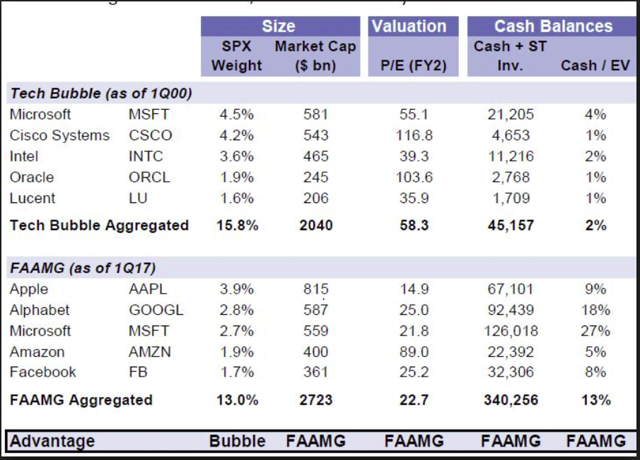 As we can see, FAAMG stocks today are tethered by much higher cash balances as a % of EV, lower P/E's, and lower proportional index weight. I would also add that free cash flow margins are much better than their turn-of-the century counterparts. #Buydips.
Disclosure: I am/we are long FB, GOOGL, AMZN, MSFT, AAPL.
I wrote this article myself, and it expresses my own opinions. I am not receiving compensation for it (other than from Seeking Alpha). I have no business relationship with any company whose stock is mentioned in this article.