Each time home prices grow, forming a trend, we are getting suspicious: could it be a bubble? There is a reason to be suspicious this time: S&P/Case-Shiller 20 City Composite Home Price Index (FRED) reveals an upward trend from 2012 until 2017. It is not enough to qualify this trend as a bubble, though. Bubbles have their logic, causes and actors. We'll try to apply basic features of housing bubbles to the current situation in the U.S. housing market.
Among factors shaping housing bubbles, there may be dominant ones. If supported by statistics, these factors could be used as tools for analysis. With some degree of caution, of course. If the past can teach us something then it makes sense to go back to the U.S. housing bubble of the 2000s and see what shaped it. It was done convincingly by the NY Federal Reserve team in a 2011 study. The results could be seen in the following article.
Their point is that the U.S. housing bubble of 2000s, its boom and bust character in particular, had been defined largely by the investors, intent on flipping houses (buying houses in order to sell them within 12 months period and get capital gains). In the following graph they show the surge of the share of nonprime borrowing (borrowing by investors) in the course of the 2000s.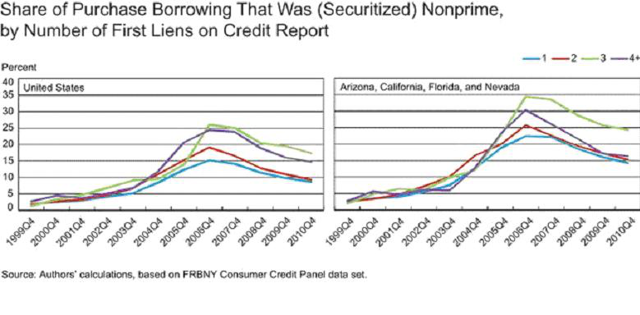 Flipping with intensive borrowing generates large capital gains when prices grow, yet in case of falling prices there is a bust situation. This is the same thing, of course, as "buying on margin". As it is well known, the severity of stock market crash of 1929 was due to the typical margin of 90% of purchase price at that time.
Apart from borrowing there is a factor of total amount of flipping. It depends on the number of flippers. With growing home prices more investors are getting involved in flipping business. Thus we must pay attention to such metric as flipping rate (flipping volume to total sales, %). Above graphs show that borrowing by investors experiences rather sharp increase in the year 2004.
As to the flipping rate metric, it starts growing faster in this year too (see an appropriate chart in Q2 2017 U.S. Home Flipping Report). Definitely, it is a turning point in the course of the bubble. After 2004 the flipping market really gets crazy, especially in Arizona, California, Florida and Nevada. Simultaneously, the S&P /Case-Shiller 20-City Composite Home Price Index experiences a big bang starting in 2004. It makes sense to compare the dynamics of the price index and the flipping rate over the period of 2001 through 2017.
The graph below illustrates the turning point in the course of the bubble, dividing two different stages of the inflating bubble. It is represented by a vertical black line at the point of time 2004. The stage 1 reveals a comparatively slow dynamics of the flipping process. It is a "sober" stage. The stage 2 is a "wild" one. Both borrowing and flipping just explode. The third stage is a crash.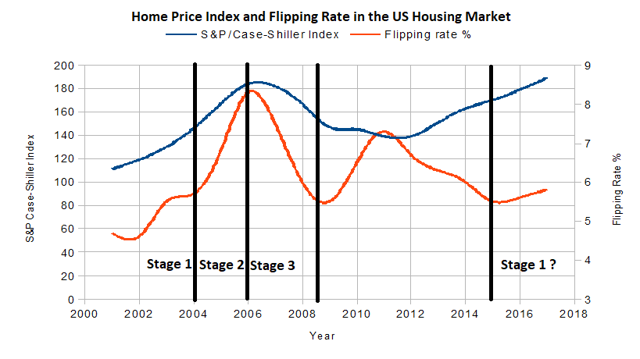 Source: FRED S&P/Case-Shiller U.S. National Home Price Index, ATTOM Data solutions, Home Flipping Report.
As we can see, there is a spectacular similarity between the home price curve and the one depicting the flipping rate in the period 2002 – 2008. Yet it is not a correlation, it is a causation.
It would be extremely important to discern the approaching Stage 2. As the New York Fed team mentioned, with home prices growing fast flippers don't care about interest rates, so upping interest rate by Federal Reserve may be of no help at all at this stage.
Economic historian Charles P. Kindleberger, who studied history of bubbles and financial crises, gives an interesting example, kind of a paradox, when rising discount rate by Bank of England in 1857 left speculation "uninhibited". (C.P.Kindleberger. Manias, Panics, and Crashes. 1978 edition, page 75 ).
This is an old story, of course. May be "this time is different"? Let's take a look at the Federal Funds Rate changes during the hot Stage 2 of the bubble. From 2004 to 2006 the Federal Reserve took an aggressive stance, increasing the rate from 1% to 5%. At the same time home prices surged, as the charts show. In fact, the investors shrugged off the Federal Reserve action.
The notion of "sober" and "wild" stages ("manias") of speculation comes from Charles P. Kindleberger:
Speculation often develops in two stages. In the first, sober stage, households, firms, investors, or other actors respond to a displacement in a limited and rational way; in the second, capital gains play a dominating role.
C.P.Kindleberger, page 30
Although he considers only the second stage as a bubble, his mentioning the first speculative stage justifies the broader interpretation of a bubble area.
So where are we now and what does the future hold for the U.S. housing market? The investors' flipping activity (as of 2nd Quarter 2017) may give us some clue.
All facts and statistics below are taken from the U.S. flipping report, referenced above.
Home flipping rate is the first metric to pay attention to. The national metric grows since 2015, albeit slowly. The Q2 figure is 5.6% and unchanged from 2016. Yet in many areas the rate is much higher. For example, in Nevada it is 8.4%, in DC- 8.2%. It increased significantly in 54 metropolitan statistical areas. In Baton Rouge, Louisiana, for example, year-over-year flipping rate increase reached 72%.
Nevertheless, the case for bubble is not very strong so far. Another cloud in this picture is that the return on investment for flippers is at the lowest level since 2015.
Though the financial leverage taken by flippers gives us a clear sign of growing appetite for risk and creates the preconditions for a bubble. According to the report, the volume of home flipper financing reaches nearly 10-high and the growth trend is very pronounced.
What stage of bubble development do these conditions fit, if at all? In our opinion, the U.S. housing market is in the beginning of a new stage 1, when a new bubble is germinating. This may be thwarted by interest rate hikes, of course, yet in the stage 1 only. In the stage 2 it is too late.
Disclosure: I/we have no positions in any stocks mentioned, and no plans to initiate any positions within the next 72 hours.
I wrote this article myself, and it expresses my own opinions. I am not receiving compensation for it. I have no business relationship with any company whose stock is mentioned in this article.