In January 2015, Rock-Tenn and MeadWestvaco, leaders in the packaging industry, announced the two would merge. The combined company, now WestRock (WRK), resulted in a global giant in corrugated packaging and consumer packaging. The combined revenue for the trailing twelve months was approximately $15.7 billion, surpassed only by International Paper (IP). With 300 locations across the globe, the new company was expected to hold the number one or number two position in numerous market categories. The transaction closed in July, 2015.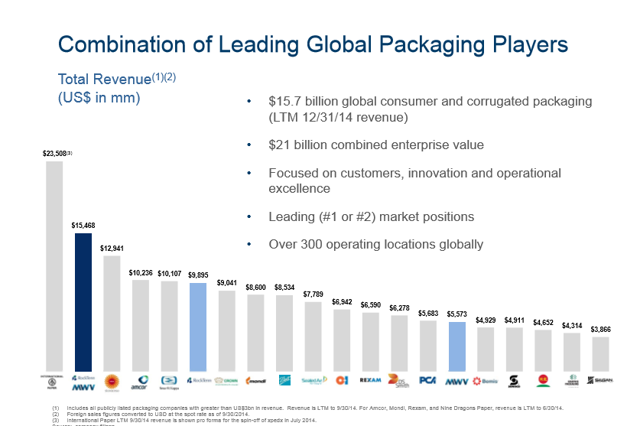 The two companies were no strangers to mergers. MeadWestvaco was the result of a merger in 2001 of Westvaco and Mead. Rock-Tenn was formed by the merger of Tennessee Paper Mills and Rock City Packaging in 1973. In 2011, Rock-Tenn merged with Smurfit-Stone Container.
Management immediately established a synergy and performance improvement target for the next three years of integration. An annualized run rate of $1 billion was to be accomplished by September 30, 2018. The company also targeted a leverage ratio of 2.25X to 2.5X. Regarding capital allocation, WestRock announced it would pay an annual dividend of $1.50 per share. The new Board authorized a 40 million share repurchase. The company announced a capex budget of $850 million for fiscal 2016 to improve the existing business. As well, strategic mergers and acquisitions would be considered to improve or expand the business.
Results emerged straightaway. By fiscal year-end 2015 in September, the company had already generated an annual run rate of $165 million in synergies and improvements. In October, WestRock acquired SP Fiber and its mills producing recycled containerboards and kraft and bag paper.
Progress continued over the past two years. Since the merger, WestRock has invested just under $1.58 billion in its mills and converting network. It has acquired seven companies for $1.97 billion (net of cash), invested in a joint venture and divested two businesses, one for a gain of $193 million:
The company reports in two primary segments - Corrugated Packaging and Consumer Packaging.
Corrugated Packaging produces containerboard, corrugated sheets, corrugated packaging and preprinted linerboard. Customers include consumer product manufacturers, industrial product manufacturers and corrugated box manufacturers. WestRock's products are used to package food, paper, health and beauty, household, consumer, and industrial products for shipping and distribution. WestRock is one of the largest paper recyclers in North America. Recycled fiber feeds the company's mills and is sold to third parties. In Brazil, the company also owns forestland that feeds virgin fiber to the local mill.
Consumer Packaging produces folding and beverage cartons, temporary promotional point-of-purchase displays, express mail envelopes, paperboard packaging and solid fiber partitions. Customers include consumer product manufacturers in the food and beverage industry, tobacco industry and home, health and beauty industry. Household names such as Altria (MO), Procter & Gamble (PG), Unilever (UL) and Coca-Cola (KO) populate its list of clients. WestRock products are used for packaging, distributing and shipping customers' products for retail sales.
Though WestRock operates worldwide, its primary market is the United States. International operations are located in Canada, Mexico, Brazil, India, Europe and Asia. Sales attributable to non-U.S. operations have consistently represented less than 20% of total sales.
Fiscal 2017 Performance
On November 2nd, WestRock reported full-year results for fiscal 2017. Revenue from continuing operations increased 4.8% from $14.2 billion in fiscal 2016 to $14.9 billion. The Corrugated Packaging segment generated $8.41 billion in sales while the Consumer Packaging segment generated $6.45 billion.
The adjusted segment EBITDA in fiscal 2017 was comparable to fiscal 2016 at $2.29 billion and $2.27 billion, respectively. Adjusted earnings per diluted share on continuing operations increased 4% from $2.52 in fiscal 2016 to $2.62.
Regarding its initial goal-setting, the annualized run rate on synergy and performance improvement is now $840 million. WestRock is on track to achieve the $1 billion run rate before its self-imposed deadline of September, 2018.
Its leverage ratio is 2.54X, slightly greater than the high end of its target range. Long-term debt totals $6.56 billion.
The company has boosted its dividend rate twice since the merger. It now registers $1.72 per share. It has actively used its share repurchase authorization and bought back over 15 million shares.
Fortune Magazine named WestRock to its list of most admired companies in February 2017 for the second time. The honor is considered to be "the definitive report card on corporate reputation".
Based on capacity, WestRock maintains market-leading positions in the following categories:
#1 in North American consumer paperboard

#1 in North American merchandising displays

#2 in North American folding carton

#2 in North American multi-pack beverage packaging

#2 in North American containerboard

#2 in North American corrugated packaging

#2 in Brazil's corrugated packaging.
In fiscal 2017, its performance was recognized with numerous awards from the Paperboard Packaging Council and the Path To Purchase Institute.
Approaching The Final Year Of Integration
In this upcoming final year of the merger integration, WestRock expects to increase revenue by 10% to $16.3 billion. Based on the fiscal 2017 fourth quarter, its current run rate equates to $16.24 billion. WestRock projects the Corrugated Packaging segment will contribute 55% of fiscal 2018 revenue or $8.965 billion, a 6.6% increase over fiscal 2017. The Consumer Packaging segment would contribute the remaining 45% or $7.335 billion, an impressive 13.7% increase over the current year.
Adjusted segment EBITDA is expected to improve over 20% and top $2.8 billion. Based on the fiscal 2017 fourth quarter, the current run rate equates to $2.62 billion.
The company has allocated $850 million for capital expenditures in fiscal 2018. Beyond this figure, additional investments have been earmarked at specific locations.
At the Mahrt Mill in Alabama, WestRock will rebuild the cutter section and install a new carton box cutter in one of its paper machines. The $57 million project will improve quality and flexibility and should be complete by the spring of 2019.
In September 2017, WestRock announced plans to build a new box plant in Sao Paulo, Brazil. The plant will produce 4 billion square feet of corrugated packaging, double the existing plant's capacity. The total investment will be $125 million and will be funded from Brazilian operations. The plant should be operational by September, 2019.
In November, the company announced a $410 million investment at its Florence, South Carolina mill over the next two years. The project will install a 330" state-of-the-art kraft linerboard machine. The improvements should transform the mill into one of North America's lowest-cost kraft linerboard mills.
The path forward will not be without challenge. Due to Hurricanes Harvey, Irma and Maria in the late summer, WestRock expects to record a loss of 60,000 to 70,000 tons of mill production in the fiscal 2018 first quarter. As well, the quarter is seasonally slower prompting the company to use the opportunity for maintenance requiring downtime.
For the full year, WestRock is expecting commodity inflation of $90 million. Labor, health care and benefit costs are expected to increase $130 million.
But the impending challenges are not expected to upend the company's progress.
"We're actually gaining ground and improving earnings by generating more productivity than the input cost inflation is for the fiscal year."
The company cited results from a specific trial run it conducted in fiscal 2017. WestRock selected 40 customers representing $4 billion in sales. Thirty of the forty customers are purchasing product from both the Corrugated Packaging and Consumer Packaging segments. By simply joining and focusing WestRock's design and sales resources on the specific needs of each of the 40 clients, the company was able to cross-sell and close 5% more in incremental revenue, more than $200 million, in new business annually.
Competitive Developments
With its third quarter reporting on October 25, 2017, International Paper announced a strategic decision to contribute its North America Consumer Packaging business to Graphic Packaging Holding Company (GPK) in exchange for 20.5% ownership in the new subsidiary. The combined business totals $6 billion in revenue. The transaction of $1.8 billion is valued at 8.6X the EBITDA of International Paper's North America Consumer Packaging business.
When questioned about the threat of this beefed-up competition, WestRock was hardly fazed.
"It doesn't change our strategy in any way........We've got about 50% of our mix today that's in health and beauty, food service and liquid packaging. And we see those markets as growing better than GDP."
Based on the transaction's multiple, WestRock's Consumer Packaging segment would be valued at $8.25 billion using its adjusted segment EBITDA of $959.1 million in fiscal 2017. WestRock's recent market cap has hovered around $15 billion. Considering the Consumer Packaging segment is the smaller of the company's two segments, it could be deduced WestRock is undervalued.
Industry Considerations
The packaging industry is valued at $400 billion worldwide.
The industry can be challenging as it is directly impacted by volatility in raw material costs. Typically, over half of the total cost is comprised of raw material. Because of this and the heightened push for environmental responsibility, the management of materials in the manufacturing process is a critical factor. Upgrades in machinery and technology can optimize raw material usage and reduce waste as well as improve process efficiency.
Demand in the developed world is relatively stable. In these regions, consumer behavior will drive innovation which will drive demand. The industry's growth in emerging markets is expected to register the strongest pace due to the expansion of the middle class.
Consolidation through M&A activity in the packaging industry should continue to be aggressive. Consolidation provides the means to capture market share, expand into new markets and drive out synergies.
E-commerce transactions are expected to surge through 2020. E-commerce will drive the need for branded, quality and flexible but sturdy packaging. The industry should experience growth in lockstep.
Investing Rationale
As one of the industry's giants, WestRock is well-positioned to continue to be the acquirer of strategic candidates to fuel future growth. As the largest recycler of paper products in North America, it is in direct control of a significant portion of its input material. The company's capex strategy focuses on reducing costs and improving competitiveness as well as delivering improved earnings. By several measures, the company is positioned to dominate.
WestRock is projecting 20% growth for fiscal 2018 in adjusted segment EBITDA. It is not unreasonable to expect a significant portion to fall through to net income. Adjusted earnings per share should easily top the $3.00 mark in fiscal 2018.
Recently, WestRock shares have been trading in the $58 to $60 range. In this range, the company's forward P/E ratio is less than 20.
Income and DGI investors will appreciate the company's 2.9% yield and the company's average dividend growth of 7% since the merger.
Employing a dividend-adjusted forward PEG ratio equates to a result less than 1 for WestRock, a clear green light for many investors. The light stays green while the share price is below $70 on this industry giant.
Disclosure: I am/we are long WRK.
I wrote this article myself, and it expresses my own opinions. I am not receiving compensation for it (other than from Seeking Alpha). I have no business relationship with any company whose stock is mentioned in this article.