In the age of Amazon (AMZN) and Internet shopping, there is no shortage of proposed panaceas for traditional, brick-and-mortar stores. Most solutions involve some variation of "omnichannel" retailing, where merchants offer products both online and in-store. Even if all B&M stores magically mastered online operations, though, the reality is that it is extraordinarily difficult to create a lasting competitive advantage in retailing - but not impossible.
To analyze the staying power of any merchant, I prefer to use a checklist of four retailing essentials: price, convenience, product, and customer experience. Most great retailers master two or three of these qualities, but rarely all four. The Swedish furniture giant IKEA is arguably one of those peerless gems.
IKEA's Moat
While IKEA is privately held, the company's annual turnover of more than $40 billion would probably place it among the world's top ten retailers. Founder Ingvar Kamprad, 91, is ranked by some media outlets as one of the world's richest men, although IKEA's complex ownership structure leaves his exact degree of personal control vague. The company's six decades of growth are no mystery, however, judging by its mastery of the retailing essentials.
Price
The first commandment of Kamprad's strategy guide A Furniture Dealer's Testament - a sort of in-house Bible for IKEA management - concerns the "substantial price difference." To quote Bertil Torkull in his book on the company:
Since IKEA turns to the many people who as a rule have small resources, the company must be not just cheap, nor just cheaper - but very much cheaper. In short, the stores must sell things that, in the eyes of the public, are astonishingly cheap to buy.
IKEA is known for its culture of penny-pinching. Executives fly coach, and employees sleep two to a hotel room. Of course, the company's most famous cost reduction measures include flat-packed and particle board furniture. As a general rule, IKEA seeks to lower the price of its products every year.
Convenience
Relatively speaking, the convenience factor is not IKEA's strong suit, but it still scores highly. For a while the company lagged in ecommerce, but now most of its products can be found online. IKEA will send out a truckload of purchased goods for $99 in the U.S., and the company has started building more urban pick-up centers and small stores. This year the chain purchased online odd job marketplace Taskrabbit, where assembling IKEA furniture was already one of the site's most popular work categories.
Product
All things being equal, I would much rather own the companies that make popular products in place of the companies that distribute them. It makes little difference to The Hershey Company (HSY) whether Reese's Peanut Butter Cups are sold in local convenience stores, at Wal-Mart, or online. Although some branded consumer products are going through a rough period, they generally carry less business risk than the retailer because preferences change slowly.
IKEA not only designs all its own products, but it also cultivates a unique aesthetic. The company pioneered the concept of "democratic design," which favors Scandinavia's clean lines and distinctive minimalism. IKEA's visual appeal has been the subject of debate among highbrow critics, but the enduring success of popular products such as the Billy bookcase speaks for itself.
Customer Experience
IKEA is one of the best examples of the "business within a business" concept. Aside from furniture, stores also contain a small grocery and a restaurant, making IKEA the world's largest exporter of Swedish food. Although the food division only accounts for 5 percent of IKEA's revenue, the category's $2 billion annual turnover would put it among the world's largest restaurant chains.
Indeed, IKEA's cavernous stores and family friendly atmosphere often invite comparisons to Disneyland. To the company's occasional chagrin, Chinese IKEA stores have infamously transformed into destinations for napping and matchmaking.
Ranking Retailers
Wal-Mart (WMT) obviously scores well on price and convenience, but is not well known for unique products. Its widely derided customer experience is also nothing to brag about. To paraphrase Wal-Mart Effect author Charles Fishman, the chain is a place to buy things, not to shop and browse.
Amazon probably comes out on top for convenience, and it carries several signature products such as Kindle and Alexa. But it is not known as a price leader, and its core Prime customer base (a group that earns $70,000 a year on average) pays for expediency. Amazon provides an efficient way to buy things, but is not a destination in itself. Jeff Bezos' obsession with making Amazon "cool" seems to reflect this anxiety.
As Wal-Mart and Amazon show, a retailer can become incredibly successful just by executing really well on one or two core competencies, but it does not work forever. In the early half of the 20th century, Sears (SHLD) looked inevitable. Eventually it was overtaken by Wal-Mart, which in turn is now trying to fend off its strongest challenge yet from Amazon. If this history is any guide, two or three new entrants will likely threaten today's established order over the next one hundred years.
Below I rank several successful retailers according to the principles that I described.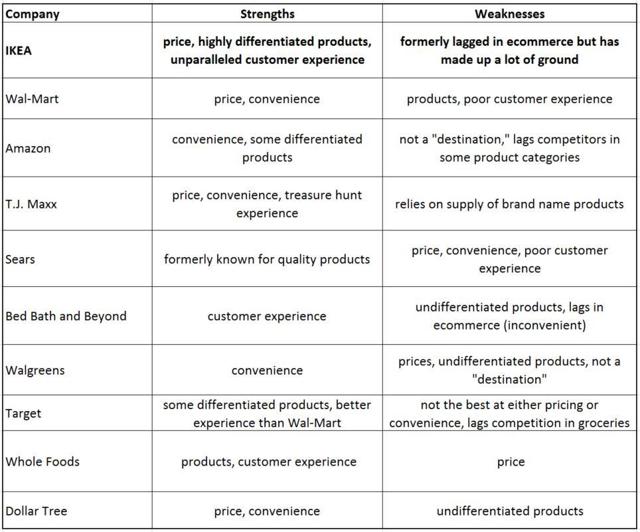 Of course, this ranking is a bit of an oversimplification, and the four concepts do not apply to every retailer. Luxury is one notable exception to my rules. For Tiffany and Co. (TIF), lowering prices and expanding too much would actually devalue the brand's storied reputation. Home improvement giants Home Depot (HD) and Lowe's (LOW) also belong to a different retail breed where the customer experience metric probably does not apply.
Even for mass market retailers, some areas are clearly more important than others. In Amazon's case, branching into "experiential" shopping would probably not be a great use of resources. And at IKEA, it would make no economic sense to build a store in every city.
Honorable Mentions
If there is one category of retailers that could conceivably rank alongside IKEA, it would be off-price. Bargain chains such as T.J. Maxx (TJX), Ross Stores (ROST), Burlington Stores (BURL), and Ollie's Bargain Outlet (OLLI) have been big winners in the Amazon era because they offer a value proposition that is difficult to replicate.
These companies have carved out a competitive advantage by picking the right real estate, keeping prices low, and offering a fantastic "treasure hunt" experience that keeps customers coming back for deals. Although I see reliance on acquiring name brand product as a weakness, these chains have tried to broaden their offerings to include more in-house brands. Like IKEA, off-price retailers were a bit late to ecommerce, but many now offer a large selection online.
Conclusion
I would argue that the "greatest" retailer is not always the biggest or wealthiest, because those titles change hands frequently. Rather, the best stores are those that stick around by building a durable competitive advantage. Retail is a place where competitors constantly copy each other, so it pays to be really good at more than one thing.
IKEA competes at the top level in several areas, with off-price chains not far behind. It is no wonder that these concepts have grown sales almost every year this century as B&M competitors around the country struggle.
Warren Buffett famously looks for a "moat" when analyzing businesses. When it comes to retail, I prefer crocodiles in that moat - along with a high walls, a year's supply of food, and a few mounted catapults.
Further Reading
Leading by Design: The IKEA Story (book link here; read my review here)
"Is the IKEA Aesthetic Comfy or Creepy?" (article link here)
"We love IKEA because it is the capitalist version of Stockholm Syndrome" (article link here)
Disclosure: I am/we are long OLLI.
I wrote this article myself, and it expresses my own opinions. I am not receiving compensation for it (other than from Seeking Alpha). I have no business relationship with any company whose stock is mentioned in this article.