By Lars Moffatt
Introduction:
The telecommunications industry is well-known for housing windows and orphans stocks –those with reasonable growth prospects, but more importantly above-average dividend yields and low probabilities of loss of capital.
Today's North Channel Investment analysis will show you that telecommunications stocks don't need to be slow growers through an analysis of TELUS Communications (NYSE:TU).
Business Overview
Telus Corporation is a Canadian telecommunications company which is based out of Vancouver, Canada. Telus is Canada's fastest-growing telecommunications company, with 8.8 million wireless subscribers, 1.7 million high-speed internet subscribers, 1.3 million residential network access lines and 1.1 million Telus TV customers. Alongside their communication products and services, Telus is also Canada's largest healthcare IT provider, and also provides business process solutions on an international level. While their millions of subscribers bolsters the company's powerful position in the telecommunications sector, Telus has also done a large amount of work to continue to purchase and acquire various companies around the world. The following are some of the recently acquired by the Canadian telecom giant:
Kroll Computer Systems – Allows Telus to increase their geographic reach and product offering. Kroll is a national pharmacy management services provider.
Voxpro Limited – Acquired 55% of the company, which aids to help major companies grow their customer relations, and provides customer service and support. Voxpro also works with several big names such as Airbnb and Google Cloud.
Xavient Information Systems – Acquired 65% of the company, which provides IT consulting and software services across their several companies that operate in the United States and India. This company was acquired to "enhance their ability to provide complex and higher value information technology services.
These acquisitions will help with future growth in the future as they provide additional income for the company as well as new ways to grow and become more technologically superior to its competitors.
Growth Prospects
Alongside these acquisitions, Telus continues to grow their customer base, where they added 152,000 new wireless, internet and TV customers in the third quarter of 2017. This was a 41% increase in comparison to 2016's third quarter customer additions. This quarter also resulted in an operating revenue increase of 4 percent, here they created 3.4 billion in revenue. The following financial highlights, taken from the November 9th third quarter news release, shows the following difference between third quarters in 2017 and 2016: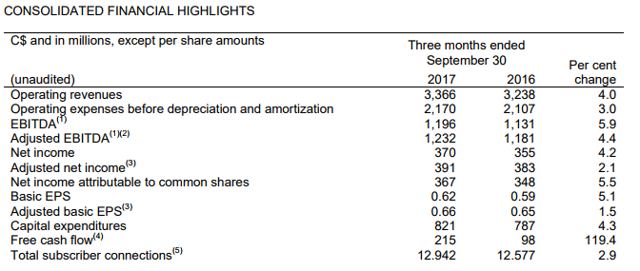 Source: 2017 Third Quarter News Release – Telus
Alongside this information that proves that Telus had a strong third quarter in 2017, the following data from Value Line shows Telus' Earnings-per-share since 2007. 2017 and 2018 are estimations: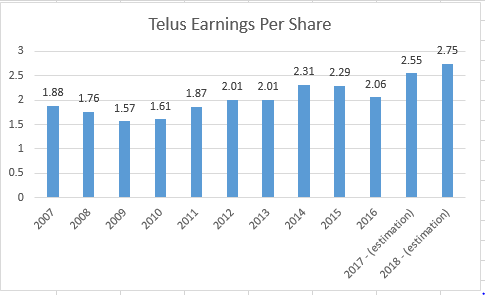 Source: Telus Value Line Sheet - November
From this chart, it is shown that Telus has grown on average year over year, despite some years such as 2016. I expect this growth to continue in the future as the Telus continues to grow their customer base, and acquire global companies to help increase their revenues, as well as increase their ability to develop their technology and operations. Value Line expects 2017 to provide a $2.55 EPS (NYSEARCA:CAD), which will be the yet another year of steady gains. This year, Telus has provided higher earnings in every quarter than in 2016. This earnings per share is expected to increase even higher in 2018 as the company has plans to buy back large portion of their common shares.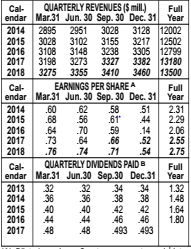 Source: Telus Value Line Sheet - November
Telus has also done very well to increase their dividend payouts every quarter, as proven in the chart above also provided by Value Line. Since 2013, the dividend payouts have increased every year by 16 cents, or on average 4 cents per quarter. As of right now they are not expected to go as high as a 16 cent increase this year but nonetheless are expected to go up a similar growth of 14.6 cents. Based on their future growth prospects, I expect this growth in their payouts to increase marginally year-over-year.
Competitive Advantage + Financial Metric Comparison
Based on their acquisitions, I expect Telus to continue to be able to compete with other Canadian Telecommunication companies in the market such as Bell and Rogers. These acquisitions stated above will provide future value when they look to find new ways to expand, and relate to their customer base.
For comparison purposes, other Canadian telecommunication companies will be used for comparison. A chart below from closing numbers on November 29, 2017 (data from Y charts) shows how Telus stands against other competitors in price-to-earnings ratio, price-to-book ratio, and dividend yield.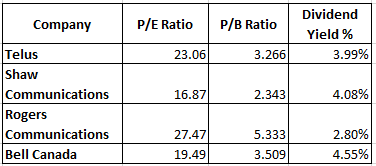 Source: Data collected from Y charts
From this chart, we can see that Telus ranks fairly well against its competitors, where they have the third-best P/E ratio, second-best P/B ratio, and third-best dividend yield. Overall, they fare very well against the others, however they are not outstanding. Shaw Communications provides better ratios with a very competitive dividend. Despite Shaw having better metrics, Telus is definitely still a great purchase as they have great international reach and a much larger customer base that Shaw simply doesn't have.
Recession Performance
Telus performed during the 2007-2009 recession as follows:
Overall, performance during the recession proves that Telus is slightly recession-receptive. This can be a risk to investors if there is a recession in the future, as much of their sales derive from television contracts, cellphones and telecommunications, which are based on personal contracts that could be lost due to a decrease in jobs and as a result, decrease in disposable income for their customers. Nonetheless, their losses during the recession were not drastic, as the company still found ways to produce respectable earnings during the recession and rebounded afterwards.
S&P 500 Comparison
Telus also racks up against the S&P 500 as follows:
S&P 500 Price-to-book Ratio: 3.29 – Telus is lower at 3.272
S&P 500 P/E Ratio : 25.24 – Telus is lower at 23.1
S&P 500 Dividend Yield% : 1.83% - Telus is higher at 4.20%
Overall, Telus fairs very well against the S&P 500, where they are undervalued in comparison (Price-to-book ratio being very close) but have a dividend that is more than twice the S&P 500 average.
Expected total returns are as follows:
(Current P/E Ratio X Expected Earnings per share) + Annual Dividend = Expected Total Returns
(23.1 X 2.55) + 1.95 (rounded from 1.946 & based on estimate for 4th quarter dividend of 2017) = Expected future price (1 year) 60.85
Current Price: ($48.05) As of Opening on Oct 16th, 2017
Expected 1 year Return – $12.80, or 26.7%
This metric is just used to give investors an idea of what the price COULD be. Personally, I like to use this metric just to pique my curiosity more-or-less. In reality I expect more minimal, long term growth for the stock. Value Line expects the value of the stock to fall between $48.00 and $64.00 Canadian between 2020 and 2022. With their estimation, I think this is definitely possible as long as they produce higher earnings year over year.
Final Thoughts
In summary, Telus Communications is a Canadian telecom giant that has significant growth opportunities that are aided by new technologies from new acquisitions that have extensive experience in the customer service and the IT sectors. The company also has grown their dividend every year, where it is expected that this will continue into the future. The company also fairs OK against other Canadian competitors, but still manages to stand undervalued against the S&P 500 and provides a higher dividend than the latter.
Telus communications provides several reasons why they are a solid investment for the future. I expect minimal growth in the next year or so, however I believe that long-term they will continue to become more valuable year-over year. With a great dividend and great growth potential, the future is definitely friendly for all Telus investors.
Disclosure: I/we have no positions in any stocks mentioned, and no plans to initiate any positions within the next 72 hours.
I wrote this article myself, and it expresses my own opinions. I am not receiving compensation for it (other than from Seeking Alpha). I have no business relationship with any company whose stock is mentioned in this article.