Does it feel like a market turning point to you? This week, we witnessed many big-name tech stocks pulling back mid-week in favor of financials, as pundits referenced sector rotation and profit taking as various reasons for the switch.
Looking back at small caps vs. large caps over 2017 reveals that small caps have been mostly rallying since late August and overtook the S&P 500 in late September. (Green Line: S&P 500; Purple Line: Russell 2000)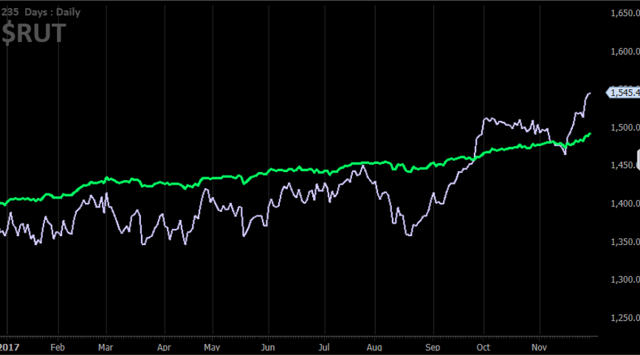 (Source: Schwab.com)
The Financial sector has been the best performer over the past six months and is among the top three over the past month, quarter, and week:

(Source: finviz.com)
What if we could combine the financials theme with the small caps theme in a dividend-paying scenario?
Digging down deeper into the financial sector, we took a look at small caps, namely small banks, which stand to profit from rising rates and deregulation - it has been said that the small, community banks have struggled much more with tighter regulations than the "too big to fail" behemoths.
There's not a "community bank" ETF which covers the many micro and nano-cap banks in the system, but there is the First Trust NASDAQ ABA Community Bank ETF (NASDAQ:QABA), which holds various regional banks, ranging in size, up to ~ $9B.
It's not a pure, small-cap bank ETF - it excludes the largest 50 US banks and banks with international specializations, but it includes banks with a minimum $200M market cap.
QABA's performance is roughly similar to the Russell Small Cap Index - it has been mainly outperforming the S&P since late September, save for a dip in early November: (Green Line: S&P 500, Purple Line: QABA)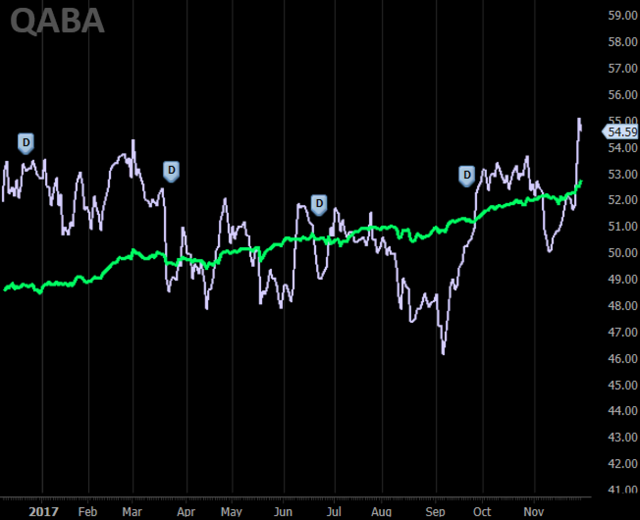 The problem with QABA for income investors, though, is that it only yields a bit over 1%. So, we went digging even deeper into the community bank sector and found two small-cap community banks with 3%-plus yields. They're not exactly high dividend stocks, but Citizens & Northern (NASDAQ:CZNC) does yield over 4%.
Citizens & Northern Corporation operates as the bank holding company for Citizens & Northern Bank that provides a range of banking and mortgage services to individual and corporate customers in North Central Pennsylvania and Southern New York.
Bank of South Carolina Corporation (BKSC) operates as the holding company for The Bank of South Carolina that provides commercial banking services to individuals, professionals, and small and middle market businesses in South Carolina.
CZNC is a small cap, with market cap of $325M, while BKSC is a micro cap, with a much smaller cap of $89M. BKSC has a lower P/E and P/sales than CZNC, but has a higher P/book:
Dividends:
CZNC has a higher dividend yield, at 4.02%, vs. BKSC's 3.24% yield, but a much higher dividend payout ratio of 80.4%, vs. 51.5% for BKSC. CZNC also has a lower five-year dividend growth rate of 4.61%:
Options:
CZNC has options, but there is very little open interest at present. However, you can see 25 other trades in our Covered Calls Table and our Cash Secured Puts Tables.
Financials:
BKSC has the edge over CZNC in ROE, ROA, and operating margin. It also has a better efficiency ratio (lower is better) and a lower non-performing assets/total assets ratio, although CZNC's ratios are still much better than very broad banking industry averages. CZNC also has a stronger total capital ratio than BKSC and a lower debt/equity ratio.

OK, so how is the market treating these two community bank stocks? Well, it turns out that CZNC has actually outperformed QABA, the Russell 2000 ETF (IWM) and the S&P 500 over the past quarter and month, and beat IWM and the S&P over the past week also, rising over 6%.
On the other side of the street, much smaller BKSC has been overlooked by Mr. Market and has actually lost ground during these same periods.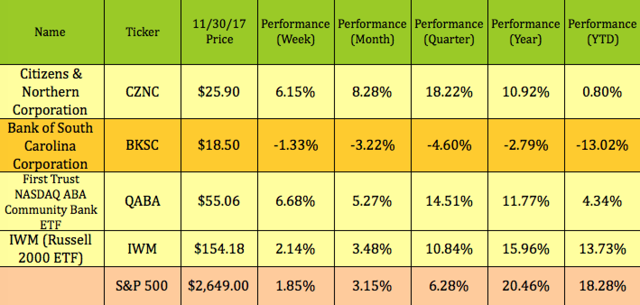 Two similar stocks, with fairly similar attributes - what gives? For one thing, BKSC's volume is much lower, but there's also another ingredient in this mix - CZNC, with its $325M market cap, is included in the QABA ETF, which exposes it to much more volume. In addition, it's one of the top 10 holdings in QABA.
Risks:
Although they're small fry, compared to the enormous banks which were at the center of the financial crisis, even small banks pose risks in tough times. Both of these banks cut their dividends in 2010. However, they've been much steadier payers since 2011 - CZNC got back to and surpassed its pre-crash quarterly payout of $.24 in 2012-2013, whereas BKSC paid $.16/quarter pre-crash and has been raising its payout by a penny/year. They just raised it from $.14 to $.15 in October.
Insiders:
There have been insiders buying shares recently at both banks, although BKSC has a better net outcome - insiders have bought ~20K shares since August. This may not sound like a lot, but it's around .6% of the float.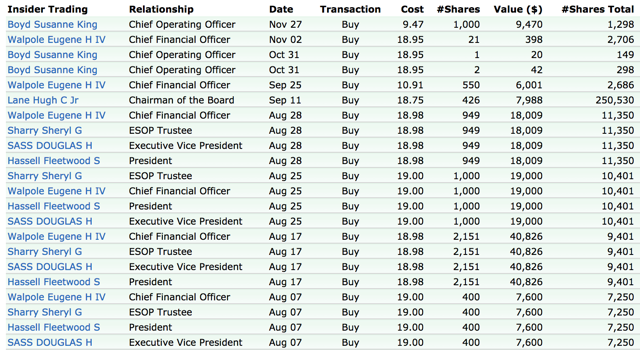 (Source: finviz)
Over at CZNC, insiders also have been buying, but one director, E. Owlett, has reduced his share count by ~23.5K shares since early August. Other insiders have bought ~13K shares and have exercised options for ~16K shares since August: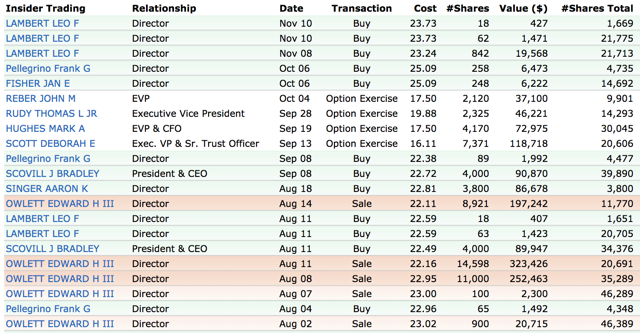 (Source: finviz)
Earnings:
CZNC's quarterly earnings have been pretty steady, except Q1, which is its weakest quarter - Q1 '17 EPS was $.28, vs. $.29 in Q1 '16, compared to a higher level of $.32 to $.35/share in the other three quarters.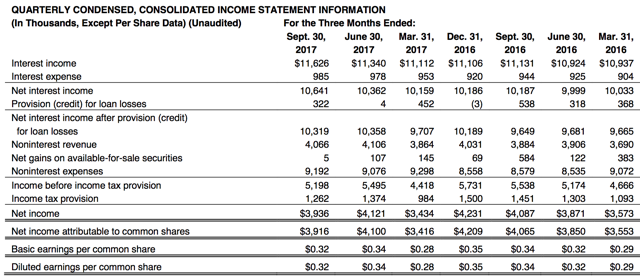 (Source: CZNC site)
BKSZ showed modest growth in Q1-Q3 '17, vs. Q1-3 '16, with net income up 3% and diluted EPS up 2.56%: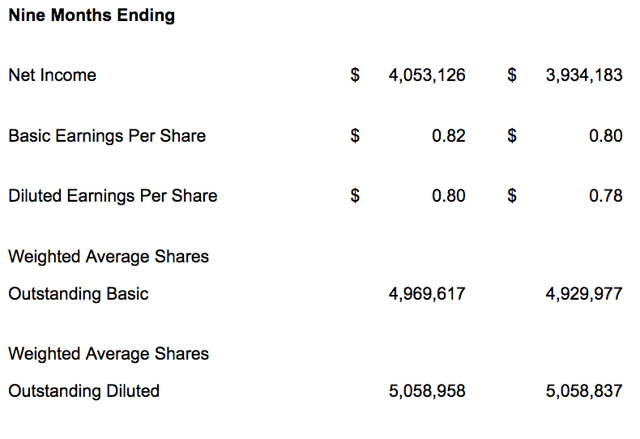 (Source: BKSC site)
Summary:
We rate BKSC and CZNC as Buys. BKSC may be a more speculative buy, since it hasn't caught the market tailwinds for small caps and financials yet.
All tables furnished by DoubleDividendStocks.com, unless otherwise noted.

Disclaimer: This article was written for informational purposes only, and is not intended as personal investment advice. Articles posted on SA aren't meant to be all-inclusive white papers by any means. Please practice due diligence before investing in any investment vehicle mentioned in this article.
Disclosure: I am/we are long CZNC, BKSC.
I wrote this article myself, and it expresses my own opinions. I am not receiving compensation for it (other than from Seeking Alpha). I have no business relationship with any company whose stock is mentioned in this article.
Editor's Note: This article covers one or more stocks trading at less than $1 per share and/or with less than a $100 million market cap. Please be aware of the risks associated with these stocks.