This article was first available to subscribers of the Gold Bull Portfolio.
Each month or so, I plan on providing a monthly recap of the top news in the gold mining sector, including drill results, takeover announcements and other relevant updates, to keep readers up-to-date on news in the sector.

These updates will also provide a quick glance at the performance of my "Gold Bull Portfolio," which is comprised of 15-20 gold stocks made up of miners, juniors and explorers; the portfolio is is designed to provide leverage to the price of gold, and the goal is to outperform benchmark indexes, such as the VanEck gold miners index (NYSEARCA:GDX) and the junior miners index (NYSEARCA:GDXJ), and the price of gold (NYSEARCA:GLD). Access to holdings is available to subscribers only. Portfolio updates on holdings/position weighting are provided every 1-2 weeks or so, depending on transactions within the portfolio.
Here's a recap of the top news in the gold sector this past month and a quick update on my portfolio and marketplace service offering. Please let me know if I've missed any top mining sector news in the comment section below.
1. Centerra Gold to Buy Aurico Metals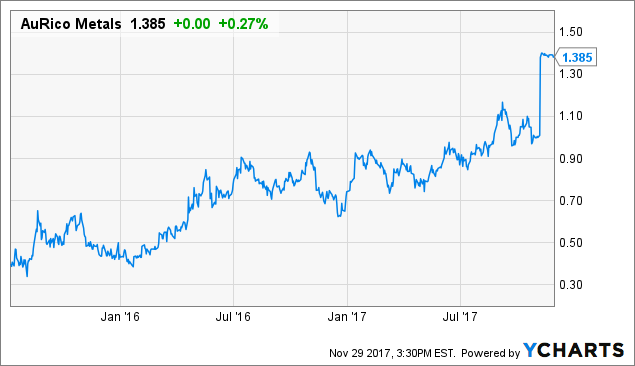 The top news of the month goes to Centerra Gold (OTCPK:CAGDF), which agreed to buy Aurico Metals (OTCPK:ARCTF) for C$1.80 in cash, a 38.5% premium, at a value of C$310 million ($243 million).
This was previously listed as my top gold stock to own for the rest of 2016(back in September of 2016). I stated the following: "Positive (drill) results could draw significant interest in Kemess from senior or mid-tier gold producers, especially those who are looking to add a project with low projected all-in sustaining costs."
It looks like Centerra's main focus now will be to optimize the economics of the project and get Kemess to production, while also possibly putting up Aurico's royalty portfolio for sale or spinning out the royalties into a new company (Centerra is a producer and not a royalty/streaming company).
With $11 million in estimated royalty revenue this year and growing, the portfolio could fetch as much as $130-$150 million in my opinion, given the attractiveness of the Fosterville and Young-Davidson royalties in particular. That portfolio would be pretty valuable for a company like Sandstorm Gold (SAND) or Osisko Gold Royalties (OTC:OR), although this is just speculation on my part.
2. Endeavour and Randgold Team Up
Endeavour Mining (OTCQX:EDVMF) and Randgold (GOLD) have joined forcesto explore their adjacent Sissedougou and Mankono exploration properties located in Côte d'Ivoire. Under the agreement, Randgold and Endeavour will hold a 70/30 interest in the JV, and Randgold has approved a $3.8 million exploration program for 2017/18.
This property was transferred from La Mancha to Endeavour in late 2015, and past drill results from La Mancha included 34.6 meters of 2.08 g/t at 74.6 meter depth, 18.8 meters of 2.3 g/t at 26.1 meter depth, and 23.0 meters of 2.14 g/t at 112.6 meter depth.
This deal is good news for Endeavour Mining, which partners up with an experienced, $8.6 billion gold miner, which will now handle the majority of exploration expenses while Endeavour can focus on core growth projects such as Hounde. I think this also opens up the door for other potential partnerships between the two companies in the future.
3. Agnico Eagle and IAMGOLD's Strong Quarter

Agnico (AEM) and IAMGOLD (IAG) both had standout earnings in Q3.
Highlights of Agnico's strong quarter included production of 454,362 ounces of gold at $789 AISC, with full-year gold production guidance raised to 1.68+ million ounces, and cost guidance lowered to $820-$870 AISC (down $10 per ounce on both ends). The dividend was raised by 10%.
IAMGOLD's turnaround continues, as the once-struggling gold miner reported an increase in gross profit for the third straight quarter. Production rose 3% to 217,000 ounces of gold, with AISC falling to $969.
A balance sheet that includes $835.7 million in cash, cash equivalents, short-term investments (money market funds) and restricted cash, gives IAMGOLD plenty of funds to continue investing in its numerous development projects while repaying debt.

4. Wheaton Precious Metals' Disappoints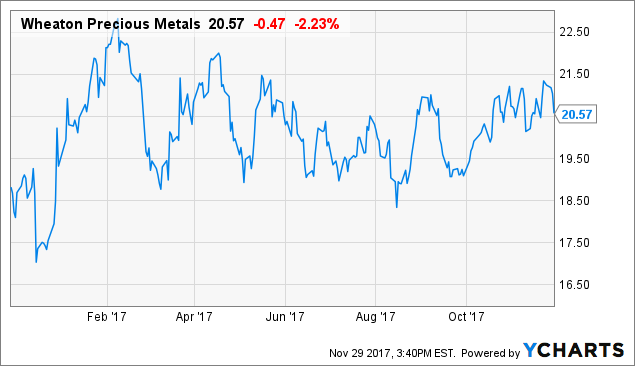 Count Wheaton Precious Metals (WPM) as one stock that disappointed this earnings season.
Wheaton reported a 20% drop in operating cash flow with struggles from its San Dimas and Constancia assets. More importantly (in my opinion), there was no update on the company's ongoing tax dispute with the Canada Revenue Agency.
San Dimas and the tax issue will likely be a drag on the stock until both issues are resolved.
5. First Majestic's Rough Year Continues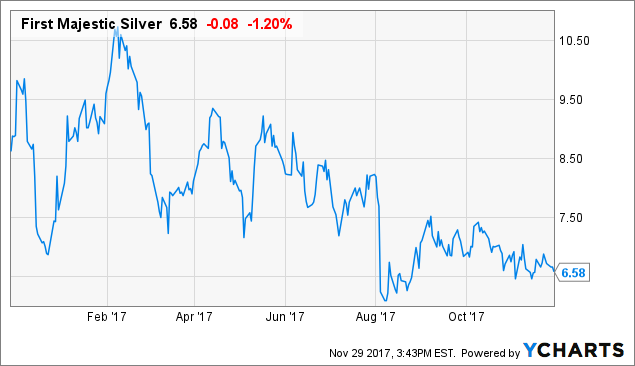 Top silver stock First Majestic's (AG) rough year continues, with a 15% increase in cash costs and a 8% increase in AISC in Q3, leading to a 2% decline in operating cash flow to $17.7 million.
The company blamed the higher costs on lower lead production at Del Toro and La Parrilla, which reduced by-product credits, and a stronger Mexican Peso. The stock is down 18.51% year-to-date, as of writing on Nov. 29, and could go lower in the near-term.

6. Insider Buying Reported at 5 Gold Stocks
Insider buying has picked up a bit over the past month or so.
On Nov. 20, I highlighted insider purchases from five gold stocks in particular. I view insider buying as a positive sign because, in general, I think it means insiders of a company are bullish on the stock and think it will rise.
As I've pointed out in insider buying articles, however, I think readers should pay close attention to the size of the purchases in relation to the size of the company and the insiders' total annual compensation.
Companies with recent insider buying include Yamana Gold (AUY), Alamos Gold (AGI), Savary Gold (OTC:SVVYF), Orezone (OTCPK:ORZCF) and Atlantic Gold (OTCPK:SPVEF).
7. Top Gold Stock Update: Kirkland Lake Gold Earnings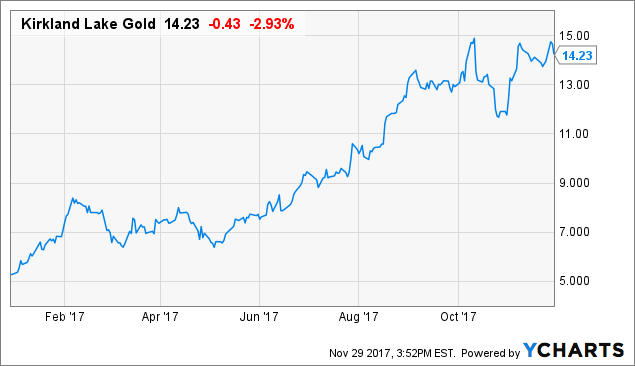 My previous top gold stock pick for 2017, Kirkland Lake Gold (OTC:KL), reported another strong earnings in my opinion, with production up 80% year-over-year and AISC guidance reduced to $800-$850 per ounce. Net earnings were $43.8 million or $.21 per share, vs. $34.6 million or $.17 per share in Q2 2017.
Exploration at Fosterville has been a huge success, rewarding the company greatly with reserves rising 100% to 1.03 million ounces, and a 83% increase in average reserve grades at the Fosterville Mine to 17.9 g/t gold.
The company also recently announced that it hit 52.1 g/t over 7.15 meters at Fosterville, which is also great news for Centerra, which will own a 2% NSR on Fosterville following closing of its takeover of Aurico Metals.
8. Sandstorm Announces Sale of Shares/Debt in Trek
Sandstorm Gold (SAND) was able to monetize its holdings of shares/debt in Trek Mining, formerly Luna Gold Corp., to investor Ross Beaty for $18.2 million. The news comes as Trek will combine with NewCastle and Anfield Gold to form a new company called Equinox Gold.
This is a big positive for Sandstorm, as Equinox will be in a better position to advance Aurizona to production by 2018/19. Sandstorm owns a a 3% - 5% sliding scale NSR on the Aurizona project, with the NSR based on gold prices (5% when gold trades above $1,500); this is estimated to produce $4.5 million in annual royalty revenue to Sandstorm at current gold prices;
Sandstorm also owns a 2% royalty on Aurizona Greenfields property, which is an approximately 180,000 hectare package of exploration ground adjacent to the Aurizona mine (in which AngloGold Ashanti can earn a 70% interest).
It shores up the balance sheet, as Sandstorm should now have over $25 million in cash and zero debt (as of writing) with $110 million available credit facility, giving the company some firepower to complete new deals.
9. Gold Standard Impresses at Dark Star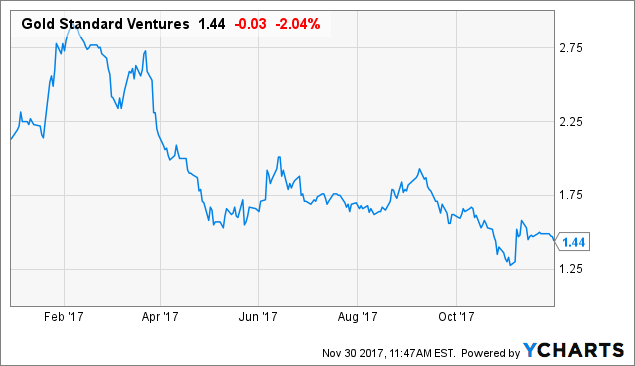 Gold Standard Ventures (GSV) announced an impressive drill intersection of 2.67 g/t gold over 136 meters at the Dark Star oxide gold deposit, located on its 100% owned Railroad project in Nevada.
The company says it is seeing evidence that higher grade oxide material may reoccur at deeper levels of the deposit than originally thought.
OceanaGold (15.8%) and Goldcorp (9.9%) continue to own substantial equity stakes in Gold Standard, as well as yours truly, and I think 2018 will be a critical year for this top gold junior, which has struggled a bit in 2017.
10. Maverix Buys 2% royalty on Karma Mine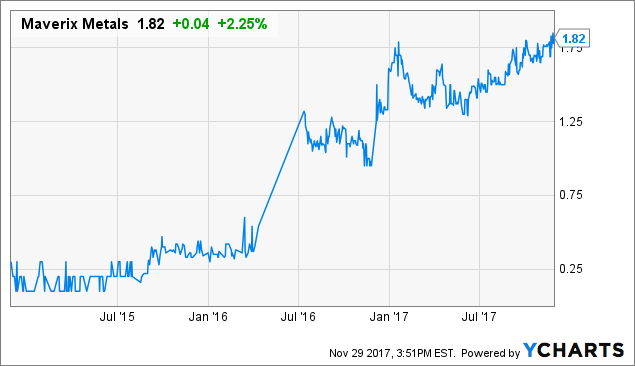 Maverix got a pretty decent deal recently when it paid $20 million to acquire a 2% NSR on Endeavour's Karma Gold Mine (OTCQX:EDVMF). The royalty is likely to produce between $2.5 - $3 million in annual revenue based on current gold prices and a 110,000 ounce per year production rate at Karma.
With a mine life extended to over 10 years and the potential for even higher production through the North Kao deposit and other exploration, and leverage to gold prices, Maverix could end up earning several times its original investment over time.
Having Endeavour Mining as the mine's operator ($2+ billion company) is a huge plus for Maverix given the company's size, expertise and commitment to growth. As a company, however, Maverix may be a bit overpriced at the moment following a strong run-up in shares this year.
Other top news in November
Here's a recap of some other noteworthy news this past month:
Alamos Gold (AGI) completed its acquisition of Richmont Mines (RIC) for a rich price tag of $770 million. This seems pretty steep for a mine with less than 1 million ounces in reserves and projected 2017 production of 93,000 ounces (top end of range). The hope is that the majority of the 995,700 in inferred resources will be proved up and new resources will be discovered, but it's still an expensive deal in my opinion. However, the buyout is good news for other Canadian gold miners/developers, including Wesdome, Atlantic Gold, Pure Gold and others, which could fetch a similar valuation.
Novo Resources' (OTCQX:NSRPF) stock tanked following an exploration update at Purdy's Reward tenement, as the Australian gold explorer said it is "uncomfortable" with drilling at Purdy's Reward, instead preferring to focus on trenching as a way to collect bulk samples given the nuggety nature of gold at its property. This is a extremely speculative stock - even after the sell-off, the company has a market cap north of $700 million, with no reserves/resources to speak of. Kirkland Lake Gold (OTC:KL) seems to believe in the upside, however, as it invested $56 million in the company back in September.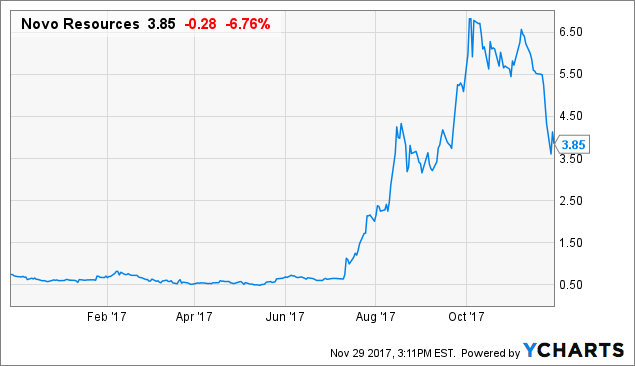 Gold Bull Portfolio Performance Update for November and 2017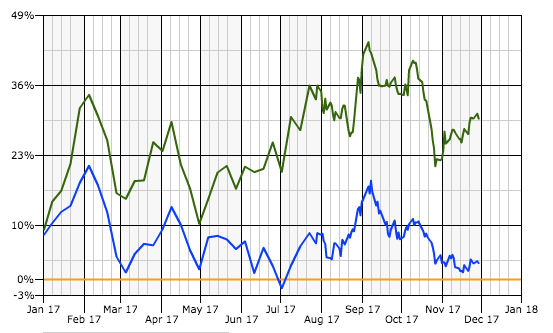 YTD, the portfolio is up 29.75% as of 11/29, compared to a 2.89% gain in the Philly gold and silver index (PHLX), and a similar gain in the VanEck gold miners index (GDX). For November, the portfolio has gained 6.02%, rebounding from a loss last month (these returns are according to a performance dashboard in an E*Trade account).
I mainly target the following types of gold companies:
Explorers or developers with strong exploration upside in favorable jurisdictions, such as the U.S., Canada, Australia, and certain parts of West Africa.
Producing junior and mid-tier miners that have little to no debt and low all-in sustaining cash costs, and growth potential from low-cost assets.
Stocks having high insider ownership or recent insider buying, with near-term catalysts such as the release of a feasibility study or initial production.
Strong management teams with past experience in the mining sector and a track record of success.
Companies that I feel are takeover targets, whether it's due to a strong gold development project, exploration upside, equity ownership from a major or mid-tier gold miner, insider ownership or a combination of the above.
Subscribers get access to a full list of holdings and weightings via article updates (subscribers can check out the latest update if you haven't yet; since then, the holdings haven't changed by much, outside of the addition of IAMGOLD and small profit taking in Kirkland Lake Gold). I also indicate which stocks I plan on buying and selling in posts and in the live chat, and I'm available to discuss positions over email as well.
In December, check back for a list of my top 10 gold stock picks for 2018, as well as top copper and silver mining picks for 2018, and a list of mining stocks that should be avoided, as well as portfolio updates.
Disclosure: I am/we are long edvmf, kl, gsv, iag, sand, SUPGF.. I wrote this article myself, and it expresses my own opinions. I am not receiving compensation for it (other than from Seeking Alpha). I have no business relationship with any company whose stock is mentioned in this article.
Editor's Note: This article covers one or more microcap stocks. Please be aware of the risks associated with these stocks.