Investment Thesis
In the same way that Amazon (AMZN) has threatened the survival of "brick-and-mortar" retailers, it has also begun to challenge long-standing businesses that for years seemed impervious to outside challengers. After all, in order to challenge a medical behemoth like Cardinal Health (CAH) it would require deep industry knowledge and adequate size.
The real question is whether or not Amazon poses a legitimate threat to companies like Cardinal Health, McKesson (MCK), and AmerisourceBergen (ABC). The remainder of this article will be focused on the potential impact from Amazon entering the arena of medical distribution services and whether or not the current drop in share price for players like Cardinal Health, McKesson, AmerisourceBergen warrant consideration as a strong investment.
Background
Major players in the pharmaceutical products and medical device distribution business have suffered tremendously over the course of the last six months. The three companies being reviewed were previously considered stalwarts in the medical products and services field and have established a wide moat that prevents competitors from challenging their reign.
As you can see from the chart above, Cardinal Health has been disproportionately impacted by recent events, causing the share price to break from the same pattern as MCK and ABC. The FY2017 picture doesn't look any better as Cardinal Health now sits near its 52-week-low or approximately 34% below its 52-week-high. Due to the massive decline in CAH's price over the last year, I believe that it presents the strongest upside as most of the risk has been priced in.
The big question is what events are driving the disparity in CAH's share price relative to MCK and ABC? Are there more problems facing CAH or is this a classic example of the market overreacting?
Events Impacting All Three Companies
Let's start with the two basic problems impacting all three companies:
Demand for lower pricing of generic drugs - Pharmacy clients are demanding lower prices on generic drugs which ultimately impacts pharmaceutical wholesalers' margins.
Amazon's entry into medical product sales - Amazon recently acquired pharmacy licenses in Tennessee and Indiana which has led to speculation that it will use these to sell prescriptions. While this move makes for good press coverage, the reality is that Amazon has stated it "will not store or ship drugs." Although it does not intend to enter the prescription drug business at this point in time, it doesn't mean that it never intends to. In fact, analysts believe Amazon's goal is to disrupt other areas of healthcare first before considering other options.
CAH Demand For Lower Priced Drugs
When it comes to the demand for lower-priced drugs, CAH appears to be the laggard of the three companies with regard to a repricing of the group purchasing contracts. As a result of this, it would appear that CAH is underperforming its competition which would contribute to the continued fall of CAH.
Morningstar analyst Vishnu Lekraj wrote in his recent equity analyst report that he met with senior level management and noted that "near-term drug pricing headwinds that have pressured Cardinal over the last handful of quarters seem to be abating." This is extremely important since 80% of profits come from the pharmaceutical and drug supply business. Considering margins are already thin, it is important that there be no further deterioration in CAH's bottom line.
Slim margins also have the potential to benefit CAH as this prevents other competitors from entering the market. Between CAH, ABC, and MCK, it is estimated that these three players have a combined market share exceeding 90%. This provides all three players with a wide economic moat that comes from their ability to generate significant sales volume that leads to meaningful pricing discounts that their customers would not be able to acquire on their own.
Amazon Entry Threatens CAH's Medical Device Sales
In the same report, Lekraj noted one of the most serious risks associated with CAH's current gameplan is that:
Cardinal has moved to drive growth through expanding into noncore businesses, such as medical device/consumable-product manufacturing and distribution. We believe these markets are not lucrative and could drain economic profits.
CAH derives 90% of revenues from its pharmaceutical sales (generic and specialty) while 10% of revenues (and approximately 20% of net income) come from medical device/consumable-product manufacturing and distribution. While there is always the potential for Amazon to push into pharmaceutical sales, the immediate threat appears to the area of CAH's business that analysts don't see as advantageous to the company's long-term goals.
Catalysts For CAH
Sale of China drug and medical products distribution business - According to Credit Suisse, this transaction was "motivated by more onerous reform efforts expected to be implemented in 2018." The transaction is expected to close by FY18 year-end and does not include CAH's China operations outside of core drug and medical products distribution business.
Management Changes - George Barrett has served as the CEO for the last 10 years and will be stepping down as CFO Mike Kaufmann replaces him. Kaufmann's involvement in crafting CAH's operational and financial strategies makes him well-qualified to take over as CEO.
Analyst Coverage
Many analysts have already established that CAH is presently undervalued (even in a worst-case scenario). The following are current analyst ratings for CAH.
Credit Suisse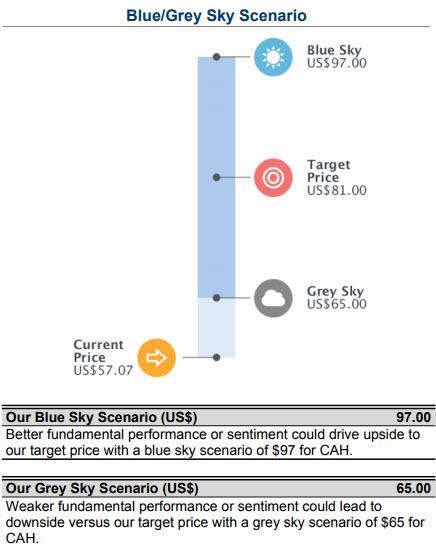 Source: Credit Suisse
Given the most recent price of $57.56/share, this represents an upside between 13% and 40.7% for the worst-case scenario and target price (respectively). In the event that the company is able to continue growing sales and redirecting its efforts towards specialty drugs, there is the possibility that it could reach $97/share which would represent an upside of 68.5% over current prices.
Morningstar
Morningstar estimates CAH's fair value at approximately $84/share which represents an upside of nearly 46%/share. These estimates seem reasonable because CAH trades at a current P/E of 16.3x while the five-year average P/E is closer to 27.3x.
**It is worth noting to readers that while Morningstar sees long-term value in CAH, it believes that the strongest play at this point in time is MCK.
Reduced Debt And Share Count
It is expected that CAH will use the next two years to continue improving its financial position by reducing debt and share count as a way to help boost EPS.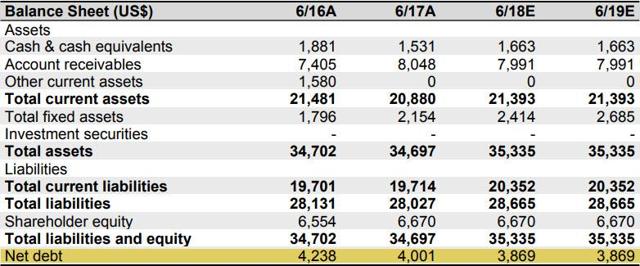 Source: Credit Suisse
Reduced share count will help improve free cash flow per share, which is one of the most important measurements for maintaining financial flexibility.

Source: Credit Suisse
Strong Dividend Yield For The Patient Investor
CAH has always maintained a shareholder-friendly stance via a dividend payout that has increased by double-digits for the last 10+ years. A 32-year history of increasing dividend payments makes CAH's record that much more impressive.
3-Year Growth Rate - 14.1%
5-Year Growth Rate - 15.9%
10-Year Growth Rate - 16.5%
Credit Suisse estimates that this favorable policy will continue going forward, so patient investors can take comfort that continued pain in 2018 will be rewarded with a strong yield.
Given these estimates and a current share price of $57.56, investors who acquire shares now have the potential to generate a Yield-On-Cost (YOC) close to 3.7% by 2019. Conservative investors should also take comfort in the fact that the dividend is expected to be well covered (Payout ratio in 2019 of 38%). This will allow CAH to maintain financial flexibility while also keeping pace with a high single-digit and low double-digit dividend growth policy.
Conclusion
As usual, Amazon concerns are largely overblown and I would suggest especially so in the CAH scenario since Amazon's entry into the medical supplies and distribution field is purely speculative for the time being. As a result, we have seen CAH's share price being disproportionately impacted.
The Amazon effect is not entirely to blame as CAH was the last of the big three medical distributors to feel the impact of a change in generic drug pricing. This has made the health of CAH's financial reports look more questionable than its competitors'.
Based on analyst estimates and CAH's guidance, I expect 2018 to be a rather lackluster year for CAH as management implements growth initiatives and focuses its efforts and capital on higher-return niches like specialty drugs. I'd like to think of 2018 as a rebuilding year so that CAH can establish a solid base for growth and profitability in 2019. Investors who are patient have the ability to lock in a solid yield of 3.31% based on current prices and a strong margin of safety that could reasonably see capital gains of 50% in the near future.
My clients are long CAH.
Final Note: If you enjoy my articles, please take the time to follow me. While I enjoy performing analysis, following me is the best method for showing me that SA subscribers are finding my work useful.
If you have any suggestions to improve my articles or if you would like me to perform analysis on a stock or your portfolio, please feel free to message me and I will do my best to make it happen. I truly appreciate thoughtful feedback and would love to create content that is meaningful for my followers.
Disclosure: I/we have no positions in any stocks mentioned, but may initiate a long position in CAH over the next 72 hours.
I wrote this article myself, and it expresses my own opinions. I am not receiving compensation for it (other than from Seeking Alpha). I have no business relationship with any company whose stock is mentioned in this article.
Additional disclosure: This article reflects my own personal views and is not meant to be taken as investment advice. It is recommended that you do your own research. This article was written on my own and does not reflect the views or opinions of my employer. I do not currently own shares of CAH, but I may choose to establish a position in the next 72 hours.