Wal-Mart (NYSE:WMT) is most certainly at war with Amazon (NASDAQ:AMZN). In fact, just as Amazon started out in the online space and is now entering the physical space (bookstores, Whole Foods), Wal-Mart is expanding into cyber-retailing just as its brick-and-mortar assets are reaching saturation points in terms of growth.
Before we get into the company's latest earnings report, let me pull up a stock chart: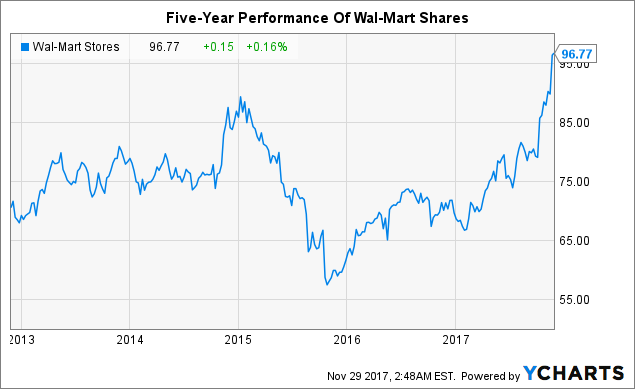 WMT data by YCharts
This chart shows a lot of information from a technical perspective. The left side before the dip shows some sideways trading before a breakout, then the right side indicates a new breakout that may signal a new bullish run.
What's more interesting to me is what arguably caused the shape of that chart. That would be Amazon, of course. The left side, plus the decline in the middle, represents Wal-Mart trying to figure out its way in the new digital world of lowest price detection apps and economical two-day shipping; the right-side run-up is what you get when you finally become tired of being dominated and decide to fight back. All of that, naturally, is filtered through the perspective of Wall Street's institutional industry and its collective subjective assessment.
Moving now to the latest earnings report, we see that the company did reasonably well in the third quarter at its physical locations and spectacularly well at e-commerce. According to SA news, the domestic comps went beyond expectations at a 2.7% gain (versus 1.9% expected). Traffic at Wal-Mart expanded by 1.5%. Sam's Club saw a 3.6% traffic jump and a total sales increase of over 4%.
In e-commerce, digital sales rose 50% and gross merchandise value went up a little better than that. This is a key data point - the one that tells you what Wal-Mart is up to and why it might be an investment idea.
Still, total sales are important. From the press release (.pdf file), total revenue in Q3 increased over 4%, but operating income and cash flow went down. Operating profit dipped almost 7% (over 8% on constant currency) and free cash flow (for the nine-month period) dropped 18% to a little over $10 billion. Capital expenditures declined slightly. Adjusted earnings per share for the quarter came in at $1.00, better than consensus by three pennies.
From the transcript, there was some comment about items affecting the operating income (quote from CFO Brett M. Biggs):
"Operating income declined 12.2% in constant currency and 7.8%, or $105 million, on a reported basis. The decline is attributable to two items: an impairment charge of approximately $150 million due to our decision to exit certain properties in one of our markets, and lapping last year's gain of $86 million from the sale of several shopping malls in Chile. Without these items, operating income would have increased year on year."
Overall, the stats seem to be indicative of a retailer holding its own in a difficult environment (read: the Amazon era and the resultant struggle of the mall ecosystem). The fourth quarter will be more important in figuring out exactly where the company stands. But it is making many investments in e-commerce and is trying to cross-promote the brick-and-mortar proposition with the digital one. One of these investments is in price; the company's gross margin dropped 36 basis points, according to the CFO. Margin will be an issue going forward, because fighting Amazon isn't going to come cheap.
What strikes me the most, though, about the whole Wal-Mart story is the opportunity it has to succeed in the price-driven/price-matching world of brick-and-mortar/e-commerce hybridization. That's the real trend going forward - at least for now it is, as we are perhaps simply entering another industry cycle. But take this SA news item as an example of what I'm talking about. Moody's makes the point that Wal-Mart's size and ability to scale, as well as its capabilities in terms of evolving and changing its operating/distribution logistics to better utilize its physical locations and turn them into hubs for so-called omni-channel strategies, basically brings it up to Amazon's league. It is size in the physical world that is important now; disruption via website distribution has already happened, so now a company like Amazon, in pursuit of growth, is heading into the real world of retail real estate (again, Whole Foods, bookstores, all that)... while Wal-Mart is going in the opposite direction, hoping to disrupt on its own. This is so interesting that I believe we can point to these new developments and use them as justification for the stock's new energy.
So, here's what Wal-Mart has going for it:
It is investing in price.
It is focusing on e-commerce, while simultaneously staying true to its footprint.
It is communicating this through marketing and brand equity building exercises.
This last point about brand equity is something I perceive in what appears to be the company's possible quest to build an online mall made up of different trademarks, as reported on in this article. I agree, that's probably the strategy; not only does Wal-Mart want to promote a website of third-party sellers (like Amazon and others do), but it wants to be the home of more major brands as well.
There's one missing piece, though. It is something I am big on in terms of my themes of investing: original filmed entertainment content. I believe, more than ever, that many companies can use this as a strategy and, more importantly, need to use this as a strategy. Amazon has shown the way with Amazon Studios. Wal-Mart is almost there: it owns Vudu, a streaming service.
But the company has to go further if it wants to take on Amazon. Right now, CEO Jeff Bezos and his company can produce all kinds of content to get you to shop at Amazon and subscribe to its shipping service. Wal-Mart must do the same thing, and not just to create a shipping-subscription product: it must also simply want to make money from movies. The company has cash flow in the billions - some of that can be diverted away from store investments and used to procure the talents of Hollywood. Wal-Mart can start to make pilots, movie franchises for streaming and theaters, etc. There's nothing stopping it from creating its own Transparent or Manchester by the Sea. Not only is there nothing stopping it, there is everything in the current retail/digital marketplace obligating the company to do so.
Since I wrote about the stock the last time, it has risen. I was more bearish on buying it back in the summer, especially from a dividend yield perspective, but I have found the price action to be notable and some of the recent moves in the company's online strategy to be compelling. Management's attitude seems to be changing and becoming more competitive. I'd still hope for a higher dividend yield, but if Wal-Mart is willing to opt for growth over total return, then I will keep my mind open.
But in the end, I won't commit to buying Wal-Mart stock just yet. I'll sacrifice the gains. The market sees one thing, I see something else: a retailer that has to make the financial commitment to using Vudu to distribute content - content that it both makes and acquires... just like Amazon. There is nothing wrong with following the leader in this regard. Wal-Mart can enter the over-the-top arena just like anybody else. Right now, one can rent movies on Vudu. That's great, but that's a commodity business. And yes, there are many OTT services people can access, perhaps commoditizing that industry as well. But every entity can program a unique portfolio of original content. And that's what would make me buy Wal-Mart stock.
If I saw continuing solid price action, fidelity to strongly competing with Amazon in the online/multichannel space and the institution of a studio system, then all of that, combined with Wal-Mart's brand equity, which powers a significant amount of cash flow generation through its core retailing system, would make me want to invest. Otherwise, since I own Amazon, my opinion remains the same: wait and see. (I do feel the company will eventually announce a studio initiative, but predicting the future can be difficult; nevertheless, it seems like an obvious move, not only for Wal-Mart but for any retailer looking to create a competitive advantage.)
Disclosure: I am/we are long AMZN.
I wrote this article myself, and it expresses my own opinions. I am not receiving compensation for it (other than from Seeking Alpha). I have no business relationship with any company whose stock is mentioned in this article.