Overview
The Lean Long-Term Growth Portfolio (LLGP) was created in early February 2016. The objective of this portfolio is for long-term capital appreciation and will include both companies that pay dividends and those that do not. The projected dividend yield for 2017 is likely to remain below one percent as growth and value are the focus of the portfolio. Over the long-term, yield may become a higher priority.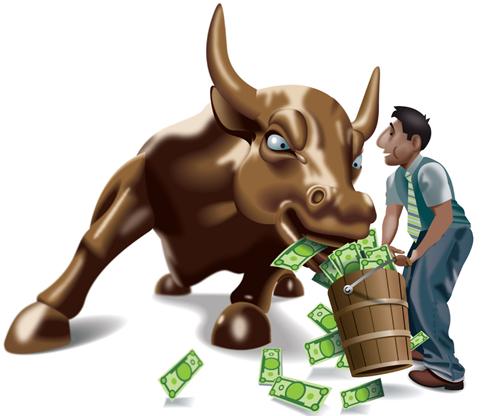 There are currently 42 individual stock holdings under management – this number remained constant in November. As the portfolio is still in its early stages, management strategies are still looking to find the "sweet spot" for the number of holdings.
As some of you may know, I focus intently on transports. The substantial majority of this focus is freight-related, so airlines, airports, and transit services are not strongly covered. I also focus intently on industries for holdings within the portfolio. Overall, 125 or so companies have detailed databases tracking quarterly information. Additionally, most industries also have other pricing and demand trends, which are monitored. Discounted cash flow models are also incorporated.
Currently only individual stocks are purchased. The primary objective is for long-term growth; however, value has become an increasing component of the portfolio. There are also strategies in place to manage overweight positions, which may be sold for short-term gains.
Motif has been used recently for both Traditional and Roth IRA accounts. However, this has been revisited and Merill Edge accounts have been opened to transfer all positions to. The primary benefit is 30 free trades per month, which should more than satisfy the need.
As of November 30, 2017, the fund held 42 companies including:
Holdings Performance – Update
As of November 30, 2017, the table below provides the stock acquired and sell dates, average price, weighting, performance by current year and monthly change. All dividend payouts are included in the performance to illustrate total returns. Companies owned during the year, but previously sold are still included so short-term gains are transparent. Overall performance is based upon unrealized/realized gains from 57 total companies, which have been owned at some point during 2017.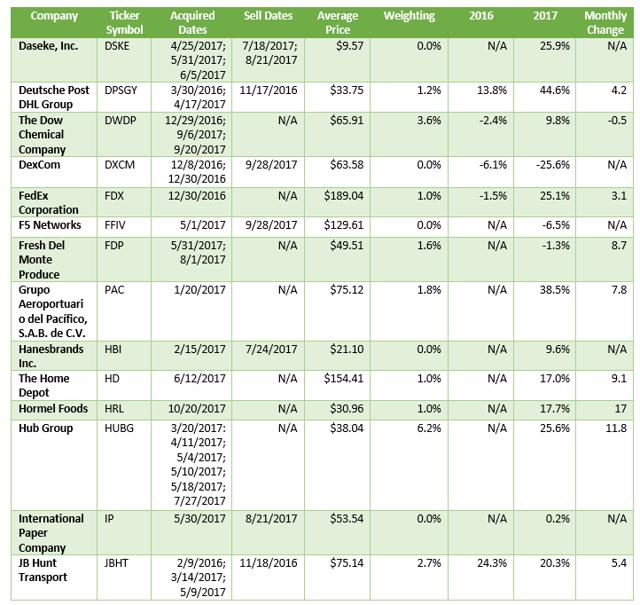 Source: Transports In Focus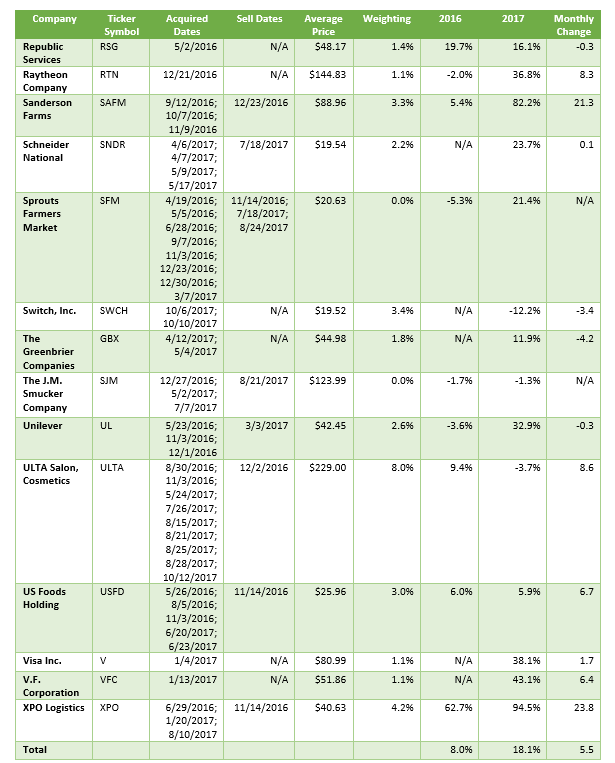 Source: Transports In Focus
Key Buys
The only key buy during the month of November was for Switch. The potential for the company is not readily apparent, but there is strong potential both domestically and globally. A detailed DCF analysis was performed and the conclusion was that fair value for the company is closer to $24 than average analyst estimates at $21. This was confirmed by incorporating both EBITDA and perpetual methods.
Recent key buys that provided strong returns over the past month included Alaska Air, Costco, Hub Group, Matson, Ulta and XPO. The recent weakness from the technology sector may be an early indication of a rotation shift to companies that are perceived to benefit from Trump tax reform policies.
Key Sells
No positions were liquidated during the month of November. The LLGP has become over weighted within select holdings as displayed below. Each respective holding has a different time frame as to when a strategic selling opportunity may arise. Based on the prospects of an economy poised to see growth accelerate, some patience may be a wise stance.
Top 10 Holdings
The top ten holdings within the LLGP reflected nearly 53 percent of the total based upon the closing investment value (including dividends paid) as of November 30, 2017. As a proportion of the total holdings, the top ten remained at 24 percent. From a management perspective, the top ten holdings based upon weighted percentage may decline in the near-term.
Ulta 8 percent

Hub Group 6.2 percent

Calavo Growers 6 percent

Matson 6 percent

Alaska Air Group 5 percent

XPO 4.2 percent

Costco 3.8 percent

DowDuPont 3.6 percent

Switch 3.4 percent

Sanderson Farms 3.3 percent

Pioneer Natural Resources 3.3 percent
Total Return Snapshot
Overall, performance has remained solid with 44 of the 57 companies owned during 2017 (77 percent) having positive total returns since a position was taken. Some of these companies have been held for less than one year, with the longest period being 21 months. For total return performance, leaders and laggards were as follows:
Leaders (25 companies, or 44 percent at or greater than 20 percent)
Boeing 121.6 percent – 19-month duration

XPO 100.3 percent – 17-month duration

Arista Networks 50.6 percent – 5-month duration

Sanderson Farms 49.6 percent – 14-month duration

Amazon.com 48 percent – 19-month duration (total gains realized)

DHL Group 46.5 percent – 20-month duration

JD

.com 46.4 percent – 9-month duration (total gains realized)

Lamb Weston 44.5 percent – 11-month duration

VF Corporation 43.1 percent – 10-month duration

Republic Services 38.8 percent – 18-month duration

Grupo Aeroportuario del Pacific 38.5 percent – 10-month duration

Visa 38.1 percent – 10-month duration

Calavo Growers 37.4 percent – 15-month duration

Raytheon 34.1 percent – 11-month duration

Adobe 33.7 percent – 6-month duration

Kansas City Southern 33 percent – 12-month duration

JB Hunt 31.6 percent – 21-month duration

Rice Energy 31 percent – 7-month duration (total gains realized)

Unilever 28 percent – 18-month duration

Lockheed Martin 26.6 percent – 11-month duration

Daseke 25.9 percent – 4-month duration (total gains realized)

Hub Group 25.6 percent – 7-month duration

Schneider National 23.7 percent – 7-month duration

FedEx 23.2 percent – 11-month duration

Prologis 23 percent – 9-month duration
Laggards (3 companies or 5 percent at or worse than -10 percent; 6 companies or 10.5 percent at worse than -5 percent)
DexCom -30.1 percent – 9-month duration (total losses realized)

Alaska Air -12.7 percent – 8-month duration

Switch -12.2 percent – 1-month duration

Celgene -8.8 percent – 1-month duration

Bunge -7.9 percent – 5-month duration

F5 Networks -6.5 percent – 4-month duration (total losses realized)

Line -3.1 percent – 13-month duration (total losses realized)

J.M. Smucker -2.4 percent – 8-month duration (total losses realized)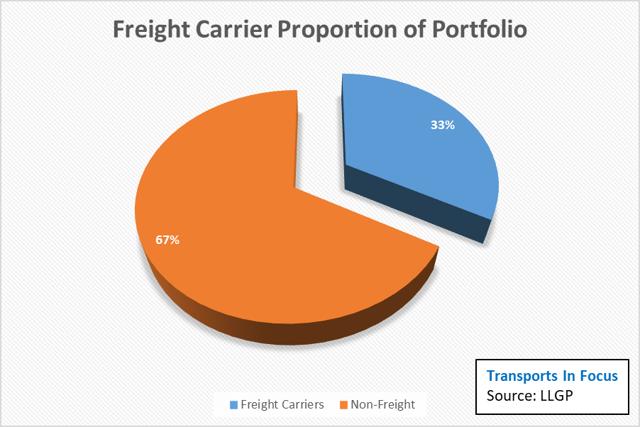 Freight holdings, as a percent of the total, remained flat at 33 percent. November was one of the lowest transaction months – despite the increase in technology holdings, transports rallied strongly. Freight carrier positions will likely remain near one-third of the portfolio for the time being.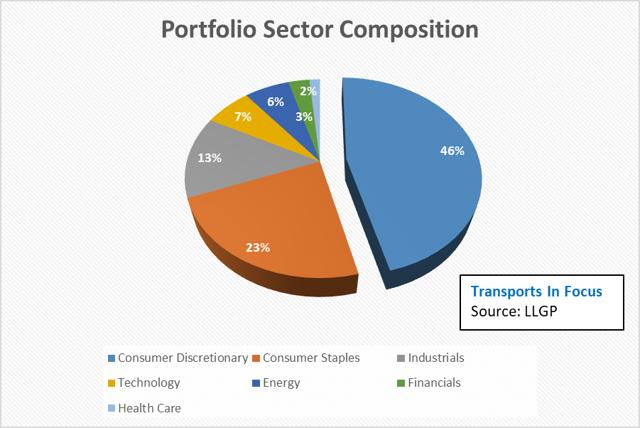 Most transports in the LLGP are categorized within the consumer discretionary sector. As a result of a lack of November moves, this sector along with consumer staples remained flat. Industrials increased by 1 percentage point, and technology increased by 2 percentage points, driven by strong increases by Boeing and the Switch additions. Energy declined as transports and other areas gained.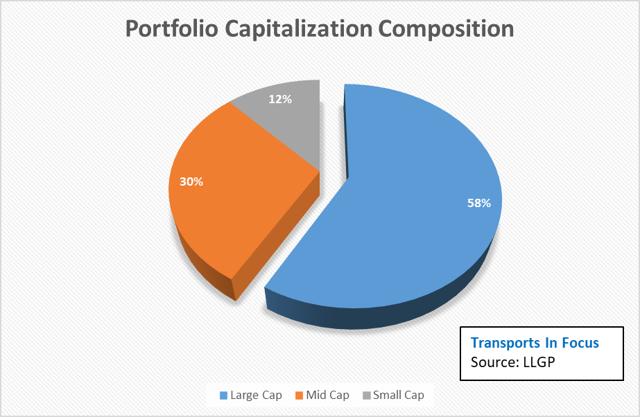 Large cap holdings declined by 1 percentage point to 58 percent of the LLGP's total. The mid cap composition increased by 1 percentage point, and the small cap composition remained flat. These adjustments were driven mostly by the Switch additions.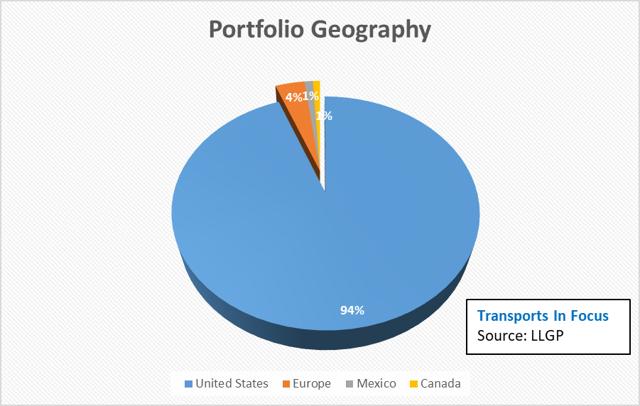 The percentage of U.S.-based holdings was flat at 94 percent. All other geographies also remained the same. Mexico and Canada continue to be marginal, Asia and Latin America exposure is no longer part of the portfolio due to recent liquidations. Direct investment exposure is not likely in the near-term.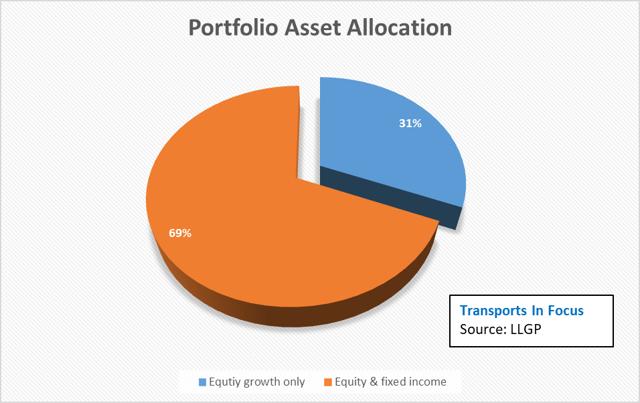 The increase in equity growth only holdings was primarily driven by the added positions for the Switch holding.
Benchmark Comparison and LLGP Historical Performance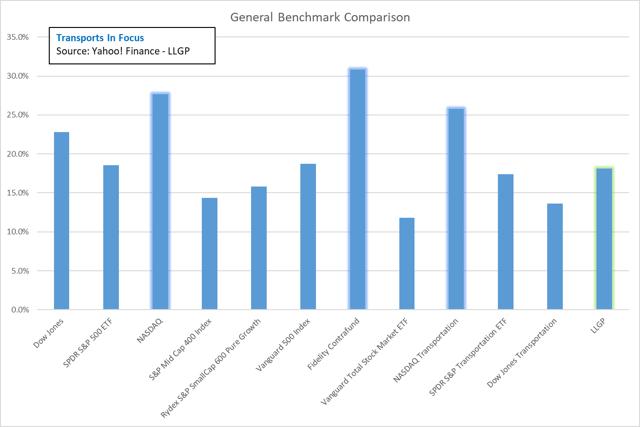 Through November, the LLGP has returned 18.1 percent. A handful of companies have paid dividends, but the current yield remains at 0.7 percent. Through November, the LLGP has now caught up with most benchmarks. The NASDAQ, Fidelity Contrafund, Dow Jones and NASDAQ Transportation continue to be the strongest.
Based on the portfolio's current 42 holdings, there still remains a fairly close balance between growth and value, and large and mid/small cap compositions. However, composition has recently drifted closer to a large cap blend. The LLGP continues to be benchmarked against over 1,680 mutual funds, via Morningstar's fund category performance total returns. Through November, the LLGP ranked 814th or in the 52nd percentile. This was a substantial increase from the previous month's 30th percentile ranking. Performance has been as follows since monitoring the larger peer group:
June 86

th percentile

July 63

rd percentile

August 41

st percentile

September 82

nd percentile

October 30

th percentile

November 52

nd percentile
The top performer to date remains the Leland Thompson Reuters Venture Capital Index (LDVIX) up 50.6 percent. This has replaced the TCW New America Premier Equities fund (TGUNX) which was still up 36.4 percent. The worst performer was the Frank Value C fund (FNKCX) at -2.8 percent. The average return to date out of the mutual fund peer group was at 17.3 percent, while the median was at 18 percent.
After using the larger benchmark for the past six months, it remains clear that the number of holdings in the LLGP is likely to contribute to more volatile fluctuations. This will remain to be especially true from the fact that the top 10 holdings reflected nearly 53 percent of the total investment value, and 24 percent of the total holdings.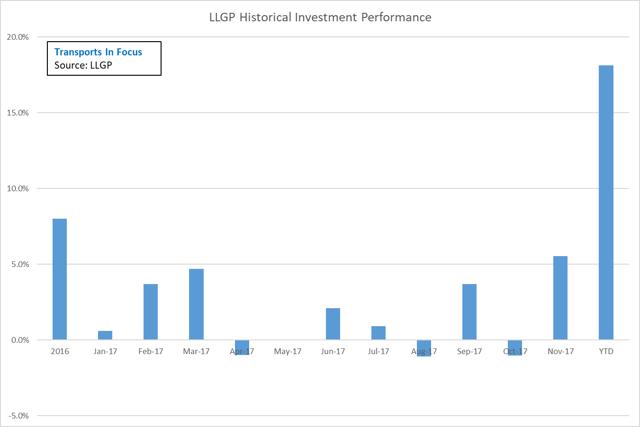 The month of October witnessed a 5.5 percentage point increase. For the year, seven of the eleven months have now been positive. The exposure to transports remains a near-term catalyst, however, some over weighted positions may restrict performance for the remainder of the year. However, performance may improve for these same holdings more so during 2018.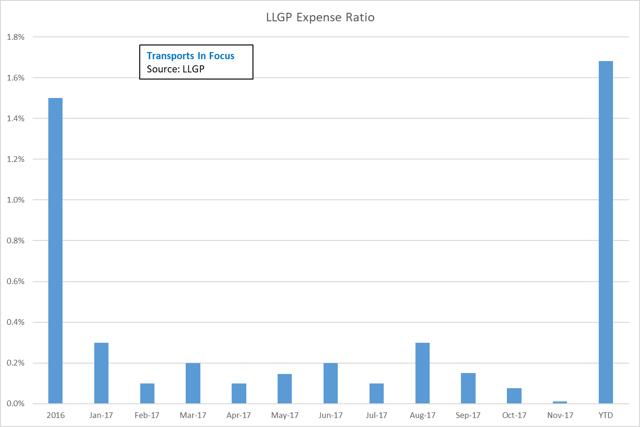 All expense ratio information is computed by a weighted average basis ((WAB)). The WAB is simply the transaction fees incurred, divided by the average of each of the LLGP's closing-day value.
Through November, the expense ratio was at 1.7 percent, surpassing all of last year's transaction costs. The month of November witnessed two transactions. As mentioned earlier, the Motif accounts are currently being transitioned to a Merill Edge account where 30 monthly free trades will be available. This will reduce the expense ratio to zero. Had this been in place since the beginning of the year, the LLGP's performance would have logged 19.4 percent.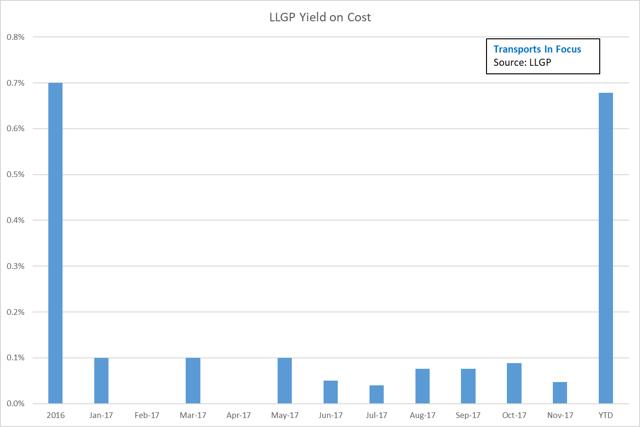 The dividend yield-on-cost (YOC) is an area that will simply take a little bit of time to increase. Additionally, management of positions will impact the magnitude of payouts. Originally, I was optimistic that the YOC would be closer to the 1 percent level, but as the portfolio has increased its total unit cost, the yield has been diminished. For 2018, the dividend YOC is estimated at 1.1 percent.
Conclusion
I am very content with the overall performance for the LLGP, results improved strongly during November and the 18.1 percent return is solid. However, the portfolio continues to underperform its benchmark peers as broader markets have been improving at a faster rate. Much of this can be attributed to higher exposure to the technology sector as most leading peers have higher weighted positions.
I am confident in the technology exposure I have built into the LLGP for the future. I am also confident with the exposure to e-commerce, despite liquidating the Amazon position just recently. The goal next year will be to manage positions offering the greatest upside potential based on valuation, and to increase holdings with strong potential for robust performance over the long-term.
Disclosure: I am/we are long ADBE, ALK, AMT, ANET, BA, BG, CALM, CELG, CVGW, CNI, CXO, COST, DPSGY, DWDP, FDX, FDP, GBX, PAC, HD, HRL, HUBG, JBHT, KSU, LMT, LW, MATX, MKC, PANW, PXD, PLD, RMP, RSG, RTN, SAFM, SNDR, SWCH, UL, ULTA, USFD, V, VFC, XPO. I wrote this article myself, and it expresses my own opinions. I am not receiving compensation for it (other than from Seeking Alpha). I have no business relationship with any company whose stock is mentioned in this article.
Editor's Note: This article discusses one or more securities that do not trade on a major U.S. exchange. Please be aware of the risks associated with these stocks.