iShares Silver Trust (NYSEARCA:SLV) is selling off amid rising interest rates and stronger equity markets. There is little demand for the precious metal as investors pile into equities while simultaneously driving interest rates higher. With the current low volatility in silver, buying put options is a cheap way to gain short exposure to the metal.
Price Action
Below is the price of SLV over the last year. While the metal has largely traded sideways over that time period, it looks to be breaking down now, with accelerated selling pressure in recent weeks.
Investors traditionally buy precious metals, such as gold and silver, during periods of falling interest rates and weak equity markets. With investors flocking to equity markets, alongside the Federal Reserve steadily tightening short-term rates, investors see little reason to buy more of the precious metal.
Silver is a non-yielding asset and is generally bought by investors when interest rates decline and sentiment for equities sours. From 2009 to 2011, this was the case, with investors bidding up silver in the process.
Over the next year, SLV could fall into the low teens based off of its current volatility profile. As selling pressure potentially increases, taking a short position in the metal looks like an attractive trade.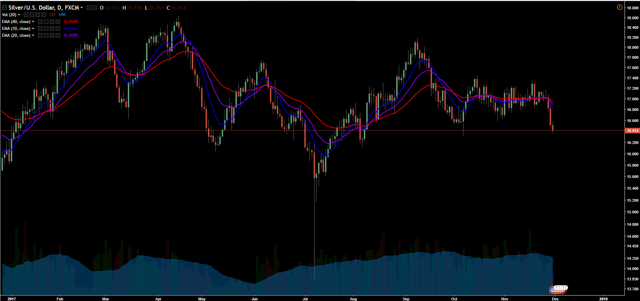 Unfavorable Conditions
The two major reasons that silver is selling off at its current pace are the strength in equity markets, on top of rising interest rates. Earlier in the week, Fed Chairman nominee Jerome Powell spoke in front of the Senate for his confirmation hearing. His tone indicated that he would likely reduce burdensome banking regulation while also keeping policy stimulative. This led to a spike higher in equity markets, particularly companies to the underlying economy. Knowing that going forward, the Fed will likely remain business friendly is spurring investors back into the market, pushing equity prices higher.
Additionally, the tax reform efforts by Republicans look to be materializing into action. Although the bill has yet to pass, more senators are joining the effort, supporting potentially stimulative tax reform. The potential for a stronger economy is leading to rising interest rates, as investors price in rising inflation and accelerated growth in coming years, should the reforms go through.
Equity markets are also being fueled by general momentum. Investor optimism is high, according to a number of economic indicators released in recent weeks. With investors shaking off negative headlines, such as North Korea, and continuing to push more money into the stock market, it looks as if the long-term trend higher in equities remains intact. As the market hits further record highs, bonds should continue to sell off, with investors seeking out equity investments.
Below is a chart of the price of silver, the S&P 500, and the 2-year U.S. Treasury yield over the last five years. The correlation between the three looks very strong, with yields and equities trending higher together, while silver prices decline.
The last five years have had a negative effect on silver prices. While the Fed remains supportive, they continue to push short-term rates higher. Moreover, the stronger economy is leading investors into economically sensitive sectors. None of this bodes well for silver, creating a sell signal to investors.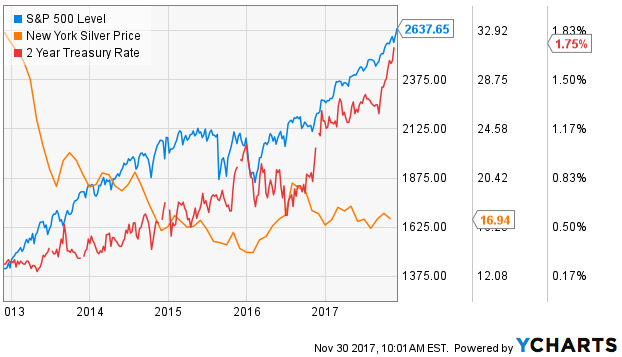 The Trade
I am looking to short silver using put options due to the current low volatility in the metal. Below is a chart of the rolling volatility of silver. The current 30-day standard deviation of 17.2% is historically low and signals that options premium is potentially cheap to buy.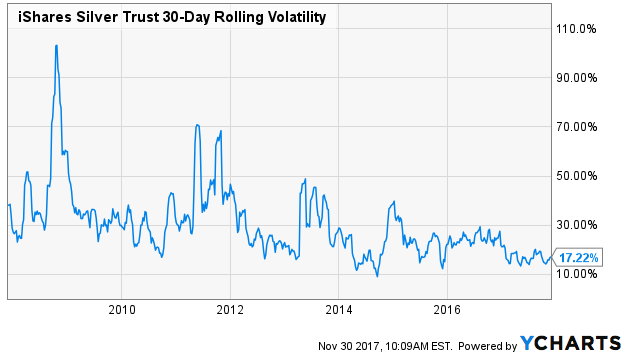 This leads to the July 2018 15 strike put option, currently selling for around $0.64. The option is slightly out of the money and has roughly 8 months until expiration, giving it time for the trade to develop. SLV options are very liquid, allowing one to get leverage, without risking very much in upfront premium.
Remember, however, that options can expire worthless, so weight the position appropriately in your portfolio.
Conclusion
The price of silver is breaking down, with the current macroeconomic backdrop being unfavorable for the precious metal. As interest rates continue to rise, alongside strong investor sentiment for equities, investors simply do not demand silver in their portfolio. The commodity trades at a low volatility profile, meaning using put options to short the metal can be done inexpensively. Overall, silver looks like a sell, or short at current levels.
Disclosure: I am/we are short SLV. I wrote this article myself, and it expresses my own opinions. I am not receiving compensation for it (other than from Seeking Alpha). I have no business relationship with any company whose stock is mentioned in this article.