Welcome to the natural gas storage forecast edition of Natural Gas Daily!
EIA reported a -33 Bcf change yesterday, which was 2 Bcf lower than our forecast of -35 Bcf. Be sure to read our week of Nov. 24 storage report here.
For the week of Dec. 1, we expect a storage draw of -10 Bcf.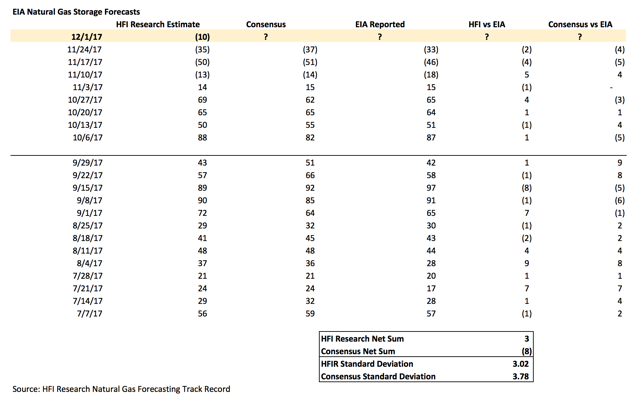 On a fundamental supply and demand basis, below is how each fundamental factor fared vs. the prior week: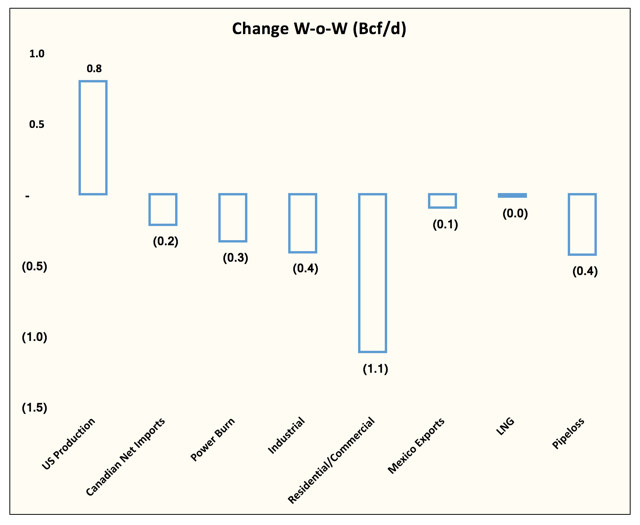 Source: HFI Research
On the supply side, Lower 48 production increased by a material ~0.8 Bcf/d week-over-week and pushing US gas production to another all-time high. Canadian gas net imports fell week-over-week by ~0.2 Bcf/d. Total supplies were higher by ~0.6 Bcf/d.
On the demand side, all of the demand drivers were lower this week. Heating demand (residential/commercial) led the demand decline this week by ~1.1 Bcf/d. The material decline in demand contributed to the much more bearish w-o-w implied balance.
Net-net, the balance this week was much looser than last week: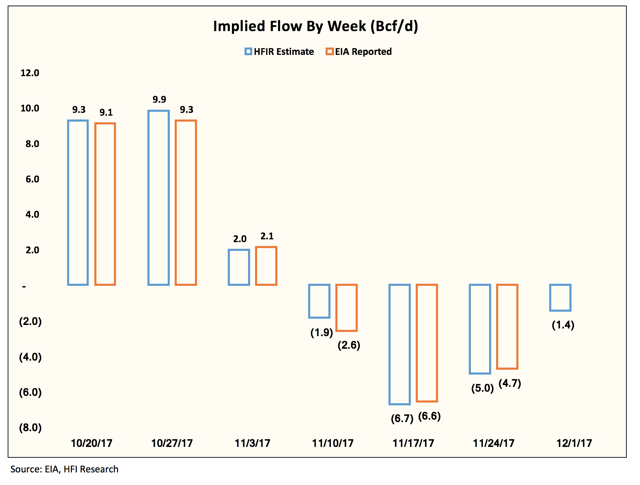 If EIA does report a storage report of -10 Bcf, it would be compared with -43 Bcf last year and -69 Bcf for the five-year average.
Thanks for reading. If you would like to start receiving must-read daily updates on natural gas fundamentals and trader commentary, sign up for HFI Research Natural Gas, a dedicated natural gas publication based on our years of research in the space and regular talks with traders in the industry. In preparation for the winter season and 2018, we are offering readers a chance to lock in our legacy rates, before prices change on January 1, 2018. Check it out and join us today, before winter arrives!
P.S. We are now posting all weather updates live to our subscribers on our live chat platform twice a day.
Disclosure: I/we have no positions in any stocks mentioned, and no plans to initiate any positions within the next 72 hours.
I wrote this article myself, and it expresses my own opinions. I am not receiving compensation for it (other than from Seeking Alpha). I have no business relationship with any company whose stock is mentioned in this article.