The Dividend Champions spreadsheet and PDF have been updated through 11/30/17 and are available at The DRiP Investing Resource Center - DRiP Information, Tools, And Forms. Note that all references to Champions mean companies that have paid higher dividends for at least 25 straight years; Contenders have streaks of 10-24 years; and Challengers have streaks of 5-9 years. "CCC" refers to the universe of Champions, Contenders, and Challengers.
Doing It the Hard Way
Just before Thanksgiving, Microsoft (MSFT) issued a periodic system update for my new Windows 10 computer, which has been running well since my old PC gave out in July. As many readers know, I've been using Excel 97 to maintain and update the CCC worksheet for many years. Suddenly, however, I began to see the following message whenever I tried to save (or save-as) files: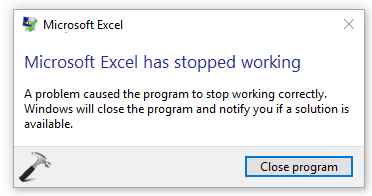 So, even without having any dividend news of its own, Microsoft had a major impact on the process (I own shares of MSFT in a Roth IRA). No amount of rebooting the PC or reinstalling the program was able to solve the issue, nor was I able to find answers online. It became apparent that I was "dead in the water" as far as continuing to use Excel 97, which probably should not be a surprise, since Microsoft stopped "supporting" it many years ago.
I decided to try installing and using one (or both) of the Free Office Suites that are available: Open Office (which I had recommended to people that didn't have a spreadsheet program) and LibreOffice (a successor to Open Office that was created by some of its programmers). Each one seems to have its pros and cons, but I was able to use a combination of the two to cobble together the latest CCC update.
Whereas Open Office seems to more closely mirror the look and feel of Excel 97, it was unable to properly copy-and-paste blocks of cells from one file to another, an important capability for assembling the CCC. LibreOffice was able to perform that function, but suffered from an almost unbearable slowness. Neither provides an exact match to Excel 97, but Open Office is easier to use for data entry and editing cells, but sometimes saves files which are mysteriously larger - a problem that can be remedied by re-saving with LibreOffice.
To make a long story short, I've decided to get the latest version of Microsoft Office, but even that decision was a bit tricky, as you can see from this page in the Microsoft "Store":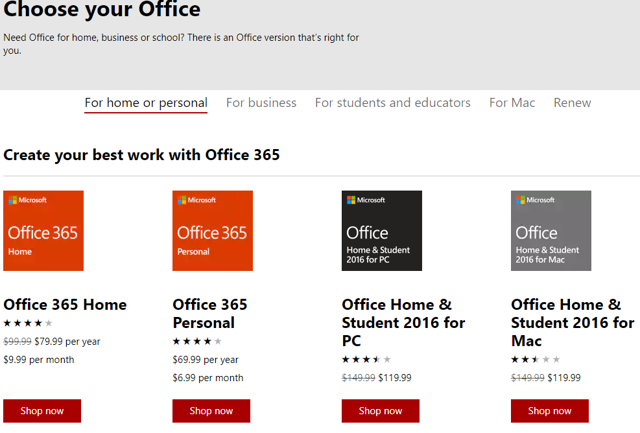 I'll get Office 2016, but it's interesting that Microsoft now seems to be pushing its Office 365 subscription-based software. The company may have learned something from the phone companies' "calling plans" and multi-year contracts! Aside from a "learning curve" (which I didn't want to face at the "last minute" in compiling the 11/30 CCC), I wonder how long Office 2016 will function properly before I have to become a subscriber.
A Strong Finish for 2018
By now, readers are well aware of the recent strength in the stock market, which certainly was reflected by dividend stocks. The annual "freezin' season" has ended (with 37 Freezes in 2017, down from 49 in 2016) and there have only been 8 Cuts (so far) compared with 28 in 2016. Meanwhile, there have been 118 new Challengers this year (versus 72 Deletions) and a potential for a handful of additions in December, so the CCC should finish the year with 815-820 companies and is likely to soar to more than 850 by mid-2018.
After the CCC universe dipped to 814 in October, that number edged up to 815 in November, which featured 10 new Challengers, 9 deletions, and no promotions. The Near Challengers listing picked up 8 "NEW" notations (in Appendix B on the Notes tab), but the number of Near-Challengers fell from 101 to 99, well below the record of 281 companies in September 2014. After October's action saw the average price of CCC stocks rise by 68¢, that figure soared by $2.70 in November, while the average "age" of the dividend streaks remained at 13.9 years. Meanwhile, the average yield dropped from 2.55% to 2.51% and the average of the Most Recent Increases moved from 8.40% to 8.28%.
As always, please use the CCC only as a starting point for more in-depth research. Feel free to leave any suggestions in the Comment area below.
Quick Summary
The Summary tab includes a table comparing the composite numbers from the latest update to those from the previous month and the end of the previous year. Below that is a summary of the latest month's activity in terms of companies added, deleted, or promoted. That is reflected below: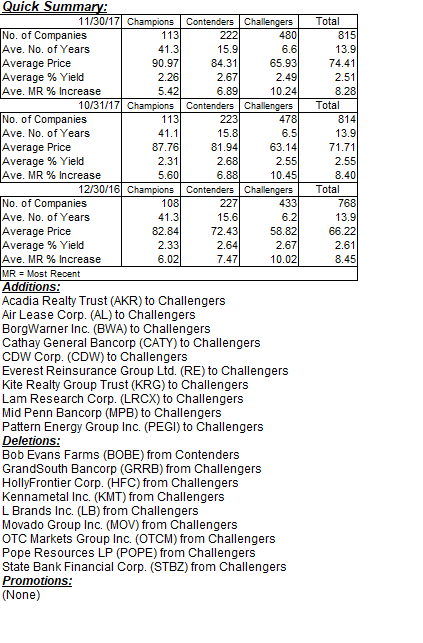 (Table from author; may include underlying data from FinViz.com)
Every Picture Tells a Story
As a bonus, I'm inserting one of Chuck Carnevale's F.A.S.T. Graphs below, highlighting one of the companies listed above (When the price line is in the green area, it generally suggests possible undervaluation).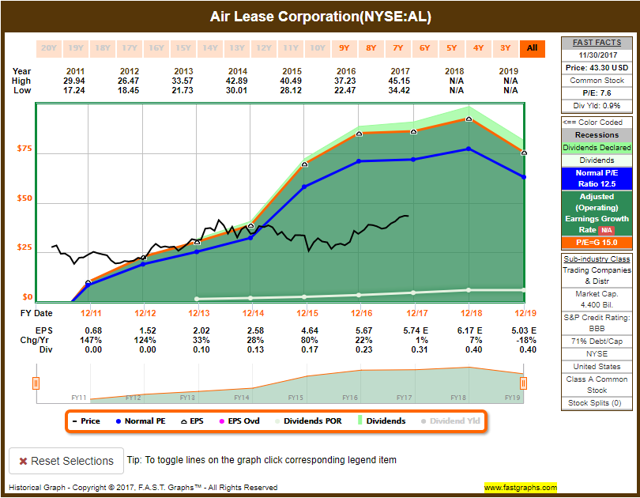 Disclaimer: Just because a chart looks "interesting" does not make it a Recommendation!
Disclosure: I am/we are long MSFT. I wrote this article myself, and it expresses my own opinions. I am not receiving compensation for it (other than from Seeking Alpha). I have no business relationship with any company whose stock is mentioned in this article.
Editor's Note: This article covers one or more microcap stocks. Please be aware of the risks associated with these stocks.