I hate using GDP as a metric for economic growth. It does not measure how Jane and Joe Sixpack are doing.
Even disposable personal income is a metric which includes a lot elements that the relatively poor Sixpacks do not see reflected in income gains. This is aggravated because disposable income is an average (and not median).

Median income is not tracked in real time having almost a one year lag. Median income data is current only through the end of 2016. When one indexes median income and GDP - one sees GDP growing much faster than median income.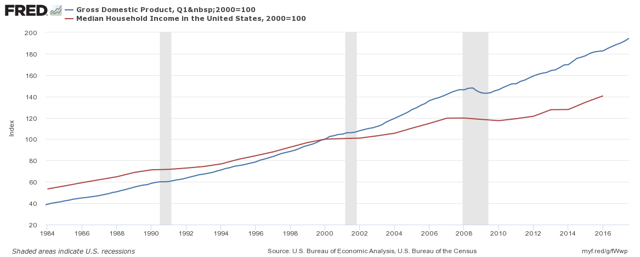 In fact, from 2000 to 2015, median income has grown 20% whilst GDP increased 80% [numbers are not inflation adjusted but are seasonally adjusted]. GDP measures money spent on new items or services whether that sale was profitable or not.
I am not sure one can tell what GDP is saying about the state of the economy.
My usual weekly wrap is in my instablog.
Disclosure: I/we have no positions in any stocks mentioned, and no plans to initiate any positions within the next 72 hours. I wrote this article myself, and it expresses my own opinions. I am not receiving compensation for it. I have no business relationship with any company whose stock is mentioned in this article.