By FS Staff
Well-known money manager Louis Gave says "bubbles are everywhere" and things could turn south in 2018.
Louis Gave on Tech Stock Mania and the Greatest Threat to 'Bull Market in Everything'
"We are in a bull market in everything and this is the first time in my career that everything is going up at once. I think history would show that this usually doesn't last forever and so we should probably expect in 2018 at least some of these asset classes to start feeling a little heavier."
Bitcoin and European high yield debt are two prime examples of the craziness we are seeing today, he told Financial Sense Newshour.
"Bitcoin going from $1000 to $10,000 in the space of nine months-that's obviously bubble-like behavior. If you look at the debt market, you've got high yield in Europe that is now yielding less than US Treasuries. You've got a company like Veolia Environnement…rated BBB+ and it just issued debt for the next three years at a negative yield and it was three times oversubscribed. People were lining up to lend money to a private company in France with a guaranteed loss."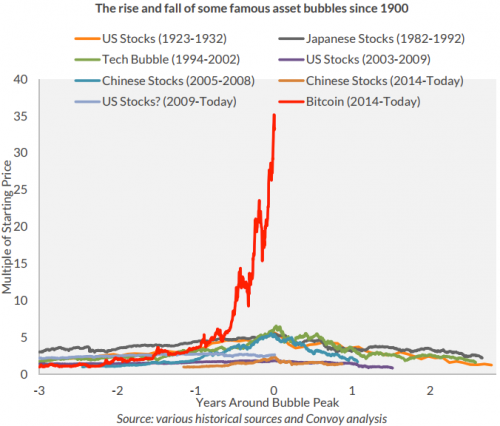 (Source)
What about tech stocks? Gave, the CEO of Gavekal Research, said he recently sold out of them and made the following observation:
"When you look at the top 10 companies in the world, 7 out of the top 10 are tech stocks, 5 out of the top 10 didn't even exist a generation ago and have never even gone through a CEO change. This kind of rapid increase in wealth appreciation (among a handful of companies) frankly has few historical precedents."
Gave discussed his investment strategy heading into next year and specifically mentioned energy stocks as a hedge. With bubbles everywhere, when is ready to turn to turn bearish?
"The first place to crack will be the bond market of the coming year… Once you start to see spreads widen, bond yields start to go up, it'll probably be the sign to take chips off the table."