Market Intro


Some perspective is pretty valuable on Friday's action. There can be no doubt that the intraday volatility was absolutely huge on Dec 1. Equities very swiftly righted themselves, however, on news that the GOP tax bill was likely to pass.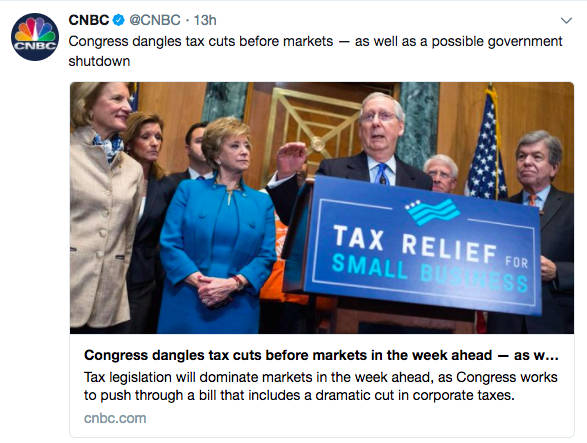 Volatility-related products also went for a wild ride on Friday, with VIX up near 14.50 at "peak nervousness." Interestingly, this print matched quite closely to the last VIX spike from November 15 (more below).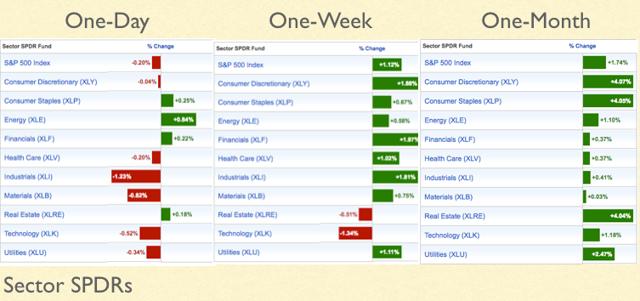 For all the week's drama, the S&P (SPY) closed 1.12% higher from November 24th; in fact, the Dow (DIA) enjoyed its best week this year.
One of the major themes in all this was increased volatility (VXX, UVXY, TVIX) alongside an equity market that, with the highly notable exception of the NASDAQ (QQQ), hurdled plenty of concerns to achieve a very strong showing.
Shout Out
Today, we would like to highlight an article put out by the CME Group called VIX-Yield Curve: At the Door of High Volatility?

CME Group: VIX-Yield Curve: At the Door of High Volatility?
CME argues that by taking out day-to-day volatility movements and instead focusing on rolling two-year moving average, VIX paired with the rolling two-year moving average steepness for 3M-30YR Treasuries, a counterclockwise cycle emerges.
CME depicts one such pattern below for the period 1999-2008: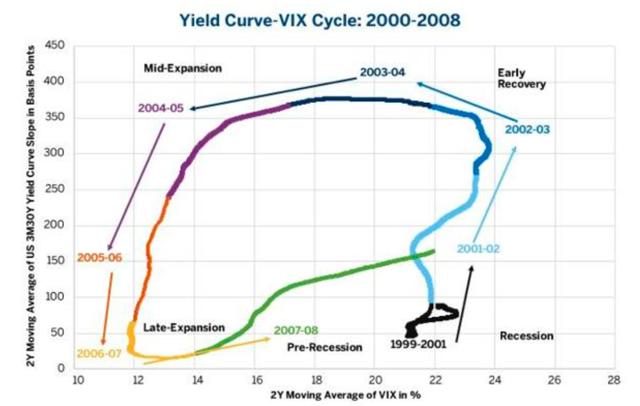 During the Recession period, equity vol is high, and the Fed is reducing rates, thereby steepening the yield curve. In early recovery, the yield curve's moving average remained steady while equity volatility fell precipitously. In the mid-to-late expansion phase, the Fed hikes short rates faster than the long bond is willing to maintain; vol remains quite low. Finally, in the Late Expansion and into the Pre-Recession phase, equity volatility picks up as it witnesses a return to Recession and a tightening of credit conditions.
CME Group supplies us with a current visual and its view of where we currently reside in this cycle: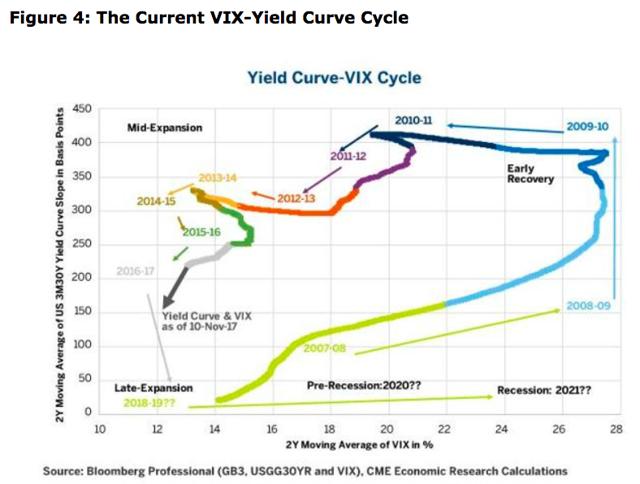 The next phase is the late-stage economic expansion. By this time, the yield curve will be quite flat. VIX will start to rise from its current two-year moving average of around 12% to much higher levels, perhaps as much as 50-100% higher depending on the degree to which market participants fear a future recession. The combination of a flat yield curve and higher equity volatility will probably also blow out credit spreads and choke off lending to certain sectors of the economy, which has the potential to provoke a sharp slowdown in economic activity and then another easing cycle. – Erik Norland, CME Group
To its credit, the article does purposely scrub out short-term catalysts. Secondly, given the relatively short history of the VIX, we are, according to CME, in the third observed cycle. Lastly, the highly unorthodox moves of the Federal Reserve and central banks all over the world, alongside the nature of the latest economic recovery'/expansion, really call into question exactly how the final portion of this cycle plays out.
We are reminded time and again that economic expansions and/or bull markets do not simply die of old age. But there's great grist for thought on this piece for those who participate in capital markets.
What are your thoughts: The pattern looks interesting, but is there enough data to consider the findings useful? Beyond that, is the current economic cycle and attendant monetary policy response so different that even if there is a typical pattern, the cycle will play out far differently on this particular iteration?
Thoughts on Volatility

IB: VIX Nov 13 - Dec 1
It interests us that on Friday, Dec. 1, the VIX essentially peaked exactly where it did on November 15. We do not believe this to be entirely coincidental. Rather, we think many traders of equity are taking their cues from VIX as to when to "buy the dip." Note the precipitous drop in volatility that followed the news related to Michael Flynn's "Guilty" plea.
Did the GOP progress relating to passage on tax reform help equities? In our view, surely. But more importantly, markets have to decide which news matters and which does not. Clearly, equities actively and even furiously decided to respond to the positive news. Killing vol spikes remains in fashion.

IB: VIX, April 20 – May 20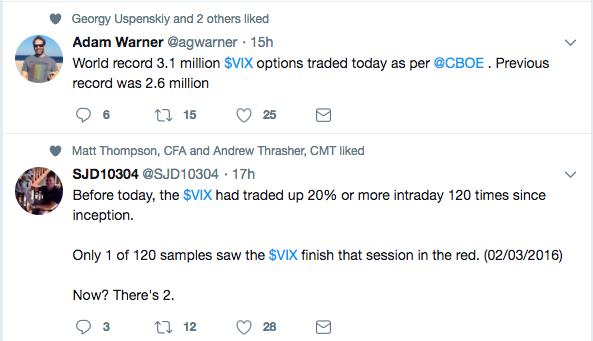 We wonder whether Friday's knee-jerk was a sympathetic response to how volatility patterns played out in late April into mid-May, just as the dive in vol was getting started in earnest. Then it at least required a couple days for equities to determine that the announcement that Comey would testify before Congress in June was not worthy of serious consternation.
Term Structure

IB: Dec-Jan VIX futures debit spread
The M1-M2 VS futures spread experienced quite a day on Friday. Traders witnessed a sharp plunge lower as spot and M1 converged on the Jan (M2) contract. All this was swiftly unwound when equity posturing switched back to positive.
To our minds, this extremely quick breakdown and resolution are of themselves fairly unremarkable. When combined with the current environment of rising equities alongside rising volatility, it appears that there is a change in the winds relative to what we experienced for the bulk of 2017. Intraday volatility over the past month has been quite high. Equities always found an answer to doubts or concerns. Positive economic and earnings data acted as backstop for what amounted to a strong November.

Fresh-squeezed organic at-the-money ES implied vols took a very interesting shape toward the end of Friday's session. Namely, the weekly contract is trading at the highest levels of volatility.
The reality is that the second column is quite flat at present (compare the second column to the Nov. 20 reading in column 3 for corresponding 7, 30, and 91-day volatilities). But the weekly contract sporting straddle prices is not at all far from what a monthly contract was priced at just a few weeks back (we recorded a monthly straddle price of $36.50 in late October!).
The weekly contract may be peering into what could be a rancorous week. The economic calendar is reasonably busy, with NFP jobs numbers out on Friday. But between the potential for more controversy regarding the ongoing Michael Flynn investigation, the GOP tax bill, and the looming debt ceiling debacle, a real circus may well be in store, and the weekly contract is responding in force. While low in broad historical terms, the weekly contract is signaling that it sees plenty of room for movement.
Recall that volatility is a symmetric concept insomuch as it is a call on the breadth of a distribution. That is to say that these higher vol figures do not correspond to calls for a "large" drop, but rather a large move, potentially positive or negative.
Conclusion
If this is your first time reading Market Volatility Bulletin, thanks for giving it a try. If you're a regular, we thank you for your ongoing contributions in the comments section.
Last week we received an excellent comment from Atom & Humber regarding tax reform and the degree to whether it is priced into the market. I (Adam) am of a mindset that it is, but there are certainly excellent grounds for taking the other side of the argument. Here's A&H on this topic: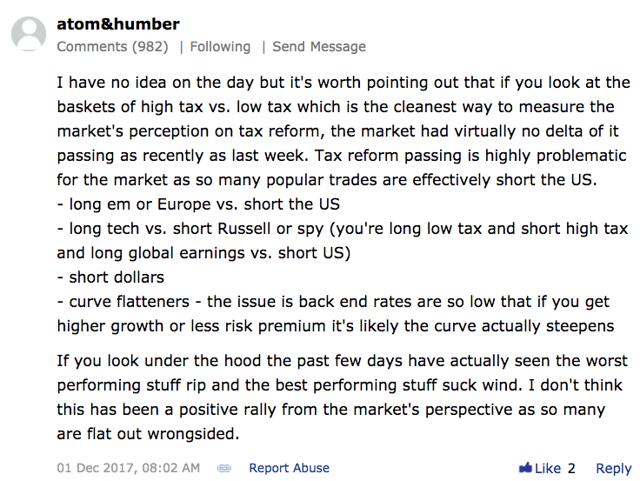 This is a very pertinent topic heading into the end of the year. We welcome reader feedback on where they stand in relation to this theme.
Please consider following us.
Disclosure: I am/we are short SPY.
I wrote this article myself, and it expresses my own opinions. I am not receiving compensation for it (other than from Seeking Alpha). I have no business relationship with any company whose stock is mentioned in this article.
Additional disclosure: We actively trade the futures markets, potentially taking multiple positions on any given day, both long and short. It is our belief that the S&P 500 is meaningfully overvalued. As such, we typically carry a net short position using ES options and futures.