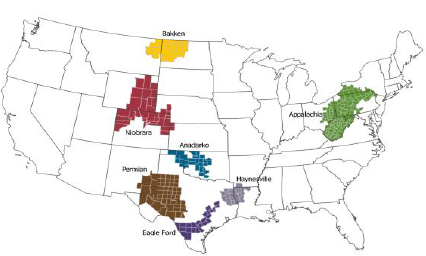 As overall growth in U.S. tight oil - shale continues to move higher; however, there appears to be a few ominous emerging negative trends. The first negative trend that appears to be gathering steam is that tight oil's growth rate is slowing. The second trend is that natural gas production is increasing in U.S. oil shale basins. The third negative trend is the acceleration in the decline in legacy oil production. These negative trends pose greater downside investment risk for investors in U.S. E&Ps that are focused primarily on oil shale production.
To be fair, total U.S. shale oil production has continued to move higher, led by the Permian basin.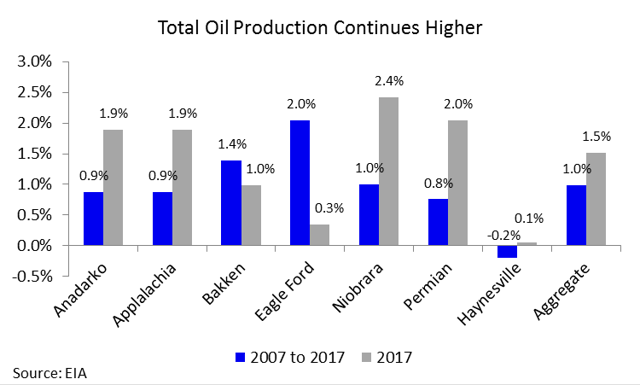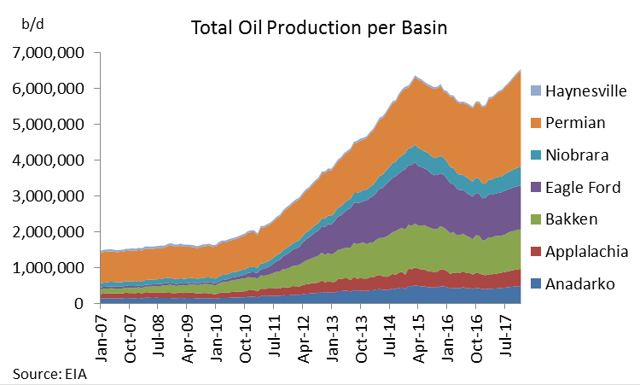 The Permian basin, leads the production charge driven by an army of drilling rigs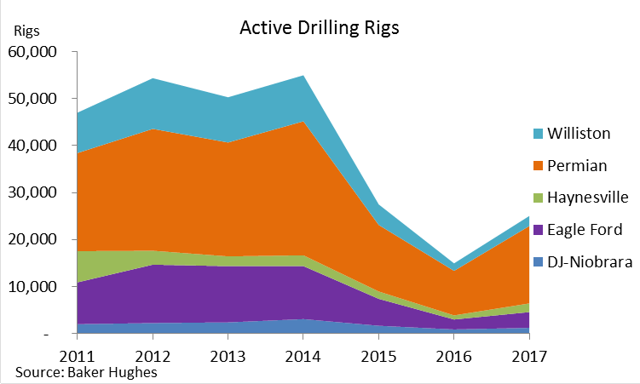 However, there are clouds on the horizon. Looking at new well oil production per rig from either an aggregate basis or individual basin basis, we see a slowing growth rate trend.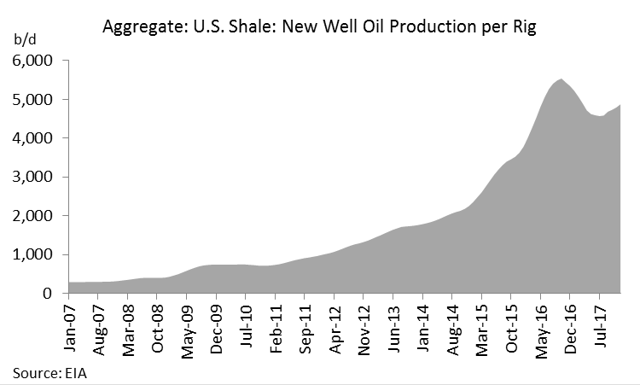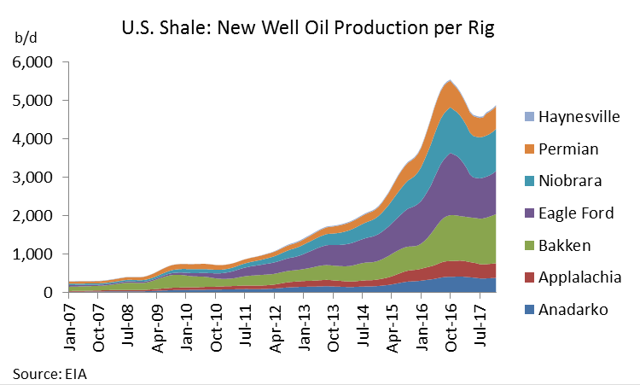 On an average growth rate – CAGR: compound average growth rate, from 2007 to 2017, every shale oil basin showed positive growth. However, in 2017, most of that growth momentum turned south, with the Eagle Ford leading the pack. For the optimists, the trend is only a minor speed bump along the path of never-ending growth. For skeptics like me who have seen too many speed bumps over thirty years in the oil patch, it could be an ominous flag.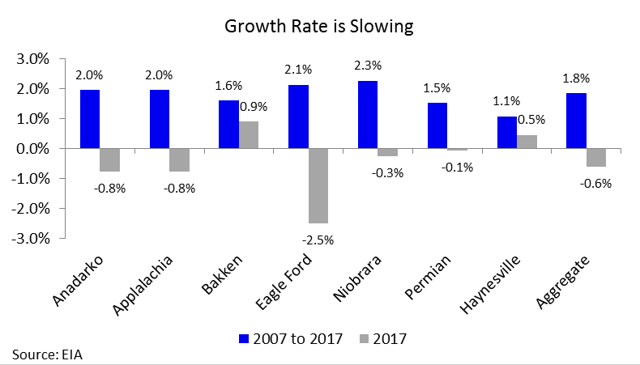 One parallel trend that lends support to slower growth rates is that the decline in legacy oil production appears to be accelerating, and the Permian is leading the way.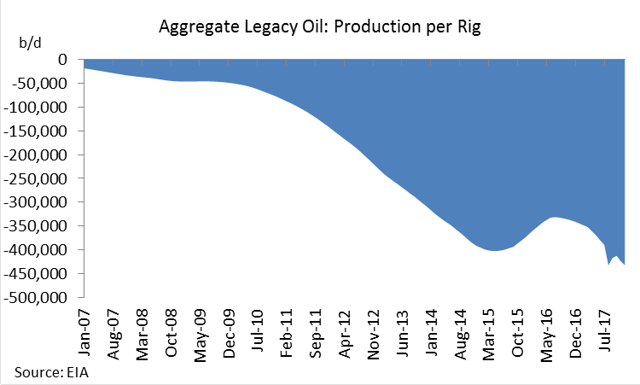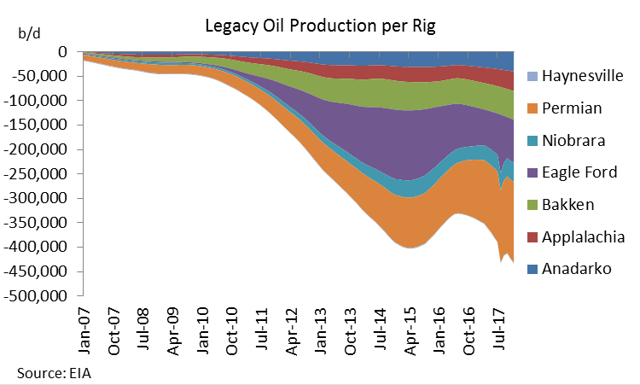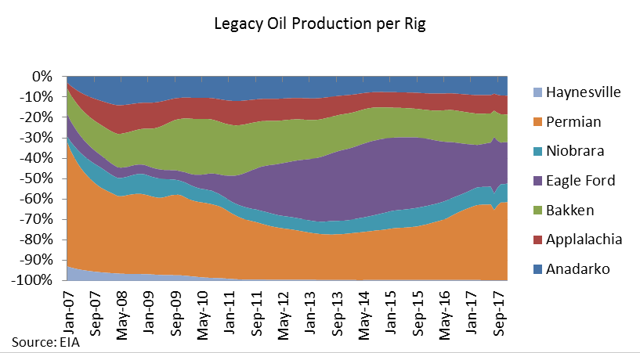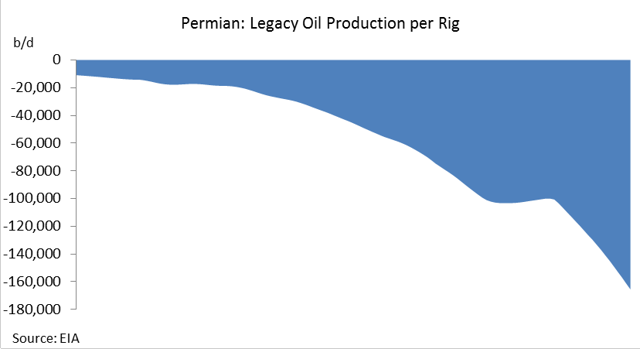 As the oil shale boom picked up speed by 2015, we have had a concomitant increase in associated natural gas production. This should be no surprise, but what is surprising is that the rate of increase in gas production is on par with oil production growth rates in key producing oil basins.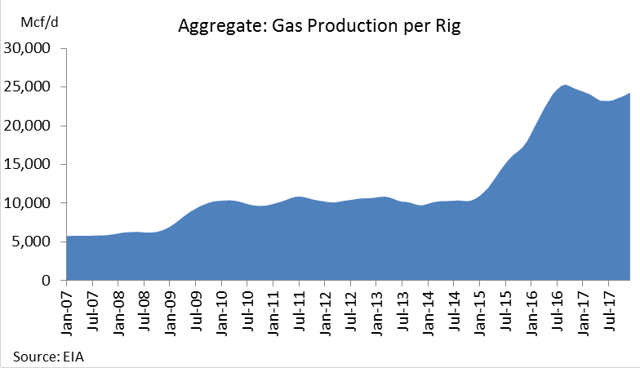 From 2007 to 2017, in the Bakken, gas production has grown at an annual growth rate faster than oil production. Likewise, over the comparable period in the Permian basin, average annual gas production is closing the gap with oil growth rates.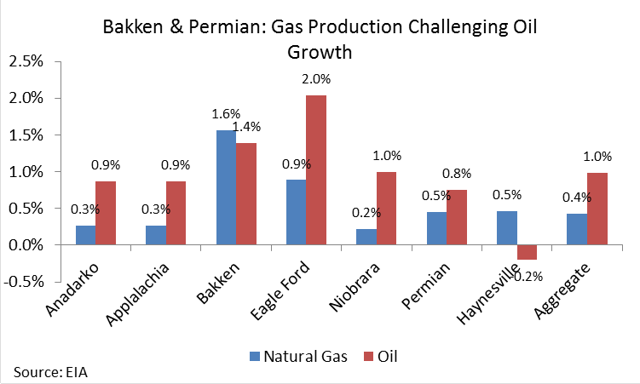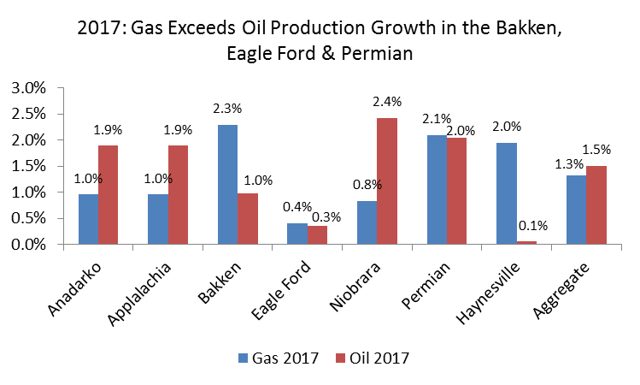 Conclusion:
We are not saying that U.S. oil shale production is going away. We do believe that U.S. oil shale production will continue to grow, but the technical trends are pointing to slower growth. Key tight oil basins like the Bakken, Eagle Ford and the Permian are showing signs of slower growth, greater legacy production declines and greater associated natural gas production. These trends coupled with negative free net operating cash flow are weighing on shale producer equity shares as evidenced by the chart below.
We looked at eight major U.S. E&Ps: EOG Resources (EOG), Pioneer Natural Resources (PXD), Anadarko (APC), Apache (APA), Occidental Petroleum Corp. (OXY), Continental Resources (CLR), Hess Corp. (HES), and Murphy Oil Corp. (MUR). From the beginning of 2017, each of these eight companies has recorded negative equity share returns.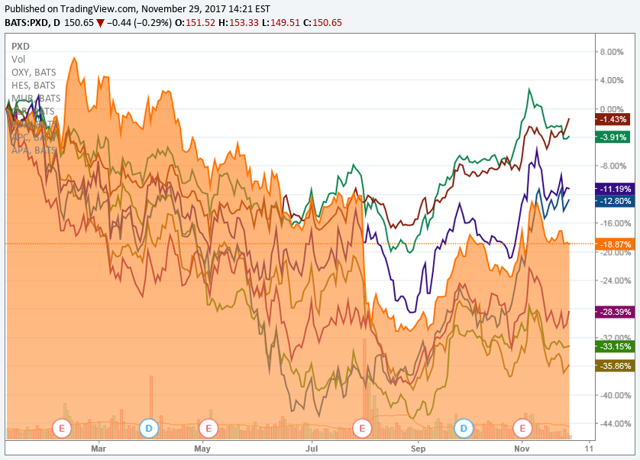 Note from author: Thank you for reading. If you like this article, then please follow me by clicking the "Follow" button at the top of this page.
Disclaimer: Please do your own research on the company's SEC filings, press releases and any relevant information to determine whether this company is suitable for your investment risk profile. The reader should contact a qualified investment advisor. I am not a registered investment advisor, and this article is not an advice to buy or sell stock in any company. I am not responsible for investment decisions you make.
Disclosure: I/we have no positions in any stocks mentioned, and no plans to initiate any positions within the next 72 hours. I wrote this article myself, and it expresses my own opinions. I am not receiving compensation for it (other than from Seeking Alpha). I have no business relationship with any company whose stock is mentioned in this article.