Diversification and The Right Picks From Our Momentum Play Contributed Our Core Portfolio's 9.84% Surge in November
The market has been in a fully bullish mood this year. All major indexes made one new all-time high, followed by another one, and all major indexes have run up 8 months in a row.
Our Core Portfolio did much better. It surged 9.85% last month, up 50.73% so far this year, far exceeded our expectations we set at the beginning this year.
Coming into 2017, it may be difficult for us to repeat the performance we made in 2016. But we still set our bar very high. We hope to make 36% return in the next two years so that the Portfolio can reach $1 million mark by the end of 2018.
The following table showed the Core Portfolio's month-by-month performance this year:

The Portfolio's balance closed at $804,259.76 last month with over $303K in cash. It may reach our $1 million mark ahead of time.
Last month's Portfolio 9.84% monthly return is the biggest one this year.
Diversification and the right picks from our Momentum Play are the two deciding factors to make this happen.
The following table showed one-month returns among all of our current holdings: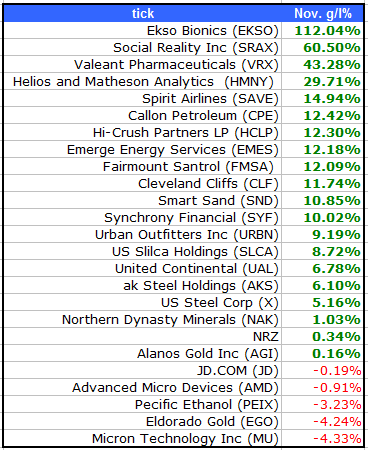 The top gainers, Ekso Bionics Holdings (NASDAQ:EKSO) and Social Reality Inc. (NASDAQ:SRAX), are both from our recent Momentum picks. Another pick Helios and Matheson Analytics (NASDAQ:HMNY) also had a sizable gain. Our only pick in healthcare sector, Valeant Pharmaceuticals International (VRX), made an incredible run, up 43.28% last month.
Our picks in the energy sector, Callon Petroleum Co. (NYSE:CPE), Hi-Crush Partners LP (NYSE:HCLP), Emerge Energy Services (NYSE:EMES), Fairmount Santrol (NYSE:FMSA), Smart Sand (NASDAQ:SND), U.S. Silica (NYSE:SLCA) are all up nicely due to the strength of crude oil price.
Our picks Spirit Airlines (NASDAQ:SAVE) and United Continental Holdings (NASDAQ:UAL) in the airline sector and Synchrony Financial (NYSE:SYF) in financial sector finally made breakout runs. Urban Outfitters (NASDAQ:URBN), our retailer pick, also gave us a good return.
Stocks in steel and iron sector, United States Steel Corp. (NYSE:X), AK Steel Holding (NYSE:AKS), Cleveland-Cliffs (NYSE:CLF), are all up as well.
On the downside, the biggest loser has to be Micron Technology (NASDAQ:MU), down 4.33% for the month. Another semi pick Advanced Micro Devices (NASDAQ:AMD) also dropped 0.91%.
We started to add gold miner stocks into our Portfolio for long-term investment last month. Now, we have three picks, Alamos Gold Inc. (NYSE:AGI), Northern Dynasty Minerals Ltd. (NYSEMKT:NAK), and Eldorado Gold Corporation (NYSE:EGO). We believe that they will make good runs in 2018. May add more.
The table below showed the top gainers among all our current holdings since our buys: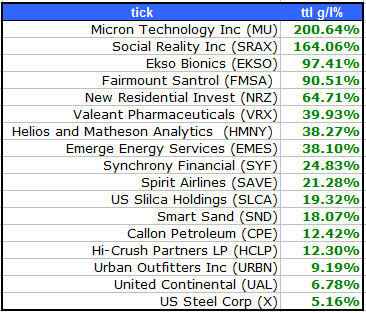 MU - $41.99. Although it is our top loser among all of our picks last month, it is still the top gainer since our buy. We see no reason to dump it.
New Residential Investment Corp. (NYSE:NRZ) - $17.74. This is the pick for our dividend play. Its quarterly dividend has increased from $0.46 to $0.48 and then to $0.50 per share now after our buy. And, it gives us an annual yield of about 20% based on our buy price. No reason to sell.
Now, let us look at a few of our Momentum picks in more detail.
EKSO - Follow The Smarter Investor's Footstep
EKSO is a robot maker. We never heard of this small-cap company previously, and we first knew this company when the following news came to our computer screen - the company's 8-k filling on September 7, 2017:
The Company raised $34.0 million of gross proceeds, including $20.5 million of gross proceeds from the backstop commitment of Puissance Capital Management LP. Rights holders subscribed for a total of 12,358,898 of common shares through the exercise of basic subscription rights and 1,106,204 common shares through the exercise of over-subscription rights. In addition, a total of 20,534,898 common shares will be issued to Puissance Cross-Border Opportunities II LLC, an affiliate of Puissance Capital Management LP. There will be a total of 59,789,159 of the Company's common shares outstanding following the closing of the rights offering and the private placement described herein. ...

In connection with this investment, Ted Wang, Ph.D., CIO of Puissance Capital Management, is expected to join the Ekso Board of Directors.
We further checked Ted Wang's investment history and found out that he used to be a partner of Goldman Sachs & Co. and has been a very successful investor. After careful examination, we decided to follow him and finally pulled the trigger, bought EKSO shares on October 11 at $1.16. The stock made a huge run to as high as $4.77 after its Q3 earnings release, a 411% run in one month.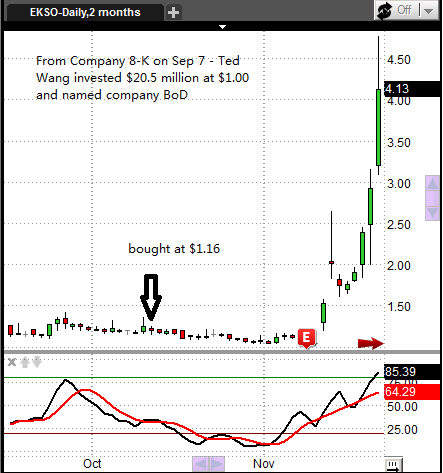 Chart source from ScotTrade.com
SRAX - A Possible Cryptocurrency Play?
This is our pick for a possible turnaround play. It first attracted our attention when our computerized scan program sent this pick to us two months ago. It showed that this company may make $0.51 per share net profit in 2018 from its current losses. Its revenue is also projecting to grow 50% next year. After a further study, we also found out that the company's blockchain identification graph technology named BIG Platform may add the company's value. We bought it in October at $2.17. The stock ran to as high as $7.49 later, and we are still holding.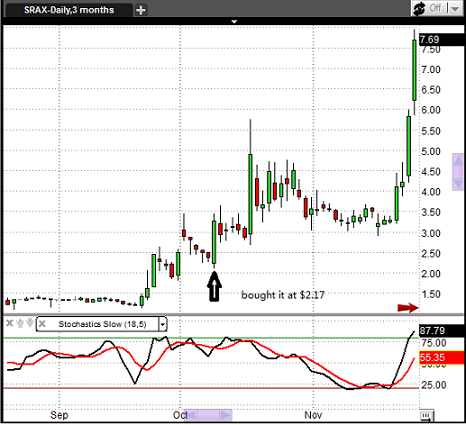 Chart source from ScotTrade.com
FMSA - The Myth Behind Analysts' Downgrades
FMSA is one of last year's top gainers, up 1,300% from last January's low of $1.00 to this January's $13.12 high while the company continued losing money.
The company's fundamental improved big this year and made a complete turnaround since Q2 this year.
Its last 4 quarters' EPS moved up from -$0.09 in Q4, 2016 to +$0.15 in Q3 2017: -0.09 -> -0.04 -> +0.08 -> +0.15.
But its share price continued moving down, and none of the analysts upgraded their stock: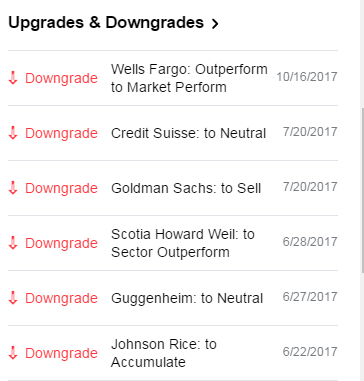 Source of data from Yahoo Finance
It can be seen that there were three waves of downgrades: June, July, and October for this company.
Goldman Sachs and Credit Suisse downgrades came out on July 20, just before company scheduled Q2 earnings release. The stock was knocked down 33% from $3.87 to $2.60 in three days after these two downgrades. Later on, the company reported its first profitable quarter in two years:
Q2 EPS: +$0.08 via -$0.12, the same quarter year ago.
The stock received another downgrade before the company's Q3 earnings release. This downgrade came from Wells Fargo on October 16. The stock got another hit as a result of the downgrade: dropped from $4.55 down to $3.41. A few days later, the company reported Q3 EPS of +$0.15, 2 cents above expectation.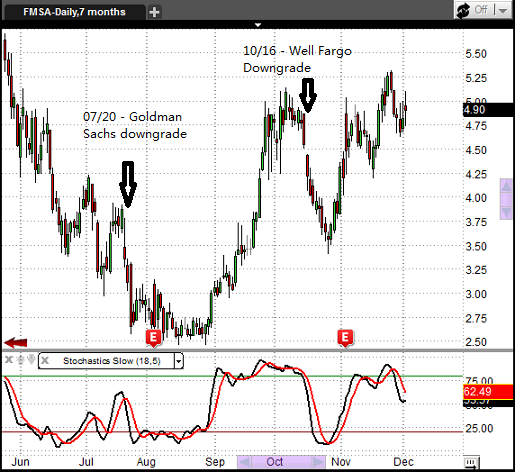 Chart source from ScotTrade.com
After careful study, we arrived at our conclusion that those downgrades are used by the brokerage firms to try to bring the stock down so they can buy it cheap. We have made quite a few trades on FMSA, and our current buy was on August 25 at $2.53 and added our position later. Its price has doubled in three months.
We are not going to sell it anytime soon and will add additional positions on dips.
Prepare For 2018
2018 is less than one month away.
The current bull market has lasted more than 8 years. Will we see a big correction next year? I don't know.
But no matter what happens in 2018, I will never stop searching for more possible multi-baggers. I may publish more articles in the next two months to share my "Top Picks for 2018" with readers.
I also believe that readers must have their own multi-bagger picks on their minds. Hope to hear from you in the comment section, and we can then make discussions.
Disclosure: I am/we are long SRAX, EKSO, HMNY,MU,AMD,VRX,AGI,EGO,NAK, X, AKS, CLF, HCLP, FMSA,SND,EMES,SAVE,SYF,URBN,SLCA, NRZ.
I wrote this article myself, and it expresses my own opinions. I am not receiving compensation for it (other than from Seeking Alpha). I have no business relationship with any company whose stock is mentioned in this article.
Editor's Note: This article covers one or more stocks trading at less than $1 per share and/or with less than a $100 million market cap. Please be aware of the risks associated with these stocks.