After being halted for a total of 180 days - Wins Finance's trading halt is finally set to be lifted on Monday, December 4th at 7:15am est – Link. This will mark the end of one of the longest halt in Nasdaq history.
During the trading halt Wins Finance has disclosed multiple significant large insider sales that are helpful for investors to use in analyzing the fair value of Wins Finance. These insiders likely know the true value of Wins Finance's business and thus can be helpful in figuring out both where the stock might begin trading at & more importantly be valued at over the long-term. These insider transactions are especially useful due to the lack of trade data for the last 180 days. These insider transactions are essential for investors in understanding what WINS is really worth. This provides a fair range of valuation for non-insiders since they know they quality of the company's assets and what they are really worth.
Insider Transactions:
August 2, 2017 – Freeman Fintech deal for ~67.1% of equity at max price of $19.35 (pg 110 of the deal circular)
Freeman Fintech's purchase of ~67.1% Wins Finance from Wang Hong, the largest shareholder of Wins Finance. This deal occurred for a maximum of $19.35 (~90% discount to the $205 halted price) and closed on August 2nd. BUT this purchase price could actually be as low as $0.00 if Wins Finance has $192m or more in legal liabilities.
This adjusted deal is a little confusing since it includes an "Outstanding Indemnification Amount" (aka potential liabilities for legal costs due to lawsuits), so the actual price paid could be anywhere from $0.00 to $19.35. (Adjusted Purchase Pricing calculation can be found on pg 14 of here).
For Example, if lawsuits that Wang Hong indemnified Freeman Fintech against have over $192m of claims then Freeman Fintech is only paying $0.00 per share. (See below chart)
December 2, 2016 – Insider sale for $0.001 per share of 204k shares - Richard Xu – Former Wins President and Director (pg 53 of 20-F)
The recent 20-F financial filing revealed another insider gem. Richard Xu the former President of Wins Finance and Director apparently sold his 204,005 shares in Wins Finance for $204. He sold his shares for $0.001 each. We are unsure why Richard Xu was willing to give away his shares for $0.001. Perhaps he was trying to distance himself from the company due to the initial suspect run up in the valuation and inquires & articles from reporters at both Bloomberg & Barrons.

June 28, 2016 - Other insider sales - Brad Reifler & Jianming Hao (pg 53 of 20-F)
Brad Reifler was a Former Director and Jianming Hao was Chairman & Co-CEO. Both Brad & Jianming sold their shares at $11.80

Freeman Fintech – Insider Sale Calculation: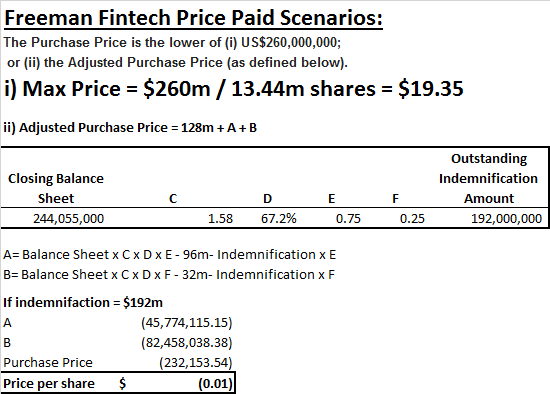 Adjusted Purchase Price description from Deal (pg 14 of here)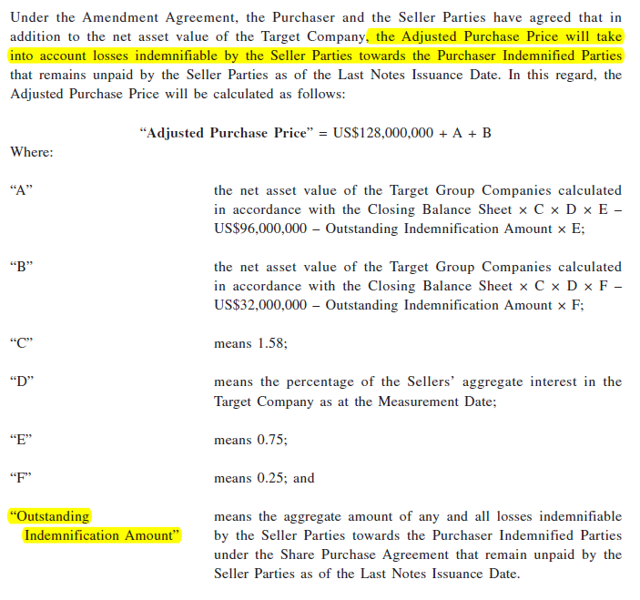 Russell 2000 removal = forced selling of >100k shares.
According to recent guidance from FTSE Russell Wins Finance is scheduled to be removed from the Russell US indexes T+2 days after it recommences trading. This means that index funds will be forced to liquidate >100k shares of WINS before Wednesday, December 6th.
Background: When Wins Finance was originally halted FTSE Russell had already announced that WINS would be removed along with the annual rebalance on June 23rd, 2017. At that time Russell 2000 index funds would have had 2 weeks to trade out of the name between the final notice date June 9th and June 23rd. Since WINS was halted and not eligible to be removed as of June 23rd Russell issued the below guidance after it was halted for 80 days.
Projected to close December 18, 2017: Wins Finance Holdings, Inc. (WINS; R2, R25, RS, V, DY): It was determined at Reconstitution that Wins Finance no longer meets the eligibility requirements for the Russell US Indexes. As Wins finance halted on NASDAQ and did not recommence trading prior to June 23, 2017, it has been retained within the Russell US Indexes at the last traded price. Wins Finance has not commenced trading within 80 business days from June 8, 2017 and no firm trading date has been announced. As per section 4.18 of the FTSE Russell Corporate Actions and Events Guide, Russell will remove Wins Finance in conjunction with the December review. If Wins Finance recommences trading prior to the December review effective date, it will be removed from the Russell US indexes with T+2 notice at the last traded price.
FTSE Russell October guidance on halted companies can be found here. The above specific guidance regarding Wins Finance can also be found via subscribing to Russell Corp Actions Calendar or emailing client services at info@ftserussell.com.
Below is a list of all the institutions that will be forced to sell when it's removed from the Russell 2000.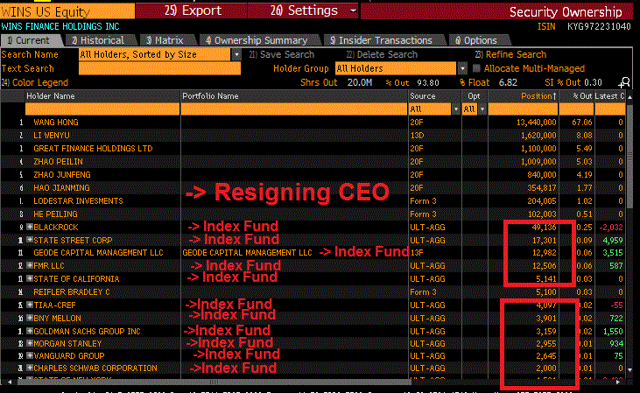 Patient Shorts – Even if the short sellers in this name didn't want to be patient the halt has forced them to be. Thus, any additional short squeeze seems highly unlikely. We assume that any shorts that have been stuck in the name will patiently wait until after Russell 2000 forced selling has occurred since that is a near-term catalyst for price decline. Why would they wait? Obviously anyone who has been stuck paying exorbitant borrow costs for the last 180 days is likely willing to continue paying borrow for at least another 3 trading days until the index funds exit.
Opening Price - It is really anyone's guess as to what an opening market price will be for Wins Finance on Monday. We speculate that it will at least be below the maximum price that Freeman Fintech paid of $19.35 as trapped retail investors race against index funds to see who can sell first.
Trading Commentary – "First one out gets the best price." This is an old trader adage that we have learned from fast money hedge funds. When a company you own misses earnings or guides down the first seller gets out with the best price. This strategy works since you are looking to sell your position before other investors get a chance (eg the index funds).
Conclusion - We think that insider transactions provide a great means of analyzing a company's fair value since insiders have a first-hand knowledge of the asset quality & true book value. They are especially informative when those transactions take place at a price well below the current market price. Insider transactions inform investors that WINS is worth <$20.
Disclosure: I am/we are short WINS. I wrote this article myself, and it expresses my own opinions. I am not receiving compensation for it (other than from Seeking Alpha). I have no business relationship with any company whose stock is mentioned in this article.