In this report, we highlight stocks that demonstrate solid growth prospects at a reasonable price (GARP) and provide an update of last month's report and our November 30 rebalancing note. For older reports, you can visit this link.
Methodology
Our criteria for selecting stocks in these model portfolio strategies, which heavily weight proxies for cash flow growth and ROIC, include the following:
Relative Value
Operating Momentum
Consensus Estimate Revision Momentum
Fundamental Quality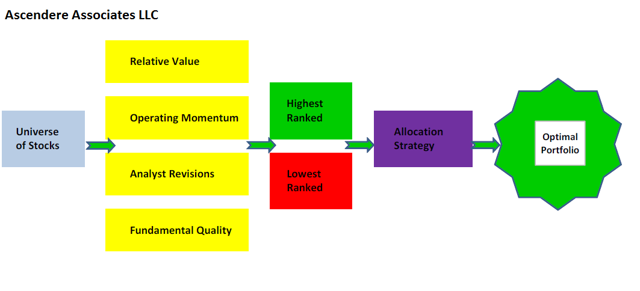 The highest-ranked stocks are selected for our long model portfolios and the lowest-ranked stocks are selected for our short model portfolios.
These criteria are explained in more detail in our September 2015 report. Daily news flow, price targets, returns, and the occasional intraday alert are posted on our Seeking Alpha blog.
Long portfolio rebalancing actions
As noted in our abbreviated report issued prior to the close on November 30, 2017, we assumed 19 stocks left the long-only model, 18 were added, and 17 were rebalanced. This 35-stock theoretical long model assumed an initial 2.86% weight for each stock. The long model portfolios are composed of high-quality stocks.
Close Long Positions
Thor Industries, Inc. (THO)
TEGNA Inc. (TGNA)
Kohl's Corporation (KSS)
Yum! Brands, Inc. (YUM)
Evercore Inc. (EVR)
Ameriprise Financial, Inc. (AMP)
Federated Investors, Inc. (FII)
Synovus Financial Corp. (SNV)
East West Bancorp, Inc.( EWBC)
JPMorgan Chase & Co. (JPM)
American Equity Investment Life Holding Company (AEL)
Western Alliance Bancorporation (WAL)
Cathay General Bancorp (CATY)
Armstrong World Industries, Inc. (AWI)
Illinois Tool Works Inc. (ITW)
Norfolk Southern Corporation (NSC)
Cirrus Logic, Inc. (CRUS)
Cabot Corporation (CBT)
Huntsman Corporation (HUN)
Hold/Rebalance Long Positions
Peabody Energy Corporation (BTU)
Raymond James Financial, Inc. (RJF)
Cullen/Frost Bankers, Inc. (CFR)
MasTec, Inc. (MTZ)
Trex Company, Inc. (TREX)
Allison Transmission Holdings, Inc. (ALSN)
Micron Technology, Inc. (MU)
Vishay Intertechnology, Inc. (VSH)
MKS Instruments, Inc. (MKSI)
Teradyne, Inc. (TER)
YY Inc. (YY)
Facebook, Inc. (FB)
Arista Networks, Inc. (ANET)
Norbord Inc. (OTC:OSB)
Kronos Worldwide, Inc. (KRO)
Trinseo S.A. (TSE)
Methanex Corporation (MEOH)
Open Long Positions
Apollo Global Management, LLC (APO)
SVB Financial Group (SIVB)
Exelixis, Inc. (EXEL)
Graco Inc. (GGG)
TriNet Group, Inc. (TNET)
Advanced Energy Industries, Inc. (AEIS)
Applied Materials, Inc. (AMAT)
InterDigital, Inc. (IDCC)
Lam Research Corporation (NASDAQ:LRCX)
Intuit Inc. (INTU)
Seagate Technology plc (STX)
NVIDIA Corporation (NVDA)
Maxim Integrated Products, Inc. (MXIM)
Alphabet Inc. (GOOGL)
CDW Corporation (CDW)
Louisiana-Pacific Corporation (LPX)
Vedanta Limited (VEDL)
United States Steel Corporation (X)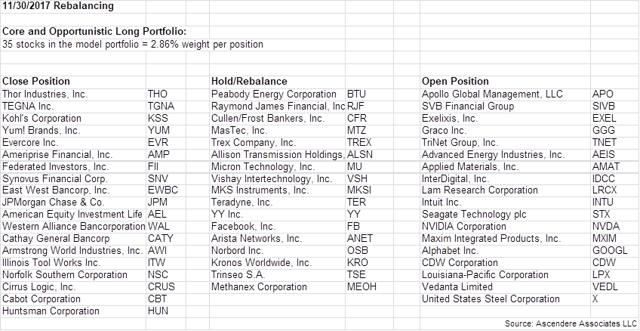 Short sale portfolio rebalancing actions
At the same time, we assumed that 11 stocks left the short-sale model portfolio, eight were added, and were rebalanced. This 18-stock theoretical model portfolio assumed an initial 5.56% weight for each stock.
This short sale model is composed of low-quality stocks, and only tends to work well during periods of high uncertainty or volatility in the market. Low-quality stocks do tend to outperform high-quality stocks during market rallies as the market prices in expectations for a sharp recovery in fundamentals.
Close Short Sale Positions
Mattel, Inc. (MAT)
MetLife, Inc. (MET)
Spark Therapeutics, Inc. (ONCE)
Puma Biotechnology, Inc. (PBYI)
Agios Pharmaceuticals, Inc. (AGIO)
Penumbra, Inc. (PEN)
Univar Inc. (UNVR)
ZTO Express (Cayman) Inc. (ZTO)
Fluor Corporation (FLR)
MACOM Technology Solutions Holdings, Inc. (MTSI)
The Mosaic Company (MOS)
Hold/Rebalance Short Sale Positions
Under Armour, Inc. (UAA)
Portola Pharmaceuticals, Inc. (PTLA)
UniFirst Corporation (UNF)
Colfax Corporation (CFX)
Flowserve Corporation (FLS)
Cree, Inc. (CREE)
ViaSat, Inc. (VSAT)
Symantec Corporation (SYMC)
Summit Materials, Inc. (SUM)
Axalta Coating Systems Ltd. (AXTA)
Open Short Sale Positions
DISH Network Corporation (DISH)
Radian Group Inc. (RDN)
Sage Therapeutics, Inc. (SAGE)
Avis Budget Group, Inc. (CAR)
Ritchie Bros. Auctioneers Incorporated (RBA)
Alliance Data Systems Corporation (ADS)
Tableau Software, Inc. (DATA)
DowDuPont Inc. (DWDP)

Favorite Long Ideas
There are a number of very interesting new names on our long model portfolio list, so we are highlighting more than the usual number this month.
One of them we never thought we would see again due to valuation, but the recent sell-off in the Nasdaq has made NVIDIA Corporation enticing again. Exelixis, Inc. in the biotech space looks very compelling. While a number of stocks in the Industrials space look very attractive, after a quick view we think TriNet Group, Inc. may have the best potential. We note that YY, Inc. remains in the model portfolio, with still compelling fundamentals at a decent valuation, and we are selecting this as another favorite idea.
If we had to choose from these four stocks, we would choose NVIDIA Corporation. It is not often a fundamentally strong growth stock moves down to growth-at-a-reasonable-price territory, so regardless of short-term market volatility risk we would take advantage of this opportunity post haste.
NVIDIA Corporation
Our favorite long idea this month is NVIDIA Corporation, benefitting from a seemingly overnight new source of demand for its graphics chips in self-driving cars and cryptocurrency mining. This stock was last seen in our long model in April 2016, and now with the recent sell-off of tech stocks, this $126b market cap growth stock is once again trading at a "reasonable price." By our measure, free cash flow has quintupled to $1.36b and ROIC has more than doubled over three years to 32.3%. Further gains are likely, and assuming our estimates for working capital are accurate it could be generating more than $2b in annualized free cash flow by January 2019. Dividend investors do not have to feel neglected – it pays a quarterly dividend of $0.14 per share for an annualized yield of 0.30%.


Exelixis, Inc.
In the biotechnology sector Exelixis,Inc. (EXEL) is a big standout. For the first time in its operating history, free cash flow turned positive in the March 2017 quarter, and ROIC turned positive in the September 2017 quarter. EXEL is benefitting from growth in product sales of Cabometyx, its renal cell carcinoma drug, since its product launch in late April 2016, as well as collaboration revenues for meeting milestones. While we would like to get more familiar with the details of its various drug trials and drug characteristics, it is showing very promising signs and in our opinion deserves a place in an actively managed and diversified portfolio for now. The company appears to have plenty of cash on its balance sheet in light of its positive cash flow from operations and projected expenses for 2018.


TriNet Group, Inc.
TriNet Group, Inc., a $3.2b market cap human resources company, has nearly doubled its operating profit over the last year while its underlying capital has only increased in the low teens, helping drive ROIC to 30.6% from 17.4% last year. According to the CEO on its 3Q17 earnings release, "By pairing our technology platform with our deep industry-specific knowledge, we are developing tailored vertical products that provide our clients with an exceptional HR experience. We remain focused on leveraging our scale for the benefit of our clients, while maximizing our ability to deliver profitable growth for our shareholders." Consensus estimates for 2018 still appear too low, and we expect there is a good chance the company will continue to post meaningful growth.


YY, Inc. (YY)
The company is benefitting from very strong growth in monthly active users and paying users of its mobile live streaming app, helping generate solid free cash flow growth and ROIC expansion. We think estimates are still too low, and its Operating Capital may grow slower than what our unadjusted model indicates below, setting itself up for ongoing surprises where it matters most – free cash flow growth and ROIC expansion. The stock seems to bounce off the 50-day moving average every so often, so cautious investors may want to use that as an entry point. Based in Shanghai, the stock seems strongly correlated to the fortunes of other Chinese stock as well as to similar stocks in the technology sector. We intend to establish a scenario based price target for this company later this month to better quantify the risk/reward. See our earlier write-up following YYs 3Q17 report.


November 2017 Returns
For the sixth month in a row, high quality stocks have outperformed low quality stocks. Managing a theoretical hedge fund has never been so easy.
Base Model -- November 2017
We are introducing our Base Model portfolio in in this report, and we explain what these models are in more detail below. The Core Model and Opportunistic Model portfolios are derived from our Base Models.
For November 2017, the theoretical Base High Quality Model increased +2.81% (up +2.79% simple cumulative returns), the Base Low Quality Model declined -0.58% (-0.55%), and the Base Dollar Neutral Model increased +3.28% (up 3.26%).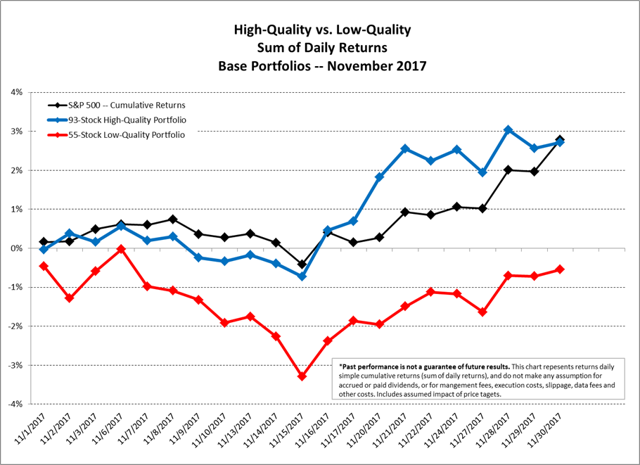 Core Model -- November 2017
The theoretical Core Long Model portfolio finished November 2017 up +5.10% (+5.03% on simple cumulative returns), versus the S&P 500 Index up 2.81% (+2.79%), and the S&P Composite 1500 Index up +2.88% (+2.85%).
Stocks in the theoretical Core Short Model portfolio finished down -0.92% (-0.89%) for the assumed inverse short sale gain of +0.92% (+0.89%). The theoretical Core Long/Short Model portfolio finished up +6.04% (+5.91%).
For the 11 months through November 30, the Core Long Model is up +26.26% (+24.02% on a simple cumulative return basis). In contrast the S&P 500 Index is up +18.26% (+16.99%), respectively, over the same period. YTD the Core Long/Short Model is up +25.58% (+23.16%), ahead of the Barclay Long/Short Index preliminary YTD figure of +7.72%.
To emphasize -- this model portfolio, leveraging quantitative strategies that were in vogue shortly after the introduction of Microsoft Excel to Windows in 1987, is generating an alpha of nearly 18 percentage points relative to a popular long/short index composed of real hedge fund returns.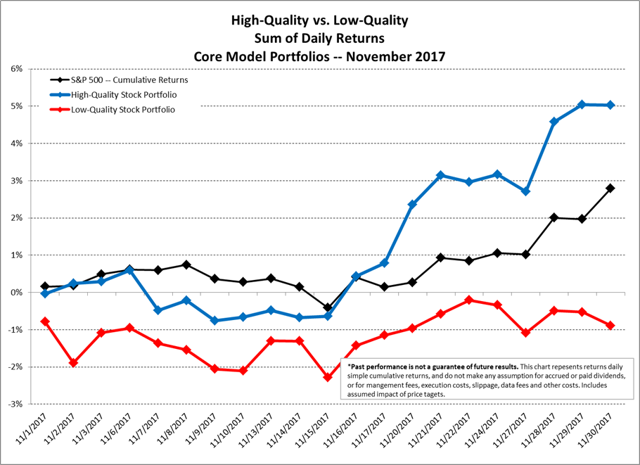 Opportunistic Model -- November 2017
The Opportunistic Model, assumed fully to be invested in stocks with zero initial cash allocation, matched the Core Model returns in November 2017. The chart below shows that the Core Long/Short and Opportunistic Long/Short Model portfolio returns were identical.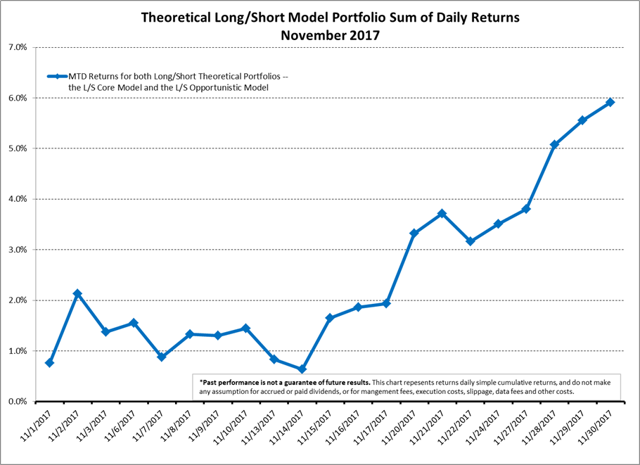 Theoretical Long Stock Returns for November 2017
Our favorite idea for November was Illinois Tool Works Inc. (ITW), which appreciated +8.13% for the month. The stock was removed from the model portfolio on November 30, 2017 to make room for an incrementally "better" stock idea. On December 1, the stock declined -2.59% after providing commendably detailed five-year guidance for: Organic revenue growth of 3-5%, 25% operating margin, 20% after-tax return on invested capital, free cash flow at 100+% of net income, an increased dividend payout to 50% of free cash flow by 2020 versus 43% currently, and 8-10% EPS growth. The midpoint of EPS guidance for 2017 and 2018 was below consensus estimates, so the stock decline was probably a misplaced reaction to that.
The best performing stock in the long model during November was YY Inc. (YY), which the model locked in for a 31.43% gain a day after reaching its price target on November 20. The stock closed the month up only 14.16%, so locking in that gain benefitted the model. YY is a fascinating growth company trading at a reasonable price. However, it is not without its risks shared by similar Internet Software and Services companies and those shared by other China-based companies. We consider this a fundamentally attractive but volatile stock. The stock seems to bounce off the 50-day moving average every so often, so cautious investors that believe in the fundamental story may want to use that as an entry point. See our write-up following YYs 3Q17 report.
The worst performing stock in the long model was MKS Instruments (MKSI), which declined -13.21% for November. Back in October the company reported a solid quarter and provided guidance well ahead of consensus. On November 29, the stock of this $5b Semiconductor Equipment company declined -8.7%, in line with a general sell-off in the Nasdaq (QQQ) and other semiconductor names.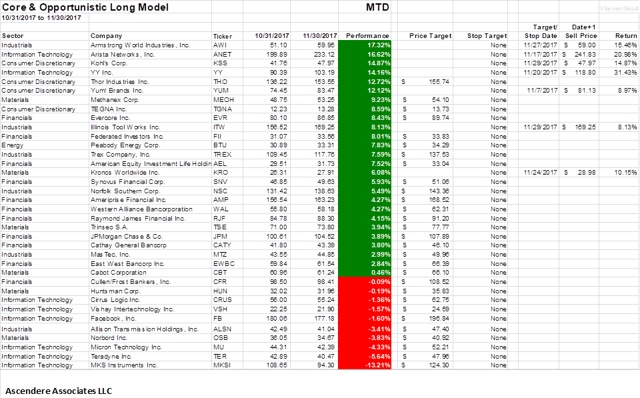 Theoretical Short Sale Stock Returns for November 2017
The best short sale idea for November was MACOM Technology Solutions Holdings, Inc. (MTSI), which was assumed closed a day after reaching its price target on November 15 for a short sale gain of +22.85%. The worst short sale idea was Mattel Inc. (MAT), which surged after a November 10 article in the Wall Street Journal reported that it was rumored to be a potential takeover candidate of Hasbro (HAS). Our position in MAT assumed a -31.30% short sale loss a day after hitting its stop loss on November 13.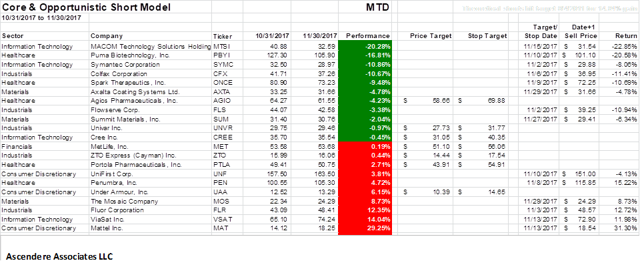 Long MU/Short CREE underperformed
In our last report we suggested a pair trade that assumed a long position in MU and a short sale position in CREE. Cree Inc. (CREE) held up fairly well during the November 29 tech sell off and declined only -0.45% for the month, better than the decline of -4.33% from Micron Technology.
The relative strength in CREE's price when so many other semiconductor names faltered lends credence to the optimism that its CEO expressed during its last quarterly conference call. As such, CREE may deserve serious study as a "contrarian" low-quality long idea.
The stock returns generated by a company that journey's from low quality territory to high quality can do quite well -- it is the essence of good value investing.
Presaging Sell Side Analyst Actions in the Long Model
In the long model, 12 stocks received 36 stock price revisions, led by Facebook, Inc. (FB) with 13 positive price target revisions.
Six stocks in the long model received eight rating upgrades, let by Kohl's (KSS) and YY, Inc. (YY) with two each.
In contrast, we are only aware of two long model portfolio stocks receiving negative price target revisions – Facebook and Norfolk Southern Corp. (NSC). Four stocks received one ratings downgrade each.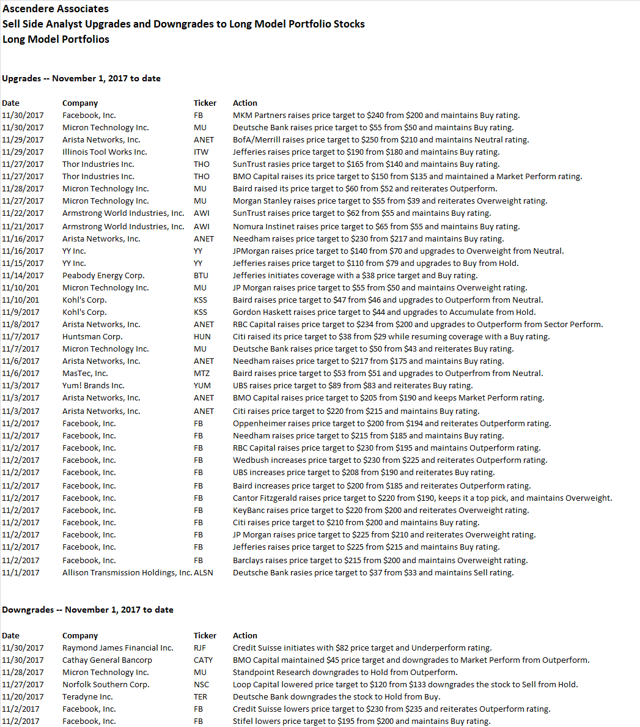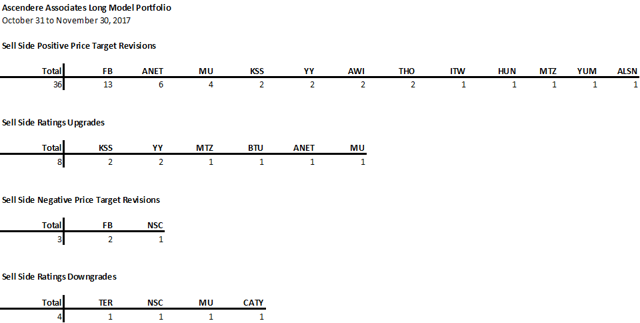 Kohl's Corp. (KSS) was an interesting stock to watch in the long model during November. On November 8, it reported a slightly EBITDA miss relative to consensus and a year-over-year decline in its EBITDA margin, sending the stock down 8% early in the day. Investors feared that the EBITDA miss could signal deeper than expected discounting heading into the holiday season. However, the CEO seemed to have allayed fears by describing improved traffic trends, and sales turning positive in the back half of October, and that the company was "relatively bullish" on the upcoming quarter. The stock ended up almost 1% for the day. Two analysts subsequently upgraded the stock and raised price targets as well. For the month, KSS was the third-best performing stock with a +14.87% return.
Kronos Worldwide Inc. (KRO), the titan of titanium dioxide, performed especially well in the long model in November. On November 8 the company reported 3Q17 results well ahead of consensus and with LTM EBITDA up more than 6x relative to the year-ago period. This company seems underfollowed by the sell side, but it is benefitting from higher average selling prices of titanium dioxide, as well as higher sales and production volumes offsetting higher raw materials and other production costs for the chemical. A sell side firm raised its price target for KRO back in October to $24 from $21, but even at a current price of $27 we think there is a good chance for ongoing positive price target revisions. The stock reached our price target on November 24 and the position was assumed closed the next trading day at $28.98 for a gain of +10.15%.
Thor Industries (THO), the largest recreation vehicle maker in North America, reported an outstanding quarter on November 27, continuing to benefit from the growing consumer trend of seeking experiences rather than actual consumer goods, especially among Generation X and Millennials. THO was added to the model portfolio back on October 5 because of its solid quantitative ranking. Following its strong F1Q18 report, two sell side firms increased its price target. The stock finished the month up +12.72%. While the stock was replaced by a slightly "better" idea for December, due to the fluctuations in market prices and financial reports, we would expect to see it in our long model portfolio again sooner rather than later.
Presaging Sell Side Analyst Actions in the Short Sale Model
In the short sale model five stocks received a total of 17 negative price target revisions, led by Under Armour, Inc. (UAA) with eight. Five short sale stocks received eight downgrades, again led by UAA this time with three. Contradicting the short sale thesis of our model, five short sale stocks received seven positive price target revisions, and five stocks received one upgrade each.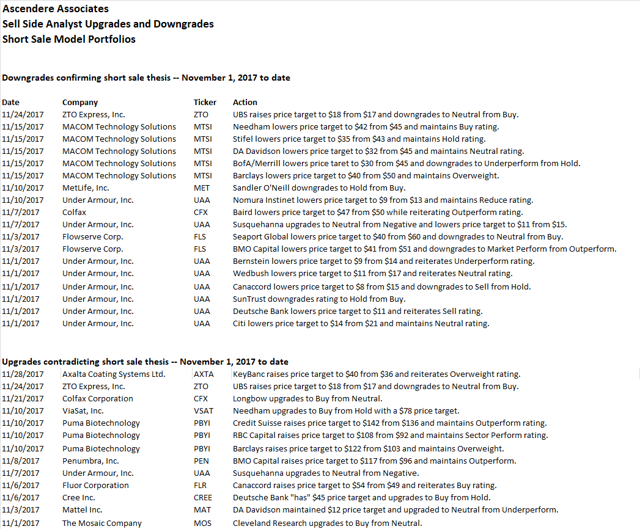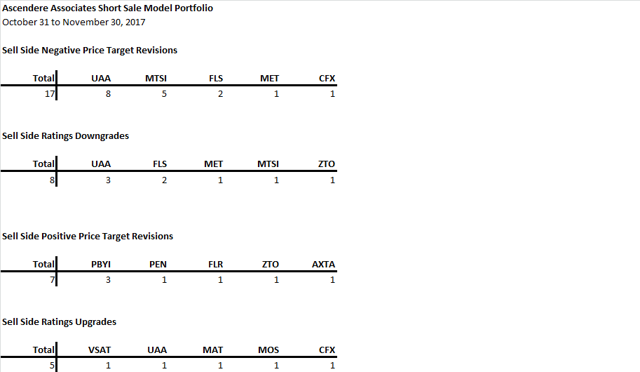 Interestingly the market's reaction told us the three positive price target revisions for Puma Biotechnology, Inc. (PBYI) a day after its November 9 quarterly report were completely irrelevant, and in our opinion the PBYI's stark cash position explained why. PBYI was our second best short sale idea in November, closing down -20.58% through November 11, one day after reaching its price target.
Colfax Corporation (CFX) was another short sale idea that ignored a ratings upgrade and Buy reiterations of a few sell side analysts after reporting a significant revenue miss for 3Q17 and lower than expected guidance on November 6. The company is in the midst of a transition to divest itself of some businesses and acquire others, already a risky proposition. When a company misses revenue estimates by more than 6% in the middle of a transition, it tends to raise red flags among investors. Colfax deserves to remain at the bottom of the totem pole for a few quarters because there are so many other alternatives that are more attractive. The stock closed down -11.41% through November 7, one day after hitting our price target.
On November 20 on our blog page and again on November 21 in a published note, we posted a brief analysis of ZTO Express's (ZTO) 3Q17 results and its potential prospects. Our review showed that the company was experiencing rapid growth, but even so ZTO seemed overvalued. On November 24, UBS downgraded the stock to Neutral from Buy… but also raised its price target to $18 from $17. At least they were half right, in our opinion. The stock closed up $0.07, up +0.44%, for the month of November.
In contrast, Needham's upgrade of "low-quality" ViaSat (VSAT) on November 10 may have hit a positive note with investors because the stock surged shortly thereafter to close up +11.98% through November 14, one day after hitting its stop loss level. We assume the analyst made a compelling case that the pending near-term service launch of its ViaSat-2 satellite directly correlated with the company's capability to achieve its 2022 consensus EBITDA estimate of $1b without adding on significant amounts of debt. I am looking forward to reading that report.
Explanation of the Base Model
For the first time with this report we are sharing returns for a base basket of stocks that we use to derive our Core and Opportunistic Model portfolios. We are calling these baskets our Base Model.
Stocks with high enough rankings on the four key metrics highlighted at the beginning of this report are selected for the Base High Quality model, and the lowest ranked stocks are selected for the Base Low Quality model. Only a portion of stocks in these two baskets tend have significant short-term return potential, and these are the stocks that make it to the final cut of our Core Model Portfolio. In addition, the Base Model portfolios do not use price targets or use any kind of portfolio allocation strategy.
High Quality and Low Quality Stock Returns Have Diverged Significantly Since the Summer of 2014
The Base Model portfolios are very interesting -- but only insomuch that they illustrate the general interplay of fundamental dynamics within the overall market, as we will see in the chart below.
Except for an initial blip following the March 31, 2009 inception, returns of high quality and low quality stocks were remarkably correlated through the summer of 2014. Since then, returns of high quality stocks have surged while the returns of low quality stocks have declined. One does not have to be a technician to see that low quality sticks seem to be testing overhead resistance since the beginning of 2017.
Are we setting up for a surge of low quality stock returns in 2018, similar to what was experienced in the first half of 2009? Or will low quality stocks falter and drag down high quality stocks with them? Feel free to leave your opinion in the comments.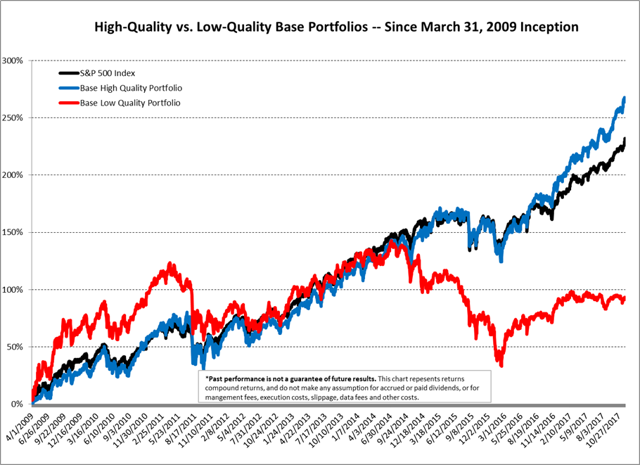 Below is the same chart as above with the addition of a plot of the Barclay Junk Bond ETF (JNK) and the BlackRock Investment Grade ETF (LQR) on the right axis. The correlation of low-quality stock returns (the red line on the left axis) with the junk bond ETF (the brown line on the right axis) seem particularly pronounced.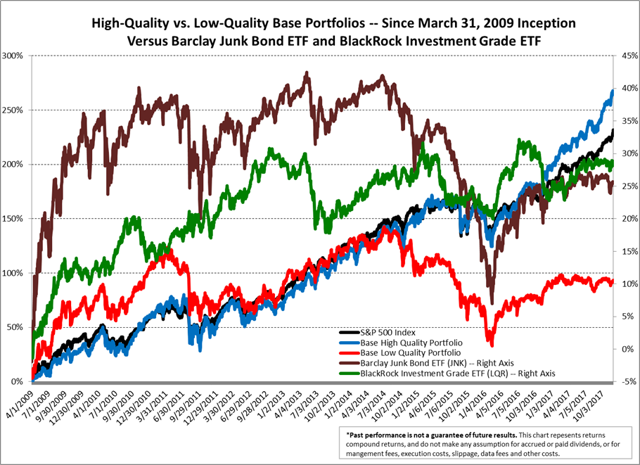 The chart below illustrates the strong correlation between the junk bond ETF and low quality stock returns since March 31, 2009, when we began tracking returns for our low quality model base portfolio.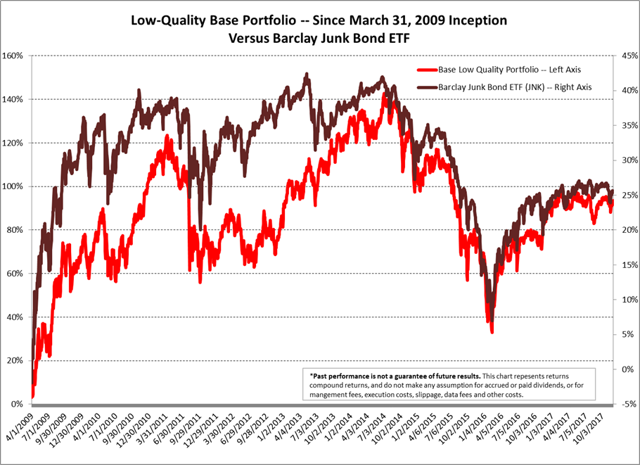 The chart below illustrates the correlation between the High Quality Base stock portfolio and the investment grade bond ETF. To our eye, it appears the market may be setting up for a repeat of the summer of 2014. If the analogy is accurate, investors should be preparing themselves to for an unjustified sell off in a wide range of high quality stocks, which should be bought with a vengeance. Once again, we would welcome hearing interpretations of these charts from experienced market technicians and bond investors.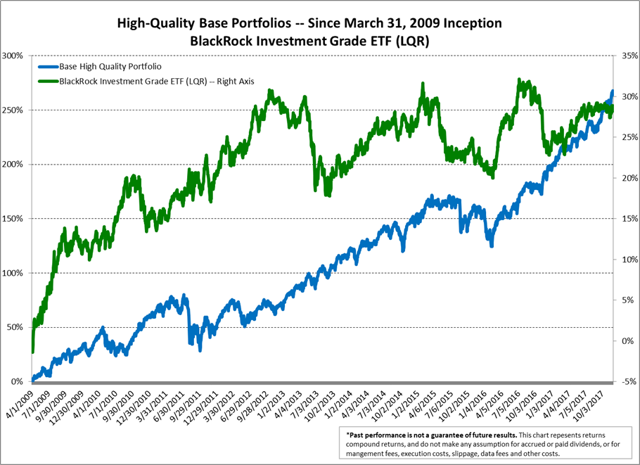 Explanation of the Core Model
The Core Model portfolio strategy assumes long positions in high-quality stocks and short positions in low-quality stocks, as defined on the first page of this report.
The Core Model employs short-term price targets and stop losses for individual stocks. On rare occasions, the model will assume long positions in low-quality stocks and short positions in high-quality stocks. The model was last long low-quality stocks for four trading days in October 2015, and for a total of 24 trading days interspersed between April 2009 and August 2009.
The three charts just above illustrated the compound returns of our Base High Quality and Base Low Quality model portfolios with each other and other elements.
The chart below indicates compound returns of our Core High Quality and Core Low Quality model portfolios since the March 31, 2009 inception.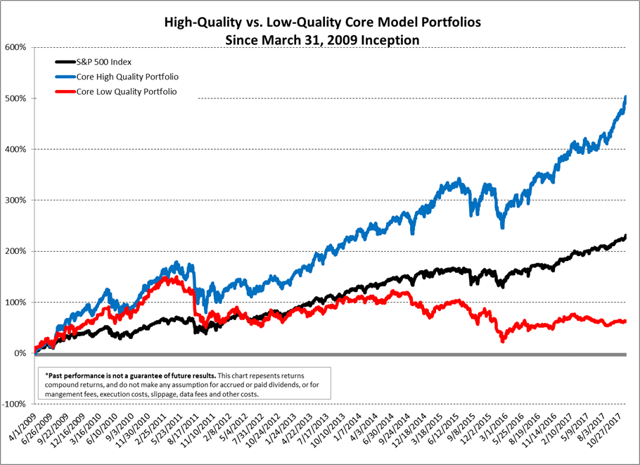 Explanation of the Opportunistic Model
This theoretical model uses the same basket of stocks and stock price targets as the Core model, but additionally assumes a 30% base cash position or 100% base cash position during extreme market volatility, or when certain portfolio target returns or losses are achieved.
Cumulatively since inception, the Core Model has significantly outperformed the Opportunistic Model. However, the Sharpe Ratio, which is one basic measure of risk/return, is higher for the Opportunistic Model.
The Opportunistic Long Model outperformed the Core Long Model in 2010 and 2011, and has underperformed since then.
The Opportunistic Long/Short Model outperformed the Core Long/Short Model in 2009, 2010, 2011, 2015 and has lagged in other years.
The chart below illustrates returns of the Opportunistic Model since the March 31, 2009 inception.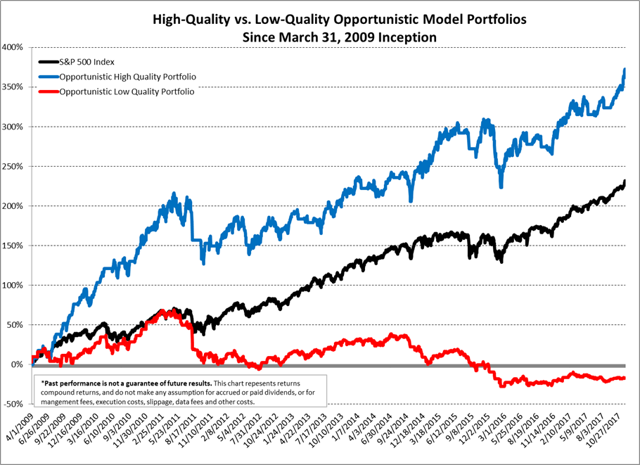 12-Month Buy-and-Hold Returns for the Long Model Starting November 30, 2016 Up +28.85%
Our model portfolio strategies use intra-month stock price targets and are rebalanced every month. However, these model portfolio strategies serve as an ideal source for generating solid long-term ideas for deeper study. We provide an example of by taking a look at the 12 month returns for the model portfolio that we published at this time last year.
In last year's report 28 Stocks for December 2016 we presented a 28 stock long model portfolio. Assuming initial equal weights for each stock position last year at the November 30, 2016 close, this portfolio returned 28.85%, well ahead of the 20.39% return for the S&P 500. Over the 12 months, 18 stocks performed better than the S&P 500 and 10 underperformed.
In that same report, we highlighted Facebook, Inc. (FB) as our favorite long idea. FB was the 6th best performer over the 12 months since November 30, 2016 with a return of 49.62%.
Below is a table and chart illustrating these 12-month returns. For additional 12-month return data for other reports, please visit our Seeking Alpha blog.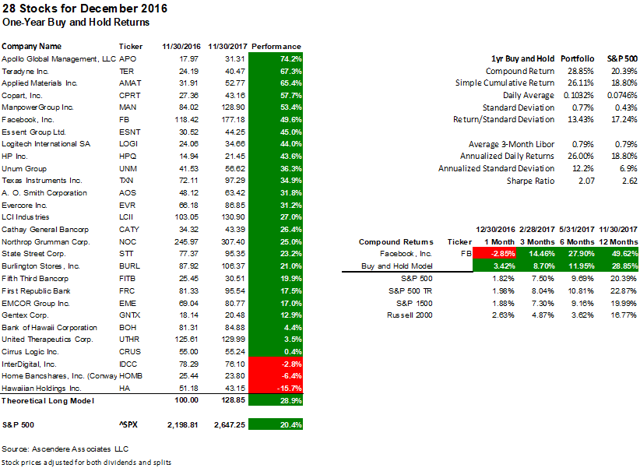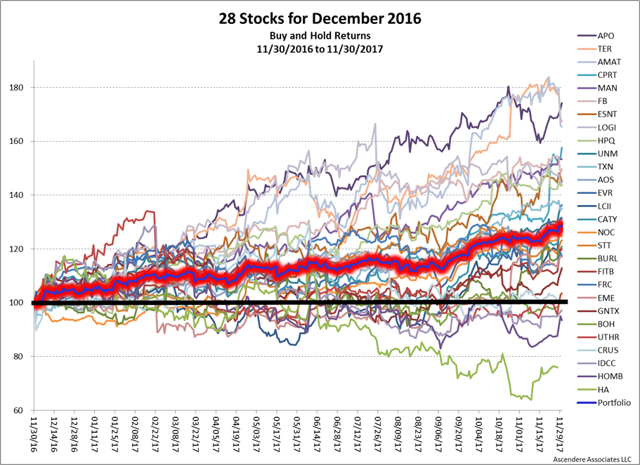 The model portfolio above was composed of the following 28 stocks:
Apollo Global Management, LLC (APO)
Teradyne Inc. (TER)
Applied Materials Inc. (AMAT)
Copart, Inc. (CPRT)
ManpowerGroup Inc. (MAN)
Facebook, Inc. (FB)
Essent Group Ltd. (ESNT)
Logitech International SA (LOGI)
HP Inc. (HPQ)
Unum Group (UNM)
Texas Instruments Inc. (TXN)
A. O. Smith Corporation (AOS)
Evercore Inc. (EVR)
LCI Industries (LCII)
Cathay General Bancorp (CATY)
Northrop Grumman Corp. (NOC)
State Street Corp. (STT)
Burlington Stores, Inc. (BURL)
Fifth Third Bancorp (FITB)
First Republic Bank (FRC)
EMCOR Group Inc. (EME)
Gentex Corp. (GNTX)
Bank of Hawaii Corporation (BOH)
United Therapeutics Corp. (UTHR)
Cirrus Logic Inc. (CRUS)
InterDigital, Inc. (IDCC)
Home Bancshares, Inc. (Conway, AR) (HOMB)
Hawaiian Holdings Inc. (HA)
Additional Charts and Tables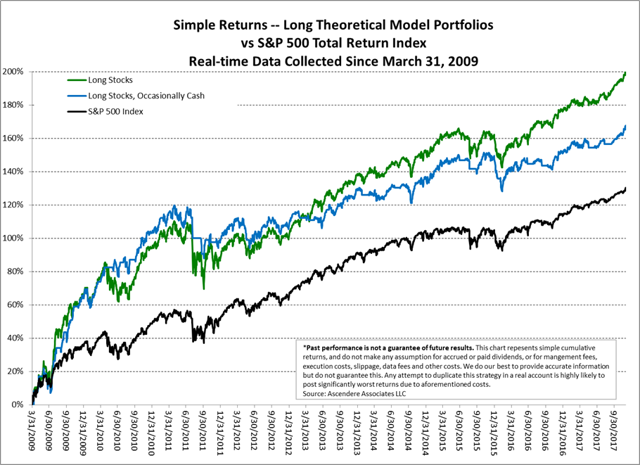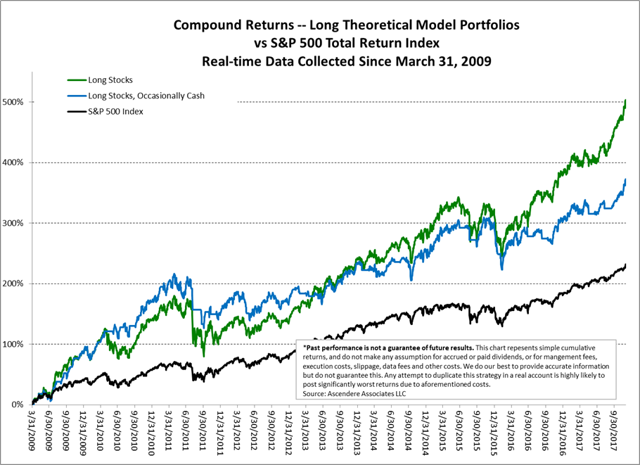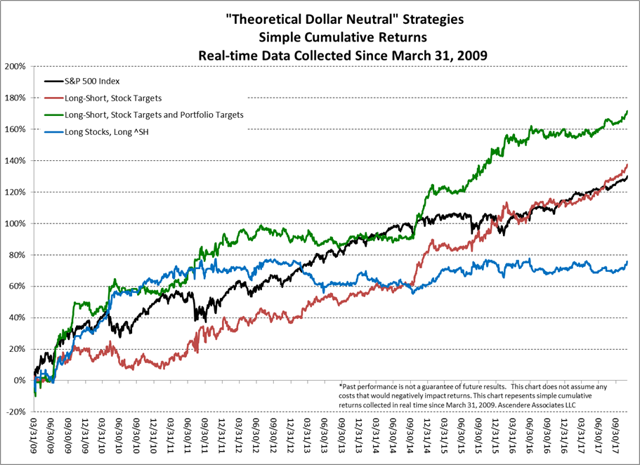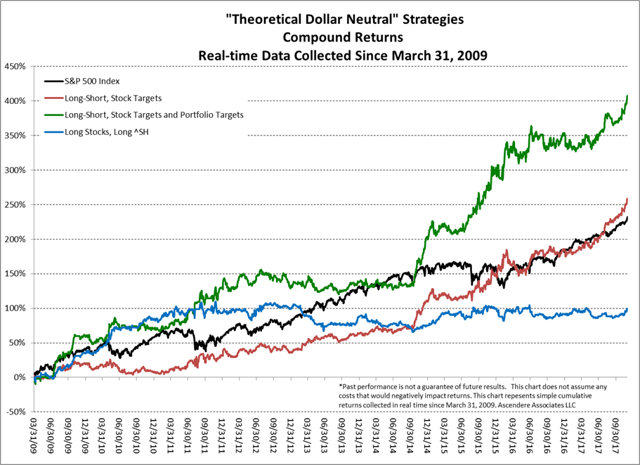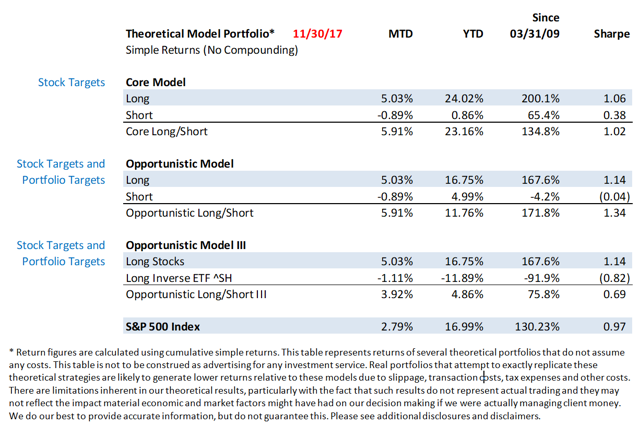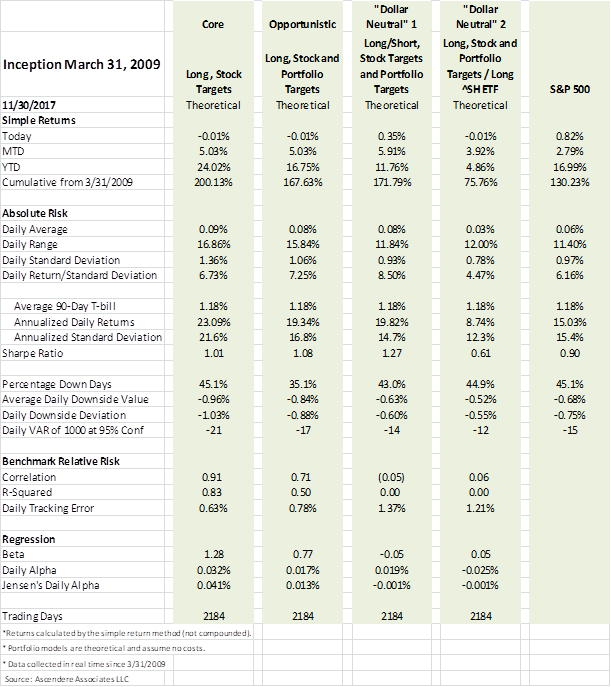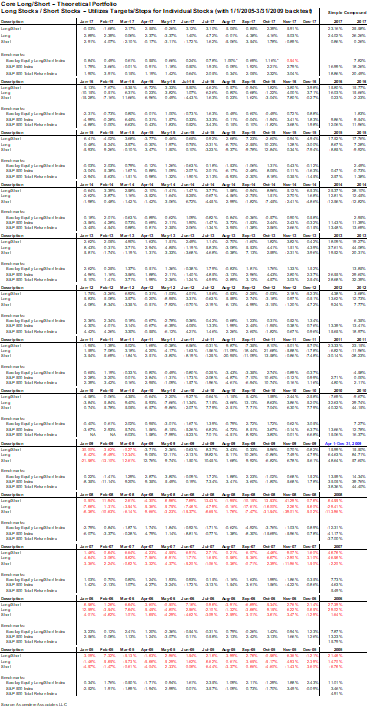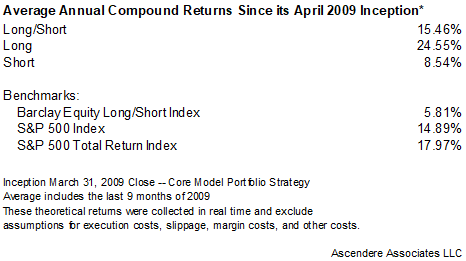 A PDF of this report is available here.
Disclosure: I/we have no positions in any stocks mentioned, and no plans to initiate any positions within the next 72 hours. I wrote this article myself, and it expresses my own opinions. I am not receiving compensation for it (other than from Seeking Alpha). I have no business relationship with any company whose stock is mentioned in this article.
Additional disclosure: As a simple quantitative model based on fundamental rankings, the portfolio models do not take into account rumors or pending M&A transactions. Theoretical return data reflect simple cumulative returns (not compound returns) and do not assume the impact of costs such as execution fees, margin fees, slippage, the availability of stocks for short selling, or any other kind of cost. There are limitations inherent in our theoretical model results, particularly with the fact that such results do not represent actual trading and they may not reflect the impact material economic and market factors might have had on our decision making if we were actually managing client money. We do our best to provide accurate information in this report, but do not guarantee its accuracy.