Readers keep asking me to concentrate on stocks that they can purchase now and still make money in the long run. My personal preference is to purchase stocks that have near double digit growth projection forecasts in both revenue and earnings and have current positive price momentum. In the long run those stocks that keep increasing in revenue and earnings will have increases in stock price, and those companies having decreases in revenue and earnings will have decreases in stock price. Note I said in the long run.
A stock I like recently is Ross Stores (NASDAQ:ROST). Over the past 6 month market rally the stock has outpaced the market ( my personal gauge of the market is the Value Line Index) as is evidenced in this graph provided by Barchart: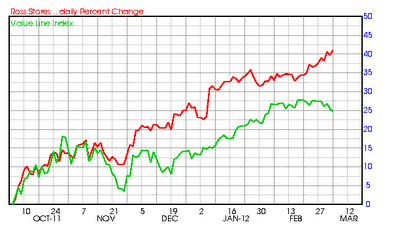 Ross Stores, Inc., together with its subsidiaries, operates off-price retail apparel and home accessories stores under the Ross Dress for Less and dd's Discounts brand names in the United States. Its Ross Dress for Less brand stores sell brand and designer apparel, accessories, footwear, and home fashions for the entire family at everyday savings of 20 to 60 percent off department and specialty store regular prices; and dd's Discounts brand stores sell apparel, accessories, footwear, and home fashions for the entire family at everyday savings of 20 to 70 percent off moderate department and discount store regular prices.

As of January 29, 2011, the company operated 1,055 stores, of which 988 were Ross Dress for Less brand stores in 27 states and Guam, and 67 were dd's Discounts brand stores in 6 states. Its Ross Dress for Less brand stores primarily target middle income households and dd's Discounts brand stores target moderate income households. Ross Stores, Inc. was founded in 1957 and is headquartered in Pleasanton, California. (Yahoo Finance profile)
Factors to consider:
Barchart technical indicators:
100% Barchart technical buy signal
Trend Spotter buy signal
Above its 20, 50 and 100 day moving average
8 new highs and up 5.18% in the last month
Relative Strength Index 70.76%
Barchart computes a technical support level at 53.18
Recently traded at 54.49 with a 50 day moving average of 51.15

Fundamental factors:
This small retailer is followed by 20 Wall Street brokerage firms and they have assigned 28 analysts to follow the stocks numbers
Analysts project revenue to grow by 9.30% this year and another 9.00% next year
Earnings are estimated to increase by 25.10% this year, an additional 13.50% next year and continue by an annual rate of 12.07% for at least the next 5 years
These consensus numbers result in analysts issuing 4 strong buy, 7 buy, 16 hold 1 under perform and no sell recommendations for their clients to consider
If all the numbers are met analysts look for a 9% - 11% annual total return over the next 5 years
The P/E ratio of 20.13 is slightly higher than the market P/E of 15.40
The dividend rate of 1.03% is only 15% of projected earnings and lower than the market dividend rate of 2.20
The stock had a 2 for 1 split recently - mathematically you and I both know that shouldn't make a difference but stocks that split seem to maintain a better P/E than those that don't
The company add stockholder value by an aggressive stock repurchase program
The company has an A financial strength rating
The numbers look reliable and the stock has an 85 price stability ranking and a 90 earnings predictability ranking
The company recently opened 12 new stores in the Chicago area and since they only operate in 27 states there is ample room for expansion

General investor interest:
I look to the readers of Motely Fool to tell me what the individual investor is thinking and 336 readers have expressed an opinion on the stock
90% of those voting were sure the stock will beat the market
95% of the more experienced All Stars voting expressed the same opinion
Fool notes that of the Wall Street reports and columnist they follow 93% were favorable
Some positive comments were made by FBR Capital, Zacks, Jim Cramer, UBS and Barclays

I like to compare a stock's price momentum over the past year to the market leaders and find while Ross Stores is up 53%, TJX Companies (NYSE:TJX) is up 51%, Limited Brands (LTD) is up 45% and The Gap (NYSE:GPS) was up 15%: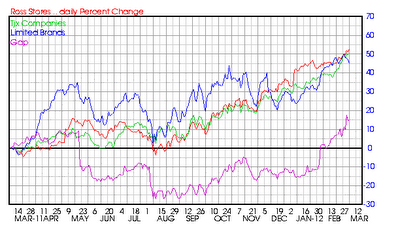 Summary: For the long haul I like Ross Stores for the 9% projected sales increase and the 12.07% earnings increase. I'm not paying too much with the 20.13 P/E ratio and the stocks propensity to split and buy back shares. I would however look at the 14 day turtle channel to gauge when the price momentum might be waining: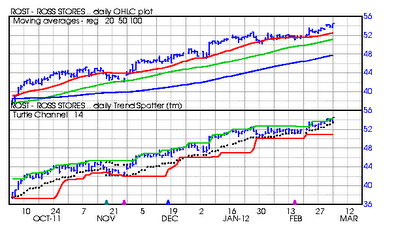 Disclosure: I am long TJX.
Additional disclosure: I bought TJX in either family accounts I manage or separately managed model portfolio accounts at Marketocracy Capital management