SNF REITs have a compelling story. We are all well aware of the aging Baby Boomer generation and the associated increased medical needs. The macro bull thesis follows the simple logic that SNF supply is shrinking and an aging population is going to increase demand. Therefore, SNF companies will see improving financials and being the landlord of a growing industry is a good thing.
On the surface, the thesis seems airtight. However, Baby Boomers have been turning 65 since 2011, and over the last 6-years, the resurgence of the SNF industry has failed to materialize. This lack of performance has been reflected by the landlords.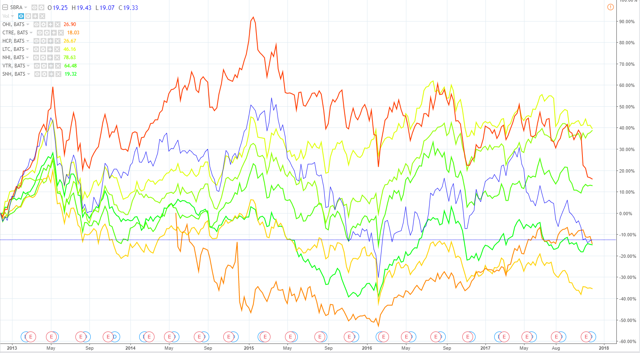 Over the past five years, the strongest performers have been LTC Properties (LTC) and National Health Investors (NHI) with roughly a 40% gain. Omega Healthcare (OHI) was right with the top of the pack until their recent decline.
Ventas (VTR) is the only other REIT on the list that produced a positive return over this time period. One of the largest REITs in the field, it is notable that Ventas is in the process of completely exiting SNFs.
All the other REITs produced total returns that are negative.
It was OHI's best in class performance for much of the past 5-years, and their consistent dividend raises, that caused me to seriously consider investing in what appeared to be a dip. When OHI reached my target price, I did further due diligence which caused me to conclude that OHI is a value trap.
Since writing my first article on OHI, I have been involved in a significant amount of discussion across several articles on OHI and Sabra Healthcare (SBRA). A couple of the more in-depth discussions are here and here.
Bulls argue the recent tenant issues being experienced by OHI and SBRA are isolated events that once resolved within the next year or so, are in the rear-view mirror and the REITs will resume growth.
Bears argue that the surfacing tenant issues are evidence of fundamental problems within the SNF industry and that there could be other tenants that will be unable to pay rent or require modifications to the rental agreements.
While there has been much conversation about the REITs, there has been little attention focused on the actual operators. I dived into the 10-Ks of four that are publicly traded: Diversicare Healthcare Services (DVCR), The Ensign Group (ENSG), Genesis Healthcare (GEN), and National Healthcare Corporation (NHC). ENSG and NHC are relatively strong, with solid rent coverages and healthy balance sheets. DVCR and GEN have been more troubled.
Rent Coverage
The most obvious metric for a landlord to be concerned about is rent coverage. Whatever issues the tenant is facing are not of particular importance to us as long as a tenant can pay rent and is in a position to pay reasonable rent increases.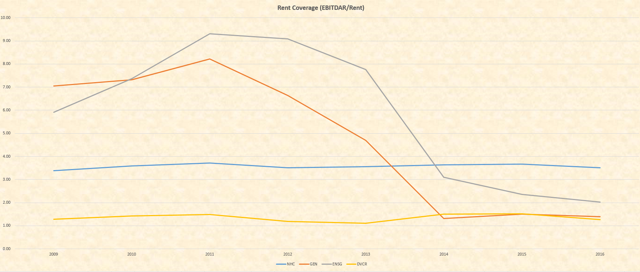 It is clear that rent coverages have generally been trending down. The one company that has seen stable rent coverage has been NHC, which has been generally stable around 3.5x +- 0.25.
It should be pointed out that ENSG has not deteriorated as much as it appears, in 2014 they spun-off a large portion of their properties to CareTrust REIT (CTRE). The substantial increase in rent due to a much larger number of properties being rented is largely responsible for the 2013-2014 decline. However, it has continued to decline from 2.36x in 2015 to 1.89x the first 9-months of 2017.
Source: OHI Quarterly Supplements
One of the things that jumped out at me when I was doing due diligence on OHI, was that their quarterly supplemental suddenly changed the categories they provided for EBITDAR and EBITDARM coverage.
The conclusion I draw is that the non-public companies are seeing similar trends as the public companies. Namely, some continue to provide consistent and solid rent coverage like NHC, some never had good coverage and there has been a general decline among the rest.
EBITDAR is earnings before interest, taxes, depreciation, amortization, and rent. Clearly, if a tenant's EBITDAR coverage falls below 1, that is a serious issue. It means the tenant is not producing enough cash-flow to pay rent and needs to borrow, use reserves or otherwise raise capital to pay the bill.
However, since payments such as interest and taxes are excluded from EBITDAR, a tenant with EBITDAR coverage ratios over 1x may still face bankruptcy risk. GEN is an example of a company that has EBITDAR coverage over 1x but continues to have cash-flow issues significant enough that several REITs were willing to negotiate rent reductions.
As a landlord, I want tenants that can not only cover today's rent, I want tenants with enough excess cash flow to pay consistent rent increases. Tenants with rent coverage averaging only 1.3x cannot be expected to pay increasing rents.
EBITDA Margins

Perhaps the starkest picture of the difficulties SNF operators are having in the current environment is looking at the EBITDA margins. All four operators saw increasing top-line revenues, however, those increased revenues have not efficiently translated to EBITDA. The only operator who did not see a clear decline is DVCR, mostly because their margin has been terrible the entire time.
Not surprisingly, GEN has had the worst drop, it's margins were crushed after their merger with Skilled Healthcare was completed in 2014. Even the stronger operators, ENSG and NHC have seen steady drops in EBITDA margins since 2011. ENSG's margins being cut almost in half and NHC margins are down 20% despite being relatively resilient.
The bull thesis relies on an increase in revenue due to higher occupancy from Baby Boomers. It ignores the reality that higher revenues do not necessarily mean a stronger ability to pay rent if expenses continue to climb faster than revenues. $100 million in revenue at a 15% EBITDA margin is the same as $150 million in revenue at a 10% EBITDA margin from a rent security perspective.
Investors should ask themselves, even if the Baby Boomer generation starts showing up at SNFs en masse, will the increased revenue equal increased profits? So far, SNF operators have struggled with maintaining healthy margins.
Occupancy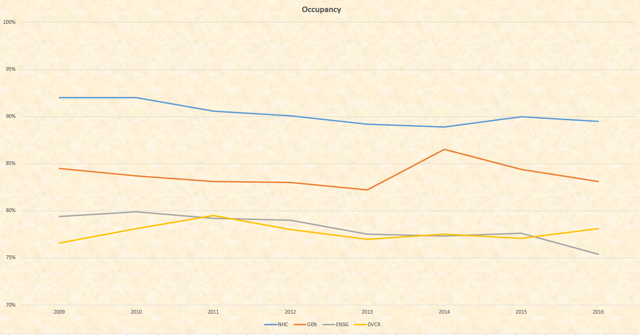 Which brings me to the final metric I analyzed. In SNFs occupancy is measured by the maximum potential patient days divided by the actual number of patient days. The long-term trend has clearly been downward, despite the increasing elderly population.
The jump up for GEN was due to the previously mentioned merger with Skilled Healthcare.
These numbers match what has been seen in national surveys by entities like the National Investment Center.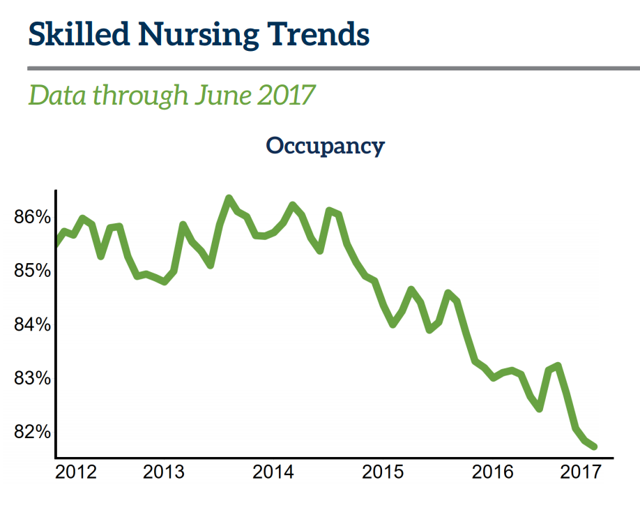 Source: NIC Skilled Nursing Property Report Q2 2017
There are numerous explanations for why occupancy is declining despite an aging population. Changes in Medicare rules, a social aversion among Baby Boomers to being in a "nursing home", increased availability of home care options and the cost of being in an SNF are all plausible explanations.
What cannot be denied is that SNFs are seeing a steady decline in occupancy, particularly since 2014. Continued declines are only going to keep putting pressure on operators.
Conclusion
SNF REIT investors should be wary of declining rent coverages that are being driven by a decline in operator EBITDA margins that has been occurring over 6 years. A one or two year decline could be written off as temporary headwinds.
I think the data presented here illustrates that the issues are deeper than that. Despite rising revenues, these operators have seen expenses rising faster and I see no reason to believe that the public operators are having fundamentally different experiences than private ones.
Meanwhile, the entire foundation of the bull thesis does not appear as solid in practice as it sounded in theory. The oldest Baby Boomers are now over 70, yet SNF occupancy has been trending downward.
To take a bullish stance on an SNF REIT today, an investor needs to believe that occupancy is going to start trending up, that EBITDA margins are going to stop declining and therefore, rent coverages are going to improve.
I do not see a catalyst for any of those things. I can think of a few possibilities that could cause further degradation. The most obvious risk would be any change on the federal level to reduce Medicare payments. Changes at the state level, as Medicaid continues putting more pressure on state budgets, could adversely impact the sector as well.
Fundamentally, the SNF industry is weak right now, and the business is getting more difficult. No doubt, many of the existing companies will find ways to remain profitable. However, picking which ones will succeed and which will fail is more like buying lottery tickets than investing.
OHI was the REIT I thought had the most potential in the sector. After reviewing the fundamentals, I believe the tenant troubles experienced by OHI and SBRA are the tip of the iceberg. Tenants like GEN and Signature fell the fastest, but it is obvious looking at their publicly traded peers that the general trend is downward.
Looking forward, I believe SNF REITs can expect more tenants to have financial issues which can be expected result in flat or minimal rent growth. The lack of growth and the potential for an unpleasant surprise from government cost cutting, is enough for me to steer clear of the sector for now.
Disclosure: I/we have no positions in any stocks mentioned, and no plans to initiate any positions within the next 72 hours.
I wrote this article myself, and it expresses my own opinions. I am not receiving compensation for it (other than from Seeking Alpha). I have no business relationship with any company whose stock is mentioned in this article.
Editor's Note: This article covers one or more stocks trading at less than $1 per share and/or with less than a $100 million market cap. Please be aware of the risks associated with these stocks.