Introduction
In October 2015, I wrote an article entitled "If I Had to Build an Income Portfolio Today," which was published by Seeking Alpha on October 23, 2015. The article described the development of a portfolio for a relative that recently came into a significant sum of money and wanted to conservatively invest the funds to supplement their retirement income and help the grand kids with college costs. This series of articles through update twenty two has been very well received by Seeking Alpha readers, generating over 270,000 page views to date.
As stated in the original article, after establishing the initial portfolio, there remained a significant cash account yet to be invested. In the sixth update, I discussed the decision to invest the balance of the cash in the iShares US Preferred Stock ETF (NYSE: PFF). With most of the funds invested except for a modest money market account for emergencies, the portfolio updates have, for the most part, focused on the capital appreciation and income produced by the portfolio and the modest changes to the portfolio holdings between updates. This article is the twenty fourth update in the series though previous readers will note that I changed the title of Update 8 to reflect the portfolio's performance for that month. To be clear, it has been a little over 26 months since the portfolio was initiated.
November 2017
The month of November was a bit of a roller coaster ride with most of the month being down. Only in the last few days of November did the portfolio equity holdings recover and actually gain in value.
The Federal Reserve is generally expected to raise the overnight federal funds Rate in December. While the newly nominated Fed chair Powell is considered dovish on interest rate policy, at least as dovish as Yellen, he has recently indicated that he is on board with a December rate hike. For once however, the Fed was taking a back seat to other news.
At the beginning of November, the house GOP passed their version of tax reform. In my view, the House GOP plan went a little too big on cuts for corporations and pushed too much of the largess towards the high end of the income spectrum. I don't believe that the really high income crowd (>$1M/yr) needed a tax break at all. I would have preferred to see the top of the income ladder unchanged in terms of total income tax receipts, with deeper cuts for the middle class and lower. In particular, I would have liked to have seen the carried interest option for hedge fund managers terminated. Though it would not bring in a lot of revenue, I believe the optics are extraordinary poor while trying to sell the package to the public.
The Senate GOP passed their version of tax reform at the end of November, actually the evening of December 1. While the Senate version differs in detail compared to the House version, the general approach and general outcome is the same. For this reason, I expect the House and Senate will be able to reconcile the differences and they will have a tax reform/cut package on the President's desk before the end of 2017.
To be clear, I do favor the tax reform package crafted by the GOP and believe it will be beneficial for the US economy. We needed to lower the corporate marginal tax rate to be competitive in the global market, I've never been a fan of the federal estate tax, I believe the ACA individual mandate was big brother being heavy handed, and the middle class will see some tax relief. To get those changes, I can live with the rest.
Last month, I picked up two new equities for the portfolio. Both are REITs, but the investment thesis for each is very different. I picked up 200 shares of Uniti Group Inc. (NASDAQ: UNIT) at $14.50/share. This is a speculative investment, but after significant due diligence on my part and a couple of very good articles on UNIT by Dividend Sensei and Rubicon Associates, I decided to take a small position in this oversold REIT. So far, it has worked out well with an unrealized gain of 13% plus a 4% dividend payment. Please note that this is a speculative investment and I'll be monitoring this one very closely.
The second investment I made in October was SABRA Health Care REIT (NASDAQ: SBRA). I bought a total of 400 shares at an average share price $20 for the portfolio. The investment thesis on SBRA is based on their purchase of Capital Care Properties Inc., an improved credit rating, continued progress in reducing exposure to Genesis Healthcare, Inc. (NYSE: GEN), and continuing to pay down long-term debt. The investment is down about 3.1% as of Friday, 12/1/17 but I expect to get significant positive returns on SBRA by the middle of 2018. SBRA has been moving in concert with Omega Healthcare (NYSE: OHI) over the last couple months. It also appears that there was some confusion over SBRA's dividend going forward. When the purchase of Capital Care Properties completed in August, SBRA made a prorated dividend payment of $0.36/share with the provision that the balance of that quarter's dividend ($0.07) would be paid in November. Many, maybe even most, of the financial websites were incorrectly reporting SBRA's dividend at $1.44 annually (4 x $0.36) instead of the correct value of $1.72 annually. On November 1, SBRA declared a $0.45 quarterly dividend (a 2.5% increase) plus the $0.07 dividend balance from the August dividend. Many of the financial sites have royally goofed up the dividend payment and yield calculation. At $1.80, the forward yield is actually 9.3%. It might take another quarter before the dividend issue is cleared up.
At the end of November, I sold all 600 shares of Whitestone REIT (NYSE: WSR) at $14.90 for a reasonable but unremarkable gain of 8.7% plus dividends collected. I had high hopes for WSR, but management continues to favor their own bank account over the REIT's balance sheet and returns for shareholders. At the time I invested in WSR, I was aware of the lopsided management compensation arrangement but it has only gotten worse since I initially invested in the REIT. WSR's 3Q17 financials came in strong, the stock had a good run, and I decided to take the gain and close out the position.
Portfolio Capital Appreciation and Income
The chart below, compliments of Yahoo Finance, shows the financial performance of the portfolio as of market close December 1, 2017.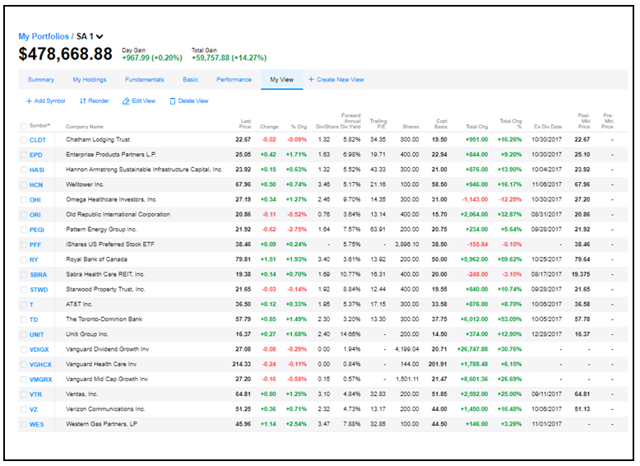 Source: Yahoo Finance
In Update 15, I decided to include a new table summarizing the sales and the gains on each sale. The table has been updated for the sale of WSR at the end of November.
| | | | | | | |
| --- | --- | --- | --- | --- | --- | --- |
| Symbol | # of Shares | Price Paid | Price Sold | Gain | % Gain | Update Link |
| VGENX | 846.64 | $41.34 | $47.18 | $4944 | 14.1% | |
| O | 200 | $45.25 | $62.50 | $3450 | 38.1% | |
| CALM | 100 | $50.40 | $53.40 | $300 | 6.0% | |
| SBRA | 300 | $23.83 | $26.27 | $732 | 10.2% | |
| LXP | 500 | $8.00 | $10.90 | $1450 | 36.3% | |
| AEE | 200 | $39.75 | $54.75 | $3000 | 37.7% | |
| AEP | 100 | $53.60 | $67.00 | $1340 | 25.0% | |
| PEB | 200 | $25.50 | $32.60 | $1420 | 33.1% | |
| STAG | 200 | $19.20 | $27.90 | $1740 | 45.3% | |
| WSR | 600 | $13.71 | $14.90 | $714 | 8.7% | Current |
Source: Author
The links in the table above provide more detailed background on the sales of each equity. With the exception of Cal-Maine Foods (NASDAQ: CALM), I'm pleased with the results achieved to date. While I did pick up some rich special dividends from CALM during the bird flu epidemic, I held CALM a bit too long and missed out on the best gains from CALM.
The dividends from the portfolio continue coming in as can be seen in both the Annual Income column and the Cumulative Dividends Collected column.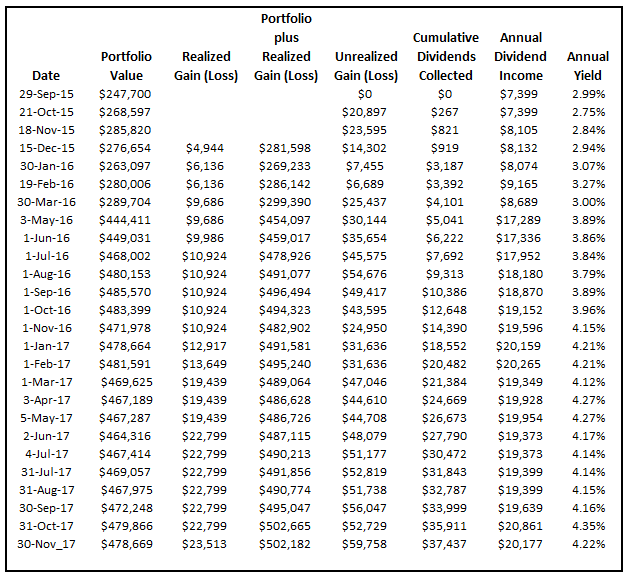 Source: Author
The overall annual yield for the portfolio decreased in November by 13 basis points due to the sale of WSR with its high yield.
Total Portfolio
In update 3 of this series, I explained the rationale for placing a large portion of the portfolio into bank savings accounts and certificates of deposits. At the beginning of October, I moved $250k from a high yield savings account into a 5 year CD with a 2.40% yield. This increased the annual interest paid going forward by exactly $3000.

Source: Author
Including the interest earned in October of $1470, the total interest earned since portfolio inception is $26,217 on the bank deposits. This brings the total return (realized and unrealized gains) including cumulative dividends and interest, since portfolio inception, up to $146,925 over 26 months and puts the total return percentage at 12.2% based on the original amounts invested and banked of $1,202,520. The total portfolio value as of November 30 has grown to $1,273,682 with the roughly $75,800 difference having gone to pay for income taxes, for a rebuild of the front porch, a bit of leisure travel, a new Subaru to replace a 10 year old Honda Accord, tree clearing of property around the home, and a used Pontiac Solstace for the grandson.
In addition to WSR, PFF, UNIT, SBRA, CALM, and OHI the portfolio consists of the following stocks: Enterprise Products Partners (NYSE: EPD), Western Gas Partners (NYSE: WES), Welltower (NYSE: HCN), AT&T (NYSE: T), Hannon Armstrong Sustainable Infrastructure Capital (NYSE: HASI), Pattern Energy Group (NYSE: PEGI), Ventas (NYSE: VTR), Chatham Lodging Trust (NYSE: CLDT), Old Republic International Corporation (NYSE: ORI), Verizon Communications (NYSE: VZ), Starwood Property Trust (NYSE: STWD), Royal Bank of Canada (NYSE: RY), and Toronto-Dominion Bank (NYSE: TD). The portfolio also includes the Vanguard Mid-Cap Growth Fund (NYSE: VMGRX), Vanguard Dividend Growth Fund (NYSE: VDIGX), and Vanguard Health Care Fund (NYSE: VGHCX).
Going Forward
My risk meter is no longer rising but neutral. The economy, labor, and wages have shown some improvement. The political climate, however, remains rather bitter and many sectors of the market are looking bubbly. I rode out the 2009 recession and was able to make additional investments near the bottom of the trough. Given my sister-in-law is 69 years old, I'm not inclined to have her portfolio ride out the next recession. So it may be that I am being overly cautious and overly conservative but I believe that is a better approach when you may not have several years to ride out the next downturn. If there is a market correction or I find a truly undervalued equity, I may make additional investments for this portfolio. However, in general, my current view is that taking profits and de-risking the portfolio is the more prudent approach. It is more likely that I will be lowering the portfolio's common stock holdings over time.
Disclaimer: This article is intended to provide my opinion to interested readers and to serve as a vehicle to generate informed discussion in the comment posting. I have no knowledge of individual investor circumstances, goals, portfolio concentration or diversification. Readers are strongly encouraged to complete their own due diligence on any stock, bond, fund or other investment mentioned in this article before making their own investments.
Disclosure: I am/we are long CLDT, EPD, HASI, HCN, OHI, ORI, PEGI, PFF, RY, SBRA, STWD, T, TD, UNIT, VDIGX, VGHCX, VMGRX, VTR, VZ, WES. I wrote this article myself, and it expresses my own opinions. I am not receiving compensation for it (other than from Seeking Alpha). I have no business relationship with any company whose stock is mentioned in this article.
Editor's Note: This article covers one or more microcap stocks. Please be aware of the risks associated with these stocks.