Consumer staples stocks have been investor darlings over the past few years. The big, diversified consumer staples companies that own lots of different brands - think Proctor & Gamble (PG), Coca-Cola (KO), Colgate-Palmolive (CL), Nestle (OTCPK:NSRGY), and Kraft Heinz (KHC) as examples - are blessed with strong moats around their brands, very high returns on invested capital, high free cash flow conversion, high dividends, and a growing global middle class which could drive revenue growth for years to come. The combination of high free cash flow and non-cyclical, generally growing net income has drawn in investors that need current income, since the dividends yields are generally higher than those that can be found in treasury bonds and the dividends have gone up every year for decades in most cases. This is a safe way to earn income, or so the thinking goes.
Historically, investors have enjoyed these relatively high dividend yields, increasing payouts, relatively limited volatility, and excellent total returns. Everything you could want in an investment. Here is the performance since 2005 plotted against the S&P 500: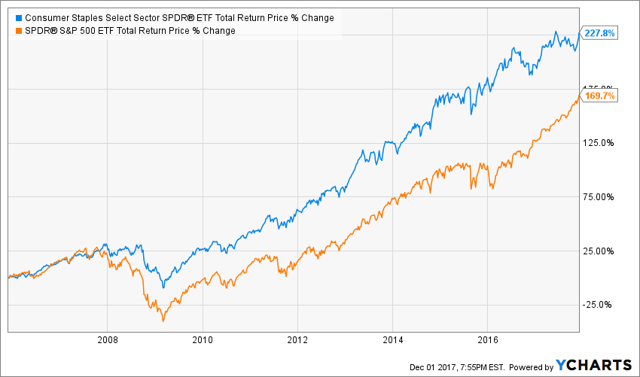 Notice the much smaller drawdown in 2009 along with the higher returns through the cycle.
While the past results have been excellent for equity holders, there are some signs that going forward business results could be materially weaker than over the past decade. Here are some select quotes from five WSJ articles that were published over the last few weeks:
"Earlier this year Nestlé ditched a longstanding goal of achieving 5% to 6% organic sales growth after it missed the target for four straight years through 2016."

"For decades, [giant food] brands controlled grocery-store aisles, commanding prime shelf space and funding expensive advertising displays. Online, however, the playing field is more level, as the internet has provided a quick, cheap and easy sales platform for newer, trendier food companies to reach consumers."

"P&G, After Slight Sales Gain, Puzzled by Weak U.S. Consumer Spending"

"Food and beverage companies, even in indulgent categories, have "no choice but to respond to the growing consumer concerns of the consumption of added sugar," said Rabobank analyst Nicholas Fereday."

"Customers may be starting to shop for over-the-counter drugs in the same way they shop for groceries-with a keener eye for cost and content. This could be painful for consumer-health companies who thought they were insulated from changing tastes… Online price comparisons are more brutal and the consumer experience less easily controlled… Another problem is competition from private-label products. Drugstore copies of branded classics have been around for ages, but health-conscious consumers who are able to quickly look up product details on smartphones may be savvier about active ingredients. The risk is they don't see much difference between generic ibuprofen and expensive brands like Pfizer's Advil or Reckitt's Nurofen."
These companies, whether they sell household staples, food, or medicine, are running into similar problems. Here are the biggest as I see them:
Pressure from big-box retailers - Large retailers like

Wal-Mart and Costco are trying to cut costs as much as possible and are demanding price and placement concessions from the major brands.

Private label competition - Retailers are stepping up private label efforts in an attempt to capture more margin. As shown in the above quote about over-the-counter drugs, many consumers are realizing that they don't need to buy the expensive brand to cure a cold or feed their kids. With a smartphone at all times, consumers can make more informed decisions and don't need to rely on traditional quality signals that brands provide.
Pressure from Amazon - Brands seem to matter a bit less when buying online. In some categories, batteries being a good example, consumers are confronted with much more choice and are more likely to switch to a different brand or an Amazon private label if that offering is cheaper.
Shifting consumer tastes - Consumers are starting to pick healthier items made with more natural and locally sourced ingredients. Upstart companies have an advantage with these consumers simply because they're not a big brand, while the bigger companies' big brands tend to be nationally sourced, contain more unnatural ingredients, and be perceived as much less healthy.
Competition from direct-to-consumer delivery - Consumers' comfort with buying anything online has meant that a company with some clever marketing and lots of venture capital backing can quickly gain significant market share by selling staples directly to the consumer. Additionally, VC investors' preference for growth over profitability means that these companies can sell simple goods at very cheap prices. Dollar Shave Club, recently bought by $1 billion by Unilever (UL) after it gained double digit razor market share, is perhaps the best example of this type of disruption.
I do not believe that these factors, even working in concert, mean that the big consumer staples companies are doomed. However, these factors have led to a significant decrease in growth for these companies - as opposed to the typical high single digit growth, the last few years have generally seen low single digit compound organic growth rates in revenues.
If valuations are low to reflect these subdued growth process, then investments in these companies could still turn out well. Let's examine this by looking at group free cash flow yields: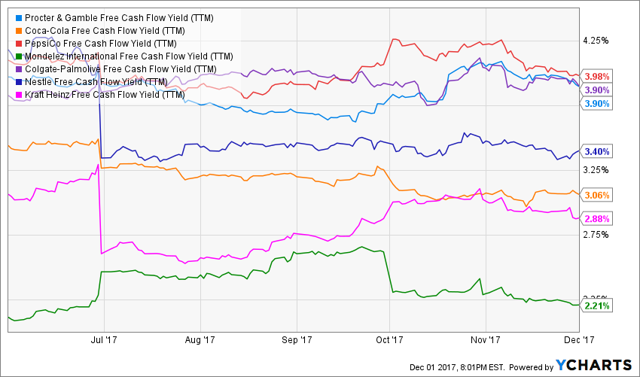 As you can see, fcf yields come in at around 4% or lower. A rule of thumb for equity returns is (earnings growth + fcf yield) * change in valuation. So if we use a 4% fcf yield + 2% earnings growth, we get 6% expected returns before a change in the valuation. If results come in weaker than expected or if investors re-rate these companies to a 6% fcf yield, returns over time could be miniscule - shares might return close to 0% for 5 or so years if re-rated to that 6% fcf yield.
This bleak outlook, paired with relatively high valuation multiples means that investors in the sector need to be extra careful. Buying these stocks for their relatively high dividend yields and ignoring everything else could lead to very low total returns over time.
Disclosure: I/we have no positions in any stocks mentioned, and no plans to initiate any positions within the next 72 hours. I wrote this article myself, and it expresses my own opinions. I am not receiving compensation for it (other than from Seeking Alpha). I have no business relationship with any company whose stock is mentioned in this article.
Additional disclosure: I am a registered investment adviser. However, this commentary does not constitute individualized investment advice. The opinions offered herein are not personalized recommendations to buy, sell, or hold securities.
Editor's Note: This article discusses one or more securities that do not trade on a major U.S. exchange. Please be aware of the risks associated with these stocks.