We have a history of voicing critical opinions about Yamana Gold (NYSE:AUY), a mid-tier gold miner with producing assets in several South American countries. Take this article, for example, where we questioned the company's business plan and concluded:
"Yamana is increasingly looking like a victim of the recent downturn. The rising gold price has naturally led to improved cash flows, but contrary to peers with better balance sheets Yamana will need to spend much of its cash flows to repay its debt, plus raise additional capital if it wants to follow through on its development plans."
Or this one where we dissected the bungled Brio Gold spin-out or this latest one where we discussed the implication of a tax liability in Brazil of which the company had been in denial until very recently.
The chart below compares Yamana's share price performance with peers (GDX) starting with the date of publication of the first article referenced above; it indicates a market in agreement with our negative view of its former darling.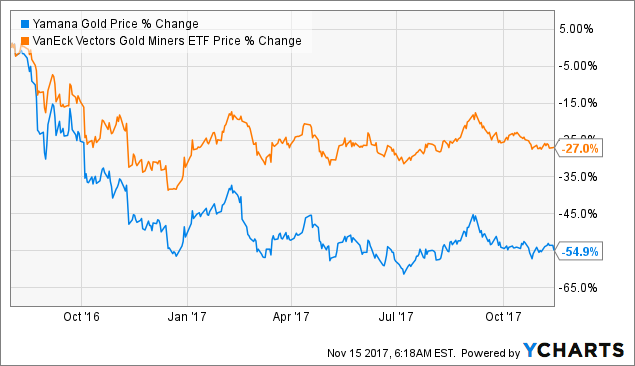 AUY data by YCharts
Yet, the company still represents a temptation for some, based on projected production growth from Cerro Moro, a high-grade precious metals mine in Argentina about to come online in 2018; and on a number of high-quality operating assets within Yamana's portfolio. The virtues of this alleged bull case are regularly extolled by management, and summarized in a recent article here on Seeking Alpha.
What both management and the linked article stubbornly refuse to address is a growing concern by investors that has become the driving factor behind this knife's continued fall: the company's balance sheet. At least such is our opinion. Having failed to find constructive discussion in the comment thread of said article we would like to provide a forum with this present piece. And before we open this forum for further discussion, here are some numbers gleaned from the company's financial statements to underpin our view, and set the scene.
The Status Quo
Yamana exited Q3 with negative working capital in the order of -$10M. The miner's working capital has rarely dropped below $75M which appears to be a threshold for being able to conduct consolidated day-to-day business in an orderly fashion. There are two main reasons for working capital dropping below Zero in Q3: firstly, $110M in long-term debt moving into the "Current Liabilities" section of the balance sheet as this debt is coming due within the next twelve months; and secondly, negative free cash flow as a result of heavy capex spending predominantly at the company's development project Cerro Moro.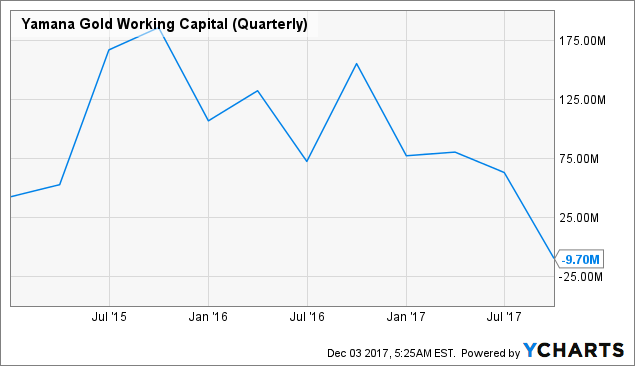 AUY Working Capital (Quarterly) data by YCharts
Something clearly had to be done; and on November 29 the company released pricing information for a planned issue of $300M unsecured senior notes. The market was not impressed and sold Yamana off 2.8% while peers remained virtually unchanged on the day. This debt hasn't been sold yet, but for the purpose of this post, we will assume it will get sold as anticipated by December 4 at the announced conditions (4.265% interest).
According to the news release, the new debt will be used to repay the mentioned $110M current portion of long-term debt, and repayments on the revolving credit facility. The former will bring working capital back to normal levels, and the latter will improve liquidity for now. Which brings us to Yamana's debt situation.
As of September 30, Yamana reported $1.642.5M in long-term debt, plus $110M in current debt as mentioned above. With the issue of the new $300M notes the current debt can be assumed to disappear, and for the sake of our model, we shall assume that the full remaining $190M will be used for repayments on the revolving credit facility. Following this logic, the company will exit 2017 with roughly $1.765B in long-term debt. The table below shows the effects of these transactions on debt maturities, assuming there are no further changes to long-term debt in Q4.

(source: Q3 financial statements, annotations by author)
There are three covenants placed on portions of this debt:

(source: Q3 financial statements, annotations by author)
The term "net worth" is defined as "total shareholders' equity and debt obligations (net of cash and cash equivalents)" in this context. Using end-of-Q3 numbers plus the above adjustments to the debt profile as a starting point we compute Yamana's net worth to:
$7.633B (shareholder's equity) + $1.765B (long-term debt) - $0.125B (_cash) = $9.273B.
Net debt computes to:
$1.765B (long-term debt) - $0.125B (_cash) = $1.64B.
As for EBITDA we are not given the exact rules as to how the banks compute EBITDA applicable to the debt covenant, but it should not deviate too much from the following calculations for the first three quarters year-to-date:
$120.3M (operating income) + $325.9M (depletion, depreciation, and amortization) = $446.2M
This averages out to an EBITDA of $148.7 per quarter, or roughly $600M per year after rounding up in order to give Yamana credit for a typically stronger than average Q4.
Let's check the three covenants using this data (referring to the order in the excerpt above).
(_a) tick. ($9.273B > $2.3B)
(_b) tick. ($1.64B / $9.273 = 0.176 < 0.75)
(_c) tick. ($1.64B / $0.6B = 2.73 < 3.5)
As expected the company hasn't breached its covenants. However, we take note of the limit stated in the leverage covenant (_c) which the company has come the closest to at the current point in time.
This concludes our snapshot of our take on the balance sheet after adding in the new $300M in debt. If we want to look ahead now, we need to make some predictions about cash flows in coming quarters. Let's do just that in the next section, and let's limit our outlook to the next year.
Cash Flow Outlook
Yamana has generated operating cash flows before working capital adjustments of $423.6M year-to-date, or $141.2M per quarter on average. Again, allowing for an above-average Q4 we are modelling $150M per quarter from currently producing operations.
Commissioning at Cerro Moro is scheduled to start towards the end of Q1, and we are assuming ramp-up to take all of Q2. We are modelling $10M in operating cash flow contributions in Q3, and $30M in Q4.
On the expenses side, we model Cerro Moro capex as guided by Yamana, with 2018 capex decreasing into Q3. We are modelling sustaining capex, growth capex, exploration expenses, dividends, and interest payments by extrapolating average previous quarter numbers. The table below provides the details, along with the free cash flow projections resulting from these numbers; the chart below the table shows working capital taking into account the resulting free cash flow (or lack thereof) based on a current starting value of $100M after repayment of the current $110M portion of the long-term debt as discussed earlier.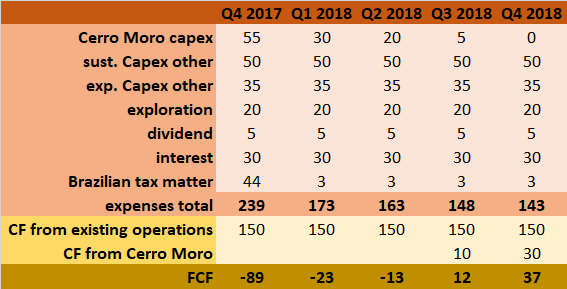 (source: author's work)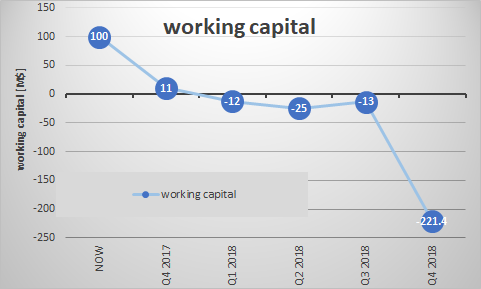 (source: author's work)
Quite clearly, current measures are not going to keep working capital at practicable levels for long. Due to heavy spending on Cerro Moro during Q4 and into the next year (and the Brazilian tax man) this chart predicts working capital to drop to only just positive by the end of the year, and below zero during Q1 - if no additional measures are taken. Plus, there is another significant drop deep into red territory at the end of Q4 2018 when another $245.4M portion of long-term debt will move into current liabilities.
According to these projections, we estimate that Yamana will need to find $100M in capital in early Q1; and another $200M later in the year in order to maintain its usual working capital position. The chart below shows the effects of these two capital injections on our model.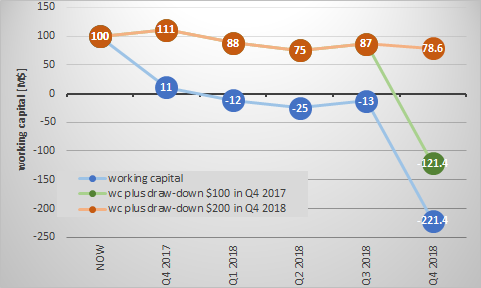 (source: author's work)
One might disagree formidably about individual assumptions in this model, but in essence the conclusion will remain the same no matter how one adjusts the inputs: Yamana will need in the order of $300M in capital during 2018 - $100M quite quickly to fund completion of mine construction at Cerro Moro, and $200M late in the year as long-term debt maturities become a pressing matter again.
So, let us look at the options at hand in a structured manner in the following sections.
Revolving Credit Facility
Yamana's revolving credit facility offers an obvious solution, at least on surface. Only $231.8M were drawn down from this $1B facility as of September 30, and our model assumed a $190M repayment from the new long-term debt earlier in this piece. Plenty of liquidity, one is tempted to think.
However, Yamana would be toying with defaulting on covenant (_c) should it draw down the full $300M needed in 2018. Such a move would bring the total debt/EBITDA leverage up to around 3, which is too close for comfort to the limit of 3.5 - and it wouldn't need much of a drop in the gold price with the associated decline in EBITDA to bring on default.
It is for this reason that we spoke about balance sheet concerns; Yamana needs capital in 2018, and it cannot easily cover these needs from existing liquidity. The mix will most likely include the revolver; but also other sources.
Other Capital Sources
In the order of probability here are some other tools for Yamana to raise capital in the not-too-distant future.
Asset sales are another measure Yamana is likely to take. The Brio Gold (OTCPK:BRRGF) spin-out was a disaster, and has left Yamana holding 55.6% of the newly formed company even after the June secondary offering. Brio Gold has not performed very well at all since it started trading on the TSX early in 2017, and for good reasons in our opinion. At the current share price, the company's market cap is $173M (C$220M), and Yamana's stake is worth $95M - in theory at least, as try as it might Yamana hasn't been able to off-load this stake so far.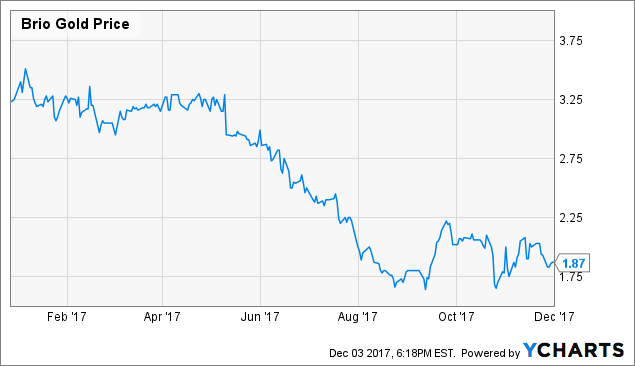 BRIO data by YCharts
Gualcamayo is the other asset Yamana is allegedly trying to sell. Rude Otto was in fine form not long ago when he told the world about this rumor that has been making the rounds for a little while. Due to Yamana's capital needs the company does not find itself in a strong position to negotiate this sale, and the eventual sales price might well fall short of presently alleged management expectations (i.e. $300M according to Rude Otto). Still, a sale of this mine in Argentina should alleviate Yamana's capital needs in the short term; and would put a long-term dent in the company's cash flow generation, and consequently its valuation.
Another equity issue is another option Yamana might decide to pursue, but not a very attractive one at the present share price. However, Yamana has already added shares to the registry twice throughout the bear market, the last time at just over $4 (C$5.30) and we won't completely dismiss this option at this stage, especially if asset sales fall through.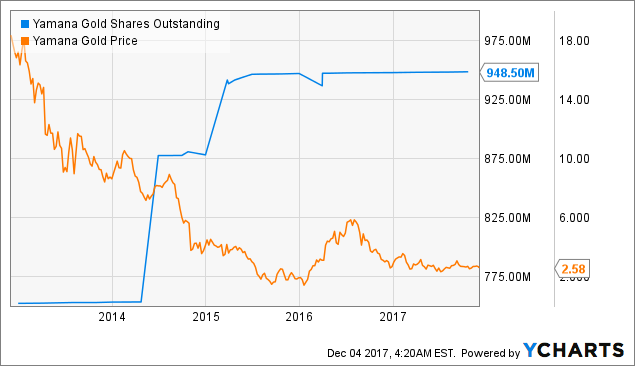 AUY Shares Outstanding data by YCharts
And finally, Yamana could sell stakes in its operating projects. It has done so already and Sandstorm Gold (SAND) was the beneficiary back in 2015. It might do so again, but we view such a move as the least likely.
Takeaway And Investment Thesis
We agree with bulls pointing to the company's portfolio of quality assets, and we understand how it is tempting to own a piece of this portfolio. The addition of Cerro Moro will only add to this allure. However, due to the discussed concerns about Yamana's financial position we are not prepared to invest in Yamana shares at this point in time. Sandstorm Gold was mentioned above, and indeed the streamer offers significant exposure to some of the best assets in this portfolio (Cerro Moro included) without the described headaches; and Altius Minerals (OTCPK:ATUSF) is another name achieving the same, albeit to a lesser degree.
As for Yamana, we note that the company has started to address its pressing capital needs by pricing a $300M debt offering. In assessing the company's balance sheet, and near-term capital requirements it becomes apparent very quickly that more activities to raise cash will be needed shortly. Debt covenants will most likely prevent Yamana from funding all 2018 capital requirements solely from the revolving credit facility (or other debt instruments). We believe that assets sales will be the most likely additional measure, and we are speculating that a sale of Gualcamayo will be the action of choice (assuming Brio Gold remains unsellable).
The recent announcement regarding the new $300M debt has not been viewed favorably by the market, and further actions will likely cause similar reactions. Yamana has stretched its balance sheet to the limit, and we submit that any measure to manage the current balance sheet situation will be perceived as a loss of shareholder value with the associated effects on the share price.
We would also like to note that our model is not overly conservative, and there are several risks that may add to current pressures. For example, we assumed flawless execution in bringing Cerro Moro online. We also did not account for the pending court case in Argentina which has the potential to add significantly to capital needs. We also assumed no further management missteps, which in itself would represent a welcome step-change for investors.
In conclusion, we are still filing Yamana under AVOID at this stage; and should any of the risks listed above materialize then Yamana could well turn into a high conviction SHORT opportunity very quickly.
And Before We Go...
Please consider a subscription to Itinerant's Musings, with exclusive access to our small and mid-cap ideas, a lively community, and regular commentary and outlook on metal prices. We'd love to have you on board.
Editor's Note: This article discusses one or more securities that do not trade on a major U.S. exchange. Please be aware of the risks associated with these stocks.