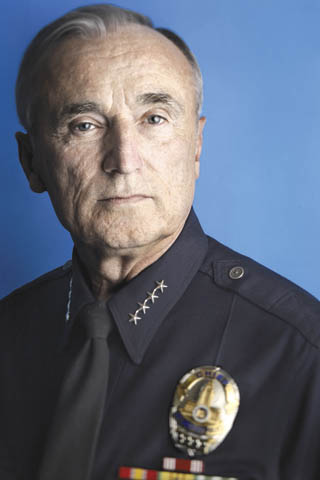 Bill Bratton, former NYPD Police Commissioner and new ShotSpotter Director
Background
ShotSpotter, Inc. (NASDAQ:SSTI) creates systems that detect gunshots. It can pinpoint the exact location of the gunshot and type of weapon used. The company does this by placing noise sensors throughout the area served. It takes three or more sensors to pinpoint the location. A report of the time and location of the gunshots is immediately analyzed by the company and sent to the local police usually within a minute. It currently serves over 90 cities in the U.S., primarily in higher crime areas. ShotSpotter has no existing competition and none who have announced they plan to enter the market. I see ShotSpotter as similar to an alarm company (such as ADT or alarm.com). Like them they have mostly recurring revenues from long term contracts and the service provided is alerting the police to trouble. This makes ShotSpotter's revenues quite predictable if you know the new business coming on. ShotSpotter's sensors are increasingly tied to cameras provided by other vendors. This makes the system stickier.
This article is a follow-up to my prior article dated September 29, 2017, found here. For much more on ShotSpotter, including background, catalysts, barriers to entry, competitive advantages, a valuation, and concerns please read the original article first before proceeding.
This article focuses on the MOXReports hit piece, impending lock up expirations, an update on financial results and a potential new catalyst.
Recent Short Attacks
I don't mind short position articles as I myself occasionally take a short position and have written a few myself on Seeking Alpha. Recently two such articles were written about ShotSpotter. I previously wrote a favorable piece on ShotSpotter on September 19 th. The stock subsequently had a strong run up over 50% and I took my profits. It then fell back to where it was when I wrote the article on no news other than the two articles. I have re-entered my position as my evaluation of the two articles is they have little merit. The primary article was written by MOXReports. I will focus mostly on that one below.
A second one by Don Dion in Seeking Alpha focused solely on the coming IPO lockup expiration. Mr. Dion's only point is the stock had run up considerably and many restricted shareholders would take their profits. This point is mostly no longer valid due to the subsequent drop in the stock price.
MOXReports Article
MOXReports is a short shop run by Richard Pearson. It has published reports on over 40 companies over the past five years. Despite this, it is relatively unknown. It's website (moxreports.com) has almost no traffic according to Semrush. On November 21, 2017, it issued a hit piece on ShotSpotter, Inc. MOXReports had eight claims, each of which are discussed and refuted below. Their claims are in parentheses followed by my response.
1. "Uninterrupted history of failure. After a 23 year history of uninterrupted commercial and financial failure, ShotSpotter was suddenly publicly hyped in 2017 as an innovative high tech solution to gun violence, so that it could come public in an IPO by Roth Capital. For two decades ShotSpotter has had repeated brushes with outright insolvency."
This point is irrelevant. Like many of technology and biotech companies, ShotSpotter had many years of losses and improving its technology before taking off. Things really started moving when the current management arrived. CEO Ralph Clarke was hired in 2010 and initiated the game changing command center in 2011. Most of his management team arrived afterward. CFO Alan Stewart came on board in February, 2017. The past has no bearing on the current explosive growth with no competition by the company, other than given ShotSpotter lots of tax loss carry forwards to use in the future.
2. "The IPO was arranged as the only exit for insiders from a business that has been unable to succeed for more than 20 years. The purpose of this IPO was simply to allow insiders and PE investors to exit an otherwise unsellable, money losing investment. On December 4th, 8 million shares will be released from lockup, allowing these investors to finally sell. Ahead of that lockup expiration, ShotSpotter juiced its revenues by pulling forward nearly $1 million of revenues from a cancelled Puerto Rico contract and then failing to disclose other contract cancellations."
First of all, there are not 8 million shares under lockup, it is 6.3 million, which is the total shares held prior to the IPO. Secondly, no insiders or other existing shareholders sold shares in the IPO. In fact they were buyers.
The insider and large institutional holders prior to the IPO are shown in the chart below.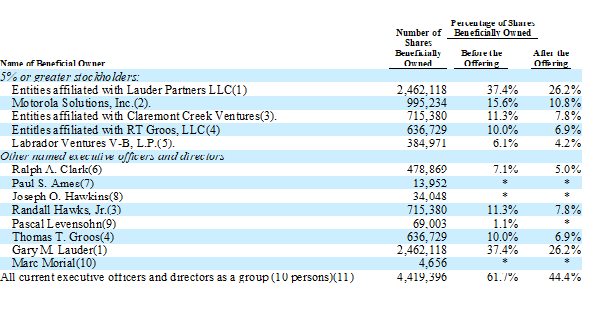 Source: ShotSpotter Form S-1
The two largest insiders were Director Gary Lauder and CEO Ralph Clark. Both were actually buyers at the IPO. Their buying level is unusual for an IPO. CEO Clarke bought 13,636 shares and Director Lauder bought 91,000 shares. Additionally, CFO Stewart bought 9,090 shares. Messrs. Clarke and Lauder make up close to half of all the locked up shares. The current stock price is similar to that at the IPO which does not make sellers taking gains. Director Lauder is the largest shareholder by far. He has been an investor for over 15 years. It is unlikely he will start dumping shares now that things are finally taking off after 15 years of waiting. This is especially so since he was recently a buyer. Director Lauder is part of the Estee Lauder family and is very well off so he doesn't need to sell. On November 20th, 2017, CEO Clark exercised 10,000 options and kept all the shares. This indicates he is more likely to buy than sell.
CEO Clark and Director Lauder are close to half the locked up shares. If they hold, there will be moderate pressure at most on the stock after December 4 th.
3. "ShotSpotter. Does. Not. Work. Period. Reams of hard data prove quite conclusively that ShotSpotter simply does not work. This is why ShotSpotter has repeatedly been unable to maintain customers or generate any profits despite 20 years of trying. Actual documented success rates of less than 2%, with 70-80% of all alerts being unfounded or false alarms."
Firstly, MOXReports evidence is anecdotal and mostly predates ShotSpotters move to its command center model. This move to a command center is very important and totally ignored by MOXReports. This happened for all new customers in 2011. Existing customers were subsequently moved there with the last just this year. Previously, ShotSpotter sold its systems to police departments and the police monitored the system to analyze the sounds recorded. Several years ago, ShotSpotter switched to a command center model, where it monitors all sounds and reports them to the police, usually within a minute. This has led to much less work and expense for the police and much better trained sound analysts. Complaints about ShotSpotter have significantly declined since then and business has boomed.
Secondly, every police department does significant due diligence prior to buying ShotSpotter's system. Investigations is what police departments specialize in (duh?). The decision is often political and involves a lot of eyes watching the process. After the contract is signed, the system is then tested with numerous firearms, often supplied by the police.
MOXReports pointed to several articles that questioned ShotSpotter. I have included links below to many more, mostly more recent ones, by major media outlets that support ShotSpotter's technology.
Miami Herald 9/29/17 ( this article directly refutes MOXReports claim that Miami is out)
Washington Post 4/23/16 and 5/10/17
WCPO News Cincinnati 8/19/17
4. "Customers explicitly state that ShotSpotter does not work and fully confirm the hard data. New customers keep canceling. Following their cancellations, former customers confirm categorically that ShotSpotter simply does not work. Including major "trophy" contracts such as Baltimore, Miami, San Antonio and Oakland."
MOXReports supports this statement by listing seven cities that cancelled the service based on inadequate results over the past five years. Those cities were Miami, Baltimore, Charlotte, Oakland, San Antonio, Fall River (MA), and Troy (NY). First of all, Oakland and Fall River have not cancelled their service. Miami is actually expanding. San Antonio appears to be leaving but hasn't yet.
Secondly, MOXReports statement is entirely one sided. ShotSpotter has in fact grown significantly over the past five years and recently announced seven new cities just in the second quarter of 2017. Turnover, or churn, is a part of every business. MOXReports statement is one sided and ignores that much more business has been gained than lost. ShotSpotter's churn is relatively low. The retention rate was 112% in 2015 and 127% in 2016. This means existing customers are adding significantly more mileage than they are cancelling. The company would not have given a 41% increase in revenue guidance for revenue in 2018 if they were concerned with retention.
5. "ShotSpotter employee testimony (under oath) states that data presented to law enforcement is outright fabricated."
"Paul Greene, a forensic analyst with ShotSpotter and an expert witness in Reed's trial, testified on Thursday in San Francisco Superior Court about the technology's accuracy. Manufactured by the SST in Newark, Calif., ShotSpotter guarantees accuracy 80 percent of the time…Our guaranty was put together by our sales and marketing department, not our engineers"
ShotSpotter's 80% guaranty is not a marketing thing. It is a warranty by the company that could lead to contract adjustments or additional equipment costs if not met. Due to advances in research and development, the company has recently increased that warranty to 90%. All systems are tested at installation by numerous firearms.

" In addition, in a prior deposition, Greene revealed that ShotSpotter has faced at least five separate court challenges to the validity of the science behind it."
The "court challenges" referred to are challenges to evidence in criminal courts by defense teams. They are routine by defense teams in a criminal case. Neither I nor MOXReports could find any evidence that any evidence provided by ShotSpotter has ever been disregarded by a court of law.
6. "Aggressive tactics to conceal, distort or prevent outright the release of the "damning" data. Internal memos reveal aggressive tactics by ShotSpotter to thwart FOIA requests by journalists and universities seeking transparency into government spending on ShotSpotter. Deliberate steps to legally gag police forces from disclosing the negative data. The data being withheld is the same data that categorically proves that ShotSpotter simply does not work."
What ShotSpotter is doing is standard in most businesses. They are telling their clients that information collected for their clients belongs to ShotSpotter and the client and no one else. There are many reasons ShotSpotter may be doing this. First of all, while its not part of their business model, its possible they may be able to charge for data pools in the future. They could also do it for competitive reasons and to avoid false attacks like MOXReports.
7. "ShotSpotter fails to disclose major contract losses ahead of lockup expiration. In its November earnings call, ShotSpotter indicated clearly that only one contract had been lost. Below I show the proof that 3 more contracts have been lost but not disclosed by ShotSpotter ahead of the lockup expiration."
MOXReports pointed to three contracts; San Antonio, Fall River (MA), and Oakland. Oakland is not a loss. It is a situation where Oakland has decided not to go forward with an expansion. The other two may simply be timing, in that the contract did not end in the quarter. In the Fall River situation, there is a mayoral race and the challenger has stated he wants to expand ShotSpotter. ShotSpotter's system is not cheap. At any given time, a police department may make a financial decision not to continue with it.
8. "ShotSpotter makes diametrically opposing statements to law enforcement, journalists and university researchers, depending on its financial interest in each situation. ShotSpotter presents one set of facts to law enforcement when selling its product to government payers. It then presents the opposite "facts" to parties trying to investigate spending on ShotSpotter and its effectiveness. ShotSpotter also presents additional "facts" which contradict its own data when marketing the product. The government payers who buy ShotSpotter are relying on the wrong data."
The "Government payers" in this case are police departments. Police departments are a strongly bound fraternal group that talk to each other. Police departments do extensive due diligence and test new technologies like ShotSpotter. Investigations is what they do for a living. It is easy to test, just fire off a few rounds in the range of ShotSpotter's sensors. But it is hard to game 90 customers who do investigations for a living.
Earnings Update
ShotSpotter announced earnings for the third quarter ended September 30, 2017 on November 7, 2017. Revenues totaled $6.85 million up 72% from $3.98 million one year earlier, and 17% from one quarter earlier. The company raised revenue guidance for 2017 from $21.5 to $22.5 million $23.0 million. It also introduced revenue guidance of $30.0 to $32.0 million for 2018. At the midpoint, that is a 41% increase in revenues in 2018, after a guidance raise in 2017. That percentage is above the 2016 increase but below the 2017 increase. Operating results over the past three years is shown below.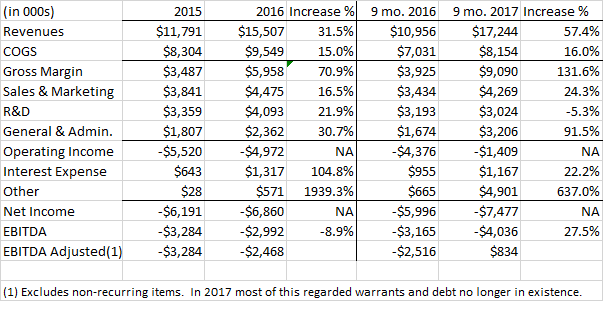 Source: Author's calculations from ShotSpotter SEC forms 10Q and 10K.
Note that ShotSpotter no longer has any interest bearing debt so interest expense is now zero. The biggest change from the second quarter to the third besides the big increase in revenues is a large increase in sales and marketing from the second quarter. The company is putting the pedal to the metal to drive future revenue growth. It is important to note that cost of sales and R&D are not growing much despite the huge increase in sales. This means a large portion of future revenue increases will fall right to the bottom line, especially since the company has a huge amount of tax-loss carry forwards. The command center can handle a lot more work with little new investment. R&D is to make the current system better, faster and cheaper. Advances in the warranty rate to 90% show the progress being made. Improvements in earnings and EBITDA due to lower COGS and R&D expense percentages have been happening over the past three years.
Adjusted EBITDA (excluding an impairment and debt prepayment cost) totaled $552,000 in the third quarter of 2017.
Other Significant Updates
On November 15, 2017, the company announced that Bill Bratton has been elected a director of the company. This is huge for ShotSpotter, as Mr. Bratton is arguably the best-known active police executive in the country. He has served two terms as the Police Commissioner of the NYPD, stepping down the second time last year. He also served as the Police Commissioner of the LAPD from 2002-2009 and the Boston Police Department from 1993-1994. If there was any question as to the credibility of ShotSpotter's system it was removed by this election.
On December 1, 2017, it was announced ShotSpotter has been added to the MSCI U.S. Micro Cap Index. This index had 991 companies in it as of October 31, 2017. While not a major index, it is an important step for ShotSpotter which had only 31% of its stock held by institutions as of September 30, 2017, due to its recent IPO. As more indexes and institutions start buying it will put upward pressure on the stock.
ShotSpotter is now covered by three analysts, each of whom have a buy rating.
Valuation
In my last article on ShotSpotter published September 29, 2017, I had a one year price target of $18.50 and the current price was $12.90. ShotSpotter stock actually surpassed my target after my article, reaching a high of $20.15. It then took a round trip back to the current $13.20 due to the MOXreports article and the pending lockups expiration. Neither are a major concern in my opinion due to the reasons previously given. There is a chance there will be some locked up shares selling but that impact will be temporary.
The stock currently trades at about 6X revenues and 4X next years guided revenues. This is not high for a growth stock growing revenues at over 40%. Those stocks routinely get 10X+ revenues, especially when there is no competition. Pressure to adopt ShotSpotter's system has only increased lately with recent mass shootings. Additionally, cash on the balance sheet currently represents 15% of the market cap and there is no interest bearing debt.
Since my last article there was a strong revenue advance last quarter and the guidance for 41% revenue growth next year. I had modeled for only a 20% revenue advance next year. Based on these two factors, my new price target is raised from $18.50 to $20.00.
Disclosure: I am/we are long SSTI.
I wrote this article myself, and it expresses my own opinions. I am not receiving compensation for it (other than from Seeking Alpha). I have no business relationship with any company whose stock is mentioned in this article.