Galectin Therapeutics (GALT), the leader in NASH will unveil its highly anticipated phase 2b pivotal clinical trial results in early December. If the market serves as any guide it has completely discounted any positive result. A NASH drug that works is worth anywhere between $2 - 5 Billion based on Allergan's (AGN) purchase of Tobira for $2.1 billion. Ever since Intercept Pharmaceuticals (ICPT)'s FDA warning letter there has been a contraction of value in the NASH space and ironically ICPT's loss of market cap has not been made up by the other players in NASH like Genfit (OTCPK:GNFTF) Cognatus (CNAT) or GALT. Investors need to realize that the FDA warning letter didn't magically shrink the size of the NASH market in half. The epidemic still exists and continues to grow and there should have been a transfer of market cap from the loser ICPT to a winner. This gaping divergence exists in the NASH space and might see a resolution on GALT's NASH CX trial results.
NASH Stocks - Market Cap Should be Increasing
The pure play NASH stocks lead by ICPT with its Breakthrough Therapy designation was on track to hit a total market cap for this basket of stocks of $5.0 Billion by the end of 2017. As estimates of the disease increase so should the market capitalization. The derailment happened on Sept 21, 2017 when the FDA warned doctors after 19 Deaths due to Ocalvia. There was a loss in the basket of pure play NASH stocks of almost $1.5 billion in market cap. The disconnect from the market reaction on this news is that participant correctly discounted ICPT's shares but investors didn't buy any of the other players. Right now there is about a $2.8 billion void in the basket of these NASH stocks as the market has failed to find a leader but in truth the most likely leader should have been the next company due to report pivotal trial results and that clearly is GALT with top line trial results due in early December. Since ICPT's fall only GALT and MNOV have had any gains in market capitalization and they have been paltry at best. The market has completely discounted any favorable result by GALT.


Author Graphic
Allergan and Gilead (GIL) are big pharma stocks that have very diversified pipelines and definitely do have exposure to NASH but it's virtually impossible to create a model that captures what part of the market cap is made up of NASH so they weren't included in the illustration. However, AGN made a cash purchase of Tobira and that data point can be used.
Strong Case for Efficacy in Upcoming Pivotal NASH CX Trial
On November 13th GALT announced some of the best Phase 1 clinical trial results in cancer that the world has ever seen. Phase 1 clinical trials are all about safety and complete responses are never expected with refractory patients. The trial is being run by the Providence Cancer Center which contains some of the most brilliant minds in Immuno Oncology (I-O) but they have a very academic approach and care very little about commercialization. It's for this reason that the trial is still stuck in a Phase 1 despite well over 3000 doses given in the combination of other trials with no SAE's to date. The linkage between this melanoma trial and the NASH trial is the target protein Galectin-3. Studies show the Galectin-3 is responsible for Tumor Immunity AND the liver Fibrosis in NASH. The rationale that the NASH trial will be equally if not more successful is based on the notion that the drug GR-MD-02 binds to the Galectin-3 target. An argument can be made that the diseases are different so there might be no efficacy at all but this argument falls completely apart when the Galectin-3 has been targeted in THREE other human clinical trials. In atopic dermatitis the EASI dropped by 50% and in psoriasis the PASI score dropped by over 50% in refractory patients clearly indicating efficacy. Then the phase II trial results of TD139 showed a slowing the disease in Idiopathic Pulmonary Fibrosis (IPF). There are currently 5 human clinical trials in the world using a galectin blocker drug and 4 have reported human trial results have hit the ball out of the park. When the mouse studies are correlating 100% to human trials how can investors think that NASH is going to be different and not hit the ball out of the park?
Investor Disconnect on the FX trial
The reason for this disparity in expectations for the NASH CX trials traces its origins back to the CEO presentation on the NASH FX trial in September 2016. Instead of effectively communicating to the investment public that the trial was one of the most poorly designed trials in the company history, the CEO doubled down on the rhetoric and said it "did not meet is primary biomarker endpoint" so as not to look bad for wasting shareholder funds on an unnecessary trial. In truth it did fail to meet its endpoints, but its equivalent to doing a trial on plaque psoriasis skin disease and using blood pressure as an endpoint. In this example the trial should be measuring the psoriasis not the blood pressure. The FX trial used imaging that was already known to be an unreliable diagnostic to measure minute changes in disease instead of liver biopsy. The company didn't take one biopsy which is the FDA gold standard when measuring fibrosis. Investors who have relied on the past performance of the FX trial to gauge results of the CX trial have made an egregious error in logic. The NASH FX trial was a complete waste of money except for the safety data. The trial could have been saved had the protocol required patients to submit to a biopsy after a year but that data is unknown at this point. Investors who use this as a basis to short the stock could be in for a very rude awakening in the coming weeks.
Landscape of NASH Post Announcement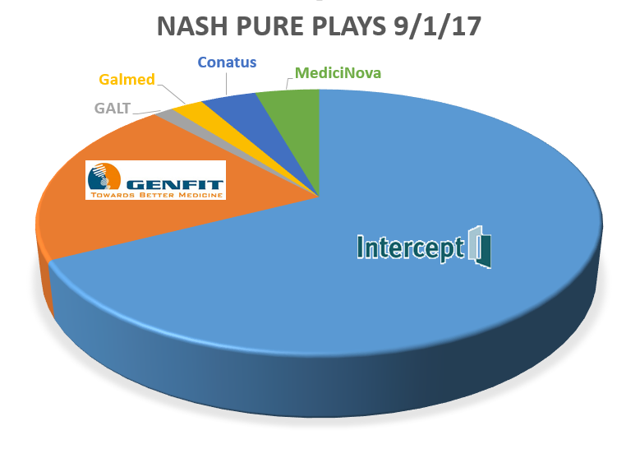 Author Graphic
As mentioned earlier there is a gaping void of $2.1 billion for leadership in the NASH pure play stocks. This is a divergence, and they tend to correct themselves rapidly but it has been almost 3 months that this basket of stocks has been leaderless. A newly crowned leader should rise from this group and the most likely candidate is GALT but investor disconnect is at epic proportions given the possibility of registration shortly after the announcement of the trial results. GALT has phase 2b pivotal trial results due in early December. Are these trial results discounted in the stock? The answer is NO which means if they have bad results it might not go down that much because nothing is baked into the stock price the question is how much will it go up if there are slightly positive news and how much if it meets the endpoint meaning registration is a foregone conclusion.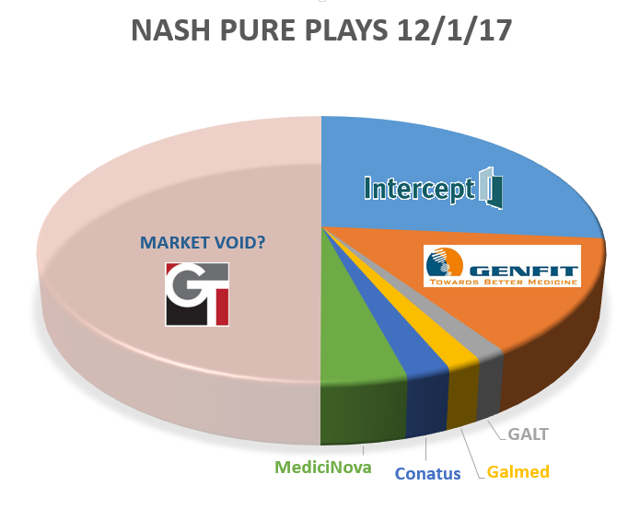 Author Graphic
The graphic depicts the massive shrinkage of the market cap by 50% of the pure play NASH stocks. One of these players has to fill that market void because NASH disease has not shrunk by 50%. The market can sometime act as a discounting mechanism. At this current time GALT's market cap sits at roughly $85 million out of a total potential market of $5.0 Billion which represents 1.7%. In simpler terms this means at this time there is barely a 2% chance that the market thinks GALT will become the leader. Conversely the market has essentially stated that there is a 98% chance that results will flop because there has been no expansion in market cap going into these pivotal trials. Hypothetically if GALT reports positive results and is perceived the new leader in NASH there is a 50% market void it can capture overnight. Assuming a $5.0 billion market size for just the NASH pure plays that means a revised market cap of $2.8 Billion for GALT. Assuming full dilution that prices GALT at $56.00 after the announcement within a couple of weeks.
Frenzied Valuation Possible
There are 36 million shares outstanding, with close to 50% of the stock locked up with insiders. That leaves only 18 mil left in the float. Out of that float key long term shareholders comprise an additional 8 million based off of shareholder voting results from last year. There is an extremely large base of long term shareholders with holding periods well over 3 years. This leaves only about 10 mil shares in the hands of traders. If GALT meets its endpoints of this pivotal trial then they will be the undisputed leader in NASH with Cirrhosis. The NASDAQ short interest reports shows only 1,093,146 of short interest. Fear of rising price will unlikely propel a short covering rally with such a small percentage short, but if there are sizable price gains it will bring a lot of media attention as ICPT did with their results. If Breakthrough Designation is talked about then media attention from CNBC and Fox Business could pick of the story and lead to another round of buying as they bring attention to the neglected cancer franchise which is worth billions in its own right. As the news agencies dig deeper to compete with each other they will uncover the galectin platform and the other 20 diseases that are effected by galectins including diabetes. It's conceivable that analysts will feel pressured by the media to get into the action and upgrade the stock. The risk of positive media exposure is extremely high given that any level of efficacy could mean relief for the largest epidemic in the world.
Investment Strategies Dissected
If GALT's trial results are even slightly positive they will become the undisputed leader in NASH since they will be the closest to marketing approval. So if investors are long GALT they should experience multiples of their money in short order. If they are wrong they could see their stock chopped in half. For the aggressive investor willing to bet on a 4 out of 4 record in galectin blockers predicting efficacy from mice to human clinical trials, going long the stock or options is the way forward.
The most risk adverse way to play this event is by shorting a basket of NASH stocks into the announcement or buying puts. If they fail the results there will likely be no fallout pushing these NASH stocks higher. The reason is that current $100 mil market cap of GALT might fall to $50 million and the theory is that $50 million loss would translate into a gain amongst the NASH stock. Given the gargantuan market cap of these other players a $50 mil gain barely moves the needle. This means there is little to no downside risk and very large short term potential profits as the NASH sector implodes on a positive announcement. For example if GALT is successful AGN's $2.1 billion investment in Tobira is virtually worthless. That represents a roughly a 3.75% loss of market cap on the news maybe more because there might have been expectations that they were going to succeed. Currently at $170 they might drop $6-7 on the news. Based on current December options pricing investors could see a double on their options assuming the standard December expiration.
The most lucrative play is to short ICPT because on bad new they seem to be going down like a step function and lost 50% on the last news. The premiums on the options seem extremely low but the spread on these illiquid option series must be considered. The 60 put makes the most sense with the highest open interest and a theoretical price of $2.67. A $30 drop or 50% move would mean roughly a 10X return in a week.
Disclosure: I am/we are long GALT.
I wrote this article myself, and it expresses my own opinions. I am not receiving compensation for it (other than from Seeking Alpha). I have no business relationship with any company whose stock is mentioned in this article.
Additional disclosure: I am short ICPT
Editor's Note: This article covers one or more stocks trading at less than $1 per share and/or with less than a $100 million market cap. Please be aware of the risks associated with these stocks.