Latest data confirmed that US economic outlook remains solid.Q3 GDP rose by 3.3%, higher than the 3.2% previously reported, and the Conference Board consumer confidence index soared in November to 129.5, anticipating an acceleration of consumer spending in the coming months. The ISM manufacturing index, albeit slightly down to 58.2, remains at a level in line with a 4.7% GDP growth. Positive indications also came from the housing market, with new home sales up 6.2% to 685k, well above economists' expectations for a 6.1% drop, and the S & P Case/Shiller house price index jumped 6.2%.
During the week, the most important economic event in the USA will be the release of the labor market report for November. We expect the report to confirm that US economy has remained solid, with non-farm payrolls rising by 250k and the unemployment report down from 4.2% to 4.1%. In our view the focus will be on wages trend. Wages are expected to rise 0.2% m/m and 2.4% y/y, from 2.5% y/y in October. It would be in line a moderate growth rate of consumer spending in the months ahead and with a moderate increase of inflation. The data on the labor market would be indicate that the most likely scenario for the US economy is of a continuation of a 2.5% grow rate at the tail end of the year.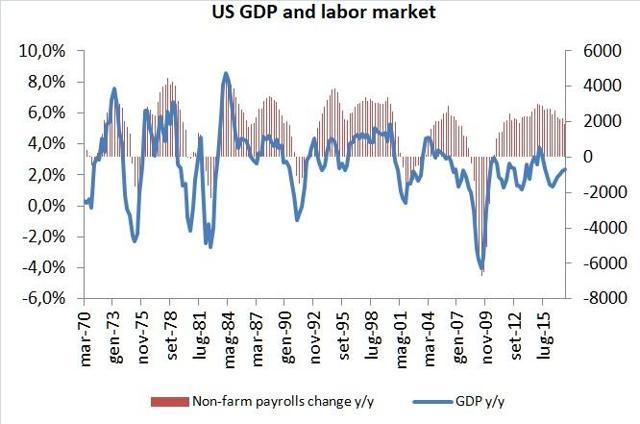 The ISM non-manufacturing index for November should confirm the positive economic scenario even if it is expected to slightly decline from 60.1 to 59.3.
The Euro zone economy also continues to show sign of strength. The clearest indication over the last week came from the EC Economic Sentiment Index, which rose to 114.6 in November, a value in line with GDP growth of 0.7% q/q in Q1 '18.

In the coming week, the most important data to be published in the Euro zone are German factory orders and industrial production for October. The first are expected to shrink 0.5% m/m after the strong hikes in the previous two months, while industrial production is expected to rebound by 1% m/m after the unexpected 1.6% m/m drop in September. The underlying trend of the German industrial sector remains positive, as indicated by IFO business confidence index, at an all-time high of 117.5 in November.