General Electric (GE) has possibly been the most hotly debated stock in the market for the past couple of months. We all know why so I won't rehash it here, but the recent dividend cut as well as a cacophony of negative analyst sentiment has sent shares to multi-year lows yet again. I was bearish on GE for a long time and the reasons why I was bearish came to fruition. But of late, I have thought there was some value to be had in GE at these levels.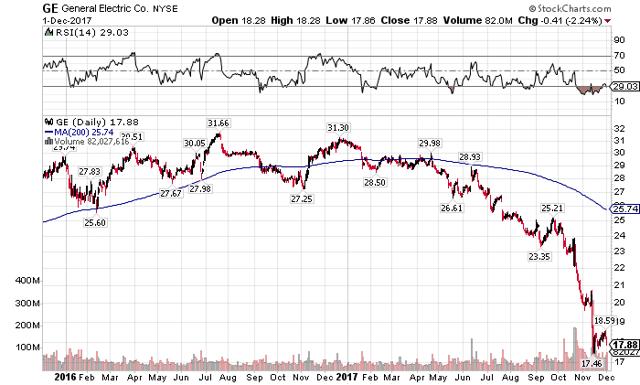 The chart is really ugly
There are many challenges facing GE shareholders but the first one is the technical picture of the chart. We can see the extent of the damage that has occurred just in 2017 as GE has been nearly cut in half this year. In addition to that, GE's 200DMA is one of the steepest slopes I've seen for that particular indicator, which certainly isn't a compliment. The good news is that the stock has been oversold for a few weeks now and is beginning to stabilize, so it looks like at least a temporary bottom is in. But given the state of the chart, GE bulls certainly have an enormous amount of work ahead.
Flannery is doing the right things
However, that doesn't mean all is lost. We could talk about the valuation or any number of things. But right now, I think what matters is what Flannery is doing and what sentiment looks like. For one thing, we know that GE under Flannery is going to continue the work of divesting non-core assets, although much of that has been done. In addition, he has proven he's willing to make difficult choices, which unfortunately require things like layoffs, something the Power business experienced last week. Nobody likes to see people get laid off but GE is very obviously at a point where such things are necessary. The fact that Flannery is willing to make some fairly drastic moves to right size the business means that once the pain is over GE should be in a much better spot than it is now. Given the enormity of the challenges ahead, that's an important thing to consider. I didn't consider Immelt to be an effective leader and while Flannery is just getting started, early signs are good.
In addition to that, GE has shaken up the board. The 18-member board in its old form is ludicrously sized as it would be challenging to get any group of 18 people to decide on anything, much less running one of the world's most complicated companies. The smaller board will be great and I'm hoping that shareholders will demand better of the people running GE, some of which is Flannery's job to get right. It has become pretty apparent to me that Immelt was largely just collecting his checks – just look at the stock price - so we've moved on to something better with Flannery, but he's got a lot of work to do. The board shake up is another big step in the right direction.
Further, we've seen a string of insiders make some pretty sizable stock purchases, including Flannery himself. Nothing talks like open market purchases because executives are taking money they've already made and deciding the best place to invest it is in company stock that they already own a lot of. In other words, these look like high-conviction buys to me and investors listen when this sort of thing happens, and for good reason. There are lots of reasons to sell stock but only one reason to buy and it looks to me like the people running GE are pretty confident we are near a bottom. After all, they've collectively put millions of dollars of their own money on the line to show it.
Sentiment is turning higher
On to sentiment now and to be honest, this is probably the most important piece of the bull argument right this second. You're in a bad spot if that's the case because sentiment only becomes the most important thing if everything else has fallen apart, and that's exactly where GE is right now. On the plus side, analysts have been hammering GE for weeks now, including those at Deutsche Bank, who feel the stock is worth $15. Will GE go to $15? Perhaps. Anything can happen. But as a long-term value that seems very low given that GE's trough earnings level appears to be about a dollar and that if even small signs of a turnaround emerge, $15 won't happen. DB could be right if GE continues to fall apart. But given the kitchen sink guidance from the Q3 report that led to those price target cuts in the first place, that seems a low probability event to my eye. To be clear, I'm not saying a gigantic rebound in earnings is coming for GE overnight. This process is going to take some time. I'm simply saying that the worst of the cuts is over and that's very helpful for sentiment. In turn, sentiment is driving the stock price right now, meaning GE should begin to recover on that basis.
Finally, the ratings agencies have had their day as well with Fitch coming out with its note cutting GE and GE Capital as well as putting the company on a negative outlook. Obviously, those aren't positive developments. But at the same time, it was pretty widely expected. GE cut its dividend solely because it couldn't afford to pay it any longer and Fitch knows that GE isn't out of the proverbial water yet. The downgrade hurts but was expected and – just like the price target cuts – is one more thing that removes uncertainty from the stock. These things have to be fleshed out for sentiment to bottom and to my eye, the process is well underway in terms of getting all of GE's dirty laundry aired. That's important for those of us that think happier days are ahead.
The bulls have the odds in their favor here
I'm not going to sit here and say that GE is going to double in the next year or two because it won't. There are way too many operational issues for that to be the case. However, I do think that the enormous string of bad news that has come out has the makings of what the bottoming process will look like for GE. We've seen this before with other stocks that have hit the wall and this is generally – in my experience – what it looks like. It isn't that GE cannot go lower. But the odds look like they are in favor of the bulls here. I mean seriously, what else could go wrong?
Disclosure: I am/we are long GE.
I wrote this article myself, and it expresses my own opinions. I am not receiving compensation for it (other than from Seeking Alpha). I have no business relationship with any company whose stock is mentioned in this article.