John Hancock Financial Opportunities Fund (NYSE:BTO)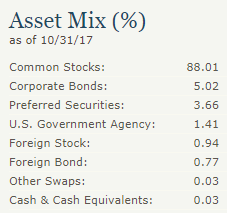 Objective: Deliver a high total return through current income and capital growth
Strategy: Invest up to 80% of the underlying portfolio in common stocks of Financial Institutions
Modest income to supplement your return
Granted the fund offers a higher yield than the comparable Vanguard Financials ETF (NYSEARCA:VFH), a 3.94% current yield isn't amazing for a closed-end fund that utilizes leverage and invests in dividend paying bank stocks. I give credit to the fund managers for at least maintaining a consistent distribution that is trending higher. The lower than average quarterly payout is something to consider before purchasing.
While Return of Capital distributions allow for tax deferral until cost basis is recovered, they can be a sign the fund isn't in great financial shape. The last three distributions have a good portion categorized as RoC. The distributions are otherwise fully taxable.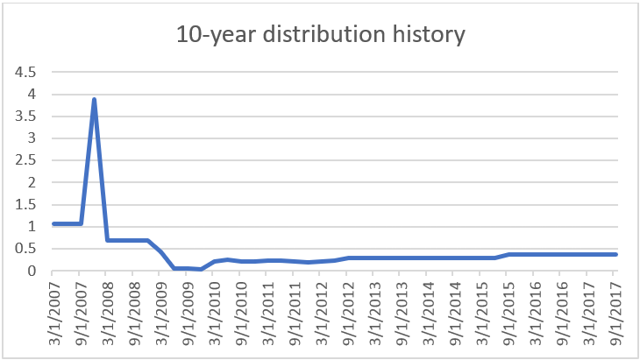 (Source: Original Image - Data from Yahoo Finance)

(Source: Fidelity fund screener)
Distribution is stable for now
Put simply, there are indications the already modest distribution could be in a tenuous position in a few years. They have been able to generate plenty of gross investment income, but management fees have eroded NII to around 30% of distributions for several years. Furthermore, undistributed NII has tapered to the point of having a negative $8 million balance.
Its ability to create capital growth of the underlying portfolio is the major positive here. As of 06/2017, the fund was sitting on about $318 million in unrealized gains, and earnings covered the distribution 2X. While it has worked thus far, relying on capital growth isn't a strategy sustainable over the long term. There are two options for improving distribution sustainability: 1) figuring out a way to cut management fees without affecting performance or 2) use additional leverage if it feels confident it can make shareholders money on the spread between Investment Income and cost of interest.

(Source: Original Image - Data from BTO Semi-Annual 2017 Report)
Choppy performance has delivered Alpha
While the majority of the return from closed-end funds come from the current income they offer, BTO has been the exception to the rule. While trading has been choppy, BTO has outperformed both the S&P and Financial indices over the past 5 years. The fund has delivered a 26% and 10% superior return, respectively, and benefited greatly from 2016 Presidential Election. Although more volatile than these aforementioned indices, BTO's price performance has been highly correlation to its benchmark. We now see these aggressive drawdowns as buying opportunities.

(Source: Yahoo Finance)
Prospects for capital growth
There are reasons to be bullish on financials and specifically, the banking sector. Since the Financial Crisis, banks have tightened lending standards, de-leveraged their balance sheets, and have seen steadily rising interest rates. Because the economy is healthy overall, the main risk that I see in banking is a likely housing bubble due to unaffordable housing globally. Investors should keep an eye on the residential real estate sector in conjunction with this holding. For prospective investors that find the risk/reward profile suitable, BTO can effectively be a growth and income investment that delivers Alpha going forward.
Conclusion
All things considered, BTO does have work to do to make sure the distribution is sustainable over the long term but has offered great price performance over its benchmark. How the housing sector performs over the next 1-2 years will be a big driver of performance due to the emphasis on bank stocks.
Disclosure: I/we have no positions in any stocks mentioned, and no plans to initiate any positions within the next 72 hours.
I wrote this article myself, and it expresses my own opinions. I am not receiving compensation for it (other than from Seeking Alpha). I have no business relationship with any company whose stock is mentioned in this article.