This time of year it's easy to get a song stuck in your head with holiday tunes on an endless loop. "Rudolph the Red-Nosed Reindeer" tops the list for many, but after it's been rattling around the noggin for a few weeks, no offense to Rudolph, maybe mix in a little "Jingle Bells."
Sometimes a song on repeat isn't so bad, though. The market's pretty much been singing the same tune for a while, and November was no exception. Investors have heard this story before: Equities touched new highs amid strong earnings and optimism about tax reform. On the latter, the House passed its version of a tax bill, which would take the corporate tax rate from 35% to a friendlier 20%, while the Senate put itself on the clock with its version.
Over at the Federal Reserve (the Fed), minutes from its last meeting indicated many participants thought that "another increase in the target range for the federal funds rate was likely to be warranted in the near term." And during his Senate confirmation hearing, Fed chair nominee Jerome Powell, who many pundits view as a continuity candidate, said "conditions are supportive" of another 0.25% move higher in December.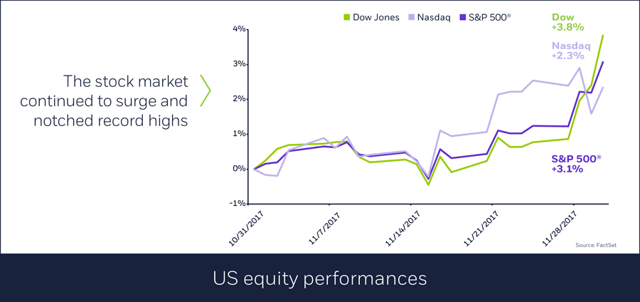 Source: FactSet
Domestic equities
Fluctuating performances early gave way to strong gains in the run-up to Turkey day and at month-end. The holiday spirit can be catchy, and it looks like stocks across the capitalization spectrum caught it early. Shoppers too.
The University of Michigan's Consumer Sentiment Index fell from 100.7 in October to 98.5 in November, but it still matched the index's second-highest level since 2004. Some market observers took it as a sign that shoppers were ready to open their wallets for the holidays. And shop they did—early reports indicated strong retail sales.
Consumer staples and consumer discretionary followed suit with big months. Telecom stocks started to hum following news of the Federal Communications Commission's plan to roll back net neutrality. Financials picked up steam to make for some late November rain, perhaps on comments from Powell, who is said to favor more lighter-touch regulation than Yellen. And while new leadership emerged, tech stocks still came in positive despite a bumpy ride at the end of the month.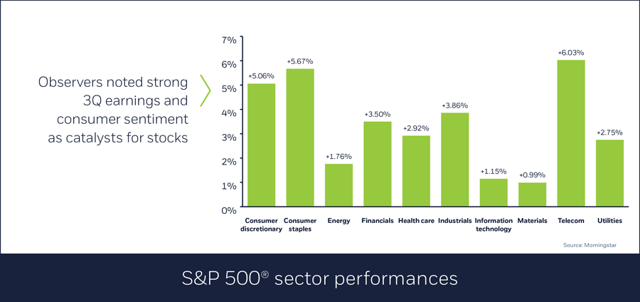 Source: Morningstar
International equities
Economic data and geopolitics, including rising tensions along the Korean Peninsula, highlighted a busy month abroad. Developed markets bested emerging markets, helped by solid gains from Asia, including Hong Kong and Japan. A strong GDP report out of Germany, which suggested its economy is on track for its best annual performance in six years, could be seen as another sign of the strengthening global growth story.
In the UK, uncertainty about domestic politics and several looming European Union deadlines for Prime Minister Theresa May to settle Britain's Brexit bill may have London's FTSE 100 Index under pressure.
Asia led the way in the emerging world with a modest gain. Stocks struggled in Europe, the Middle East, and Africa, though South Africa, which avoided a double downgrade to its local currency debt, had a strong month.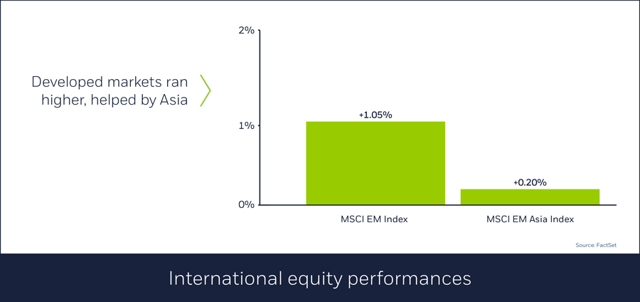 Source: Morningstar
Fixed income
Accelerating economic growth and tighter monetary policy are not a typical situation for a flattening yield curve, which plots Treasury yields against the length of time they have to reach maturity. And yet, it continued to flatten in November, at one point to its flattest since 2007. Some say that could mean the bond market is in the unconvinced camp when it comes to the U.S. growth story.
Overall, the bond market was slightly weaker, with most segments in a tight range. Long-term Treasuries ended the month in positive territory, outperforming their shorter-term counterparts. Also positive were Treasury inflation-protected securities, perhaps due to the Fed minutes indicating several officials were rethinking whether the low inflation was, in fact, as "transitory" as they originally thought.
Heavy issuance before year-end, and amid tax reform wrangling, may have dragged down the municipal bond market and contributed to its weak performance.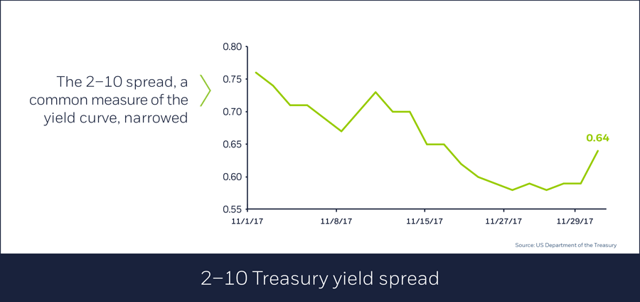 Source: US Department of the Treasury
The bottom line
Improving economic prospects in the US and abroad, as well as thoughts of a meaningful tax reform that could boost corporate profits, have kept markets singing. Don't count on them carrying that tune forever, though—inevitably, it will change.
But when uncertainty grows louder, either due to fundamentals or simply when the calendar is packed with key events—the last week alone included a slew of economic data, Fed headlines, and tax reform news, to name a few—a diversified portfolio that reflects investors' investment goals can be one's guiding melody.
Disclosure: I/we have no positions in any stocks mentioned, and no plans to initiate any positions within the next 72 hours. I wrote this article myself, and it expresses my own opinions. I am not receiving compensation for it. I have no business relationship with any company whose stock is mentioned in this article.