As there continues to be an increase in demand for renewable energy in the United States, energy sources such as wind and solar have seen huge growth. In 2016 alone, the United States saw record-breaking figures in terms of solar production.
Notable Statistics
In 2016, the United States solar market produced these key figures:
The U.S. solar market nearly doubled its capacity in 2016 compared to results from 2015.
Solar ranked as the #1 source of new electric generating capacity additions.
Non-residential PV was up 49% from 2015.
For Q2 2017, U.S. solar added 2.4 GW of capacity, making it the second-largest second quarter in history.
The PV Segments
"PV," which is short for photovoltaic, converts the sun's radiation into usable energy when used in a PV system. These systems are widely used in the United States solar market and have three segments, which are described below. The growth of these segments has been instrumental in the overall growth of the United States solar market.
Residential PV
The segment of residential PV solar saw explosive growth rates over the past three or four years, but has since struggled to meet those same rates. The reason behind this is the main market states, which account for 70% of installations, saw stagnated growth due to a struggle to find clientele outside of the early adopters of solar. The positive in the data is a few of the emerging states in the 30% of installations are offering more incentives to install solar, thus increasing the number of installations.
Non-Residential PV
A segment of solar that had a breakout year, Non-Residential PV, saw explosive growth in 2016. Up 49% from 2015, the segment saw great success mainly driven by regulatory guidelines in Massachusetts and California, the two largest non-residential markets. Another big factor was community solar installations nearly doubling when compared to 2015. However non-residential PV is projected to only grow 9% for 2017, small peanuts when compared to 2016's 58% growth. As you can see in the graph below, non-residential PV has seen steady growth in capacity from 2010 to 2015.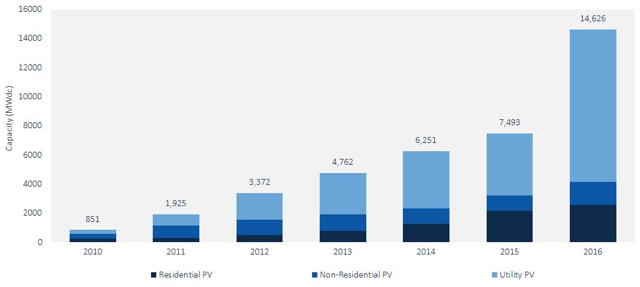 (Source: GreenTechMedia)
Utility PV
Often described as the "bedrock" driver of U.S. installation growth, it represented 72% of all capacity installed in 2016. As you can see in the graph above, the utility segment saw a huge increase in 2016 when compared to the constant growth seen between 2010 and 2015. The main reason for this was derived from demand that was ahead of schedule, and also from a great rush to finish the development of projects before 2017 due to the 30% federal ITC.
Factors For Growth
Falling Prices
Falling prices have greatly contributed to the rise of solar in the United States. Since 2010, the cost to install solar has dropped by over 70%, as illustrated in the graph below.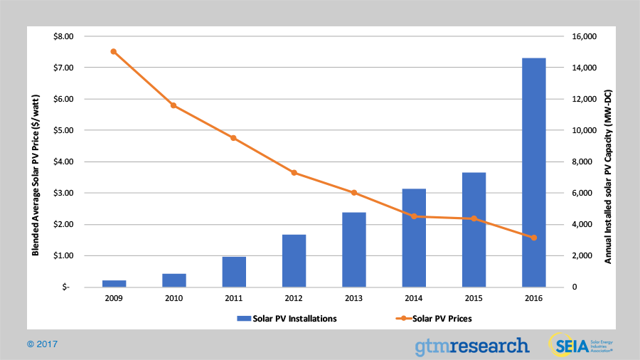 (Source: SEIA)
Looking forward, there is still room to grow in terms of making the price of installing solar more affordable for more businesses and families. Reducing soft costs, which include things such as labor and overhead, remains a priority for the U.S. Department of Energy. They are currently working with cities and counties to try and reduce the barriers to installing solar. Another key factor to the drop in prices is the equipment becoming less expensive. This allows solar installers to charge less for installations that otherwise would have been too expensive for families and businesses.
Tax Credits
The United States federal government has implemented a 30% tax credit with the purpose of helping grow and develop the U.S. solar market. Known as the ITC, it has become an integral part of the solar market, and in 2015, congress voted to extend these tax credits through 2023. The ITC has played a big part in the 1600% increase in solar installations over the past decade. These credits allow solar companies to offer installations at a cheaper price, making the idea of solar more attractive to the residential and commercial markets.
The extension of the ITC was very important to the market for the near future, because there will still be various long-term projects that might not happen without the ITC. It is worth noting the tax credit will decrease to 26% in 2020 and then to a permanent 10% in 2022. However, by this time, the advancements in technology will have made solar companies profitable enough to the point where a 30% tax credit is no longer necessary to survive.
Solar Is In Good Shape Moving Forward
Continued Advancements In Technology
There have been recent improvements and innovations in the United States solar market that have contributed to its growth. Looking forward, however, there are a few innovations and ideas that will have you excited for the future of solar in the United States. Sistine Solar, an MIT startup, has created a "solar skin" product that may potentially create a new niche market for solar. This product matches the appearance of a roof, thus potentially intriguing new solar users who saw bulky solar panels on the top of their roof as a bad look. Another new technology in the works is once again from the labs of MIT and has the potential to change the entire solar market. This standout technology aims to be able to capture far more of the sun's energy than any other solar product. Albeit this project has a timeline of 10-15 years to be put into society, it has shown great promise being the first one to absorb more energy than a photovoltaic cell alone.
Along with brand new solar technological innovations, there are still continuous improvements on current solar technology. For example, scientists have found a way to make the notoriously short shelf life of perovskite solar cells more durable. Perovskite cells are very cost-effective, easily produced and have a great ability to absorb light efficiently. Research groups have been able to turn the unstable cells into more stable cells, thus boosting efficiency.
Projections
The United States solar market continues to project in a positive direction. Although 2017 PV installations are expected to take a dip, developers will still be looking to undertake projects that will take us into the next decade.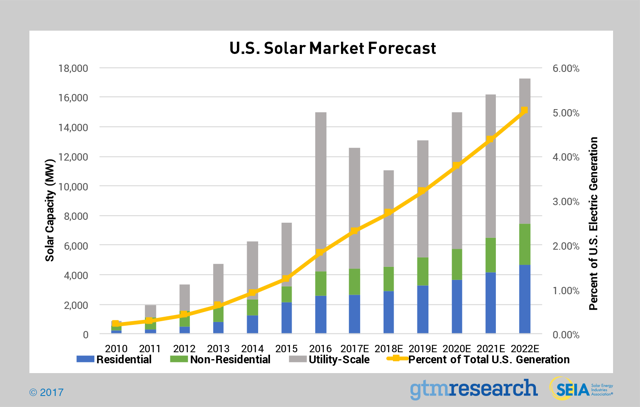 (Source: SEIA)
Looking at the graph above, the projections for capacity in the U.S. solar market are heading upwards. Also projected to grow is the total U.S. solar PV capacity, looking to almost triple over the next five years. By 2022, over 17 GW of solar PV capacity will be installed annually.
Intriguing Solar ETFs
Guggenheim Solar ETF (NYSEARCA:TAN)
This fund tracks the Mac Global Solar Energy Index and is a great way to gain exposure to the global solar industry, while at the same time hedging against oil prices as the reliance on alternative energy sources increases. The YTD return is at 44.72%, has net assets at $409.93 million and paid a dividend of 83 cents. This ETF currently has the highest assets and YTD return when compared to every other ETF on the market.
First Trust NASDAQ Clean Edge Green Energy Index ETF (NASDAQ:QCLN)
Tracking the NASDAQ Clean Edge Green Energy Index, this ETF has a market cap weighing that has more weighting towards the larger companies. This may be especially attractive to investors who do not trust or want to invest in the smaller solar and alternative energy companies. The YTD return is currently at 32.79% and holds net assets of $82.5 million.
PowerShares WilderHill Clean Energy Portfolio ETF (NYSEARCA:PBW)
Following the WilderHill Clean Energy Index, this ETF's distinguishing feature is its 40 stocks that are almost all evenly weighted, as none makes up more than 4.4% of the portfolio. This ETF can also provide exposure to those investors looking for stocks that deal with conservation efforts and stocks in the renewable energy market. With a YTD ratio of 35.56% and net assets of $109.94 million, it is a smart play on paper.
What To Take Away
These ETFs all represent long-term investments. In the short term, these stocks don't possess great potential, but they could looking further down the line with solar installations in the United States and China growing at a strong rate. ETFs also represent the best form of investment in this sector. Investing in individual stocks in this market is very risky, as the notorious volatility of the solar market can cause huge losses. Solar ETFs represent a much more secure and opportunistic way to invest in the solar market.
Conclusion
With projected growth in the PV solar segments, advancements in technology and falling prices, the United States solar market is poised to continue its strong growth. While the biggest threat to the market is the President Trump administration, there are conflicting reports as to whether he will be bad or good for the United States solar market. Overall, the United States solar market is in good shape, and it may be savvy investing to take a look at solar energy ETFs which also include international companies.
Disclosure: I/we have no positions in any stocks mentioned, and no plans to initiate any positions within the next 72 hours.
I wrote this article myself, and it expresses my own opinions. I am not receiving compensation for it (other than from Seeking Alpha). I have no business relationship with any company whose stock is mentioned in this article.