Investment Thesis and Portfolio Focus:
Investment across the biotech space (large and small) often sees a significant amount of risk associated with pipeline success and timelines. We've established a small group of biotechs which have significant catalysts upcoming in 2018 which include partnership developments, Phase III trial data, Phase II trial data and initiation of potentially novel blockbusters in clinical trials as well as looking at the pipeline potential of larger companies. Below we will detail our strongest picks within this space and provide insight into our anticipation, including price objectives over the coming 12 months. We believe that being able to use both the potential for price appreciation and the efficient use of time as an asset for future portfolio growth are key strategies to successful long range portfolios. Although there are times when a steady growing company may provide a strong investment opportunity, we feel that it is important to design investment portfolios which take advantage of short term catalysts to make the most of an investment and provide additional capital for future investments. This portfolio is designed to provide short term (1 year) catalysts which may provide cause for significant price appreciation in the shares of the companies listed herein over the same time frame, providing the potential for outperformance over the broader market. This portfolio is meant as a not as investment advice but as a part of a broader research strategy and portfolio building methodology, which provides potentially volatile names.
Our background is in the advanced biological sciences (genetics, gene therapy, molecular biology, CRISPR and NGS) and we use this experience and knowledge to analyze companies and look for potential dislocations between the market's valuation and our expectations. Using this knowledge and understanding we provide insight into the potential that some companies provide to investors as a means for developing investment ideas in the potentially risky biotech sector. Herein, we will provide brief support and updates for each of the companies which we are adding to our biotech portfolio as well as performance since we covered them or their performance over the past year if we did not. We will revisit this portfolio in the future, making modifications and updates to support our thesis that these stocks provide strong investable catalysts for the upcoming year. Our selections are broken down into five categories: Gene Therapy - Rare Disease, Gene Editing (there is some overlap here), Microbiology, Cell Therapy and Large Biotech/Pharma.
Gene Therapy:
This field is may be confused with the gene editing companies which have recently been the focus of excitement within the scientific community. We differentiate gene therapy and gene editing by the method for the disease correction which is used. If there is no targeted and programmed cutting of the genome via an introduced nuclease, we categorize the company into the gene therapy group.
Krystal Biotech (KRYS) (5%)
Reason for Positioning in Portfolio: Pipeline Clarity with initiation of Phase I/II trial for EB will provide clarity and provide a de-risking event to the pipeline. Our small position is due to the risk associated with the novel method of therapeutic delivery, which we are cautiously optimistic on.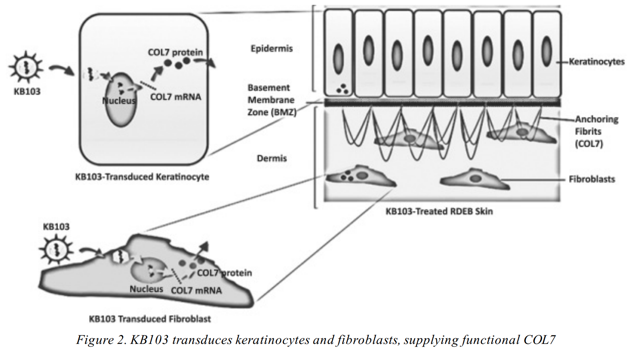 KB103 (Figures all generated by Krystal Biotech - listed in S-1)
Summary:
KRYS is a recently IPO'd clinical-stage gene therapy biotechnology company Krystal's exciting potential in the rare dermatological field. Their leading pipeline candidate treating Dystrophic EB is expected to enter Phase I/II trials in 2018 with an additional therapy for Netherton Syndrome expecting an IND to be filed later next year. The company also has additional pipeline focuses on Ichthyosis Vulgaris and Atopic Dermatitis. Their novel approach to gene therapies, using a topical application, is novel and provides an exciting approach to gene therapies and its entrance into an underserved market currently dependent on palliative care and scientific evidence support a strong case for investment with a 12-month price target of $12.20/share.
Since our initiation of coverage shortly after their IPO KRYS has reported progress via their 3Q report. Our cash estimates following their IPO were shown to be conservative, and at the end of September the company had $52.6 million (vs. our estimated $50 million), while expenses came in a bit higher for the quarter at $2.1 million as they proceeded with their IPO and worked towards initiation of their clinical trials. Positive developments since the end of the 3Q include receiving funding of $770,000 from the EB Research Partnership, approval of their clinical trial design for KB103 in EB by the Recombinant DNA advisory committee as well as designation of orphan drug status. We expect that these developments continue to support our positive outlook on the stock and see the initiation of clinical Phase I/II trials as a significant catalyst for the stock over the coming year.
Risks:
KRYS is an early stage biotech company, and although we believe that the catalysts which may occur in the coming year warrant positioning in our portfolio, risks are involved. The company does not have any revenue and may require additional funding (although not likely in the coming year) to complete their clinical trials and bring a product to market. Furthermore, any gene therapy treatment involves risks related to the novel sciences behind the therapy and poorly understood profiles of these treatment methods due to their youth.
Gene Editing:
Gene editing companies represent the largest number of companies in our portfolio. We have covered each of these in detail and feel that they represent a strong offering of catalysts in the coming year.
CRISPR Therapeutics (CRSP) (10%)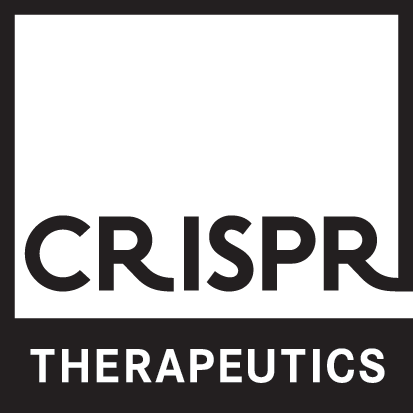 Image from www.crisprtx.com
Reason for Positioning in Portfolio: Pipeline Clarity with initiation of Phase I trial for beta-thalassemia and Sickle Cell Disease will provide clarity and provide a de-risking event to the pipeline, expected to be the first biotech with a CRISPR product in clinical trials. Furthermore, there is potential for the Phase I trial to be completed prior to initiation of any trials from their competitors.
Summary:
CRSP is our preferred CRISPR-based company for 2018 due to their success in preparing for clinical trials addressing a large patient population with a potentially revolutionary treatment. CRSP is the furthest along in their quest to treat complex genetic diseases using CRISPR-Cas9 technology. They are currently progressing in IND/CTA-enabling studies with their lead treatments for ß-thallasemia and sickle cell disease expecting to see IND/CTAs filed by year end 2017 in partnership with Vertex (VRTX). Beyond their lead candidate CRISPR Therapeutics also has a JV partnership with Bayer (OTCPK:BAYRY) for SCID and Hemophilia based diseases which includes the acquisition of a minority stake in CRSP worth up to $35 million. They also have a strong off-the-shelf allogenic CAR-T therapy, for CD19-positive malignancies being developed which they are looking to monetize as both a therapy and as a means for rapidly developing novel CAR-T therapies in the future.
Following our initial coverage, CRSP recently provided a very informative 3Q update which supported their inclusion here due to the maintenance of expected developmental timelines and encouraging product updates. CRSP continues to expect to file an IND for ß-thallasemia and sickle cell disease in the 4Q17 with significantly all of the paperwork already completed. They will be able to initiate their trial prior to the filing of an IND from their nearest competitor - Editas Medicine. Their 3Q updates were encouraging with cash balances projected to last at least 2 more years. Pipeline updates aside from their lead product, CTX001, focused on successes with their CAR-T therapies as well as the new inclusion for gene therapy targeting: Friedrich's Attaxia. This progress is solid for the time period and acceptable while the company prepares for their upcoming catalysts.
Risks:
CRSP is a pre-clinical stage biotech which does not have any significant revenue or a marketed product. They face pipeline risks associated with filing of their IND (delay is a risk) and subsequent start of their clinical trials. Additional risks include competition from other CRISPR companies as well as established gene therapy companies which are working on comparable therapies to some of those found in CRSP's pipeline. An additional risk to CRSP is the patent battle with regard to ownership of the CRISPR-Cas9 protein and its use in gene editing, which could increase costs associated with licensing if it goes poorly, please see our earlier articles for clarification and opinions on this.
Editas Medicine (EDIT) (8%)
Reason for Positioning in Portfolio: Editas' presence in this portfolio is unique, in that we do not expect pipeline results to be the primary catalysts in the upcoming year. Although EDIT is expected to file their first IND focused on LCA10 in the upcoming year, their potential developments with Cpf1 as well as other CRISPR-associated proteins will continue to provide additional means to expand their pipeline.
Summary:
EDIT was the first CRISPR company to IPO and has seen a significant amount of partnership activity over the past couple years. It may also see itself able to develop a moat over the next 5 years as they continue to explore the newly discovered CRISPR-Cpf1 by Zhang, AT to GC Cas9 developed by Liu and a Cas13 analog for editing RNA published by Zhang - allowing exclusive licensing by EDIT. This creates a potential boost to regardless of the impending patent battles with NTLA and CRSP, de-risking the company's future and allowing it another means for gene engineering with an uncontested customizable editing protein. Building on their patent portfolio as well as portfolio progress which we have previously detailed is encouraging, and the catalyst of the potential patent battle resolution is an additional catalyst in the upcoming year - resolving uncertainty.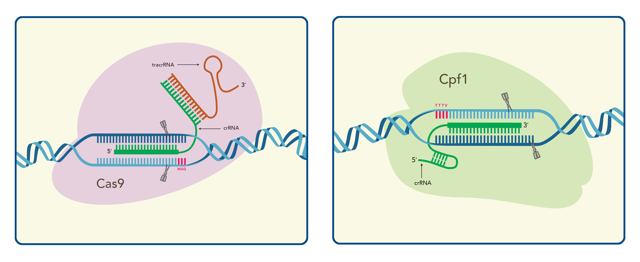 Image generated by IDT DNA Technologies
Their most recent quarterly report was positive with revenues from collaborators and partners increasing from $1 million to $6.3 million y.o.y. primarily from partners Juno Therapeutics (JUNO) and Allergan (AGN). Expenses increased a negligible $1.3 million over this time, increasing from $11.3 million in 2016 to $12.6 million in 2017. R&D expenses essential doubled over this time period as well, as can be expected with the rapid pipeline development, from $10.8 million to $20.4 million. Cash and equivalents decreased to $296 million vs. $185 million last year and $328 million last quarter. Furthermore these numbers are consistent with our projections, and suggest that EDIT has about 3.5 years of funds remaining based on their current cash burn. These financials continue to support our investment case for EDIT as we await more significant developments beyond our anticipated 2018 catalysts.
Risks:
EDIT is a pre-clinical stage biotech which does not have any significant revenue or a marketed product. They face comparable pipeline and other risks to CRSP as mentioned above. These include any further delays with filing of their IND and subsequent start of their clinical trials. Additional risks include competition from other CRISPR companies as well as established gene therapy companies which are working on comparable therapies to some of those found in CRSP's pipeline. An additional risk to CRSP is the patent battle with regard to ownership of the CRISPR-Cas9 protein and its use in gene editing, which could increase costs associated with licensing if it goes poorly, please see our earlier articles for clarification and opinions on this.
Sangamo Therapeutics (SGMO) (15%)
Reason for Positioning in Portfolio: Sangamo was among the first gene editing companies that arose in 1990's using Zinc Finger Nucleases to manipulate the genome. Their products are focused on complex genetic diseases and are engaged in 6 Phase I/II trials.

Image captured from SGMO's ZFN presentation.
Summary:
Sangamo Therapeutics' biggest strength is its strong proprietary portfolio and patents related to Zinc Finger Nuclease [ZFN] technology as well as its use for genome modulation. With another successful quarter under the belt, they have laid a strong financial and scientific foundation. SGMO provides a strong investment opportunity and exciting potential in the coming year. We anticipate continued success across their clinical products, with reduced risks compared to what is anticipated with CRISPR-Cas9 proteins with regard to potential off-target complications. We value at $37/share, making for a strong case over the coming year where we see pipeline progress continuing to de-risk the company and provide cause for revaluation of the shares.
Catalysts in the coming year include an exciting amount of early data from 4 of their Phase I/II trials. Preliminary data is expected to be announced in early 2018 for Hemophilia A AAV cDNA studies (2 patients treated so far) which has Fast Track (US) and Orphan Product (EU) status. The in vivo gene editing Hemophilia B clinical study is also expected to see preliminary data in 2018. This Phase I/II study has both Orphan Drug and Fast Track designations (US) and is currently screening patients. The final two gene therapy studies, both using gene editing, are for MPS I and MPS II. These two studies have Orphan Drug, Fast Track and Rare Pediatric Disease status with the FDA and are expected to have preliminary results in early 2018. It is rare that you're able to get such an amount of data from 4 Phase I/II trials from a company the size of Sangamo in such a short period of time, and this alone is a strong reason for placement in our portfolio. However, the potential catalysts are limited to these 4 exciting opportunities. Next year SGMO will also initiate their recently approved Phase I/II study for beta-thalassemia, while progress within their AAV and CAR-T pipelines is also providing exciting data which may lead to more significant revelations in the coming year.
Risks:
SGMO is currently in position to deliver data on 4 clinical trials in the coming year. Their primary risk during that time frame is scientific - if the trials go poorly the stock will likely underperform and see significant share price depreciation. Although we do not believe that finances are an issue, it is possible that SGMO will require additional funds before they are able to complete their clinical trials and get a product to market.
Microbiology - Complex Antibiotic Resistance:
Microbiology has not been one of the more exciting fields since the emergence of genetics and gene therapies over the past decade. Nonetheless, a significant amount of important and profitable research has been done in the field which seems to fly under the radar. There have been some significant developments recently, and the long clinical pathway seen in gene therapy and other complex oncology products (i.e. CAR-T) is significantly shortened for simpler antibiotic compounds.
Spero Therapeutics (SPRO) (12%)
Reason for Positioning in Portfolio: Spero Therpeutics is a company with a primary focus in antibiotics and antibiotic support compounds for use against antibiotic resistant bacteria. They have just recently IPO'd and look to have a pair of catalysts via data from their top two candidates in Phase I trials (gram negative antibiotic) and Phase II data in their Potentiator platform.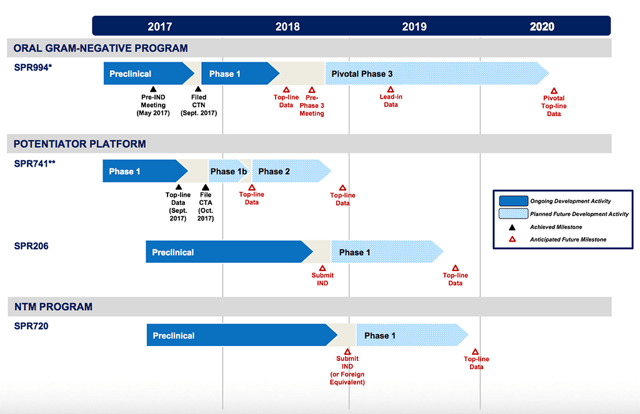 Source: Spero Therapeutics
Summary:
Spero Therapeutics is a new company to market with an exciting pipeline of antibiotic and potentiator products to support modern medicine's never ending battle with drug resistance. Their lead antibiotic compound is an already proven carbapenem, which they have developed a long lasting oral delivery method for (previously IV) and are looking to market this against a wide range of drug resistant gram negative infections. Their second lead compound is a potentiator, a compound that has (in this case) no antibiotic capabilities but drastically improves the activity of antibiotics which it is delivered with. Both of these compounds have seen promising early data and are expected to progress rapidly through clinical trials over the next 2 years.
Since our initiation of coverage on Nov 4th, and 12mo price objective of $19.01, where we suggested that the analyst lock-up could provide a potential short term catalyst, we were partially correct. Although the share price will likely move with updates from the pipeline (hence their position in our portfolio). When we submitted our article (Friday, Nov 3rd) the price was 11.57, and it closed on 11/30 at 11.95 after a run at $15 (+3% - swinging for the fences here!). However, on Nov 27th the analyst lock-up ended and we were shown to be one of the more conservative voices out there: Stifel ($26 - buy), Cowen (outperform), Bank of America ($16 - neutral) and Oppenheimer ($30 - outperform). This is encouraging moving forward as it suggests that our early call (almost a month ahead) was well agreed upon by some of the larger banks and investment firms. In the coming year we expect to see data from the oral carbapenem Phase I trial in the summer while Phase II data from the potentiator platform is expected in the late fall, providing two exciting catalysts to move the share price toward the bevy of positive price objectives over the next year.
Risks:
SPRO is a young, recently IPO'd company, in a competitive field among antibiotic and antimicrobial companies. They have two strong clinical products which are expected to see data in the coming year, and if this data is not as positive as their pre-clinical studies the company will likely see complications moving forward.
Cell Therapy:
Although the world of cell therapy has seen some dramatic excitement and busts over the past 2 decades, the knowledge which has been developing over this period is finally ready to see mainstream. Cell Therapies are traditionally utilizing stem cells to treat complex diseases such as stroke and heart attack.
Athersys Inc. (ATHX) (20%)
Reason for Positioning in Portfolio: After a long period of waiting, dilutions and volatility, Athersys is preparing four big catalysts in the coming year. In November 2017 Athersys' partner, Healios K.K., initiated their Phase III trial using ATHX's allogenic stem cell product MultiStem for the treatment of ischemic stroke. Data is expected in 2018, along with an expected partnership announcement and initiation of a second Phase III trial in ischemic stroke in the US/EU. The final catalyst is the potential completion of the Phase II trial using MultiStem in ARDS, with data expected a few months following completion.

Summary:
Athersys is a pre-clinical biotech company with an allogenic off-the-shelf stem cell product which has potential applications in ischemic stroke (Phase III), myocardial infarction (Phase II), acute respiratory distress syndrome (ARDS - Phase II) as well as veterinary applications and a commercial license for bone grafts via RTI surgical. Their most significant 2018 catalyst is the expected presentation of their Phase III ischemic stroke trial. MultiStem has the potential to see their ability to penetrate the multi-billion dollar, after some delays over the production of MultiStem, the trial is underway and one of the most significant catalysts of this portfolio. Their most recent quarter was encouraging, with their cash position maintained q.o.q. and positive commentary regarding a partnership. The second significant catalyst for the coming year is the potential for a partnership, which was commented on by William Blair (as they increased their stake in the company) suggesting that a partnership may provide an upfront payment of $120 million. Given the current market cap around $232 million, such a partnership would likely result in significant share appreciation in a short period of time. Finally, in demonstrating the potential that ATHX has deeper in its pipeline, results from the Phase II trial in ARDS are expected to be seen after the flu season ends in the spring (which, as the CEO commented on, results in a higher incidence of ARDS - increasing enrollment). We are very encouraged by the multitude of significant catalysts, which we feel positively about, and the opportunity to open into a huge market in ischemic stroke, presenting our argument for the largest position in our portfolio.
Risks:
Athersys is a clinical-stage biotech without any significant sources of revenue. Their main risks are associated with the requirement for a partnership to proceed with their Phase III trials in the US/EU without additional funding (i.e. dilution or high cost financing) as well as the results from their Phase III trial in Japan. For more detail related to these risks please see our earlier articles on the topic.
Large Biotech/Pharma:
Often when looking at a slew of biotech catalysts with the opportunity for significant price appreciation (as we've gone through so far) many tend to shy away from the slower growing super-majors. Although all of them have potential catalysts, we feel that a few stand out from this crowd. Most importantly, as part of our portfolio, we see these as stabilizers. Although we expect catalysts to provide significant upside, the decreased overall volatility may prove beneficial in a potentially volatile market next year.
Johnson and Johnson (JNJ) (15%)
Reason for Positioning in Portfolio: Johnson and Johnson has long been seen as a boring blue chip in a volatile biotech/pharmaceutical sector. Their sheer size ($376 billion market cap, 127k employees, and $72 billion in revenue for 2016) provides some stability but the most significant source of this stability is arguably their diversity. Having a significant presence in almost every aspect of the health sector from oncology to skin disease and consumer products provides insulation from the goings on in financial markets and political landscapes. Their large pipeline and recent approvals are expected to provide catalysts in the upcoming year, in addition to potential gifts from the US government via tax reform.
Summary:
JNJ has long been seen as a heavily diversified pharmaceutical company which belongs in slow and steady portfolios. With a 2.4% dividend yield, they are a strong addition to any balanced portfolio, but we're looking at them primarily for the potential for share price appreciation in addition to a dividend increase in 2018. Based on the recent share price behavior, we're not the only ones who are excited about the potential that 2018 holds, but we feel that there is still positive catalysts which are not being taken into account.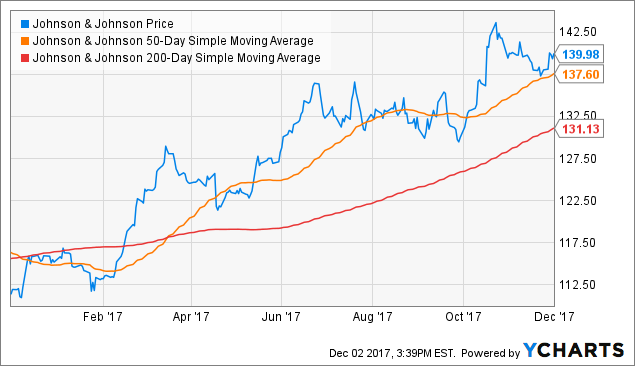 JNJ data by YCharts
Although JNJ's breadth of products provides stability, their high value pipeline assets are the most likely catalysts in the upcoming year. JNJ's pipeline includes 30 Phase III trials looking at 19 different compounds in various indications including: heart disease, psoriasis, HIV, depression, bacterial infections and oncology. Updates along this pipeline are expected catalysts, of which there are many but the more exciting potential catalysts involve products which were recently approved and are expected to provide significant revenues in the coming year, and potentially provide multiple blockbusters, which will start to be recognized revenue in the coming year. To this point, TREMFYA (plaque psoriasis), STELARA (adolescent psoriasis), IMBRUVICA (graph vs. host), SYMTUZA (HIV), and were all approved in the US/EU in the second half of 2017. We expect continued updates as to their sales of these products, to act as catalysts in the coming year while Phase III successes in products such as DARZALEX (multiple myeloma) and INVOKANA (diabetes) provide the potential for additional catalysts in 2018.
Outside of their pipeline successes and revenue associated with recently approved products JNJ is benefiting from strong technicals with a rising 50 and 200-day average and a RSI around 56 as of this writing. Their share price may also see appreciation in anticipation of their annual dividend hike, which we expect to see continuing on their 5-year average growth rate of 7%, resulting in a new dividend of $0.90/year (vs. the current $0.84) as our base case. Any more significant dividend increase, possible given their previously mentioned pipeline opportunities, would provide an even stronger catalyst for share price appreciation. If markets experience increased volatility this could also lead to improved performance for JNJ (although to the downside) vs. the markets, and ultimately result in outperformance of the S&P over the course of the year. Finally, the potential benefits from tax reform packages which are making their way through congress has been predicted to contribute an earning boost of as much as 8%, providing a huge potential catalyst and source of revaluation of JNJ shares in the coming year.
Risks:
JNJ is present in our portfolio because we feel that the risks associated with the company do not potentiate significant downward share price pressure. That being said, they are exposed to political risks both at home and abroad within regulatory changes as well as tax changes and are exposed to fluctuations in currencies to a degree. With regard to our investment thesis, pipeline products may prove ineffective compared to their counterparts or unforeseen risks may be realized during the clinical trials, which would impact the potential returns of the company.
Amgen (AMGN) (15%)
Reason for Positioning in Portfolio: Amgen has long been a leader in the biotech field due to its strong portfolio and research capabilities. The company's 21% YTD gain has been dwarfed by the wider biotech sector (XBI) which is up 41% YTD. Much of these performance woes have been focused on pipeline complications and expiration of patent protections on their leading products. We believe that these are overdone and that the pipeline is a significant asset and may surprise to the upside in the coming year. Additionally, the payment of a dividend while we wait for improved pipeline clarity provides additional stability to our portfolio.
Summary: AMGN is one of the most dominant biotech companies of the past decade. It has recently seen this dominance challenged by competitors as their strongest products have been rolling off of patent protection as well as concerns related to replacing their products with a strong pipeline. We have taken these concerns into account and looked beyond the short term issues to identify catalysts for 2018, resulting in AMGN's inclusion in our current portfolio. These catalysts include improvements in the currently approved pipeline products (Repatha just saw additional indications approved to prevent heart attack and stroke), improvements in their current Phase III products (Evenity is a concern, but may see some problems addressed) as well as deeper pipeline products (Phase I/II), especially in oncology as well as the previously mentioned potential related to tax reform.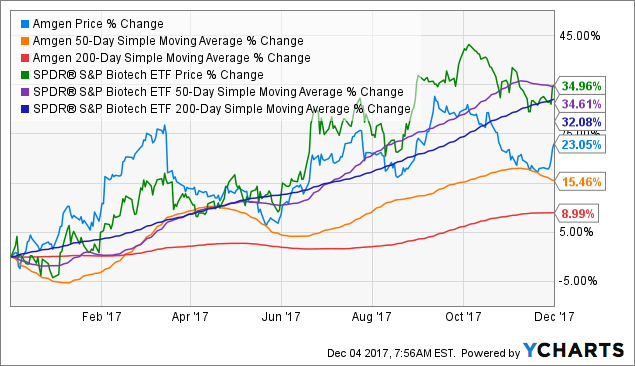 AMGN data by YCharts
Recently AMGN had their BLA for Aimovig a mAb for episodic migraines accepted by the FDA, while Phase II trials for chronic migraines continue. Additional pipeline information due to primary trial or study completion is expected throughout 2018 including updates to Phase III results in non-Hodgkin's lymphoma (2), arterial wall inflammation, neutropenia management (breast cancer), rheumatoid arthritis (2), relapsed multiple myeloma, psoriatic arthritis, and postural orthostatic tachycardia syndrome. In addressing concerns related to their pipeline, although the Phase II stable is relatively small at the moment, we expect that positive results coming from their Phase I products, due to the high quality research which has become a foregone conclusion with Amgen, represent increased likelihood of success. We find it unusual that investors have discounted these early research opportunities in their observations of the pipeline, as AMGN has long proven that it is capable of generating exceptional products in house. Although some recent concerns have arisen with their acquired drugs, we see this as a short term concern which will be alleviated during 2018.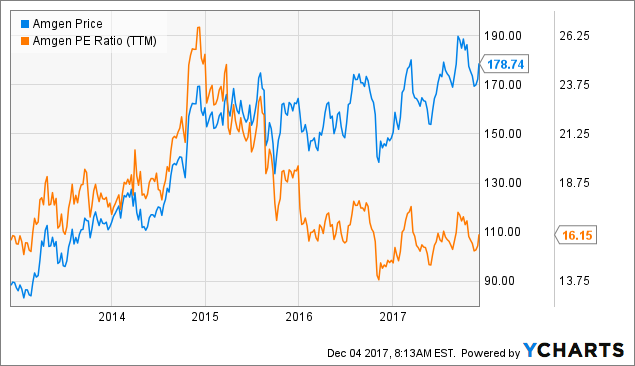 AMGN data by YCharts
Beyond pipeline potential, we expect that AMGN will also benefit from the tax reform which is working its way through the house and see this as a tailwind moving forward. With regard to discounts currently present in the stock, the TTM P/E ratio currently sits at just over 16 vs. the pharmaceutical average of around 21 and biotechs sitting over 100 - this suggests a significant discount even to the slower growing pharmaceuticals. In looking at the P/E history of AMGN, we can see that this downtrend in the P/E ratio is about 2 years old, but appears to be finding a bottom, and a reversal of this discount is expected to provide a catalyst moving into 2018 after a relatively quiet 2017.
Risks:
AMGN is present, just like JNJ, in our portfolio because we feel that the risks associated with the company do not potentiate significant downward share price pressure. That being said, they are exposed to political risks both at home and abroad within regulatory changes as well as tax changes and are exposed to fluctuations in currencies to a degree. With regard to our investment thesis, pipeline products may prove ineffective compared to their counterparts or unforeseen risks may be realized during the clinical trials, which would impact the potential returns of the company. AMGN has additional potential risks associated with their ability to improve the breadth of their advanced pipeline via successes within their Phase I/II products as well as regulatory concerns over some of their Phase III products which may not be resolved.
Summary and Portfolio Design:
| | | | |
| --- | --- | --- | --- |
| Company | % of Portfolio | Share Price | Value |
| KRYS | 5 | $10.52 | $5,000 |
| CRSP | 10 | $19.12 | $10,000 |
| EDIT | 8 | $29.87 | $8,000 |
| SGMO | 15 | $16.89 | $15,000 |
| SPRO | 12 | $12.14 | $12,000 |
| ATHX | 20 | $1.96 | $20,000 |
| JNJ | 15 | $141.10 | $15,000 |
| AMGN | 15 | $178.27 | $15,000 |
| (NYSEARCA:XBI) | - | $84 | $100,000 |
| S&P (NYSEARCA:SPY) | | $266.06 | $100,000 |
We believe that these companies all provide significant potential catalysts in the coming year and make for strong investment opportunities at this point. We will continue to track this portfolio in the coming year (quarterly) and will update reads with our performance as well as any changes which may occur (these stocks will be maintained in this portfolio for at least 12 months). Share prices during purchase are as of Dec. 4th (exact date of publication may vary due to editorial speed), but we will be following a sum investment of $100,000, split as percentages listed above. We assume no commission costs, as there are enough companies out there which provide free trades. Dividends which are received will be reinvested on the day after the dividend pay date at the prevailing share price. Although we do invest in some (or have invested in some) of these companies this does not reflect our overall portfolio and is simply provided as a point of interest - not a suggestion of financial advice to buy or sell any mentioned securities.
We expect that this portfolio will significantly outperform both the XBI ETF as well as the S&P SPY ETF and will track those accordingly in our calculation of success.
Disclosure: I am/we are long ATHX.
I wrote this article myself, and it expresses my own opinions. I am not receiving compensation for it (other than from Seeking Alpha). I have no business relationship with any company whose stock is mentioned in this article.
Additional disclosure: We have previously owned shares in JNJ and may look to purchase shares in one or more of the mentioned companies over the next 12 months. If we do make such a purchase we will update our disclosures alongside future publication updates. We do not expect to make any positional changes in any stocks mentioned within the next 72 hours.

We reiterate that this portfolio is not the recommendation to buy or sell any company, simply a collection of research thoughts based on our work. We are not a financial advisor, and any purchase of shares should be done following significant research and due diligence on your own.