The "Loophole"
I'm hesitant to call details within our tax code loopholes because in many cases they are unfortunately just easily abused aspects of our tax code that carries the main intention of incentivizing some behavior. However, this bill seems blatantly designed to benefit real estate developers and pass-through businesses more than anything else. Through a series of deductions and policy changes, real estate developers can manipulate a far lower effective tax rate rather than the rate the bracket was designed to make them pay.
When a real estate developer buys an apartment/commercial building to rent out, they will usually put down 10-20% of the purchase and mortgage the rest. Under Trump's tax plan, real estate developers can deduct their interest payments from the company's income. The developers are also incentivized to keep their buildings in perfect condition because maintenance and repair costs are deductible as well. The final part of this series of deductions is the fact that building value can be depreciated and deducted from their regular income at a faster rate than before.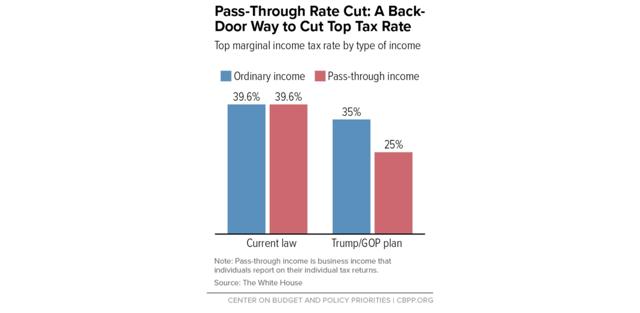 (Source: Center on Budget and Policy Priorities)
With the developer's profits being taxed at a rock bottom effective rate, the owner, shareholders, and partners would pay themselves using profits as a pass-through. In the past, this rate would be taxed at the normal individual rate, that usually being 39.6%. Under this tax code, pass-through income is capped at a 25% rate. This is a huge deduction for a lot of non-ordinary income earners that have a portfolio of assets where the owners are paid with a pass-through.
The final part of this loophole lies in the ability of pass-through businesses to under-report their income and run a portion of their business off the books. While this will benefit pass-through businesses of all kinds, this benefit furthers the advantage real estate developers will have under this tax code. There is the argument that the theory behind the Laffer Curve would take effect, and businesses wouldn't work as hard to hide their income due to their access to a tax bracket that is now 37% lower (39.6% -> 25%) but it's hard to imagine that this would completely alleviate the issue.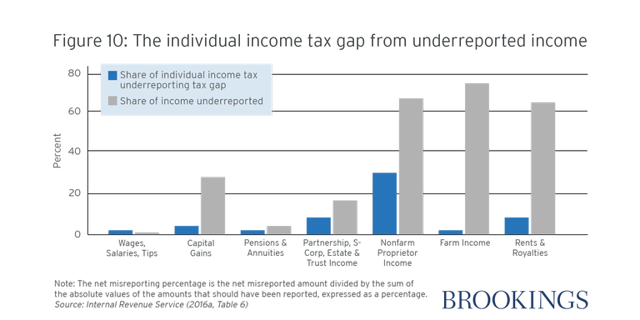 (Source: Brookings Research)
As can be seen in the diagram above, there are major discrepancies in reported income and actual income in the property rental space, which could exacerbate the engineering of the tax code to (illegally) under-report income and negate the balancing effects of a stronger and larger market being able to produce more government revenue despite a lower tax rate.
As is stated in this interview with Jim Stewart, after real estate developers utilize the tax code to maximize income, they can simply sell the property after as little as a year for a healthy profit, and move onto their next project. And as I'll discuss later, this behavior of speculation and property flipping can lead to inflationary market behavior that would ultimately lead to a bubble and crash of real estate prices if left uncontrolled.
How The Economy And Stock Market Could Be Affected
First of all, there has never been a better time to be a real estate developer. The profitability of this career is even greater under this new tax code. As profitability improves, demand to buy properties will start to rise, thus positively affecting property prices (more on this theory later). As it becomes more profitable to construct and sell properties, a supply response will meet the surge in demand.
When the market prices rise with demand, the profitability of flipping properties will improve, with the unfortunate side effect of introducing a larger number of speculators into the market. These speculators artificially (and temporarily) influence demand and prices, leading to an inefficient and inflated housing market, and potentially a bubble.
This theory I laid out above sounds very theoretical, however several economic studies, like one analyzing the European Housing market, have observed a positive correlation in real estate turnover and price. This is largely due to the function and cycle explained in the previous paragraph.
Although there is a risk of oversupply, the strong demand to enter the real estate business will be met with a supply response from builders, material suppliers, and construction companies. While this has the ability to lead to a situation where overbuilding is incentivized, there will be a large amount of money flowing into this market, and several companies and industries stand to profit from this trend.
Caterpillar Inc. (NYSE:CAT)
Caterpillar is a fairly obvious choice to play a boom in construction. They are one of the largest suppliers of commercial equipment in the country and have control over a large portion of the market share.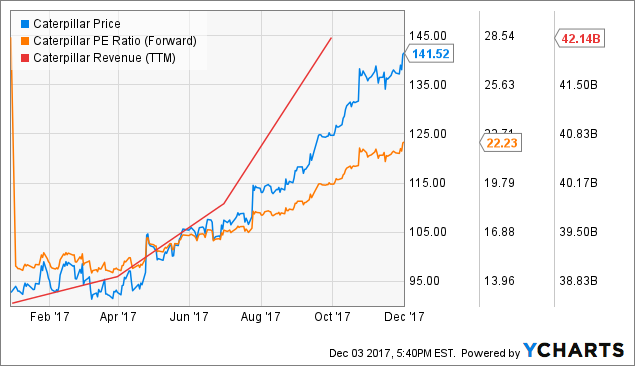 CAT data by YCharts
Although the stock is up by a large amount this year, there is still upside if Caterpillar can have another surprising year as was seen in 2017. If they can meet targets of $10 EPS, the stock could trade in the range of $180-200 based on historical multiples of sales and EPS.
If this tax bill incentivizes property building and development how I think it will, Caterpillar will almost certainly surprise to the upside in 2018. If Trump can also manage to pass his $1 Trillion infrastructure budget, Caterpillar's equipment will be used in projects across the country, generating double-digit revenue growth over the coming 4 years and beyond.
Lowe's (NYSE:LOW)
While Home Depot (NYSE:HD) will likely see a bit of an advantage due to their greater economies of scale, Lowe's has a significantly cheaper valuation with similar growth prospects. Lowe's is currently only trading at 18x 2018 earnings estimates, with shares of HD trading 33% higher at 24x 2018 estimates. With both companies expected to grow at a similar double-digit rate over the next several years with improving business fundamentals at scale, I see little reason for such a large disparity in valuation.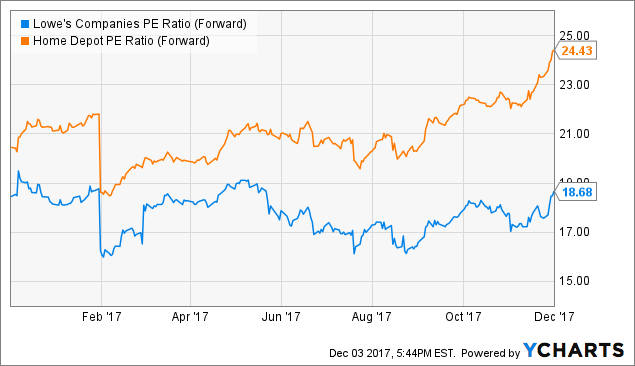 LOW PE Ratio (Forward) data by YCharts
The company has also taken steps to improve its customer experience by adding same day in-store pickup and expanded options for e-commerce. While other forms of brick and mortar are going out of style, the hands-on nature of home improvement allows Lowe's to provide a unique experience to their customers that cannot be easily replicated online. An educated sales staff and in-store demonstrations for customers to see and try add a moat that cannot be achieved without a strong in-store presence.
Adding to this, the trend of smart-home products puts Lowe's in a great position to use interactive in-store displays to educate consumers on smart home products and how to use them. Best Buy was able to apply this model to electronics in an increasingly digital and e-commerce-driven age, and Lowe's is in an even better position to succeed due to the steep learning curve of many new smart household products.
Zillow Group (NASDAQ:Z)
Zillow has recently seen success in disrupting the real estate market by offering a digital online platform to buy and sell properties. Although the stock is trading at a very high multiple of sales, the company has seen a rapid growth of sales and profit margins over the past several years.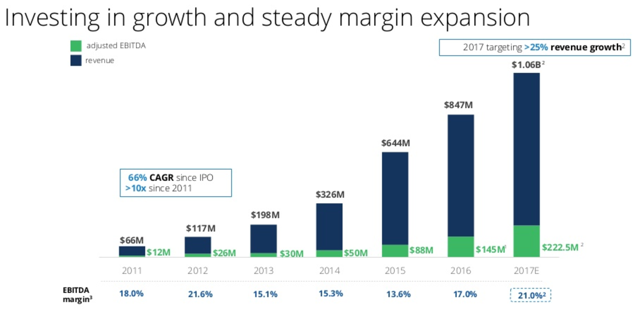 (Source: Zillow)
Additionally, they've only reached 7-8% of their target market in the U.S., indicating upside if they can capture a larger piece of the real estate market. They're profitable and have been able to expand their gross margin as the business grows and matures. Their products are useful, and they're growing their unique user count, which should drive traffic to their services if the housing market were to continue to grow.
Zillow within itself is also diversified, as the company owns a number of complementary platforms that meet various needs in the real estate industry. If the housing markets continue to expand, Zillow has proven itself as a company that will grow with these secular trends, all while improving profitability at scale. The stock is expensive, so I see this as a momentum play that should see strong growth in this type of market.
How Can This Behavior Lead To A Bubble?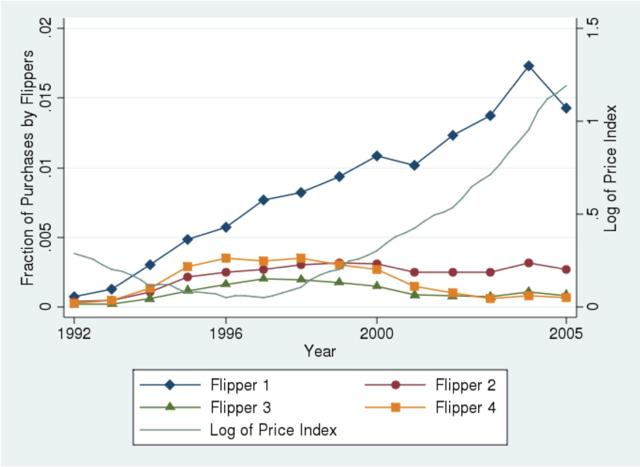 (Source: Speculators and Middlemen, NBER)
One paper that focuses on this in detail is an NBER paper titled, Speculators and Middlemen; The Role of Flippers in the Housing Market. In this, the concept that the key sign of housing price inflation is the introduction of low-frequency flippers into the market. "Flipper 1" represent flippers with a turnover of 2-3 houses per year, with flippers 2, 3 and 4 representing 4-6, 7-10, and 11+ flips respectively.
The flippers with the highest turnover surprisingly have the least effect on the market. This is likely due to the fact that these are not speculators, but rather companies, which make regular real estate investments that keep the market stable. It's the introduction of outsiders, who enter the market to flip 2-3 houses per year and make money for themselves without ever being a long-term real estate investor.
A major indicator of this is the inversion of the curves for Flippers 1-4 beginning just before 2000 and continuing through 2008. This indicates that established real estate companies and owners have stopped buying properties due to the high prices, while speculators continue to buy without worrying about the fundamental value because they plan to flip the property as quickly as possible. This is a dangerous cycle, as the market will temporarily reward those who flip properties, behavior which will only cause real estate prices to continue to inflate.
When these bubbles pop, they don't happen slowly over time. Due to the nature of speculation, there is an inverted demand/supply balance at below-market prices. In a healthy market, price drops incentivize new buyers, and the market reaches an equilibrium. However, when a large portion of the market owns securities at a high cost that they are looking to quickly flip, there is a higher propensity to sell as price drops to avoid an even larger loss, exaggerating the effects of the sell-off.
Balancing Incentives With Regulation
The main piece of legislation protecting against these abuses to the tax is the Alternative Minimum Tax. I don't think the AMT is universally beneficial, as it can negatively affect someone that is simply trying to use tax deductions the government has set in place to incentivize certain behavior.
However, the AMT helps to resolve a lot of the issues presented above in certain industries, like real estate development. Pass-through companies tend to have lower effective tax rates due to how the tax code favors the housing industry. Regulation should aim to incentivize businesses with competitive rates while limiting behavior that allows businesses to engineer their spending to obtain a single-digit effective tax rate.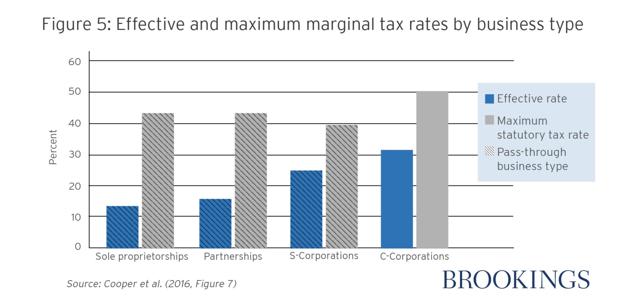 (Source: Brookings Research)
The House bill completely eliminated the AMT, which would decrease the effective tax rates paid by pass-through entities by a large margin, furthering the deficit, and making it harder to project tax revenues. Entirely removing the AMT would almost surely cause a bubble in real estate prices as the market would become more easily exploitable by flippers and prices would inflate too quickly. It's easy to exploit a lower effective rate in a pass-through business if you know which laws and deductions to use to your advantage. The lessening of regulation has the potential to further the issues of abuse within these aspects of the tax code.
Thankfully, the Senate version keeps a modified version of the AMT in place, with the main change being the 30% expansion of AMT-exempt income. Keeping this in place should act as a balanced way to attract new entrants to real estate development without massively inflating the market and attracting speculators. If the bill succeeds at limiting speculators, I would expect the housing market to grow at a healthy rate while construction and home building stocks outperform the rest of the market.
Conclusion
The new tax bill will massively benefit real estate developers and other pass-through entities. The improvement in profitability in this space will draw new entrants, driving the housing market higher. From this, we expect to see homebuilders, construction companies, and home improvement stocks outperform the market over the coming years under this legislation.
As long as the government strikes a balance between incentivizing competition with tax deductions, and preventing them from being abused, the new tax code should lead to the development of a healthy and growing housing/construction market.