Investors are excited about the capital gains they will find this year in their Christmas stockings. A joyous situation to be sure, but a mixed blessing for income-oriented investors with money to invest. Prices are high, but yields are way down for many favorite dividend-paying stocks. It's a problem for investors who want high quality companies but are unenthusiastic about buying stock at record high prices and record low yields. Many conscientious dividend fans would prefer a stable, strong company that is temporarily selling at a historically low price and high yield. As markets have marched higher in 2017 my research has been increasingly focused on hunting for such companies. I highlighted four in Historically High Yields For The Dividend Investor and three more in More Historically High Yields For The Dividend Investor. The quarry in this hunt is becoming scarce, but today I offer three opportunities for your consideration: Enbridge, Inc. (ENB), Macquarie Infrastructure Corp. (MIC), and TJX Companies (TJX).
These three companies have proven business models but their yields are elevated and the prices are down due to what should prove to be transient conditions. They have skilled management with a successful track record and have often seen their way through past crises to survive and thrive. As conditions normalize and regression to the mean exerts its effect, stock prices will rise and yields will fall to a more normal level. Investing now locks in the high yield and the potential for greater capital gains.
The discussions here focus on the conditions leading to current high yields and how and why those conditions might normalize. It is meant to supplement and extend the articles found elsewhere on Seeking Alpha that are more general discussions of company prospects.
Enbridge
Enbridge is the largest energy infrastructure company in North America with a market cap of $63 billion. Its 5.55% yield is the highest since the Great Recession and about double the long-term average (all yield charts are from dividend.com). NOTE: Some ENB charts do not handle a dividend in Canadian dollars correctly, such as in the last data point on the chart below which incorrectly shows a 7.5% yield.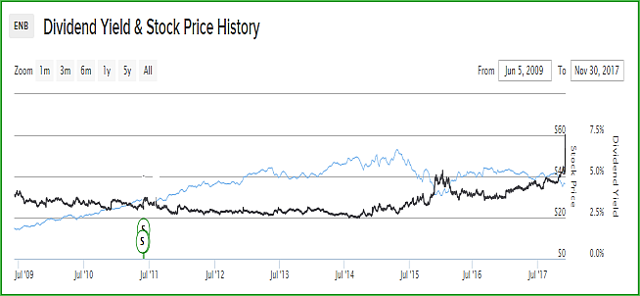 Enbridge has been stressing investors in numerous ways. The market perceives considerable uncertainty about the company. ENB has been a victim of industry-wide uncertainty about where oil and gas prices will eventually settle, and it has subsidiary business in the hard-hit MLP sector. It was at dead center in the Dakota Access Pipeline controversy. Further, analysts are still digesting the massive merger with Spectra Energy. With a 5.7x debt/EBITDA ratio the debt levels are relatively high. The company also has several very large expansion projects that have consumed capital but have not begun generating revenue. Finally, missed expectations in its latest quarterly report added to the uncertainty in investors' minds.
However, it is easy to see a path out of all of this. The business is not dependent on oil prices, and the Dakota pipeline situation has been resolved favorably. There has been major restructuring in the Enbridge Energy Partners MLP and it is now on a solid footing. Uncertainty around the Spectra merger will dissipate with time. Management is doing well on a new strategic plan which addresses all outstanding issues, including reducing debt/EBITDA to a four handle. The strategic plan provides clarity about the future, including 10% dividend increases in each of the next three years. In summary, there are an unusually large number of factors negatively affecting investor sentiment in the short term, but the bullish longer term prospects are unchanged. Buying shares now gives an investor the jump on others who are waiting for the uncertainty to disappear. All these issues and more are discussed in detail in a recent article by Juan de la Hoz.
Macquarie Infrastructure

Macquarie is an interesting company with an unusual mix of businesses that offers diversification in single package. According to the latest quarterly report, the breakdown is:
International Matex Tank Terminals (45% of EBITDA): Bulk liquids storage and handling at marine terminals
Atlantic Aviation (33% of EBITDA): a network of aviation fixed-base operations that provide fuel, terminal, aircraft hangaring, deicing and other services primarily to owners and operators of general aviation aircraft at 70 airports in the U.S.
Hawaii Gas (13% of EBITDA): processing and distributing gas and providing related services in Hawaii.
Contracted Power and Energy (9% of EBITDA): controlling interests in solar, wind and gas-fired power generation facilities in the U.S.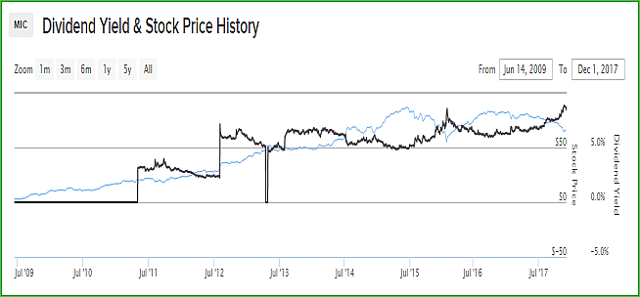 Macquarie currently yields 8.44%, a level that has preceded large price gains in the past. The absence of dividends in 2009-2010 came from the failure of an offsite airport parking subsidiary. As the stock chart suggests, that situation has been resolved, and in fact is now a plus as loss carryforwards mean MIC will pay no income tax until at least 2029. Dividends have increased for 16 straight quarters and are up 133% in five years.
It's difficult to pinpoint why Macquarie's price has declined to the point of a record high yield, but it may be related to the complexity of the company. The mix of businesses doesn't fit easily into any category, making it easily overlooked and certainly not included in whatever sectors are hot at a given moment. Complexity makes it harder to understand the impact of economic developments on the company but, on the other hand, parts of the company make it appear susceptible to things like oil market fluctuations or interest rate rises more than it may be. It has many characteristics of an MLP but is not an MLP, making it more difficult to evaluate performance. It has the appearance (but not the fact) of a dividend much higher than earnings. These and other factors are covered in a recent article by George Fisher, which is interesting reading for any current or potential shareowners. The bottom line is that MIC is easily overlooked, easily misunderstood, and likely to be passed by in a time when it has been so easy to make money in areas more popular and less arcane. If this is true, readers may ask, why should Macquarie's price ever go back up? If the company continues to perform, the inevitability of changes in markets and investor sentiment will turn attention to Macquarie again, as it has in the past. Even if that were not the case, the 8.44% dividend is enough to keep many investors' in the game.
TJX Companies
TJX is best known for the TJ Maxx brand of off-price apparel and home goods stores. It operates other brands in the U.S. and also has operations in Canada and Europe.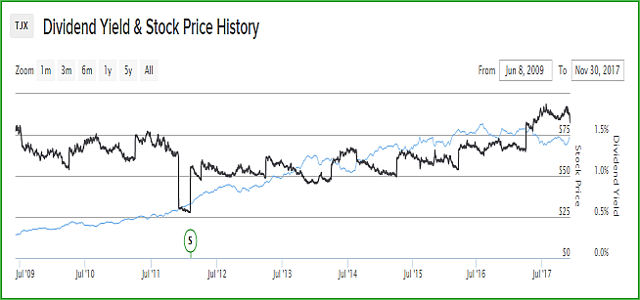 The 1.84% yield isn't enough to interest some income-oriented investors, but TJX is included here because it fits the paradigm of elevated yield increasing the potential for capital gains. In fact, since starting research for this article TJX stock has gone from $71 to $76 per share and the yield has decreased to 1.66%. The record yield came mostly from continuous dividend increases (up 54% since 2013!) and a year-long pause in the share price. TJX was caught up in the general weakness of retail sector stocks, but there is a growing consensus that it will be one of the survivors. Buying stock now is a play on TJX resuming its consistent price appreciation of the past decade and continuing the 20-year string of increasing dividends.
How much capital gain?
The chart below shows how much each stock price would rise if the yields revert to a longer term average. This assumes that dividends will not be cut, but for these three the dividends are much more likely to go up than down. Many factors can affect price and yield, of course, but the chart is an indication of capital gain potential.

Summing Up
Low yields and high prices abound in many (if not most) names popular with dividend investors. This article identifies three companies that instead are near record high yields and with share prices well off their highs. High yields can indicate trouble, but for these three the case is made that the reasons are transient, the companies are performing well, and long term prospects are unimpaired. Macquarie, Enbridge, and TJX offer opportunities to lock in a high yield and hefty capital gain potential as the yields and stock prices revert to their longer term averages.