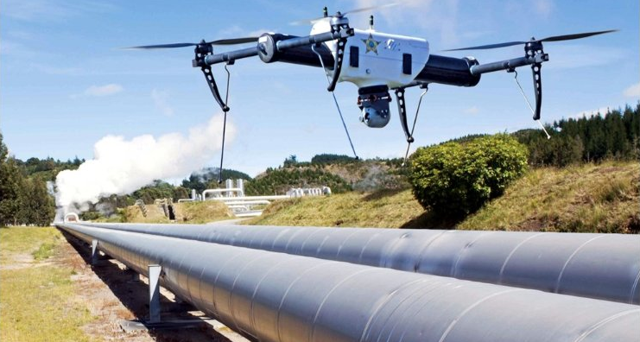 Source: LinkedIn
The Energy Business is a Lot More Than Motor Oil & Gasoline
A friend of mine recently took a job at a private oil and gas technology firm. With prior professional experience exclusively in financial services, they were taken aback at the overall complexity of the chain starting at locating hydrocarbons and ending with filling up your gas tank (airplane if you've owned bitcoin for a few weeks) or supplying a fertilizer company natural gas feed stock. Each of the three divisions of upstream, midstream, and downstream are on their own major components of the global economy, represent hundreds of billions of investment, and employ millions of people; this makes analyzing oil and gas companies for investment purposes difficult. The content of this article is built from numerous sources including Forbes, Bloomberg, and the Oil & Gas Journal to summarize key advancements in shale drilling, which companies are involved, and what it means for investors more broadly.
Despite having a formal education in petroleum engineering and finance, it is still challenging to stay current on technological, regulatory, geopolitical, and market driven (e.g. lease operating expenses - "LOEs" - in the core Permian) elements of the sector. Those who manage to stay ahead of the curve, however, are often richly rewarded.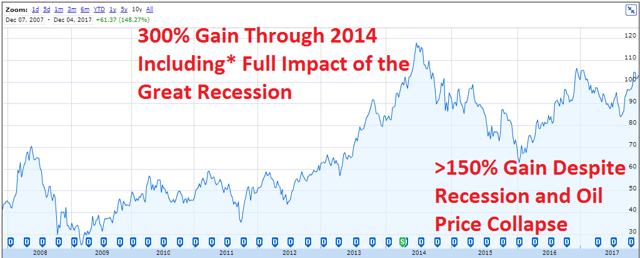 Source: Google Finance & WER
It's been a very bumpy ride but the above chart of EOG Resources Inc (EOG) demonstrates what happens when a firm puts its head down and gets the job done through cutting edge innovation quarter after quarter. Despite absorbing the full breadth of the Great Recession, EOG Resources Inc rose 300% from early 2008 through mid-2014. The firm's luck deteriorated further as late 2014 developed into arguably the steepest downturn in oil prices of the modern era. Despite all that, the firm is up over 150% in the last 10 years and raised its dividend in 16 of the last 17 years.
Shale is the (Expensive) Growth Engine of Domestic Oil & Gas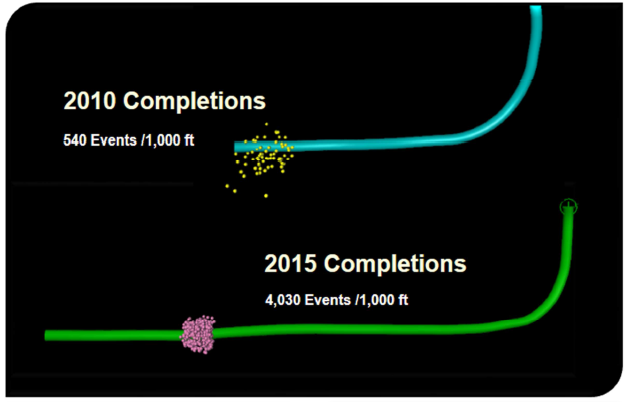 Source: EOG Resources Inc
As an example of the down hole advancements EOG and its peers achieved, the firm has increased the number of down hole "events" or interactions within the well by 8 fold since 2010. It is easy for investment professionals and individual investors to get caught up in the financials and forget what drives them for exploration and production ("E&P") companies:
[production volumes] X [realized commodity prices] - [all-in costs]
Costs are the most difficult to ascertain and GAAP accounting and SEC rules do not do us any favors. This is exacerbated by the fact cost management is the biggest factor in separating a decent driller from a great one. Costs include interest expense, cash drilling costs, operational and non-operational General and Administrative ("G&A"), environmental, health, and safety ("EHS"), replacement CapEx, and growth CapEx, among many other less significant variables. CapEx, and to what degree it is replacing versus growing reserves, is extremely critical to evaluating the sustainability and profitability of a shale driller yet this is not easily identifiable in the firm's financial statements. Sometimes it is impossible using financial statements alone. Instead, a manual calculation has to be performed incorporating assumptions based on decline curves, geology, well production management, etc.
Low Oil and Higher Competition Necessitate Lower Costs
Reducing cash costs is absolutely critical in today's environment. But you don't have to take my word for it: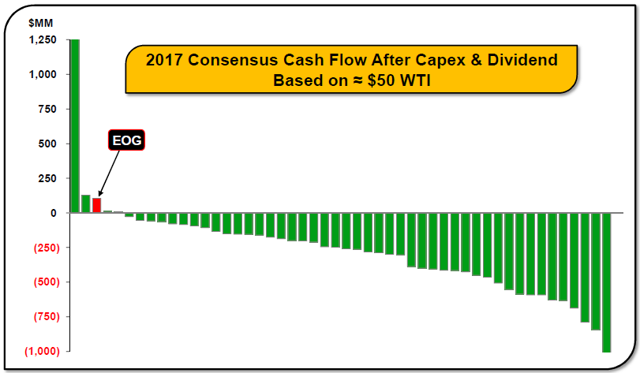 Source: FactSet consensus, U.S. E&P Companies >$500 market cap, as of 10/25/17 using 2017 WTI oil price of $50
FactSet compared EOG to several dozen peers. Only three firms, one of which is EOG, are expected to be cash flow positive for the full year 2017 based on Q1-Q3 results. Besides EOG, Antero Resources Corp (AR), Range Resources Corp. (RRC), the focus of my most recent article and an Editor's Pick "Can Range Resources' 100 Trillion Cubic Feet of Natural Gas Keep Your Portfolio Warm This Winter?", ConocoPhillips (COP), Whiting Petroleum Corp (WLL), and Southwestern Energy Company (SWN) have among the best capital efficiency metrics for the full year 2016. Capital efficiency is only part of the game, however.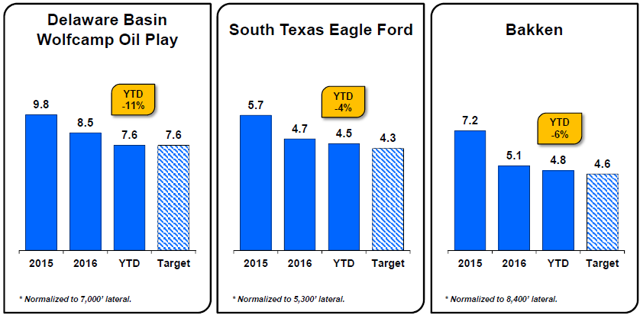 Source: EOG Resources Inc
As shown above, even the ultimate drilling architect EOG is struggling to reduce completed well costs in 2017 and the trend applies to all major basins.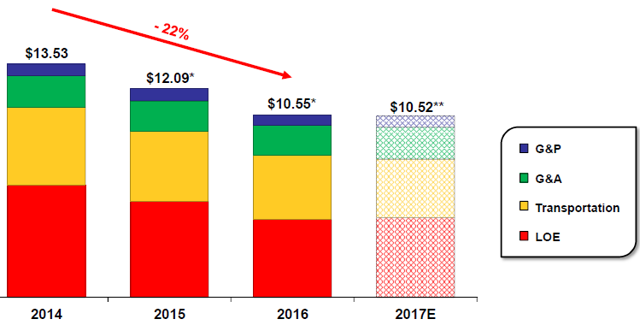 Source: EOG Resources Inc
The firm's cash operating cost reductions were $1.44/bbl in 2014, $1.54/bbl in 2015, yet only three cents per barrel from 2016 through 2017. If EOG's rate of traditional cost reductions is grinding to a halt, rest assured it is happening elsewhere. Many management teams of the companies I follow, which range from small-cap Gastar Exploration Inc (GST) to $360 billion Exxon Mobil Corporation (XOM), have mentioned a recent reverse of the oil field services ("OFS") contract reductions that supported the faltering industry since the fall of oil in 2014.
The Future is Here if You Know Where to Look
It was not easy to predict the shale revolution of the last 10-15 years given hydraulic fracturing, the precursor to shale economics, had an effective inception date in the late 1940s. Nor was it obvious that climbing U.S. production would overwhelm global oil markets resulting in a sustained downtown in crude prices. I believe an important component of future innovation in the industry will leverage automated operations, many of which are already implemented in higher cost production areas offshore, to smaller scale shale drilling operations. What kind of technology am I referring to and who's leading the charge?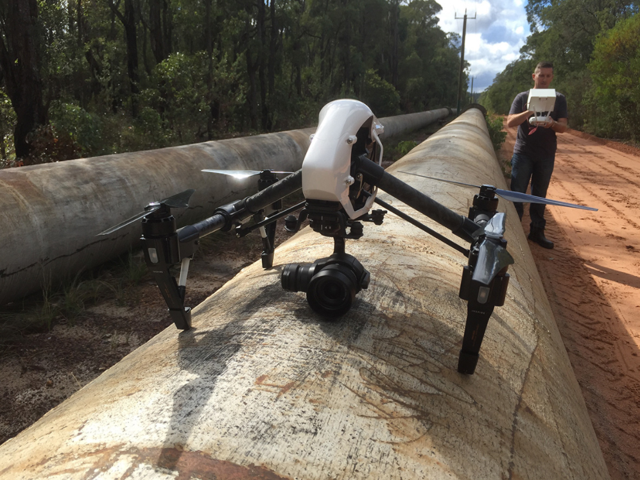 Source: perthdrone.com.au
ConocoPhillips (COP), the largest independent oil and gas producer in the U.S., has technology enabling engineers and geophysicists to monitor drilling activities anywhere in the world. Its centralized control room approach for remote drilling management was previously only used offshore but these technologies are moving onshore. While working in Houston at one of the largest oil service companies, I ran project management related to building these control hubs. One engineer or physicist can monitor the activities of up to five drilling operations using the offshore control room scheme. That's 2-4 engineers and all the associated exorbitant costs of locating and supporting them in a remote area of Texas or the Dakotas gone.
Chevron Corp (CVX) is now flying thermal imaging equipped drones across its pipeline network. This permits the firm to detect leaks in areas very difficult, another word for expensive in this industry, for ground personnel to monitor. The same cost saving technique is being implemented across its vast network of oil tanks and facilities. At least as important is the fact pipelines will be monitored and issues responded to more effectively day and night, better protecting workers, the environment, and Chevron's profitability and reputation. Increased drone usage represents a fleet of trucks, drivers, and millions of dollars in annual fuel, tire, and vehicle maintenance costs gone.
Nabors Industries Ltd. (NBR) recently developed its iRacker technology. For those who have not had the chance to visit a live drilling operation, the organizing, securing, and delivery of well pipes into the ground is one of the most time and manpower intensive components of drilling a well.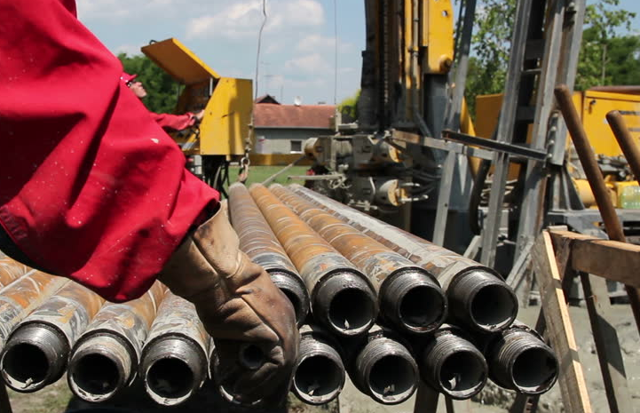 While studying the latest drilling trends for my Range Resources article last month, I calculated the total drilling pipe required for the average Marcellus well to exceed 13,000 ft (e.g. 4,700 ft vertical 8,000 ft lateral). A smaller 2-3/8 inch drilling pipe weighs 6.65 lbs/ft while the largest 6-5/8 casing pipe climbs to 27 lbs/ft. That's well over 100,000 lbs, or 433 tubes using the standard 30 ft length, of drilling and casing pipe that needs to be lifted, secured, and put in the ground. Nabors' technology uses automated robots to lift drilling pipe directly from the racks, connect joints, then drive them into the well. This technology was not fully tested in the field until 2017 and eliminates four to five jobs per rig associated with some of the most dangerous work involved in drilling a well. National Oilwell Varco Inc's (NOV) Iron Roughneck does a similar task by connecting segments of drill pipe automatically. NOV's technology is extremely valuable in crowded offshore projects where the vertical component of the well alone may exceed two miles and any accident can become a severe one.
Schlumberger Limited (SLB), the world's largest oil services firm by a wide margin, takes this a step further with their "smart rig" approach with the ultimate goal of drilling deeper and more wells from a single location than has ever been done before. Shale geology composed of long but often thin horizontal pay zones makes this advancement all that more compelling as the below diagram from Laredo Petroleum (LPI) demonstrates for the Permian Basin.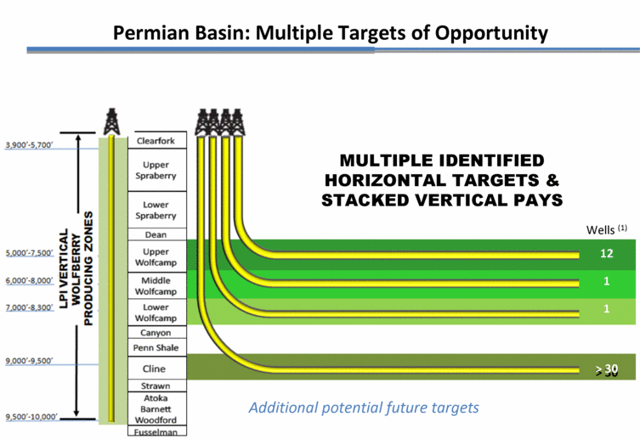 Source: Laredo Petroleum Inc
Much of the reduction in costs since the mid-2000s can be contributed to a reducing the days required from spudding in to completing the well by over half despite increasing the horizontal length of the well by 2-4x over the same period. Going forward, executives such as Chris Papouras of Nabors is confident the average number of workers per rig will decrease from the current 25 to 15. Schlumberger's smart rig is designed to eliminate whole rigs, and their crews, from the field.
Royal Dutch Shell plc (RDS.A) (RDS.B) is an industry leader in taking advantage of the rapid decline in sensor costs. Its "iShale" initiative, again borrowed from its deepwater operations, incorporates the same type of sensors used in the Apple Inc (AAPL) watch throughout its vast network. This seemingly straightforward adoption of additional sensors removes the need for physical inspections of thousands of rigs, valves, and gauges over time. What portion of parts and technology that "makes" an Apple Watch an Apple Watch existed three years before it came out? I'd estimate close to none. These same advancements are trickling into oil and gas. Shell is going a step further and designing systems that predict when failures are likely to occur and automatically initiate repairs. Royal Dutch Shell envisions removing the physical presence of most or all humans from hydraulic fracturing operations altogether. It may sound fantastical until you consider the recent announcement of the Tesla (TSLA) big rig.
Is it that hard to imagine a self driving electric semi, alerted in advance by sensors no different than those found in an Apple Watch, picking up a shipment of crude oil from a Permian drilling pad, with all involved valves and pumps controlled by a computer, then delivering it back to the local hub all monitored as a fleet from a control room by one guy in Houston? What will cost per BOE be then?
Putting the Renewable into Conventional Energy
An important part of Shell and other innovators in this area are solar panels and improved battery storage systems. Just like the car industry is rapidly embracing the new reality allowed by better battery technology, oil companies are embracing the technology all in the name of improving margins, and in some cases, remaining an ongoing concern. Previously prohibitively expensive solar arrays and nearly non-existent storage devices made automation and remote systems management too difficult and or expensive. Electricity and diesel costs are flat or up in the past ten years while panels and batteries became exponentially more cost effective over that period.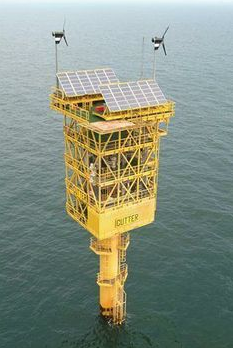 Source: Pinterest. North Sea platform fitted with solar panels and wind turbines.
Remember the automated "smart" pumps and valves coupled with an array of sensors communicating with our theoretical self driving semi? This is possible in the remote areas a huge portion of drilling takes place through the combination of cheaper solar and improved electricity storage options. This is one of the final building blocks to the automation machine for oil and gas companies.
Underground Innovation
Given most people's only interaction with the substance is occasionally spilling it at the gas station, many forget oil and its many derivatives start as an organic substance made primarily from oceanic plants that lived millions of years ago. This organic nature inevitably attracts microbes; these tiny organisms have DNA just like you and me.
So what? Statoil (STO) and Anadarko Petroleum Corporation (APC) are beginning to analyze microbe DNA against known hydrocarbon reserves and quality to determine what to look for. They then compare ideal DNA characteristics to those of samples taken from oil and gas reservoirs. The DNA testing is now cheap and rapid and taking rock samples, even a mile below the earth, is extremely inexpensive compared to the cost of spending $5-$10 million on a well that does not hit its production targets due to poor geology. Ajay Kshatriya, CEO of Biota Technology, the company that developed the application, estimates a reduction of production costs as high as 10%.
Starting in 2018, ConocoPhillips, a name that appeared frequently in my research and subsequently in this article, is applying magnetic resonance imaging, better known to you and me as an MRI at the doctor's office.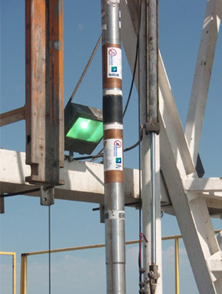 Source: Aramco Expats. Prototype of "logging while drilling" imaging system.
Take a wild guess where this was pioneered? ConocoPhillips developed the technique for its Arctic operations where precision is mandatory and personnel costs are very high. These larger firms' deepwater and Arctic drilling experience is directly contributing to lower costs for their onshore operations in creative ways.
Investment Takeaways
Bloomberg estimates 33-50% of oil jobs lost since the oil downturn, which tilt toward the blue collar side of the business, will never return due to optimized drilling processes, fewer rigs, and growing automation. Bad news if you are an unemployed roughneck but good news for investors in best of breed shale drillers. Firms with no or limited offshore experience and limited research and development ("R&D") budgets won't be the ones taking advantage. In some ways, these are more difficult to copy than those gained through longer laterals and tighter intervals that formed the foundation for today's shale drilling economics. It used to be that sniping the right petroleum engineer and his contact at a proppant manufacturer and distributor like Hi-Crush Partners LP (HCLP) was good enough to get in the same ball-park as the big boys. Instead, I believe the biggest players, many of which are mentioned in this article, stand to benefit disproportionately. This is a reversal of the agility benefit that allowed small- to medium-sized drillers to capitalize on shale drilling before Chevron and Shell.
For all shale drillers, these technological advances help domestic drillers' economics greater than those overseas. They also improve the probability more firms are able to generate sustainable cash flow at $50-60/bbl WTI. As an investor in multiple smaller oil and gas companies, I am concerned about their ability to stay competitive. From substantial personal and professional experience, outside of leveraging the services of a Nabors or Halliburton Company (HAL) to drill the lateral and or perform the hydraulic fracturing process, these companies are "old school" in how they do business. They don't receive nearly as much benefit from the technologies I mentioned because they require scale, new types of personnel with different skills than existing workers, and large upfront investment.
Why has offshore drilling always been dominated by the largest U.S. and state owned companies? The same reasons why most technological advancements, the majority of which were developed for deepwater or Arctic drilling, are coming from the larger energy firms.
Every Game has Winners and Losers
Very Bearish: Small "old school" oil and gas companies that compete directly with larger firms (many small firms are in plays that don't have the scale necessary to attract larger drillers so they are somewhat immune). I am long Gastar Exploration preferred stock but they would be an example given they are a STACK pure-play alongside some of the best drillers in the business.
Bearish: Otherwise good/modern companies that don't have the financial resources to invest in new technologies. Are Chesapeake Energy Corporation (CHK), Oasis Petroleum Inc. (OAS), Transocean LTD (RIG), or other firms battling solvency concerns going to have the capital necessary to invest at nearly the same rate as their quality peers? I own Oasis but nevertheless think these stocks are good examples of this category. Oil field services firms that can't incorporate technology as fast as their peers will also die a slow but painful death. The larger companies like National Oilwell Varco, Halliburton, and Schlumberger have already used extreme price discounting to dominate the competition; this will increase as the adoption of technological advancements accelerate.
Bullish: Energy companies that have the culture and financial ability to invest in these technologies will save money and increase competitiveness. They'll be able to build positions in formations their peers can't make work economically because their costs will be 20-30% lower. Core positions in good formations (e.g. Permian or STACK) will generate incredible internal rates of return ("IRR"). EOG's 40% IRR (which generally excludes replacement and finance costs for those who are not aware) may soon move up to 50%+ all other things equal. Firms with scale, such as ConocoPhillips and the majors Chevron, Exxon, Shell, and BP (BP), will also gain disproportionately. This is no different than what has happened offshore and in the Arctic since the 1980s.
Very Bullish: So who are the mega winners due to these advances? Similar to the screen or sensor provider on the newest Apple product, it is the small firms with solutions that can be sold to large energy firms positioned to gain the most. Be it the aforementioned DNA sequencing company or another small firm looking to sell its technology to the large oil companies, whose combined annual capital expenditures exceed the GDP of many nations, that we should keep our eyes out for. Many of these firms are private but they'll be a few public ones. I'll be monitoring closely and will share with my readers as I discover potential "mega" winners. Now familiar with the most important industry developments, you should have a higher chance at identifying the next Diamondback Energy Inc (FANG) level winner.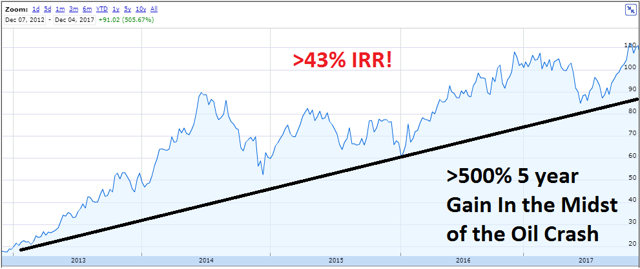 Source: Google Finance & WER