By Charles Hughes
Weekly U.S. field production of crude oil reached 9.682 million barrels per day in the fourth week of November, and the past three weeks have seen the highest level of production in decades from regions ranging from Texas to North Dakota. These higher levels of production are welcome news, but are already straining the capacity of energy transportation infrastructure.
Transportation limits have already increased the cost of moving crude oil from Cushing, Oklahoma, to the Gulf Coast from its typical price of $3.50 per barrel. The constraints have led to an increase in crude oil inventories in Cushing as producers struggle to find adequate transportation capacity. While total commercial crude oil inventories in the U.S. fell 25 million barrels from July through the beginning of November, inventories in Cushing increased by almost 9 million barrels.
Absent additional energy transportation infrastructure, the current squeeze will become more pronounced. The International Energy Agency's new World Energy Outlook report projects the recent surge in U.S. oil and gas production to continue, eventually reaching a "level 50 [percent] higher than any other country has ever managed." While the United States has already become a net exporter of natural gas due to the development of new shales and innovations in fracking, the EIA also projects it would become a net oil exporter in the next decade.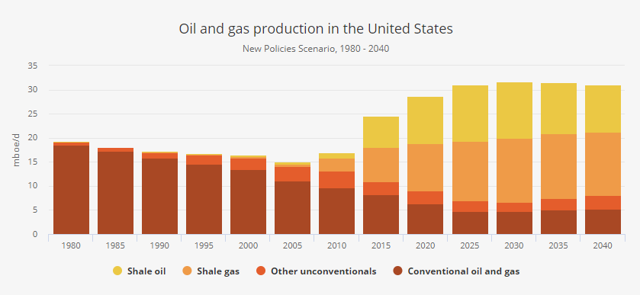 Source: International Energy Agency, World Energy Outlook 2017.
The contributions of shale oil and gas drive the vast majority of the projected increase. Shale oil and gas production accounted for less than one million barrels of oil equivalents per day as recently as 2000. Production from shale oil and gas has already grown to 13.6 million barrels of oil equivalents per day, and is projected to rise further to almost 25 million.
Some analysts have raised concerns that the IEA's projections could be optimistic, and that shale producers will not manage to increase production to projected levels. Even acknowledging some of the related challenges, such as some producers struggling to become profitable, or complications of a fluctuating oil price, total shale production will increase significantly in the future.
The most recent Annual Energy Outlook from the U.S. Energy Information Administration also projects that shale production will account for a growing share of domestic energy production, and that in most scenarios, the United States will become a net energy exporter.
The benefits of all of this domestic production will be severely curtailed if energy transportation infrastructure capacity is not expanded to keep pace. The constraints already being encountered in the Permian Basin in Texas and Cushing in Oklahoma will be felt in more regions throughout the country, and more severely.
The lack of adequate transportation capacity reduces the price of oil and gas in the affected areas as companies struggle to find means to transport their products to other markets. Lower prices reduce government revenues from energy production and extraction because taxes are a share of the price. Better transportation networks can lead to higher revenues to both federal and state governments.
Fortunately, the Federal Energy Regulatory Commission, which must approve interstate natural gas pipelines, has resumed its review and certification process after being limited for some months due to a lack of quorum at the agency's board. In October, the board approved five major projects that would help transport natural gas from the Utica and Marcellus shales to other markets. When completed, these projects would add about 5.6 billion cubic feet per day of capacity.
Even with the recent run of productivity, the agency still has dozens of major project proposals in the review process. The board will have to continue to make timely decisions on projects that have made their way through the vetting process in order for America to have the capacity to keep pace with increasing production in new areas of the country.
Thankfully, FERC is getting back to functioning under regular order. But this will not be enough on its own to ensure that energy transportation infrastructure can expand to keep pace with heightened levels of production. As I've written previously, projects still have to get permits from state and local governments after FERC approval, and some of these agencies are erecting additional obstacles to pipeline construction. Oil pipeline siting does not fall under the purview of FERC, and those projects have to wind their way through a state-by-state approval process without a centralized federal component overseen by one agency. Expanding pipeline capacity to meet new sources and levels of production will take coordination of multiple levels of government and can be hindered by uncooperative agencies or legal action taken by outside agents, such as the Southern Environmental Law Center with the Atlantic Coast Pipeline.
U.S. field production of crude oil has reached the highest level in decades, and natural gas exports have increased substantially. The most recent report from the IEA projects these trends to continue, and for the U.S. to become a global leader in energy production in the coming years. However, producers are already constrained by a lack of capacity to transport their energy products to consumers, refiners, and export terminals. The limitations in energy transportation infrastructure could sap much of the potential from future growth in domestic energy production, and it is important to allow well-vetted pipelines to help accommodate those transportation needs.