12%. That's how much Alcoa (AA) has lost on a one-month basis. The loss is even bigger since October. This pushes the year-to-date performance down to a solid 48%. So, what does this mean? Can we expect a further decline and should you secure your winnings or take last month's loss in case you bought the stock just recently?

Source: Alcoa
King Macro
One of the biggest drivers, if not the biggest driver, behind the industrial metal rally since the first quarter of 2016 has been accelerating economic growth. Most of my readers are probably aware of my methods, but I always use the ISM manufacturing index to monitor economic growth in the US. Simply because this index is leading, which means that it tells us what we can expect (soft data) in terms of real economic growth (hard data).
What we see is that we just got the second consecutive minor decline in November. The ISM index hit 58.2 vs. 58.7 in October. These are the first declines after hitting the highest levels since the early 2000s in September.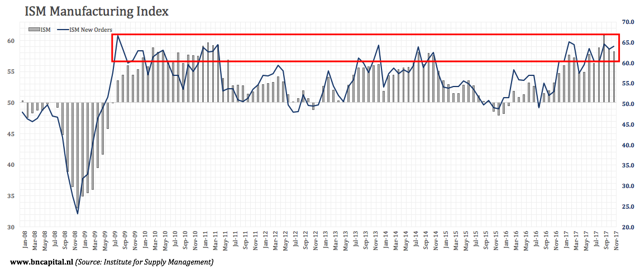 That being said, it's important to spot major trends before they happen. And given the graph above, there are two main points that are very important.
We are likely in a late-cycle expansion phase
This does not mean that growth slowing is imminent
Point one is very important because the expansion that started in 2009 is one of the longest and slowest in history. That's why it is so interesting that we got a ton of momentum in the first months of 2016 that accelerated further after the election of President Trump. Other than that, it is too early to call for the start of a slowing cycle. Simply because the economy can grow at above-average levels for quite some time as I highlighted with the red square in the ISM graph.
What It Means For Alcoa
Alcoa, being one of the largest aluminum and alumina producers anywhere in the world, is not immune to ISM changes. Even better: it is driven by macro sentiment. That's what makes it such a beautiful macro stock.
The graph below compares the year-on-year changes of the Alcoa stock price to the ISM manufacturing index. The dotted line is simply an extension of these returns in case the stock price would not change at all over the next few months. I only do this to show you how much is already priced in and it has worked very well for me since I use it for many other stocks and sectors as well.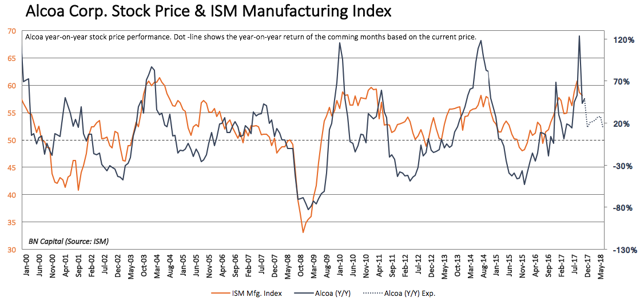 And in case the ISM index is going to stay around these levels for the next few months, it is very likely that we are going to re-enter the $50-55 per share range over the next few months.
The scatterplot below shows this a bit better. It is based on the Alcoa vs. ISM graph and shows you that positive returns are almost certain once the ISM index accelerates above 55 (blue box).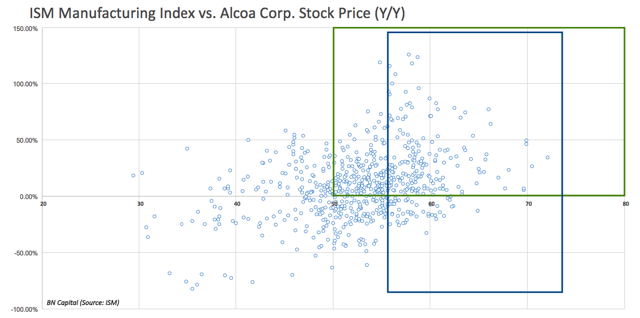 How To Play This Stock?
Alcoa is currently trading at 11x next year's earnings after next year's earnings are expected to grow 9% following this year's 50% (expected). I believe that next year's expectations might be on the low side, considering that aluminum could soar even further in the current economic environment.
Anyhow, the graph shows a steady uptrend since November 2016. Since then, we had one rather long correction from January 2017 until June/July. The correction erased roughly one fifth of Alcoa's market cap. The current price is down 16% compared to the peak set in October of this year.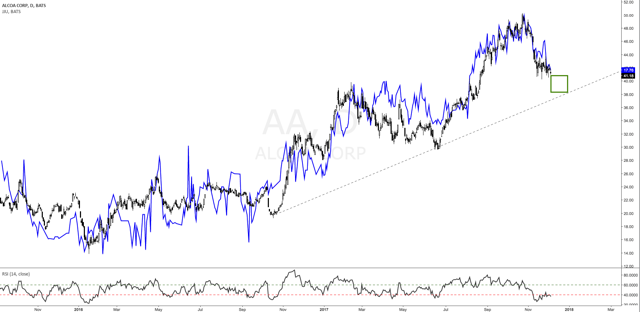 Source: Tradingview
I believe that Alcoa offers an interesting entry in the green box (graph above). There are not many reasons that justify a broken trend at this point and the odds are in favor of the bullish mid-term investor.
Thank you for reading my article. Please let me know what you think of my thesis. Your input is highly appreciated!
Disclosure: I am/we are long AA. I wrote this article myself, and it expresses my own opinions. I am not receiving compensation for it (other than from Seeking Alpha). I have no business relationship with any company whose stock is mentioned in this article.
Additional disclosure: This article serves the sole purpose of adding value to the research process. Always take care of your own risk management and asset allocation.