This week, Time Magazine names its Person of the Year. If there is any regard for oil prices (as well as the modernization of Saudi Arabia, including women's rights and a more moderate form of Islam, and reshaping Middle Eastern power structures), then the person on the cover will be Crown Prince Mohammed bin Salman of Saudi Arabia.
Prince MBS, as he is known, is the driving force behind Saudi Arabia's push to diversify their economy, bring a more moderate form of Islam into the norm, promote women's rights, confront Iran's ambitions and raise the price of oil ahead of the Saudi Aramco (ARMCO) IPO.
Opportunistic or enterprising investors should be taking positions in oil stocks now and increasing leverage to those positions.
The Peak Oil Plateau is Almost Here
Since I wrote "The Coming 'Peak Oil Plateau' And Higher Oil Prices," the price of oil has been rallying. Prince bin Salman is largely responsible for that rise by negotiating the OPEC/Russia oil production limits and limiting Saudi Arabia's own production. He has also taken a very aggressive position against Iran, which appears to be bringing back a risk premium for oil.
By "peak oil plateau," I mean a period where the supply and demand for oil are in balance for an extended period. My thesis is the reverse time sequence of Tony Seba's oil crash due to an influx of alternative energy and electric vehicles. My very simply underlying idea is that oil producers can bring down supply and control it faster than consumers will change the demand for oil. The dramatic decrease in deep-water and oil sands development is proof that producers, and those who invest in production, will not get burned again by plunging oil prices.
Instead of Seba's imminent oil price crash, I offer a scenario where oil prices rise in the short term as supply and demand balance, then plateau into the $80-120 per barrel price range of several years ago. That price range on oil will, in turn, spur on adoption of alternative energy (mainly solar) and electric vehicles in the 2020s as those technologies improve another level.
Seba's argument reminds me of those who argued that another stock market crash was imminent after the Great Recession financial crisis and stock market crash. Just as those pundits did not understand the ability of government, central banks and business to adjust, neither does Seba respect the ability of oil producers and financiers to adjust. He is either naive or ideological.
In the end, oil, alternative energy and electric vehicles go to the same place regardless of path. By the late 2020s, solar will be the main form of new energy supply, and electric vehicles will begin to outsell internal combustion engine vehicles. By the 2030s, EVs will account for up to 90% of vehicle sales and oil demand will fall dramatically. By 2040, oil demand will have crashed towards around 50 million barrels per day, but the price of oil might not decline much, as investment into large-scale production, particularly deep-water and oil sands, will be nonexistent. By 2040, primarily legacy oil fields and small scale new production will maintain the necessary supply for oil, as well as a profitable price level.
Risk and Rising Oil Prices
I first wrote about Prince bin Salman in a piece on MarketWatch which discussed a return of the risk premium for oil. I followed that up here on Seeking Alpha in a largely overlooked article, titled "Missing Risk Premium Could Lead To Oil Price Shock." In that article, one quote in particular by the Prince stood out for me:
We are a primary target for the Iranian regime. We won't wait for the battle to be in Saudi Arabia. Instead, we'll work so that the battle is for them in Iran.
I expanded on the risk premium idea in the viral article "An Iran War Is Coming - Buy Oil Stocks Now." That risk premium has certainly been manifesting, along with improving oil fundamentals and technicals. By October, the price of oil had broken resistance. That triggered me to write "The 'Last Great Secular Oil Bull Market' Has Begun."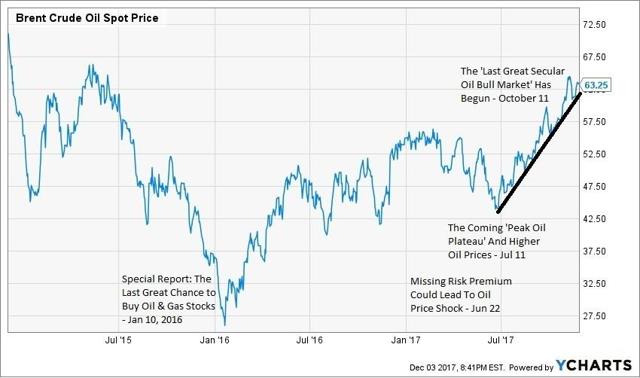 As of last week, the price of oil has met a new technical level and could be on the verge of a massive breakout. As I discussed in "Oil's Technical Path To $80 Per Barrel," the $63 per barrel price level is important on multiple time frames.
Once again, Ralph Prestin III from Heritage West was kind enough to supply some thoughts and a chart on oil futures.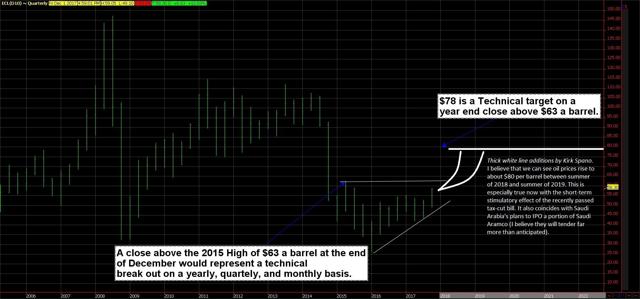 The importance of the technical price levels being met on multiple time frames cannot be understated. If oil closes December above $63 per barrel - and I think that is very likely - then monthly, quarterly and annual price targets will have been met. This is a trigger for a breakout in oil prices. It would not be unlikely for oil to hit $78 by summer of 2018, if that were the case.
There is no doubt that a breakout in oil prices would prove very profitable for many oil companies and at least save many that are in deep debt still. However, as I mentioned in a recent article that discussed risk factors for blue-chip stocks, if oil does get to about $80 per barrel, that is a harbinger of a recession, as steep rises in oil prices have caused, or at least run parallel with, recessions as a rule since WWII. Investors will have to consider their sell strategies if the economy slows down in any significant way.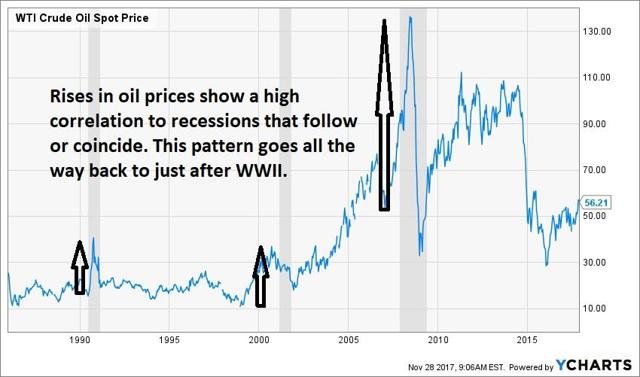 Investors will need to consider both the opportunity and risks with rising oil prices. On the one hand, there are great profits to be made owning oil stocks, in my opinion. This can be very true as money from overvalued assets that have stalled out rotates back into energy stocks.
On the other hand, investors will have to be nimble to not only avoid losing gains on highly appreciated assets that might come down due to rotation, but also when the next recession comes. Once again I cite Goldman Sachs, which has said there is a "high probability of a recession starting in late 2019 to mid-2020." If that is when the next recession hits, it would, in fact, coincide with the higher oil prices I am projecting.
One reader asked in the comments of a recent article what to do with oil stocks when the next recession hits. The answer is simple. Sell pretty quickly. The money to be made on oil stocks is between now and the next recession. There might one more buy low opportunity as the next recession clears up, but I am not certain of that just yet, as technology is moving quickly and debts remain piled up.
Enterprising Investing
I have allocated a full quarter of many portfolios to energy stocks, with the SPDR S&P Oil & Gas Exploration & Production ETF (NYSEARCA:XOP) becoming a significant portion of holdings. Energy only represents about 6.5% of the S&P 500 (NYSEARCA:SPY), so 25% is a large overweight. This type of asset allocation entails some risk, but I believe energy will be one of the top 3 performing sectors of the markets for the next two years at least.
XOP is a buy right now, in my opinion. I have been a buyer, adding to positions recently. Here are my thoughts on XOP and another popular energy ETF, the Energy Select Sector SPDR ETF (NYSEARCA:XLE) from a deep dive "ETF File" article I wrote a few months ago: "XLE And XOP: Comparing 2 Popular SPDR Oil Stock ETFs."
Within the holdings of both funds are stocks that are worth investing in individually for people with appropriate risk appetite and the ability to truly parse out the debt issues of those companies. Virtually all oil companies have a debt issue to clear up yet.
As I have written about before, I like Encana Corp. (NYSE:ECA) and dividend payer Occidental Petroleum (NYSE:OXY), as both companies have cleaned up their balance sheets, have good strategic assets, and as a kicker, are both takeover targets or at least might spin assets off.
Disclosure: I am/we are long XOP, ECA, OXY. I wrote this article myself, and it expresses my own opinions. I am not receiving compensation for it (other than from Seeking Alpha). I have no business relationship with any company whose stock is mentioned in this article.
Additional disclosure: I own a Registered Investment Advisor - BluemoundAssetManagement.com - however, publish separately from that entity for self-directed investors. Any information, opinions, research or thoughts presented are not specific advice as I do not have full knowledge of your circumstances. All investors ought to take special care to consider risk, as all investments carry the potential for loss. Consulting an investment advisor might be in your best interest before proceeding on any trade or investment.