By Bob Ciura
Over the past year, MLPs have fallen out of favor. The stock market continues to reach new highs, but MLPs have missed out on the rally. The bright side of languishing stock prices among MLPs is that their dividend yields remain attractive.
Each of the MLPs on this list has a dividend yield of 5% or higher, qualifying all of them for Sure Dividend's list of 413 stocks with 5%+ dividend yields. You can see all 413 stocks with 5%+ dividend yields here.
There is no shortage of MLPs to choose from. We track 131 MLPs in the Sure Dividend database. You can see the entire list of all 131 MLPs here.
However, investors should focus on high-quality MLPs with sustainable yields backed by strong cash flow. This article will discuss the top 5 high yield MLPs for 2018, in no particular order.
High-Yield MLP #1: Enterprise Products Partners (NYSE:EPD)
Dividend Yield: 7%
Three of the stocks on this list, including Enterprise Products Partners, operate in the midstream oil & gas industry. Midstream MLPs are popular investments for income because of the relatively stable business model and consistent dividend payouts.
Enterprise Products has an attractive 7% dividend yield, and the company has increased its dividend for 53 quarters in a row. It is one of 294 dividend stocks in the energy sector. You can see all 294 dividend-paying energy stocks here.
The company has maintained a distributable cash flow coverage ratio of 1.2 over the past year, meaning it generated 20% more cash flow than it needed to pay the distribution.
Enterprise Products Partners operates as an oil & gas storage and transportation company. It collects fees based on volumes stored and transported, which is less sensitive to fluctuating oil & gas prices than exploration and production companies.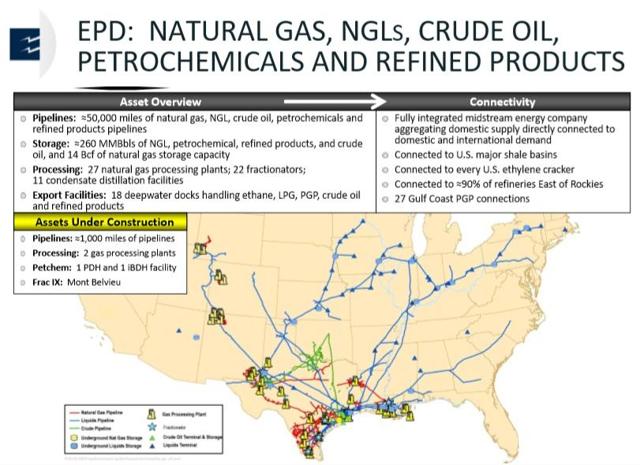 (Source: RBC Capital Markets MLP Conference, page 6)
The company has a large network which consists of nearly 50,000 miles of natural gas, natural gas liquids, crude oil, and refined products pipelines. It also has storage capacity of more than 250 million barrels.
Enterprise Products Partners grew its cash flow by 3% in 2016, to over $4 billion. It is off to a good start to 2017 as well, despite crude oil struggling to break $60 per barrel. Distributable cash flow increased 5.6% over the first three quarters, to $3.2 billion.
The company has opportunities for strong growth going forward, with over $9 billion of capital projects currently under construction.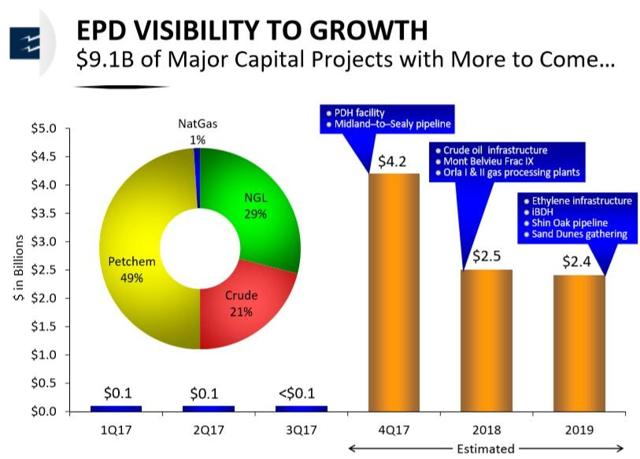 (Source: RBC Capital Markets MLP Conference, page 33)
Thanks to the company's strong financial position, it can fund these projects without the need to issue additional equity going forward. Since the beginning of 2016, Enterprise Products Partners has retained more than $1.2 billion of distributable cash flow to use for growth expenditures.
Another differentiating factor is that the company has one of the strongest balance sheets among the midstream MLPs. It has a high BBB+ credit rating and a low debt-to-adjusted EBITDA ratio of 3.8. It is not at high risk from rising interest rates, as over 80% of its debt is fixed-rate.
Enterprise Products Partners also does not have a General Partner, which means no Incentive Distribution Rights to pay. A strong balance sheet and advantageous operating structure help support the company's hefty 7% dividend yield. Its high-quality assets generate more than enough cash flow to sustain the dividend and grow the dividend over time.
High Yield MLP #2: AmeriGas Partners (NYSE:APU)
Dividend Yield: 8.5%
AmeriGas has appeal for investors interested in high yield, along with gradual dividend growth. Along with its 8.5% yield, AmeriGas has increased its distribution for 13 consecutive years. The company is a Dividend Achiever - a group of stocks with 10+ consecutive years of dividend increases. You can see the entire list of all 264 Dividend Achievers here.
And it is one of the highest-yielding Dividend Achievers. It can afford to pay such a high dividend yield because it is the top company in a highly stable industry. AmeriGas is the largest propane distributor in the U.S. with 2 million customers. It has approximately 1,900 distribution locations in all 50 U.S. states.

(Source: 2016 Annual Report, page 5)
Propane sales account for nearly 90% of the company's annual revenue, with related equipment and accessories accounting for the remaining 10%. AmeriGas enjoys steady demand, since consumers will always need to heat their homes.
One important risk factor for propane distributors is weather. Unfavorable weather has dragged down AmeriGas for the past two years. According to the company, 2016 was the warmest year in the previous 121 years and was 15% warmer than usual. This caused gallons sold to decline by 10% last year.
In response, the company put in place new strategic initiatives to generate growth even in a challenging operating climate. For example, last year AmeriGas made six bolt-on acquisitions and launched a cylinder exchange program. This resulted in the addition of 39 customer accounts and sales growth of 1 million propane cylinders.
Even though conditions remained difficult in fiscal 2017, AmeriGas performed much better than last year. While temperatures were 13% warmer than normal, revenue and adjusted EBITDA increased 6.1% and 2% for the year, respectively. AmeriGas also cut maintenance and growth capital expenditures last year, which helped profit margins improve.
2018 is likely to be an even better year, as the company expects weather conditions to return to more normal levels.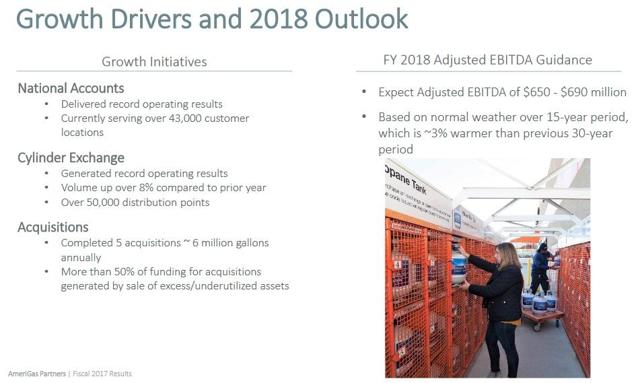 (Source: Q4 Earnings Presentation, page 5)
Combined with its newly acquired customer accounts, AmeriGas expects 2018 to be a year of significant growth. Adjusted EBITDA is expected to increase 18-25% in fiscal 2018 to $650-690 million. This growth would leave plenty of room for another dividend increase in 2018.
High-Yield MLP #3: Buckeye Partners (NYSE:BPL)
Dividend Yield: 10.6%
Like Enterprise Products Partners, Buckeye Partners is a midstream MLP. It operates an extensive network of oil pipelines and storage terminals. It has approximately 6,000 miles of pipelines, as well as more than 135 liquid petroleum product terminals with over 173 million barrels of total storage capacity.
Buckeye's portfolio of pipelines and terminals is located in the East Coast, Midwest, and Gulf Coast regions of the U.S. It also has a significant international presence with operations in the Caribbean, Europe, the Middle East, and Asia. The company's international business is supplemented by its 50% interest in VTTI.
It has three business segments:
Domestic Pipelines & Terminals (50% of EBITDA)
Global Marine Terminals (47% of EBITDA)
Merchant Services (3% of EBITDA)
Buckeye's four most important Hubs are the Chicago Hub, New York Harbor, the Gulf Coast, and the Caribbean.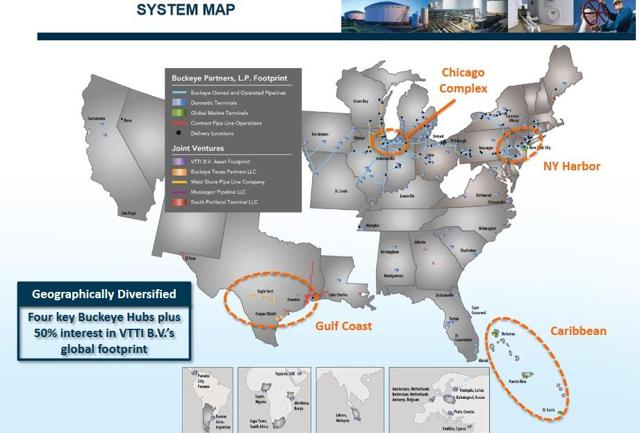 (Source: 2017 Annual Meeting, page 9)
2016 was a record year for Buckeye. It surpassed $1 billion of EBIDTA for the first time in its 130-year history. However, things turned south for the company in 2017. The stock is down 28% year to date due to deteriorating fundamentals. Last quarter, distributable cash flow declined 6.2%. Over the first three quarters, distributable cash flow declined 2%.
This is a manageable decline, but it is worth noting that Buckeye's dividend sustainability does not have much room for error. It has paid a cash distribution each quarter since its formation in 1986. But dividend coverage has eroded over the course of 2017. The company's distribution coverage ratio over the past 12 months fell to 0.99, which means it has not covered the dividend with distributable cash flow.
The good news is, Buckeye has new projects that can fuel cash flow growth moving forward. For example, one of the biggest growth projects for the company is its South Texas Gateway project.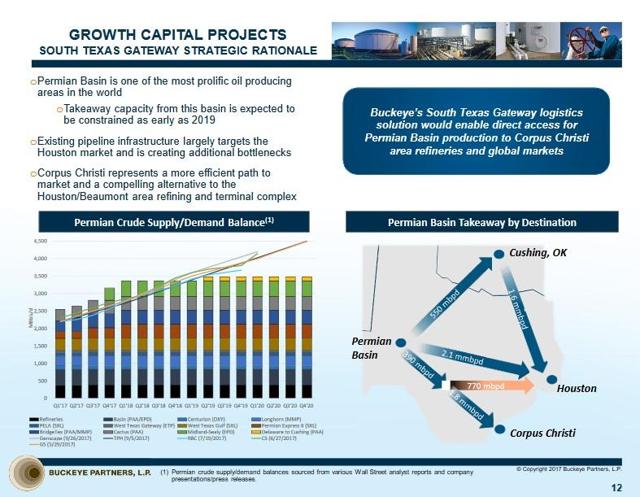 (Source: Jefferies 2017 Energy Conference, page 12)
This project calls for construction of a 600-mile long-haul pipeline with total expected capacity of up to 400,000 barrels per day. Once the project is completed, it will significantly expand Buckeye's distribution capabilities in the Permian Basin, which is one of the highest-producing oilfields in the U.S. The project is set for completion in 2019 and should be a long-term boost to the company's cash flow.
Buckeye has a manageable trailing debt-to-adjusted-EBITDA ratio of 4.3. And it does not foresee the need for any equity issuances through at least mid-2018. A strong balance sheet will help the company maintain its distribution, but investors should keep a close eye on the results to make sure its growth remains on track.
High Yield MLP #4: Energy Transfer Partners (ETP)
Dividend Yield: 13.6%
Energy Transfer Partners is another midstream MLP. It is a large operator with a market capitalization of $19.2 billion. The current company is the result of the April merger with Sunoco Logistics. Unitholders of the prior ETP received 1.5 shares of the former SXL for each 1 share of ETP. For owners of the "old" ETP, it resulted in a dividend yield reduction of approximately 25%.
Energy Transfer's asset network now includes more than 71,000 miles of natural gas, crude oil, natural gas liquids, and refined products pipelines. It also has terminals, fractionation, and storage facilities.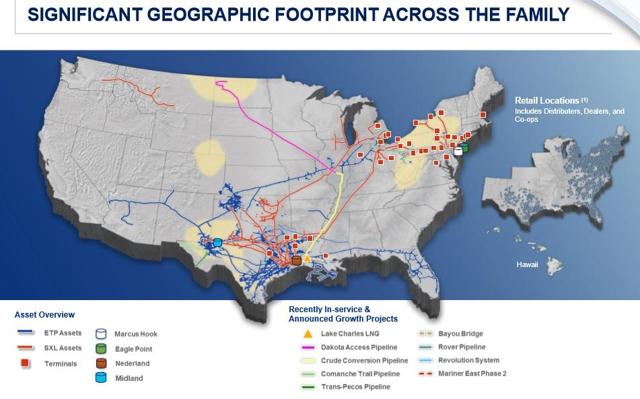 (Source: Barclays Energy-Power Conference, page 7)
After the merger, Energy Transfer's quarterly dividend was reset at $0.535 per share, but the company has increased the dividend since then. On October 26th, it raised its quarterly dividend from $0.55 per share to $0.565 per share.
The merger was important for Energy Transfer, which had been struggling with deteriorating fundamentals in the quarters leading up to the deal. The company's struggles have continued this year. Units are down 30% year-to-date. However, the fundamentals have performed much better this year.
Last quarter, adjusted EBITDA increased 25%, while distributable cash flow increased by 27%. Distributable cash flow is up 14% over the first three quarters of 2017. The company maintained a distribution coverage ratio of 1.14 in that time, which indicates the dividend is currently sustainable.
Future growth prospects are positive for Energy Transfer. Growth will come from large, new projects that have been recently placed into service. For example, the Bakken Pipeline was placed in service on June 1st, and Phase 1A of the Rover Pipeline was placed in service on August 31, 2017.
The Rover project is a particularly important catalyst for Energy Transfer. The pipeline can now move over 1 billion cubic feet per day, with the goal of total storage capacity of 3.25 billion cubic feet per day.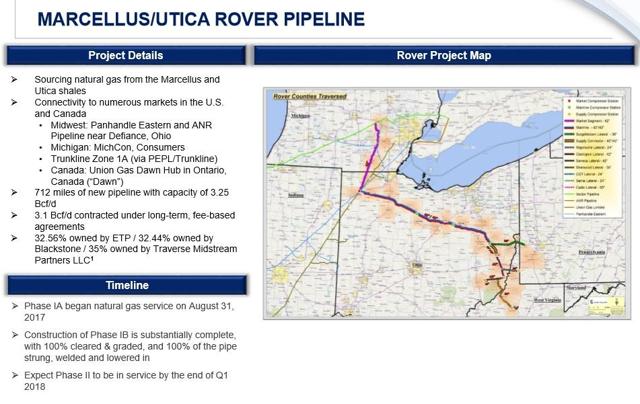 (Source: Barclays Energy-Power Conference, page 24)
Energy Transfer recently sold a 32% interest in the pipeline for $1.57 billion, and now owns just over 50% of the project. It used the proceeds to pay down debt, which will reduce leverage and help support the dividend. Management expects that Phase 2 will be in service by the end of the first quarter of 2018.
As of September 30th, Energy Transfer had a leverage ratio of 4.16, which indicates a healthy balance sheet for an MLP.
High Yield MLP #5: Cedar Fair (NYSE:FUN)
Dividend Yield: 5.3%
Cedar Fair makes the list not just because of its 5%+ dividend yield, dividend growth, and strong coverage, but also because of its unique business model.
Whereas the vast majority of MLPs are in the oil & gas industry, Cedar Fair has nothing to do with the energy sector. It is one of 674 stocks in the consumer cyclical sector that pays a dividend. You can see our list of all 674 dividend-paying consumer cyclical stocks here.
Cedar Fair operates 11 amusement parks, two outdoor water parks, one indoor water park, and five hotels. It has more than 850 rides and attractions, and entertains 25 million visitors each year.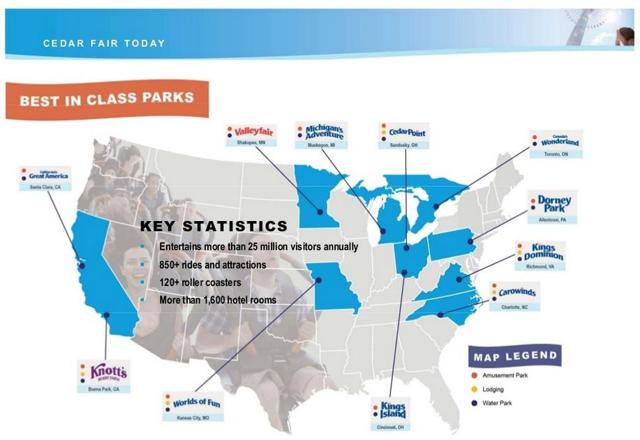 (Source: Investor Presentation, page 4)
Cedar Fair derives revenue from three sources:
Admissions (54% of revenue)
Food, Merchandise, & Games (34% of revenue)
Accommodations (12% of revenue)
The company has done this by offering visitors a unique and fun experience. It is benefiting from a broad shift in consumer trends. Consumers are spending more on "experiences" rather than "things". They are willing to spend on leisure activities that provide entertainment, which has fueled rising attendance and average guest spending for Cedar Fair.
In turn, it has racked up seven consecutive years of record results in terms of revenue and adjusted earnings before interest, taxes, depreciation, and amortization (EBITDA).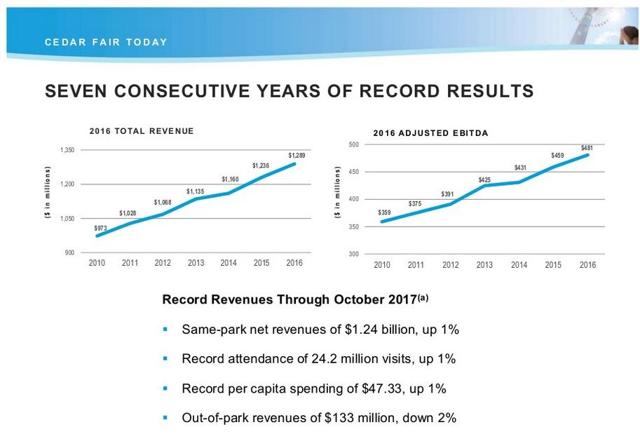 (Source: Investor Presentation, page 5)
Cedar Fair has taken a small step back to start 2017. Adjusted EBITDA declined by 2.3% over the first three quarters of 2017. Factoring into the decline was a $23 million expense to repay debt early, but this will help reduce future increases in interest expense. In addition, Cedar Fair was negatively impacted by severe weather events around the U.S.
Management views these issues as non-recurring. Meanwhile, the core underlying fundamentals of the company remain healthy, which is why management remains confident in the company's growth potential. For example, attendance and average in-park guest spending are both up 1% through the first three quarters of the year. Attendance and average spending were both company records.
Its long-term growth potential remains on track, as Cedar Fair spends 10% of revenue to develop marketable new rides. Management forecasts 2017 to be another record year, with strong expected demand for its WinterFest event. In 2018, the company will open four new roller coasters, expand its water parks, and grow its resort offerings.
As a reflection of its confidence, the company recently increased its quarterly dividend by 4%, to $0.89 per share.
Final Thoughts
The best MLPs offer high yields, along with sustainable dividend payouts. They have the ability to generate steady cash flow and continue to pay dividends. They each have high positions in their respective industries and have strong demand for their products and services.
The 5 MLPs on this list have all of these qualities. All 5 are attractive for investors interested in high yields and dividend growth.
There are no MLPs on the list of Dividend Aristocrats, which have raised their dividends for 25+ consecutive years. Our service Undervalued Aristocrats provides actionable buy and sell recommendations on some of the most undervalued dividend growth stocks around. Click here to learn more.
Disclosure: I/we have no positions in any stocks mentioned, and no plans to initiate any positions within the next 72 hours. I wrote this article myself, and it expresses my own opinions. I am not receiving compensation for it (other than from Seeking Alpha). I have no business relationship with any company whose stock is mentioned in this article.