By Gary Alexander
In these columns, I often go back 25, 50, or 100 years to show how much better markets and our life are now than then, but my time horizon is much shorter this week. Less than two years ago, one of the most prestigious magazines in the world, Foreign Affairs, published a special issue about the chronic slow growth plaguing our planet. The issue was entitled, "The World Is Flat: Surviving Slow Growth."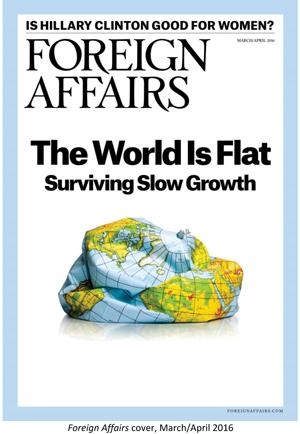 Foreign Affairs' managing editor Jonathan Tepperman assembled eight of the finest minds to examine the repercussions of the coming era of slow growth that we were liable to endure from 2016 onward.
In his opening essay, "How to Survive Slow Growth," Tepperman set the scene in these dismal tones:
Today, with China slumping, energy prices collapsing, and nervous consumers sitting on their hands, growth has ground to a halt almost everywhere, and economists, investors, and ordinary citizens are starting to confront a grim new reality: The world is stuck in the slow lane and nobody seems to know what to do about it.

- Foreign Affairs, March/April, 2016.
Need I point out that every one of those statements now seems laughably wrong: China is soaring again, energy prices are rising, consumers are spending strongly, and growth is rising around the world.
At the time, however, the world looked as dismal as Tepperman described it. Oil was down to just $26. From the start of 2016 to February 11, the Dow Jones index had lost 1,765 points in just six weeks. In a CNN/Money posting dated February 11, 2016, Anthony Valeri, investment strategist at LPL Financial, said, "There's a broad-based lack of confidence. Everything suggests this market is heading lower in the short term. Psychology is too frail." The same CNN post reported that "a global stock market benchmark known as the MSCI all-country equity index officially fell into a bear market on Thursday [February 11]. It's now down more than 20% from its record high..." The Investors Intelligence Bull/Bear Ratio fell to 0.63, the lowest since March 2009, and bearish sentiment rose to 39.2% (the highest since October 2011).
My headline in Growth Mail the following week was "Market Sentiment is in the Dumpster (That's Good News)." But fast-forward 21 months and we are witnessing an entirely different (and rounder) world:
In his Morning Briefing last Wednesday, economist Ed Yardeni led with these nine stunning headlines:
"(1) Full throttle, pedal to the metal, and escape velocity. (2) Truck tonnage index at record high. (3) Intramodal railcar loadings at record high. (4) Home shopping may be boosting truck traffic. (5) Animal spirits remain highly spirited. (6) Consumer optimism survey suggests jobless rate could soon fall below 4.0%! (7) Regional business surveys are upbeat. (8) Outlook for new orders looking good. (9) German business index hits a new high, which is bullish for German stocks."

- Yardeni Morning Briefing, "Barreling Along," November 29, 2017
Under the first heading, Yardeni wrote, "The US economy is exceeding the speed limit. That limit was around 2% y/y growth in real GDP from the second half of 2010 through Q3 of this. However, on a q/q-saar basis, real GDP growth rose from 1.2% during Q1 to 3.1% during Q2, and 3.0% during Q3. The Atlanta Fed's GDP Now is currently tracking real GDP growth at an annualized rate of 3.4% during Q4."
As for items #2-4, "The ATA truck tonnage index jumped to a record high during October. It is up a whopping 9.9% y/y, the best growth rate since December... the recent strength in trucking may reflect lots of optimism on the part of retailers about the holiday selling season."
On items #5-6, the Consumer Confidence Index (CCI) soared to the highest reading since November 2000 (see chart below). Only 16.9% of November respondents said jobs are hard to find, the lowest number since August 2001. The CCI was up for all age groups, but it "soared" among those 55 years and older.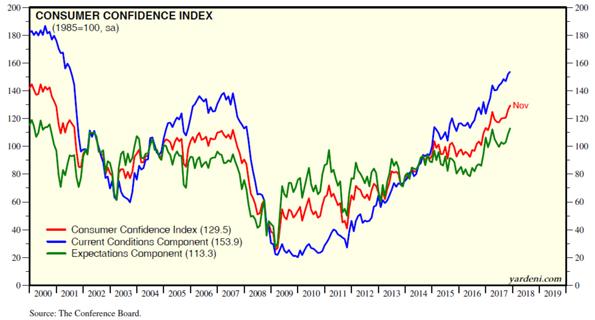 Graphs are for illustrative and discussion purposes only. Please read important disclosures at the end of this commentary.
Jumping to #9, Germany's IFO business confidence index soared to an all-time high in November. Like the U.S., Germany has a disputed election and a gridlocked legislature, but that doesn't stop their economy from soaring. Germany's market is up 19% in euro terms, similar to the U.S. market gain in U.S. dollar terms. What we're seeing is a synchronized gain in global growth and global stock markets.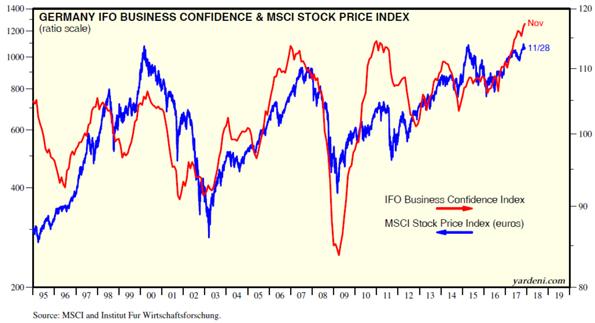 Graphs are for illustrative and discussion purposes only. Please read important disclosures at the end of this commentary.
The Amazing Contrarian Value of Magazine Covers
In that March 2016 Foreign Affairs issue, the opening article ("The Age of Secular Stagnation") was by Lawrence Summers, President Emeritus of Harvard and U.S. Secretary of the Treasury from 1999 to 2001, when he was on the famous "plunge protection team" that couldn't arrest the 2000 plunge.
This got me to thinking about the contrarian nature of magazine covers. Here are two covers from 1999: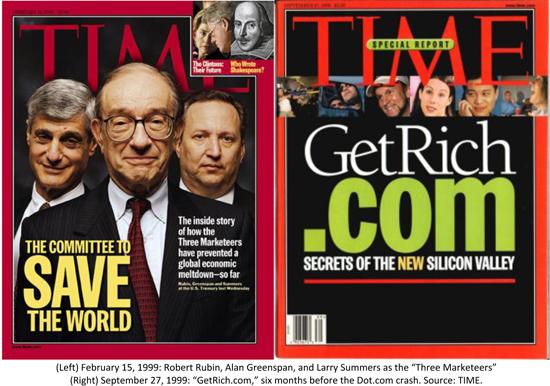 What happened next? From 2000 to 2009, the U.S. stock market suffered its worst decade in history - even worse than the 1930s. From the last day of 1999 to the last day of 2009, the S&P 500 lost an average of 3.3% per year, inflation-adjusted, versus a +1.8% per year real gain in the 1930s - the decade of the Great Depression - according to historical data from North Carolina State finance professor Charles Jones.
America suffered something like a "lost decade" between 2000 and 2009. During the Great Recession (2008 and 2009), America lost 100% of the private sector jobs that it had created in the previous eight years. The unemployment rate reached 10% before peaking, leading to magazine covers like these.
Although the stock market has recovered since 2009, it had lost so much ground in the previous nine years that the stock market is still trailing the historical 20th-century norms. For instance, in the 18 years from the end of 1981 to the end of 1999, the S&P 500 grew 12-fold (+1,100%), but in the 18 years from the end of 1999 to December 2017, it is up only 80% - hardly a runaway bull market.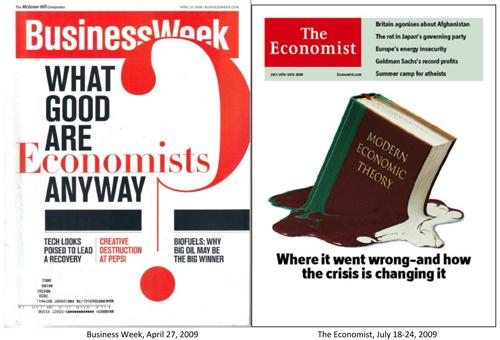 Yes, the economy and markets have recovered, but I call this a "make-up" recovery, not a manic bubble, at least to this point. The lesson to take from these covers is that they reflect mass psychology at peaks and troughs, and therefore, can serve as cautions or warnings (when giddy) or hope (when dismal).
Disclosure: *Navellier may hold securities in one or more investment strategies offered to its clients.
Disclaimer: Please click here for important disclosures located in the "About" section of the Navellier & Associates profile that accompany this article.